By browsing, you consent to our

use of Cookies

.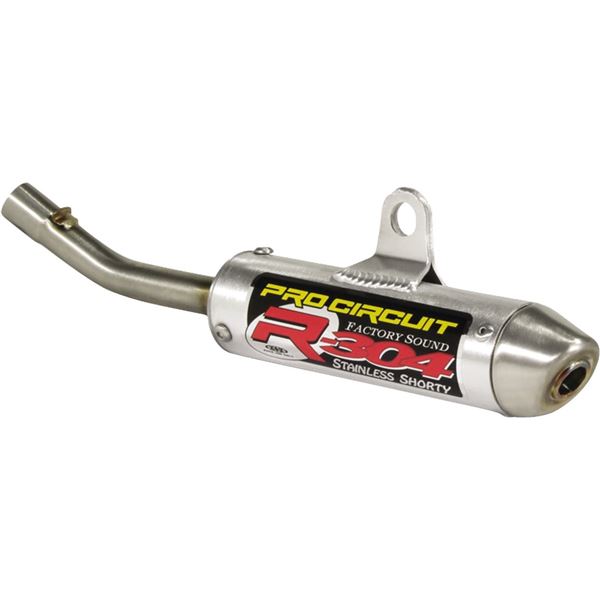 Fast, Free Shipping

Low Price Guarantee

No Hassle Returns

The R-304 silencer was developed as a full race two stroke silencer. The compact design of the short aluminum canister offers optimum performance gains and is recommended for closed course racing only. Hex head screws are used to secure the inlet cap and can be removed easily for quick repacking of the silencer.
304 stainless steel intake tube
Double walled mounting bracket(s)
6061 T6 brushed aluminum silencer body
Stainless steel endcap
Tig and mig welded for strength and durability
Allen head screws ensure easy repacking when needed for extended product life
E-Glass internal packing for maximum packing life
Made in the USA
 
Note: Image for reference only. Actual product may vary according to vehicle.
Specifications
SKU
997-SY03250-RE
Brand
Pro Circuit

California Prop 65
WARNING: Cancer and Reproductive Harm - www.P65Warnings.ca.gov
Part Numbers
| | SKU | MPN | Availability | In-Store Pickup |
| --- | --- | --- | --- | --- |
| | 997-SY03250-RE | SY03250-RE | 10+ In Stock. Ready to ship. | - |
| | 997-SY02125-RE | SY02125-RE | 10+ In Stock. Ready to ship. | - |
| | 997-SK02065-R | SK02065-R | 10+ In Stock. Ready to ship. | - |
| | 997-SK98080-R | SK98080-R | 10+ In Stock. Ready to ship. | - |
| | 997-SH93125-RE | SH93125-RE | 10+ In Stock. Ready to ship. | - |
| | 997-SH02125-RE | SH02125-RE | 10+ In Stock. Ready to ship. | - |
| | 997-SH02250-RE | SH02250-RE | 10+ In Stock. Ready to ship. | - |
| | 997-SK99125-RE | SK99125-RE | 10+ In Stock. Ready to ship. | - |
| | 997-1151725 | 1151725 | 10+ In Stock. Ready to ship. | 2 In Stock. |
| | 997-SH00250-RE | SH00250-RE | 10+ In Stock. Ready to ship. | - |
| | 997-SK05250-RE | SK05250-RE | 10+ In Stock. Ready to ship. | - |
| | 997-1151665 | 1151665 | 10+ In Stock. Ready to ship. | - |
| | 997-SH96080-RE | SH96080-RE | 10+ In Stock. Ready to ship. | - |
| | 997-SH00125-RE | SH00125-RE | 10+ In Stock. Ready to ship. | - |
| | 997-SS04250-RE | SS04250-RE | 10+ In Stock. Ready to ship. | - |
| | 997-SS02125-RE | SS02125-RE | 10+ In Stock. Ready to ship. | - |
| | 997-SS02250-RE | SS02250-RE | 9 In Stock. Ready to ship. | - |
| | 997-SK03125-RE | SK03125-RE | 9 In Stock. Ready to ship. | - |
| | 997-SY93080-RE | SY93080-RE | 8 In Stock. Ready to ship. | - |
| | 997-SK03250-RE | SK03250-RE | 8 In Stock. Ready to ship. | - |
| | 997-SH04250-RE | SH04250-RE | 7 In Stock. Ready to ship. | - |
| | 997-1151525 | 1151525 | 6 In Stock. Ready to ship. | - |
| | 997-SS89080-R | SS89080-R | 5 In Stock. Ready to ship. | - |
| | 997-ST09085-RE | ST09085-RE | 4 In Stock. Ready to ship. | - |
| | 997-SS01250-RE | SS01250-RE | 3 In Stock. Ready to ship. | - |
| | 997-SH98125-RE | SH98125-RE | 3 In Stock. Ready to ship. | - |
| | 997-SY00250-RE | SY00250-RE | 2 In Stock. Ready to ship. | - |
| | 997-ST09065RE | ST09065-RE | 2 In Stock. Ready to ship. | - |
| | 997-ST04125-RE | ST04125-RE | 2 In Stock. Ready to ship. | - |
| | 997-SK99250-RE | SK99250-RE | 2 In Stock. Ready to ship. | - |
| | 997-SY02250-RE | SY02250-RE | 1 In Stock. Ready to ship. | - |
| | 997-SY99125-RE | SY99125-RE | Unavailable. | - |
| | 997-SY99125-R | SY99125-R | Unavailable. | - |
| | 997-SY00125-RE | SY00125-RE | Unavailable. | - |
| | 997-ST98250-RE | ST98250-RE | Unavailable. | - |
| | 997-ST98125-RE | ST98125-RE | Unavailable. | - |
| | 997-ST04085-RE | ST04085-RE | Unavailable. | - |
| | 997-ST04065-RE | ST04065-RE | Unavailable. | - |
| | 997-ST03250-RE | ST03250-RE | Unavailable. | - |
| | 997-ST03050-R | ST03050-R | Unavailable. | - |
| | 997-ST02065-R | ST02065-R | Unavailable. | - |
| | 997-ST02050-RE | ST02050-RE | Unavailable. | - |
| | 997-SS99250-RE | SS99250-RE | Unavailable. | - |
| | 997-SS99250-R | SS99250-R | Unavailable. | - |
| | 997-SS96125-RE | SS96125-RE | Unavailable. | - |
| | 997-SS01125-RE | SS01125-RE | Unavailable. | - |
| | 997-SQ99250-RE | SQ99250-RE | Unavailable. | - |
| | 997-SQ99125-RE | SQ99125-RE | Unavailable. | - |
| | 997-SQ99050-R | SQ99050-R | Unavailable. | - |
| | 997-SK00065-R | SK00065-R | Unavailable. | - |
| | 997-1181265 | 1181265 | Unavailable. | - |
| | 997-1181250 | 1181250 | Unavailable. | - |
| | 997-1161985 | 1161985 | Unavailable. | - |
| | 997-1161212 | 1161212 | Unavailable. | - |
| | 997-1151925 | 1151925 | Unavailable. | - |
| | 997-1151912 | 1151912 | Unavailable. | - |
| | 997-1151612 | 1151612 | Unavailable. | - |
| | 997-1151212 | 1151212 | Unavailable. | - |
| | 997-1121485 | 1121485 | Unavailable. | - |
| | 997-11101430 | 11101430 | Unavailable. | - |