By browsing, you consent to our

use of Cookies

.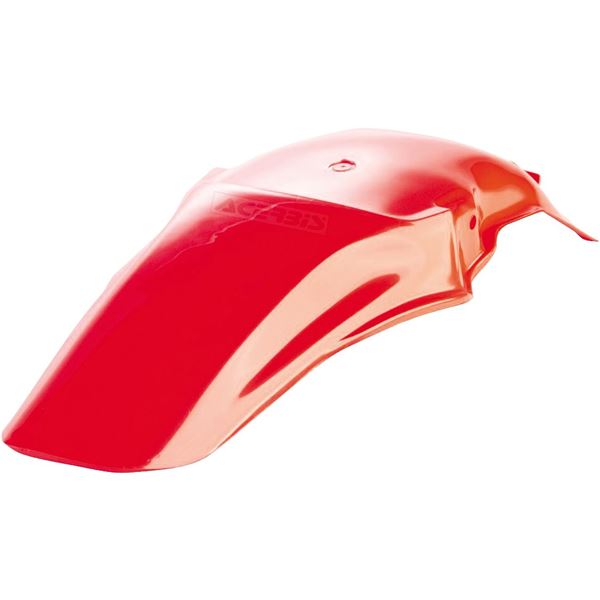 Free Shipping Over $75

Low Price Guarantee

No Hassle Returns

Made to exact O.E.M specifications and colors, Acerbis rear fenders are easy, bolt on replacement plastics parts to keep your dirt bike looking new.
All plastics have the original factory shape of the associated bike model
Pre-drilled pieces mount easily to stock locations
Note: Honda CRF 250X rear fenders include stock O.E.M tail lights
Note: Yamaha WR 250/450F 2004-2006 rear fenders are motocross style. Yamaha YZ 450F 2010-2013 rear fenders include shock covers riveted on
It's easy to make your bike look like new. This fender is made to exact OEM specifications and is available in a variety of colors. The pre-drilled motorcycle plastics mount quickly to make driving a breeze.
Specifications
SKU
257-8365-82
Brand
Acerbis
Frequently Bought Together

California Prop 65
WARNING: Cancer and Reproductive Harm - www.P65Warnings.ca.gov
Part Numbers
| | SKU | MPN | Availability | In-Store Pickup |
| --- | --- | --- | --- | --- |
| Blue | 257-8365-82 | 2040810211 | 10+ In Stock. Ready to ship. | 5 In Stock. |
| Blue | 257-8333-82 | 2040870211 | 10+ In Stock. Ready to ship. | 6 In Stock. |
| Red | 257-8348-44 | 2040630227 | 10+ In Stock. Ready to ship. | 2 In Stock. |
| Blue | 257-8371-82 | 2040500003 | 10+ In Stock. Ready to ship. | 3 In Stock. |
| Green | 257-8369-03 | 2040660006 | 10+ In Stock. Ready to ship. | 4 In Stock. |
| Blue | 257-240300-0211 | 2403000211 | 10+ In Stock. Ready to ship. | 2 In Stock. |
| Green | 257-8357-03 | 2040680006 | 10+ In Stock. Ready to ship. | 3 In Stock. |
| White | 257-8333-06 | 2040870002 | 10+ In Stock. Ready to ship. | 2 In Stock. |
| Flo Red | 257-8037-12 | 2071040236 | 10+ In Stock. Ready to ship. | 3 In Stock. |
| Blue | 257-7452-82 | 2040830211 | 10+ In Stock. Ready to ship. | 2 In Stock. |
| Yellow | 257-208186-0231 | 2081860231 | 10+ In Stock. Ready to ship. | 2 In Stock. |
| Red | 257-208455-0227 | 2084550227 | 10+ In Stock. Ready to ship. | 4 In Stock. |
| Red | 257-263065-0227 | 2630650227 | 10+ In Stock. Ready to ship. | 3 In Stock. |
| Orange | 257-8349-84 | 2040750237 | 10+ In Stock. Ready to ship. | 4 In Stock. |
| Black | 257-8368-05 | 2040670001 | 10+ In Stock. Ready to ship. | 3 In Stock. |
| Red | 257-8373-44 | 2040590227 | 10+ In Stock. Ready to ship. | 2 In Stock. |
| Black | 257-268589-0001 | 2685890001 | 10+ In Stock. Ready to ship. | 2 In Stock. |
| Blue | 257-268589-0003 | 2685890003 | 10+ In Stock. Ready to ship. | - |
| Green | 257-8102-03 | 2040730006 | 10+ In Stock. Ready to ship. | 2 In Stock. |
| Red | 257-231962-0227 | 2319620227 | 10+ In Stock. Ready to ship. | 2 In Stock. |
| Green | 257-8337-03 | 2040700006 | 10+ In Stock. Ready to ship. | 2 In Stock. |
| XR Red | 257-8336-46 | 2040840227 | 10+ In Stock. Ready to ship. | 4 In Stock. |
| Black | 257-244965-0001 | 2449650001 | 10+ In Stock. Ready to ship. | 6 In Stock. |
| White | 257-231962-0002 | 2319620002 | 10+ In Stock. Ready to ship. | 3 In Stock. |
| Black | 257-263065-0001 | 2630650001 | 10+ In Stock. Ready to ship. | - |
| Black | 257-8373-05 | 2040590001 | 10+ In Stock. Ready to ship. | 2 In Stock. |
| Yellow | 257-8334-07 | 2071160005 | 10+ In Stock. Ready to ship. | 5 In Stock. |
| Green | 257-8053-03 | 2071060006 | 10+ In Stock. Ready to ship. | 3 In Stock. |
| Green | 257-8324-03 | 2071150006 | 10+ In Stock. Ready to ship. | 4 In Stock. |
| Yellow | 257-8043-07 | 2071050005 | 10+ In Stock. Ready to ship. | 2 In Stock. |
| Blue | 257-8372-82 | 2040890211 | 10+ In Stock. Ready to ship. | 3 In Stock. |
| Black | 257-8349-05 | 2040750001 | 10+ In Stock. Ready to ship. | 2 In Stock. |
| White | 257-208455-0002 | 2084550002 | 10+ In Stock. Ready to ship. | 2 In Stock. |
| RM Yellow | 257-8367-37 | 2040770231 | 10+ In Stock. Ready to ship. | 3 In Stock. |
| Black | 257-8367-05 | 2040770001 | 10+ In Stock. Ready to ship. | 4 In Stock. |
| Flo Red | 257-8343-12 | 2071180236 | 10+ In Stock. Ready to ship. | 3 In Stock. |
| White | 257-225041-0002 | 2250410002 | 10+ In Stock. Ready to ship. | 3 In Stock. |
| Black | 257-9137-05 | 2040880001 | 10+ In Stock. Ready to ship. | 2 In Stock. |
| Black | 257-8343-05 | 2071180001 | 10+ In Stock. Ready to ship. | 3 In Stock. |
| Orange | 257-225038-0237 | 2250380237 | 10+ In Stock. Ready to ship. | 2 In Stock. |
| Red | 1201.0103.34 | 2141820227 | 10+ In Stock. Ready to ship. | - |
| Black | 257-8333-05 | 2040870001 | 10+ In Stock. Ready to ship. | 2 In Stock. |
| Orange (16) | 257-263404-5226 | 2634045226 | 10+ In Stock. Ready to ship. | 3 In Stock. |
| White | 257-263403-0002 | 2634030002 | 10+ In Stock. Ready to ship. | - |
| Green | 257-225041-0006 | 2250410006 | 10+ In Stock. Ready to ship. | 3 In Stock. |
| Black | 257-211384-0001 | 2113840001 | 10+ In Stock. Ready to ship. | 3 In Stock. |
| Black | 257-8363-05 | 2071190001 | 10+ In Stock. Ready to ship. | 3 In Stock. |
| Green | 257-244965-0006 | 2449650006 | 10+ In Stock. Ready to ship. | 2 In Stock. |
| 03 RM Yellow | 257-8368-87 | 2040670230 | 10+ In Stock. Ready to ship. | 3 In Stock. |
| Red | 257-8325-44 | 2040610227 | 10+ In Stock. Ready to ship. | 3 In Stock. |
| Blue | 257-8050-82 | 2040900211 | 10+ In Stock. Ready to ship. | 2 In Stock. |
| Black | 257-240300-0001 | 2403000001 | 10+ In Stock. Ready to ship. | 2 In Stock. |
| Green | 1210.0101.30 | 2141700403 | 10+ In Stock. Ready to ship. | - |
| White | 257-8037-06 | 2071040002 | 10+ In Stock. Ready to ship. | - |
| Black | 257-8369-05 | 2040660001 | 10+ In Stock. Ready to ship. | 2 In Stock. |
| Orange | 257-8192-84 | 2071120237 | 10+ In Stock. Ready to ship. | 3 In Stock. |
| White | 257-220542-0002 | 2205420002 | 10+ In Stock. Ready to ship. | 2 In Stock. |
| White | 257-8126-06 | 2071090002 | 10+ In Stock. Ready to ship. | 3 In Stock. |
| Black | 257-8064-05 | 2040550001 | 10+ In Stock. Ready to ship. | 2 In Stock. |
| Black | 257-8053-05 | 2071060001 | 10+ In Stock. Ready to ship. | - |
| White | 257-263404-0002 | 2634040002 | 10+ In Stock. Ready to ship. | - |
| Black | 257-8126-05 | 2071090001 | 10+ In Stock. Ready to ship. | 3 In Stock. |
| Black | 257-8102-05 | 2040730001 | 10+ In Stock. Ready to ship. | 4 In Stock. |
| White | 257-239338-0002 | 2393380002 | 10+ In Stock. Ready to ship. | 2 In Stock. |
| Orange | 257-208200-0237 | 2082000237 | 10+ In Stock. Ready to ship. | 2 In Stock. |
| Red | 257-8363-44 | 2071190227 | 10+ In Stock. Ready to ship. | 2 In Stock. |
| Black | 257-8325-05 | 2040610001 | 10+ In Stock. Ready to ship. | 2 In Stock. |
| Red | 257-8176-44 | 2040650004 | 10+ In Stock. Ready to ship. | 2 In Stock. |
| White | 257-240300-0002 | 2403000002 | 10+ In Stock. Ready to ship. | 3 In Stock. |
| Black | 257-225041-0001 | 2250410001 | 10+ In Stock. Ready to ship. | 2 In Stock. |
| Green | 257-8338-03 | 2040690006 | 10+ In Stock. Ready to ship. | - |
| Red | 257-268599-0004 | 268599-0004 | 10+ In Stock. Ready to ship. | - |
| Black | 257-263404-0001 | 2634040001 | 10+ In Stock. Ready to ship. | - |
| Blue | 257-237417-0003 | 2374170003 | 10+ In Stock. Ready to ship. | 3 In Stock. |
| White | 257-237417-0002 | 2374170002 | 10+ In Stock. Ready to ship. | 5 In Stock. |
| Black | 257-217193-0001 | 2171930001 | 10+ In Stock. Ready to ship. | - |
| KTM Orange | 257-204055-0237 | 2040550237 | 10+ In Stock. Ready to ship. | 3 In Stock. |
| Blue | 257-9137-82 | 2040880003 | 10+ In Stock. Ready to ship. | 2 In Stock. |
| Red | 257-8126-44 | 2071090227 | 10+ In Stock. Ready to ship. | 4 In Stock. |
| Orange | 257-220542-0237 | 2205420237 | 10+ In Stock. Ready to ship. | - |
| White | 257-8336-06 | 2040840002 | 10+ In Stock. Ready to ship. | 4 In Stock. |
| White | 257-8176-06 | 2040650002 | 10+ In Stock. Ready to ship. | 2 In Stock. |
| Black | 257-8176-05 | 2040650001 | 10+ In Stock. Ready to ship. | 3 In Stock. |
| White | 257-204089-0002 | 2040890002 | 10+ In Stock. Ready to ship. | - |
| Black | 1201.0103.1 | 2141820001 | 10+ In Stock. Ready to ship. | 3 In Stock. |
| Black | 257-237417-0001 | 2374170001 | 10+ In Stock. Ready to ship. | - |
| White | 257-9137-06 | 2040880002 | 10+ In Stock. Ready to ship. | 2 In Stock. |
| White | 257-244965-0002 | 2449650002 | 10+ In Stock. Ready to ship. | 2 In Stock. |
| White | 257-2421100002 | 2421100002 | 10+ In Stock. Ready to ship. | 3 In Stock. |
| Black | 257-225038-0001 | 2250380001 | 10+ In Stock. Ready to ship. | - |
| White | 257-204050-0002 | 2040500002 | 10+ In Stock. Ready to ship. | 2 In Stock. |
| Red | 257-8096-44 | 2040580227 | 10+ In Stock. Ready to ship. | 2 In Stock. |
| White | 257-244964-0002 | 2449640002 | 10+ In Stock. Ready to ship. | - |
| Black | 257-231962-0001 | 2319620001 | 10+ In Stock. Ready to ship. | - |
| Orange (16) | 257-225038-5226 | 2250385226 | 10+ In Stock. Ready to ship. | - |
| Black | 257-8348-05 | 2040630001 | 10+ In Stock. Ready to ship. | 2 In Stock. |
| Red | 257-7666-44 | 2040570227 | 10+ In Stock. Ready to ship. | 2 In Stock. |
| Green | 257-237409-0006 | 2374090006 | 10+ In Stock. Ready to ship. | 2 In Stock. |
| Black | 257-8050-05 | 2040900001 | 10+ In Stock. Ready to ship. | 2 In Stock. |
| Blue | 257-244967-0211 | 2449670211 | 10+ In Stock. Ready to ship. | - |
| White | 257-244967-0002 | 2449670002 | 10+ In Stock. Ready to ship. | - |
| Flo Green | 257-238642-0235 | 2386420235 | 10+ In Stock. Ready to ship. | 2 In Stock. |
| White | 257-204066-0002 | 2040660002 | 10+ In Stock. Ready to ship. | 2 In Stock. |
| Black | 257-7666-05 | 2040570001 | 10+ In Stock. Ready to ship. | 2 In Stock. |
| Black | 257-244964-0001 | 2449640001 | 10+ In Stock. Ready to ship. | - |
| Black | 257-242110-0001 | 2421100001 | 10+ In Stock. Ready to ship. | - |
| 03 RM Yellow | 257-8367-87 | 2040770230 | 10+ In Stock. Ready to ship. | 3 In Stock. |
| Black | 257-208455-0001 | 2084550001 | 10+ In Stock. Ready to ship. | 3 In Stock. |
| Black | 257-239338-0001 | 2393380001 | 10+ In Stock. Ready to ship. | - |
| Black | 257-217183-0001 | 2171830001 | 10+ In Stock. Ready to ship. | - |
| White | 257-268589-0002 | 2685890002 | 10+ In Stock. Ready to ship. | - |
| White | 257-231961-0002 | 2319610002 | 10+ In Stock. Ready to ship. | - |
| White | 257-272654-0002 | 272654-0002 | 10+ In Stock. Ready to ship. | - |
| Black | 257-220542-0001 | 2205420001 | 10+ In Stock. Ready to ship. | - |
| Yellow | 257-211384-0231 | 2113840231 | 10+ In Stock. Ready to ship. | 2 In Stock. |
| White | 257-263065-0002 | 2630650002 | 10+ In Stock. Ready to ship. | 2 In Stock. |
| White | 257-217183-0002 | 2171830002 | 10+ In Stock. Ready to ship. | - |
| White | 1201.0103.5 | 2141820002 | 10+ In Stock. Ready to ship. | 2 In Stock. |
| Flo Orange | 257-263404-4617 | 2634044617 | 10+ In Stock. Ready to ship. | - |
| White | 257-268651-0002 | 268651-0002 | 10+ In Stock. Ready to ship. | - |
| Flo Green | 257-244965-0235 | 2449650235 | 10+ In Stock. Ready to ship. | 2 In Stock. |
| White | 257-225038-0002 | 2250380002 | 10+ In Stock. Ready to ship. | - |
| Green | 257-7449-03 | 2040720006 | 10+ In Stock. Ready to ship. | 2 In Stock. |
| Black | 257-263403-0001 | 2634030001 | 10+ In Stock. Ready to ship. | - |
| Blue | 257-217182-0003 | 2171820003 | 10+ In Stock. Ready to ship. | 2 In Stock. |
| Black | 257-7449-05 | 2040720001 | 10+ In Stock. Ready to ship. | - |
| Black | 257-237409-0001 | 2374090001 | 10+ In Stock. Ready to ship. | - |
| White | 257-211384-0002 | 2113840002 | 10+ In Stock. Ready to ship. | - |
| Blue | 257-217183-0003 | 2171830003 | 10+ In Stock. Ready to ship. | - |
| Black | 257-217182-0001 | 2171820001 | 10+ In Stock. Ready to ship. | - |
| Orange | 257-211383-0237 | 2113830237 | 10+ In Stock. Ready to ship. | 3 In Stock. |
| Black | 257-208200-0001 | 2082000001 | 10+ In Stock. Ready to ship. | - |
| Black | 257-8192-05 | 2071120001 | 10+ In Stock. Ready to ship. | - |
| Black | 257-272654-0001 | 272654-0001 | 10+ In Stock. Ready to ship. | 10+ In Stock. |
| Yellow | 257-268651-0231 | 2686510231 | 10+ In Stock. Ready to ship. | - |
| Black | 257-268599-0001 | 2685990001 | 10+ In Stock. Ready to ship. | - |
| Dark Blue | 257-263403-0114 | 2634030114 | 10+ In Stock. Ready to ship. | - |
| White | 257-244966-0002 | 2449660002 | 10+ In Stock. Ready to ship. | - |
| Dark Blue | 257-244964-0114 | 2449640114 | 10+ In Stock. Ready to ship. | 2 In Stock. |
| White | 257-237409-0002 | 2374090002 | 10+ In Stock. Ready to ship. | - |
| White | 257-225305-0002 | 2253050002 | 10+ In Stock. Ready to ship. | - |
| White | 257-225298-0002 | 2252980002 | 10+ In Stock. Ready to ship. | - |
| White | 257-210685-0002 | 2106850002 | 10+ In Stock. Ready to ship. | 2 In Stock. |
| Yellow | 257-208192-0231 | 2081920231 | 10+ In Stock. Ready to ship. | 3 In Stock. |
| Black | 257-268651-0001 | 2686510001 | 10 In Stock. Ready to ship. | - |
| White | 257-268644-0002 | 2686440002 | 10 In Stock. Ready to ship. | - |
| Orange (16) | 257-244966-5226 | 2449665226 | 10 In Stock. Ready to ship. | - |
| Blue | 257-210685-0211 | 2106850211 | 10 In Stock. Ready to ship. | - |
| Green | 257-273632-0006 | 273632-0006 | 9 In Stock. Ready to ship. | 2 In Stock. |
| Orange (16) | 257-268599-5226 | 2685995226 | 9 In Stock. Ready to ship. | - |
| Orange (16) | 257-225298-5226 | 2252985226 | 9 In Stock. Ready to ship. | - |
| Orange (16) | 257-220542-5226 | 2205425226 | 9 In Stock. Ready to ship. | - |
| White | 257-217182-0002 | 2171820002 | 9 In Stock. Ready to ship. | - |
| Black | 257-244966-0001 | 2449660001 | 8 In Stock. Ready to ship. | 2 In Stock. |
| Orange | 257-231961-0237 | 2319610237 | 8 In Stock. Ready to ship. | - |
| Yellow | 257-217193-0231 | 2171930231 | 8 In Stock. Ready to ship. | - |
| Flo Orange | 257-242110-4617 | 2421104617 | 7 In Stock. Ready to ship. | - |
| Black | 257-231961-0001 | 2319610001 | 7 In Stock. Ready to ship. | - |
| Black | 257-225305-0001 | 2253050001 | 5 In Stock. Ready to ship. | - |
| White | 257-268599-0002 | 2685990002 | 4 In Stock. Ready to ship. | - |
| Orange (16)/Black | 257-242110-5226 | 2421105226 | 4 In Stock. Ready to ship. | - |
| Black | 257-225298-0001 | 2252980001 | 4 In Stock. Ready to ship. | - |
| RM Yellow | 257-7449-37 | 2040720231 | 3 In Stock. Ready to ship. | - |
| Black | 257-211383-0001 | 2113830001 | 3 In Stock. Ready to ship. | - |
| Orange (16) | 257-272654-5226 | 272654-5226 | 2 In Stock. Ready to ship. | 2 In Stock. |
| Grey | 257-272654-0011 | 272654-0011 | 2 In Stock. Ready to ship. | 2 In Stock. |
| Black | 257-268644-0001 | 2686440001 | 2 In Stock. Ready to ship. | - |
| Blue | 257-220541-0003 | 2205410003 | 2 In Stock. Ready to ship. | 2 In Stock. |
| White | 1210.0101.5 | 2141700002 | 2 In Stock. Ready to ship. | 2 In Stock. |
| Blue | 257-7452-82Y | 5TJ-21610-80-00 | 1 In Stock. Ready to ship. | - |
| Grey | 257-273632-0011 | 273632-0011 | 1 In Stock. Ready to ship. | - |
| Black | 257-273632-0001 | 273632-0001 | 1 In Stock. Ready to ship. | - |
| YZ Blue | 257-272671-0211 | 272671-0211 | 1 In Stock. Ready to ship. | - |
| White | 257-272671-0002 | 272671-0002 | 1 In Stock. Ready to ship. | - |
| Grey | 257-272660-0011 | 272660-0011 | 1 In Stock. Ready to ship. | - |
| White | 257-272660-0002 | 272660-0002 | 1 In Stock. Ready to ship. | - |
| Blue | 257-268644-0003 | 268644-0003 | 1 In Stock. Ready to ship. | - |
| Grey | 257-263065-0011 | 263065-0011 | 1 In Stock. Ready to ship. | - |
| Teal | 257-244964-0213 | 244964-0213 | 1 In Stock. Ready to ship. | - |
| Light Blue | 257-244964-0085 | 244964-0085 | 1 In Stock. Ready to ship. | - |
| Teal | 257-242110-0213 | 242110-0213 | 1 In Stock. Ready to ship. | - |
| Orange | 257-225298-0237 | 2252980237 | 1 In Stock. Ready to ship. | - |
| Yellow | 257-8168-37 | 2040860005 | Unavailable. | - |
| Red | 257-287272-0004 | 287272-0004 | Unavailable. | - |
| White | 257-287272-0002 | 287272-0002 | Unavailable. | - |
| Black | 257-287272-0001 | 287272-0001 | Unavailable. | - |
| Orange | 257-287268-5226 | 287268-5226 | Unavailable. | - |
| Red | 257-287268-0227 | 287268-0227 | Unavailable. | - |
| Blue | 257-287268-0211 | 287268-0211 | Unavailable. | - |
| Grey | 257-287268-0011 | 287268-0011 | Unavailable. | - |
| Green | 257-287268-0006 | 287268-0006 | Unavailable. | - |
| White | 257-287268-0002 | 287268-0002 | Unavailable. | - |
| Black | 257-287268-0001 | 287268-0001 | Unavailable. | - |
| Red | 257-285890-0227 | 285890-0227 | Unavailable. | - |
| White | 257-285890-0002 | 285890-0002 | Unavailable. | - |
| Black | 257-285890-0001 | 285890-0001 | Unavailable. | - |
| White (20) | 257-279161-6811 | 279161-6811 | Unavailable. | - |
| Orange (16) | 257-279161-5226 | 279161-5226 | Unavailable. | - |
| Black | 257-279161-0001 | 279161-0001 | Unavailable. | - |
| White (20) | 257-279160-6811 | 279160-6811 | Unavailable. | - |
| Black | 257-279160-0001 | 279160-0001 | Unavailable. | - |
| Grey | 257-278055-0011 | 278055-0011 | Unavailable. | - |
| Green | 257-278055-0006 | 278055-0006 | Unavailable. | - |
| Black | 257-278055-0001 | 278055-0001 | Unavailable. | - |
| Flo Green | 257-273632-0235 | 273632-0235 | Unavailable. | - |
| Sand | 257-273632-0021 | 273632-0021 | Unavailable. | - |
| White | 257-273632-0002 | 273632-0002 | Unavailable. | - |
| White (20) | 257-273205-6811 | 273205-6811 | Unavailable. | - |
| White | 257-273205-0002 | 273205-0002 | Unavailable. | - |
| Black | 257-273205-0001 | 273205-0001 | Unavailable. | - |
| Black | 257-272671-0001 | 272671-0001 | Unavailable. | - |
| White (20) | 257-272660-6811 | 272660-6811 | Unavailable. | - |
| Black | 257-272660-0001 | 272660-0001 | Unavailable. | - |
| White (20) | 257-272654-6811 | 272654-6811 | Unavailable. | - |
| Flo Orange | 257-272654-4617 | 272654-4617 | Unavailable. | - |
| Light Blue | 257-272654-0085 | 272654-0085 | Unavailable. | - |
| Flo Yellow | 257-268651-4310 | 268651-4310 | Unavailable. | - |
| White (20) | 257-268644-6811 | 268644-6811 | Unavailable. | - |
| White (20) | 257-268599-6811 | 268599-6811 | Unavailable. | - |
| Flo Orange | 257-268599-4617 | 268599-4617 | Unavailable. | - |
| Light Blue | 257-268599-0085 | 268599-0085 | Unavailable. | - |
| Light Blue | 257-268589-0085 | 268589-0085 | Unavailable. | - |
| Grey | 257-268589-0011 | 268589-0011 | Unavailable. | - |
| Flo Yellow | 257-263065-4310 | 263065-4310 | Unavailable. | - |
| Teal | 257-263065-0213 | 263065-0213 | Unavailable. | - |
| Black | 257-244967-0001 | 2449670001 | Available. 5-7 Days. | - |
| White (20) | 257-244966-6811 | 244966-6811 | Unavailable. | - |
| Flo Orange | 257-244966-4617 | 244966-4617 | Unavailable. | - |
| Light Blue | 257-244966-0085 | 244966-0085 | Unavailable. | - |
| Red | 257-244966-0004 | 244966-0004 | Unavailable. | - |
| Light Blue | 257-244965-0085 | 244965-0085 | Unavailable. | - |
| Sand | 257-244965-0021 | 244965-0021 | Unavailable. | - |
| Flo Yellow | 257-244964-4310 | 244964-4310 | Unavailable. | - |
| Flo Yellow | 257-242110-4310 | 242110-4310 | Unavailable. | - |
| Light Blue | 257-242110-0085 | 242110-0085 | Unavailable. | - |
| Light Blue | 257-24211-00085 | 24211-00085 | Unavailable. | - |
| Sand | 257-240300-0021 | 240300-0021 | Unavailable. | - |
| Grey | 257-240300-0011 | 240300-0011 | Unavailable. | - |
| Flo Yellow | 257-237417-4310 | 237417-4310 | Unavailable. | - |
| Yellow | 257-237417-0005 | 237417-0005 | Available. 5-7 Days. | - |
| Flo Green | 257-237409-0235 | 237409-0235 | Unavailable. | - |
| Flo Yellow | 257-231962-4310 | 231962-4310 | Unavailable. | - |
| Flo Orange | 257-231961-4617 | 231961-4617 | Unavailable. | - |
| White | 257-220541-0002 | 2205410002 | Available. 5-7 Days. | - |
| Black | 257-220541-0001 | 2205410001 | Unavailable. | - |
| Flo Yellow | 257-217193-4310 | 2171934310 | Unavailable. | - |
| Flo Yellow | 257-211384-4310 | 2113844310 | Unavailable. | - |
| White | 257-211383-0002 | 2113830002 | Available. 5-7 Days. | - |
| White | 257-208200-0002 | 208200-0002 | Available. 5-7 Days. | - |
| White | 257-204070-0002 | 2040700002 | Unavailable. | - |
| Black | 1210.0101.1 | 2141700001 | Unavailable. | - |