By browsing, you consent to our

use of Cookies

.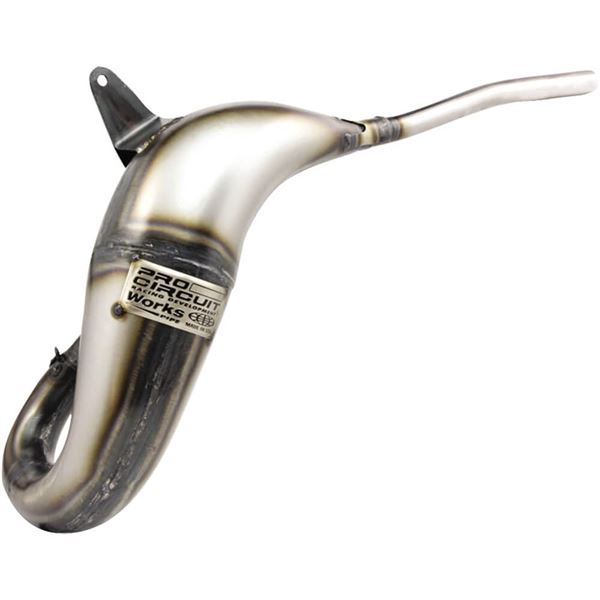 Fast, Free Shipping

Low Price Guarantee

No Hassle Returns

Increased horsepower and torque gains will quickly be noticed across the entire rpm range. The unplated, oiled metal finish requires some maintenance but really gives your bike that "Works Look".
Increased horsepower and torque gains
Stamped AKDQ high quality carbon steel construction
Hand welded and pounded seams
Reinforced mounting brackets and stinger
Embossed nameplate
CNC machined exhaust flange
Unplated oiled metal finish
Made in the USA
Note: Image for reference only. Actual product may vary according to vehicle.
Specifications
SKU
997-PY05125
Brand
Pro Circuit

California Prop 65
WARNING: Cancer and Reproductive Harm - www.P65Warnings.ca.gov
Part Numbers
| | SKU | MPN | Availability | In-Store Pickup |
| --- | --- | --- | --- | --- |
| | 997-PY05125 | PY05125 | 10+ In Stock. Ready to ship. | - |
| | 997-0751725 | 0751725 | 10+ In Stock. Ready to ship. | - |
| | 997-PY02085 | PY02085 | 7 In Stock. Ready to ship. | - |
| | 997-PK05250 | PK05250 | 6 In Stock. Ready to ship. | - |
| | 997-PH05125 | PH05125 | 3 In Stock. Ready to ship. | - |
| | 997-PT03250 | PT03250 | 2 In Stock. Ready to ship. | - |
| | 997-PK02065 | PK02065 | 2 In Stock. Ready to ship. | - |
| | 997-0751125 | 0751125 | 2 In Stock. Ready to ship. | - |
| | 997-0731865 | 0731865 | 2 In Stock. Ready to ship. | - |
| | 997-PT09150 | PT09150 | 1 In Stock. Ready to ship. | - |
| | 997-PT09085 | PT09085 | 1 In Stock. Ready to ship. | - |
| | 997-PT09065 | PT09065 | 1 In Stock. Ready to ship. | - |
| | 997-PS04250 | PS04250 | 1 In Stock. Ready to ship. | - |
| | 997-PK04250 | PK04250 | 1 In Stock. Ready to ship. | - |
| | 997-PK04125 | PK04125 | 1 In Stock. Ready to ship. | - |
| | 997-0781265 | 0781265 | 1 In Stock. Ready to ship. | - |
| | 997-0751385 | 0751385 | 1 In Stock. Ready to ship. | - |
| | 997-PY94125 | PY94125 | Unavailable. | - |
| | 997-PY92250W | PY92250W | Unavailable. | - |
| | 997-PY92250 | PY92250 | Unavailable. | - |
| | 997-PY92125 | PY92125 | Unavailable. | - |
| | 997-PY91125 | PY91125 | Unavailable. | - |
| | 997-PY89250 | PY89250 | Unavailable. | - |
| | 997-PY89125 | PY89125 | Unavailable. | - |
| | 997-PY88250 | PY88250 | Unavailable. | - |
| | 997-PY87250 | PY87250 | Unavailable. | - |
| | 997-PY87125 | PY87125 | Unavailable. | - |
| | 997-PY87080 | PY87080 | Unavailable. | - |
| | 997-PY86125 | PY86125 | Unavailable. | - |
| | 997-PY84490 | PY84490 | Unavailable. | - |
| | 997-PY05250 | PY05250 | Unavailable. | - |
| | 997-PT99250 | PT99250 | Unavailable. | - |
| | 997-PT98065 | PT98065 | Unavailable. | - |
| | 997-PT09050 | PT09050 | Unavailable. | - |
| | 997-PT07125 | PT07125 | Unavailable. | - |
| | 997-PT04125 | PT04125 | Unavailable. | - |
| | 997-PT02050 | PT02050 | Unavailable. | - |
| | 997-PT00250 | PT00250 | Unavailable. | - |
| | 997-PT00125 | PT00125 | Unavailable. | - |
| | 997-PS98125 | PS98125 | Unavailable. | - |
| | 997-PS91250X | PS91250X | Unavailable. | - |
| | 997-PS91250 | PS91250 | Unavailable. | - |
| | 997-PS90250 | PS90250 | Unavailable. | - |
| | 997-PS90125 | PS90125 | Unavailable. | - |
| | 997-PS89080 | PS89080 | Unavailable. | - |
| | 997-PS88125 | PS88125 | Unavailable. | - |
| | 997-PS87250 | PS87250 | Unavailable. | - |
| | 997-PS87125 | PS87125 | Unavailable. | - |
| | 997-PS86250 | PS86250 | Unavailable. | - |
| | 997-PS04125 | PS04125 | Unavailable. | - |
| | 997-PS02085 | 0741585 | Unavailable. | - |
| | 997-PK98080 | PK98080 | Unavailable. | - |
| | 997-PK94250 | PK94250 | Unavailable. | - |
| | 997-PK94125 | PK94125 | Unavailable. | - |
| | 997-PK89500-02 | PK89500-02 | Unavailable. | - |
| | 997-PK89250 | PK89250 | Unavailable. | - |
| | 997-PK88125 | PK88125 | Unavailable. | - |
| | 997-PK88080 | PK88080 | Unavailable. | - |
| | 997-PK87125 | PK87125 | Unavailable. | - |
| | 997-PK86125 | PK86125 | Unavailable. | - |
| | 997-PK85125 | PK85125 | Unavailable. | - |
| | 997-PH96080 | PH96080 | Unavailable. | - |
| | 997-PH89500 | PH89500 | Unavailable. | - |
| | 997-PH89125 | PH89125 | Unavailable. | - |
| | 997-PH88250 | PH88250 | Unavailable. | - |
| | 997-PH87500 | PH87500 | Unavailable. | - |
| | 997-PH87250 | PH87250 | Unavailable. | - |
| | 997-PH87125 | PH87125 | Unavailable. | - |
| | 997-PH86125 | PH86125 | Unavailable. | - |
| | 997-PH86080 | PH86080 | Unavailable. | - |
| | 997-PH05250 | PH05250 | Unavailable. | - |
| | 997-PH05085 | PH05085 | Unavailable. | - |
| | 997-PH04125 | PH04125 | Unavailable. | - |
| | 997-PH03250 | PH03250 | Unavailable. | - |
| | 997-PH02250 | PH02250 | Unavailable. | - |
| | 997-PH01250 | PH01250 | Unavailable. | - |
| | 997-PH00500AF | PH00500AF | Unavailable. | - |
| | 997-781265 | 781265 | Unavailable. | - |
| | 997-781250 | 781250 | Unavailable. | - |
| | 997-761230 | 761230 | Unavailable. | - |
| | 997-761212 | 761212 | Unavailable. | - |
| | 997-751385 | 751385 | Unavailable. | - |
| | 997-751212 | 751212 | Unavailable. | - |
| | 997-751125 | 751125 | Unavailable. | - |
| | 997-721485 | 721485 | Unavailable. | - |
| | 997-721185 | 721185 | Unavailable. | - |
| | 997-7101430 | 7101430 | Unavailable. | - |
| | 997-0781250 | 0781250 | Unavailable. | - |
| | 997-0761985 | 0761985 | Unavailable. | - |
| | 997-0761885 | 0761885 | Unavailable. | - |
| | 997-0761230 | 0761230 | Unavailable. | - |
| | 997-0761212 | 0761212 | Unavailable. | - |
| | 997-0751925 | 0751925 | Unavailable. | - |
| | 997-0751912 | 0751912 | Unavailable. | - |
| | 997-0751665 | 0751665 | Unavailable. | - |
| | 997-0751612 | 0751612 | Unavailable. | - |
| | 997-0751550 | 0751550 | Unavailable. | - |
| | 997-0751212 | 0751212 | Unavailable. | - |
| | 997-0731985 | 0731985 | Unavailable. | - |
| | 997-0721485 | 0721485 | Unavailable. | - |
| | 997-0721185 | 0721185 | Unavailable. | - |
| | 997-07111530 | 07111530 | Unavailable. | - |
| | 997-07111525 | 07111525 | Unavailable. | - |
| | 997-07111430 | 07111430 | Unavailable. | - |