By browsing, you consent to our

use of Cookies

.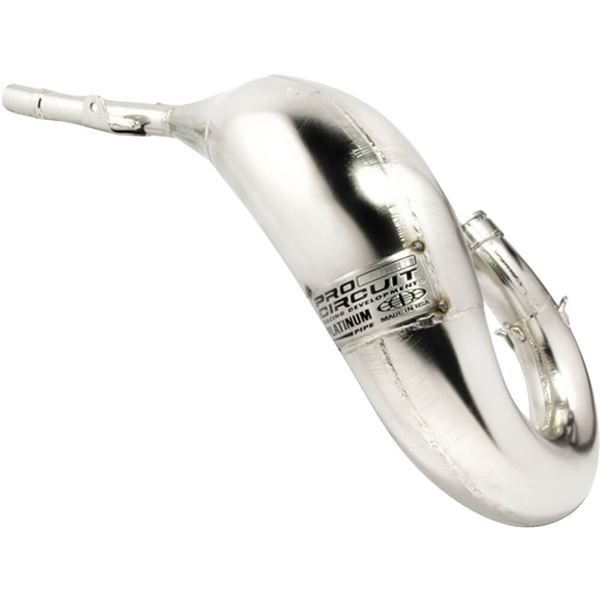 Fast, Free Shipping

Low Price Guarantee

No Hassle Returns

The Platinum Pipe offers the same performance gains as the popular Works Pipe, but utilizes a platinum plating on the body to protect it from everyday elements. The Platinum Pipe is a unique fusion of power, elegance and utility that pushes the boundaries of the sport's riding pleasure.
Stamped AKDQ high quality carbon steel construction
Platinum plated body for added protection
Same performance gains as the Works Pipe
Hand welded and pounded seams
Reinforced mounting brackets and stinger
Unique nickel bath for added surface abrasion resistance/enhanced aesthetic look
Embossed name plate
CNC machined exhaust flange
Precision design and engineering
Made in the USA
Note: Image for reference only. Actual product may vary according to vehicle.
Specifications
SKU
997-0851665
Brand
Pro Circuit

California Prop 65
WARNING: Cancer and Reproductive Harm - www.P65Warnings.ca.gov
Part Numbers
| | SKU | MPN | Availability | In-Store Pickup |
| --- | --- | --- | --- | --- |
| | 997-0851665 | 0851665 | 10+ In Stock. Ready to ship. | - |
| | 997-PH01125P | PH01125P | 10+ In Stock. Ready to ship. | - |
| | 997-PY05125P | PY05125P | 10+ In Stock. Ready to ship. | - |
| | 997-PH03125P | PH03125P | 10+ In Stock. Ready to ship. | - |
| | 997-0851912 | 0851912 | 10+ In Stock. Ready to ship. | - |
| | 997-0821485 | 0821485 | 10+ In Stock. Ready to ship. | - |
| | 997-PH02125P | PH02125P | 10+ In Stock. Ready to ship. | - |
| | 997-PH04125P | PH04125P | 10+ In Stock. Ready to ship. | - |
| | 997-0851725 | 0851725 | 10+ In Stock. Ready to ship. | - |
| | 997-PH01250P | PH01250P | 10 In Stock. Ready to ship. | - |
| | 997-0831865 | 0831865 | 9 In Stock. Ready to ship. | - |
| | 997-PS99250P | PS99250P | 7 In Stock. Ready to ship. | - |
| | 997-0851125 | 0851125 | 6 In Stock. Ready to ship. | - |
| | 997-PY05250P | PY05250P | 4 In Stock. Ready to ship. | - |
| | 997-PT09085P | PT09085P | 4 In Stock. Ready to ship. | - |
| | 997-PK02065P | PK02065P | 3 In Stock. Ready to ship. | - |
| | 997-0851212 | 0851212 | 3 In Stock. Ready to ship. | - |
| | 997-PT07125P | PT07125P | 2 In Stock. Ready to ship. | - |
| | 997-0881265 | 0881265 | 2 In Stock. Ready to ship. | - |
| | 997-PY84490P | PY84490P | 1 In Stock. Ready to ship. | - |
| | 997-PT09050P | PT09050P | 1 In Stock. Ready to ship. | - |
| | 997-PT04125P | PT04125P | 1 In Stock. Ready to ship. | - |
| | 997-PK00065P | PK00065P | 1 In Stock. Ready to ship. | - |
| | 997-PY99250P | PY99250P | Unavailable. | - |
| | 997-PY98250P | PY98250P | Unavailable. | - |
| | 997-PY97250P | PY97250P | Unavailable. | - |
| | 997-PY95250P | PY95250P | Unavailable. | - |
| | 997-PY94125P | PY94125P | Unavailable. | - |
| | 997-PY92250WP | PY92250WP | Unavailable. | - |
| | 997-PY92250P | PY92250P | Unavailable. | - |
| | 997-PY92125P | PY92125P | Unavailable. | - |
| | 997-PY91125P | PY91125P | Unavailable. | - |
| | 997-PY90250P | PY90250P | Unavailable. | - |
| | 997-PY89250P | PY89250P | Unavailable. | - |
| | 997-PY89125P | PY89125P | Unavailable. | - |
| | 997-PY88250P | PY88250P | Unavailable. | - |
| | 997-PY87250P | PY87250P | Unavailable. | - |
| | 997-PY87125P | PY87125P | Unavailable. | - |
| | 997-PY87080P | PY87080P | Unavailable. | - |
| | 997-PY86125P | PY86125P | Unavailable. | - |
| | 997-PY04125P | PY04125P | Unavailable. | - |
| | 997-PY03125P | PY03125P | Unavailable. | - |
| | 997-PY02085P | PY02085P | Unavailable. | - |
| | 997-PY01125P | PY01125P | Unavailable. | - |
| | 997-PY00250P | PY00250P | Unavailable. | - |
| | 997-PT98200P | PT98200P | Unavailable. | - |
| | 997-PT98125P | PT98125P | Unavailable. | - |
| | 997-PT98065P | PT98065P | Unavailable. | - |
| | 997-PT09150P | PT09150P | Unavailable. | - |
| | 997-PT09065P | PT09065P | Unavailable. | - |
| | 997-PT04085P | PT04085P | Unavailable. | - |
| | 997-PT04065P | PT04065P | Unavailable. | - |
| | 997-PT03250P | PT03250P | Unavailable. | - |
| | 997-PT03200P | PT03200P | Unavailable. | - |
| | 997-PT02065P | PT02065P | Unavailable. | - |
| | 997-PT02050P | PT02050P | Unavailable. | - |
| | 997-PT00250P | PT00250P | Unavailable. | - |
| | 997-PT00125P | PT00125P | Unavailable. | - |
| | 997-PS99125P | PS99125P | Unavailable. | - |
| | 997-PS98250P | PS98250P | Unavailable. | - |
| | 997-PS98125P | PS98125P | Unavailable. | - |
| | 997-PS96250P | PS96250P | Unavailable. | - |
| | 997-PS96125P | PS96125P | Unavailable. | - |
| | 997-PS94250P | PS94250P | Unavailable. | - |
| | 997-PS93125P | PS93125P | Unavailable. | - |
| | 997-PS92250P | PS92250P | Unavailable. | - |
| | 997-PS92125P | PS92125P | Unavailable. | - |
| | 997-PS91250XP | PS91250XP | Unavailable. | - |
| | 997-PS91250P | PS91250P | Unavailable. | - |
| | 997-PS91125P | PS91125P | Unavailable. | - |
| | 997-PS90250P | PS90250P | Unavailable. | - |
| | 997-PS90125P | PS90125P | Unavailable. | - |
| | 997-PS89080P | PS89080P | Unavailable. | - |
| | 997-PS88125P | PS88125P | Unavailable. | - |
| | 997-PS87250P | PS87250P | Unavailable. | - |
| | 997-PS86250P | PS86250P | Unavailable. | - |
| | 997-PS84125P | PS84125P | Unavailable. | - |
| | 997-PS04250P | PS04250P | Unavailable. | - |
| | 997-PS04125P | PS04125P | Unavailable. | - |
| | 997-PS03250P | PS03250P | Unavailable. | - |
| | 997-PS02250P | PS02250P | Unavailable. | - |
| | 997-PS02125P | PS02125P | Unavailable. | - |
| | 997-PS01250P | PS01250P | Unavailable. | - |
| | 997-PS01125P | PS01125P | Unavailable. | - |
| | 997-PS00125P | PS00125P | Unavailable. | - |
| | 997-PQ99250P | PQ99250P | Unavailable. | - |
| | 997-PQ99125P | PQ99125P | Unavailable. | - |
| | 997-PQ99050P | PQ99050P | Unavailable. | - |
| | 997-PM99250P | PM99250P | Unavailable. | - |
| | 997-PM95125P | PM95125P | Unavailable. | - |
| | 997-PL04050P | PL04050P | Unavailable. | - |
| | 997-PK99250P | PK99250P | Unavailable. | - |
| | 997-PK99125P | PK99125P | Unavailable. | - |
| | 997-PK98125P | PK98125P | Unavailable. | - |
| | 997-PK95250P | PK95250P | Unavailable. | - |
| | 997-PK95125P | PK95125P | Unavailable. | - |
| | 997-PK94250P | PK94250P | Unavailable. | - |
| | 997-PK94125P | PK94125P | Unavailable. | - |
| | 997-PK92125P | PK92125P | Unavailable. | - |
| | 997-PK91080P | PK91080P | Unavailable. | - |
| | 997-PK89500P-02 | PK89500P-02 | Unavailable. | - |
| | 997-PK89250P | PK89500P2 | Unavailable. | - |
| | 997-PK89125P | PK89125P | Unavailable. | - |
| | 997-PK88250P | PK88250P | Unavailable. | - |
| | 997-PK88125P | PK88125P | Unavailable. | - |
| | 997-PK88080P | PK88080P | Unavailable. | - |
| | 997-PK87125P | PK87125P | Unavailable. | - |
| | 997-PK87080P | PK87080P | Unavailable. | - |
| | 997-PK86125P | PK86125P | Unavailable. | - |
| | 997-PK86080P | PK86080P | Unavailable. | - |
| | 997-PK85125P | PK85125P | Unavailable. | - |
| | 997-PK05250P | PK05250P | Unavailable. | - |
| | 997-PK04250P | PK04250P | Unavailable. | - |
| | 997-PK04125P | PK04125P | Unavailable. | - |
| | 997-PK03250P | PK03250P | Unavailable. | - |
| | 997-PK03125P | PK03125P | Unavailable. | - |
| | 997-PK02250P | PK02250P | Unavailable. | - |
| | 997-PK01250P | PK01250P | Unavailable. | - |
| | 997-PK01125P | PK01125P | Unavailable. | - |
| | 997-PK00250P | PK00250P | Unavailable. | - |
| | 997-PK00125P | PK00125P | Unavailable. | - |
| | 997-PH99250P | PH99250P | Unavailable. | - |
| | 997-PH99125P | PH99125P | Unavailable. | - |
| | 997-PH98250CP | PH98250CP | Unavailable. | - |
| | 997-PH98125P | PH98125P | Unavailable. | - |
| | 997-PH97250P | PH97250P | Unavailable. | - |
| | 997-PH96080P | PH96080P | Unavailable. | - |
| | 997-PH95250P | PH95250P | Unavailable. | - |
| | 997-PH94250CP | PH094250CP | Unavailable. | - |
| | 997-PH92250P | PH92250P | Unavailable. | - |
| | 997-PH92125P | PH92125P | Unavailable. | - |
| | 997-PH91250P | PH91250P | Unavailable. | - |
| | 997-PH90250P | PH90250P | Unavailable. | - |
| | 997-PH90125P | PH90125P | Unavailable. | - |
| | 997-PH89500P | PH89500P | Unavailable. | - |
| | 997-PH89250P | PH89250P | Unavailable. | - |
| | 997-PH89125P | PH89125P | Unavailable. | - |
| | 997-PH86125P | PH86125P | Unavailable. | - |
| | 997-PH86080P | PH86080P | Unavailable. | - |
| | 997-PH84125P | PH84125P | Unavailable. | - |
| | 997-PH84080P | PH84080P | Unavailable. | - |
| | 997-PH05250P | PH00250P | Unavailable. | - |
| | 997-PH05125P | PH05125P | Unavailable. | - |
| | 997-PH05085P | PH05085P | Unavailable. | - |
| | 997-PH03250P | PH03250P | Unavailable. | - |
| | 997-PH03085P | PH03085P | Unavailable. | - |
| | 997-PH02250P | PH02250P | Unavailable. | - |
| | 997-PH00500AFP | PH00500AFP | Unavailable. | - |
| | 997-PH00250P | PH00250P | Unavailable. | - |
| | 997-PH00125P | PH00125P | Unavailable. | - |
| | 997-PG08300P | PG08300P | Unavailable. | - |
| | 997-881265 | 881265 | Unavailable. | - |
| | 997-881250 | 881250 | Unavailable. | - |
| | 997-861230 | 861230 | Unavailable. | - |
| | 997-861212 | 861212 | Unavailable. | - |
| | 997-851385 | 851385 | Unavailable. | - |
| | 997-851212 | 851212 | Unavailable. | - |
| | 997-851125 | 851125 | Unavailable. | - |
| | 997-821485 | 821485 | Unavailable. | - |
| | 997-821185 | 821185 | Unavailable. | - |
| | 997-8101430 | 8101430 | Unavailable. | - |
| | 997-0881250 | 0881250 | Unavailable. | - |
| | 997-0861985 | 0861985 | Unavailable. | - |
| | 997-0861885 | 0861885 | Unavailable. | - |
| | 997-0861725 | 0861725 | Unavailable. | - |
| | 997-0861230 | 0861230 | Unavailable. | - |
| | 997-0861212 | 0861212 | Unavailable. | - |
| | 997-0851925 | 0851925 | Unavailable. | - |
| | 997-0851612 | 0851612 | Unavailable. | - |
| | 997-0851550 | 0851550 | Unavailable. | - |
| | 997-0851385 | 0851385 | Unavailable. | - |
| | 997-0831985 | 0831985 | Unavailable. | - |
| | 997-0821185 | 0821185 | Unavailable. | - |