By browsing, you consent to our

use of Cookies

.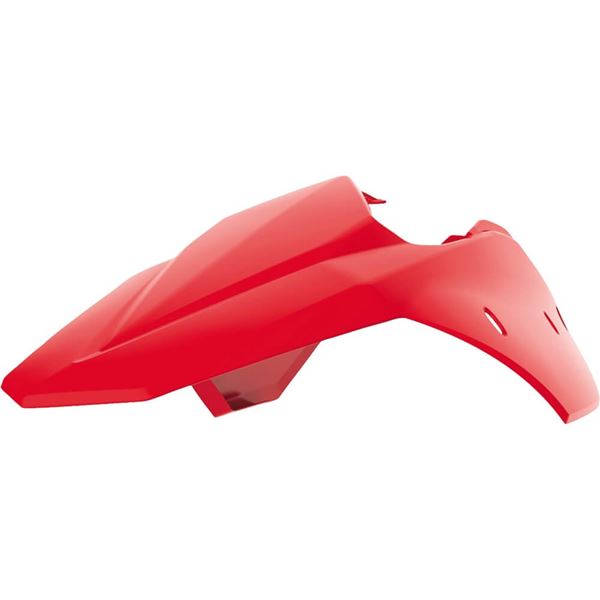 Free Shipping Over $75

Low Price Guarantee

No Hassle Returns

Polisport's rear fenders are produced with Polisport's exclusive technologies, for this reason the replica plastics are more durable and have a perfect combination of resistance and flexibility, with a perfect fit for your dirt bike. Perfectly matched O.E.M colors with a glossy finish and bright colors. If you want O.E.M quality don't look any further. Enjoy the quality plastic parts of a brand with more than 40 years of experience in the Off-Road motorbike market and that works with the best O.E.M manufacturers. The Polisport rear fender is the perfect choice to renew your dirtbike's plastics.
Made from Durable DGP (Durable Gloss Polypropylene)
Injection molded quality for a perfect O.E.M type fit
Constructed from a plastic composition that incorporates maximum gloss and high resistance to breaking
Exact replica of stock O.E.M plastic components but stronger
Inexpensive alternative to O.E.M replacement parts
Pre-drilled for perfect mounting every time
Less prone to scratches and holds color better
Note: Image for reference only. Actual product may vary according to vehicle.
Specifications
SKU
256-8587000005
Brand
Polisport
Frequently Bought Together

California Prop 65
WARNING: Cancer and Reproductive Harm - www.P65Warnings.ca.gov
Part Numbers
| | SKU | MPN | Availability | In-Store Pickup |
| --- | --- | --- | --- | --- |
| Blue | 256-8587000005 | 8587000005 | 10+ In Stock. Ready to ship. | - |
| Black | 256-8573100003 | 8573100003 | 10+ In Stock. Ready to ship. | - |
| Grey | 256-8595500007 | 8595500007 | 10+ In Stock. Ready to ship. | - |
| White | 256-8554100002 | 8554100002 | 10+ In Stock. Ready to ship. | - |
| Red | 256-8575000001 | 8575000001 | 10+ In Stock. Ready to ship. | - |
| Orange | 256-8557000006 | 8557000006 | 10+ In Stock. Ready to ship. | - |
| Black | 256-8554900001 | 8554900001 | 10+ In Stock. Ready to ship. | - |
| White | 256-8579300002 | 8579300002 | 10+ In Stock. Ready to ship. | - |
| White | 256-8595600002 | 8595600002 | 10+ In Stock. Ready to ship. | - |
| White | 256-8595900002 | 8595900002 | 10+ In Stock. Ready to ship. | - |
| Black | 256-8595100003 | 8595100003 | 10+ In Stock. Ready to ship. | - |
| Blue | 256-8573100001 | 8573100001 | 10+ In Stock. Ready to ship. | - |
| White | 256-8565300001 | 8565300001 | 10+ In Stock. Ready to ship. | - |
| Orange | 256-8595900001 | 8595900001 | 10+ In Stock. Ready to ship. | - |
| Black | 256-8595400006 | 8595400006 | 10+ In Stock. Ready to ship. | - |
| Red | 256-8685000001 | 8685000001 | 10+ In Stock. Ready to ship. | - |
| Green | 256-8596100005 | 8596100005 | 10+ In Stock. Ready to ship. | - |
| White | 256-8573100002 | 8573100002 | 10+ In Stock. Ready to ship. | - |
| Grey | 256-8572900006 | 8572900006 | 10+ In Stock. Ready to ship. | - |
| Blue | 256-8563700001 | 8563700001 | 10+ In Stock. Ready to ship. | - |
| White | 256-8556900002 | 8556900002 | 10+ In Stock. Ready to ship. | - |
| Blue | 256-8551400002 | 8551400002 | 10+ In Stock. Ready to ship. | - |
| White | 256-8595700002 | 8595700002 | 10+ In Stock. Ready to ship. | - |
| Red | 256-8563200003 | 8563200003 | 10+ In Stock. Ready to ship. | - |
| Blue | 256-8556900001 | 8556900001 | 10+ In Stock. Ready to ship. | - |
| Black | 256-8554100003 | 8554100003 | 10+ In Stock. Ready to ship. | - |
| Red | 256-8595700001 | 8595700001 | 10+ In Stock. Ready to ship. | - |
| Green | 256-8595100001 | 8595100001 | 10+ In Stock. Ready to ship. | - |
| Orange | 256-8595400007 | 8595400007 | 10+ In Stock. Ready to ship. | - |
| Red | 256-8569100001 | 8569100001 | 10+ In Stock. Ready to ship. | - |
| Red | 256-8563400001 | 8563400001 | 10+ In Stock. Ready to ship. | - |
| White | 256-8557200005 | 8557200005 | 10+ In Stock. Ready to ship. | - |
| Black | 256-8595900003 | 8595900003 | 10+ In Stock. Ready to ship. | - |
| Black | 256-8595600003 | 8595600003 | 10+ In Stock. Ready to ship. | - |
| Black | 256-8579800003 | 8579800003 | 10+ In Stock. Ready to ship. | - |
| White | 256-8579800002 | 8579800002 | 10+ In Stock. Ready to ship. | - |
| Blue | 256-8579800001 | 8579800001 | 10+ In Stock. Ready to ship. | - |
| Blue | 256-8578900003 | 8578900003 | 10+ In Stock. Ready to ship. | - |
| White | 256-8567700001 | 8567700001 | 10+ In Stock. Ready to ship. | - |
| Green | 256-8561500013 | 8561500013 | 10+ In Stock. Ready to ship. | - |
| Blue | 256-8561400002 | 8561400002 | 10+ In Stock. Ready to ship. | - |
| White | 256-8554300001 | 8554300001 | 10+ In Stock. Ready to ship. | - |
| Black | 256-8595700003 | 8595700003 | 10+ In Stock. Ready to ship. | - |
| White | 256-8587000002 | 8587000002 | 10+ In Stock. Ready to ship. | - |
| Red | 256-8578700001 | 8578700001 | 10+ In Stock. Ready to ship. | - |
| Blue | 256-8563600001 | 8563600001 | 10+ In Stock. Ready to ship. | - |
| Red | 256-8560600009 | 8560600009 | 10+ In Stock. Ready to ship. | - |
| Yellow | 256-8560200001 | 8560200001 | 10+ In Stock. Ready to ship. | - |
| Orange | 256-8556600001 | 8556600001 | 10+ In Stock. Ready to ship. | - |
| White | 256-8556000001 | 8556000001 | 10+ In Stock. Ready to ship. | - |
| Blue | 256-8553300003 | 8553300003 | 10+ In Stock. Ready to ship. | - |
| White | 256-8685000002 | 8685000002 | 10+ In Stock. Ready to ship. | - |
| White | 256-8579500002 | 8579500002 | 10+ In Stock. Ready to ship. | - |
| Yellow | 256-8568800001 | 8568800001 | 10+ In Stock. Ready to ship. | - |
| Red | 256-8593000003 | 8593000003 | 10+ In Stock. Ready to ship. | - |
| Yellow | 256-8589000001 | 8589000001 | 10+ In Stock. Ready to ship. | - |
| Red | 256-8588000003 | 8588000003 | 10+ In Stock. Ready to ship. | - |
| Green | 256-8579100001 | 8579100001 | 10+ In Stock. Ready to ship. | - |
| Blue | 256-8574900001 | 8574900001 | 10+ In Stock. Ready to ship. | - |
| Black | 256-8560600002 | 8560600002 | 10+ In Stock. Ready to ship. | - |
| Black | 256-8560200002 | 8560200002 | 10+ In Stock. Ready to ship. | - |
| Black | 256-8556600003 | 8556600003 | 10+ In Stock. Ready to ship. | - |
| Yellow | 256-8554600001 | 8554600001 | 10+ In Stock. Ready to ship. | - |
| Black | 256-8596100003 | 8596100003 | 10+ In Stock. Ready to ship. | - |
| Green | 256-8595600001 | 8595600001 | 10+ In Stock. Ready to ship. | - |
| Orange | 256-8595500001 | 8595500001 | 10+ In Stock. Ready to ship. | - |
| White | 256-8571600019 | 8571600019 | 10+ In Stock. Ready to ship. | - |
| Green | 256-8560400009 | 8560400009 | 10+ In Stock. Ready to ship. | - |
| White | 256-8595500002 | 8595500002 | 10+ In Stock. Ready to ship. | - |
| White | 256-8595400005 | 8595400005 | 10+ In Stock. Ready to ship. | - |
| White | 256-8585300001 | 8585300001 | 10+ In Stock. Ready to ship. | - |
| Orange | 256-8571600001 | 8571600001 | 10+ In Stock. Ready to ship. | - |
| Red | 256-8560900010 | 8560900010 | 10+ In Stock. Ready to ship. | - |
| White | 256-8560900001 | 8560900001 | 10+ In Stock. Ready to ship. | - |
| Black | 256-8556600007 | 8556600007 | 10+ In Stock. Ready to ship. | - |
| White | 256-8554600002 | 8554600002 | 10+ In Stock. Ready to ship. | - |
| Yellow | 256-8552500001 | 8552500001 | 10+ In Stock. Ready to ship. | - |
| White | 256-8581400004 | 8581400004 | 10+ In Stock. Ready to ship. | - |
| White | 256-8579400002 | 8579400002 | 10+ In Stock. Ready to ship. | - |
| Black | 256-8572900003 | 8572900003 | 10+ In Stock. Ready to ship. | - |
| Red | 256-8562700003 | 8562700003 | 10+ In Stock. Ready to ship. | - |
| Black | 256-8560500002 | 8560500002 | 10+ In Stock. Ready to ship. | - |
| Red | 256-8556000004 | 8556000004 | 10+ In Stock. Ready to ship. | - |
| Black | 256-8554600003 | 8554600003 | 10+ In Stock. Ready to ship. | - |
| Green | 256-8551200002 | 8551200002 | 10+ In Stock. Ready to ship. | - |
| White | 256-8551100001 | 8551100001 | 10+ In Stock. Ready to ship. | - |
| White | 256-8684800009 | 8684800009 | 10 In Stock. Ready to ship. | - |
| Grey | 256-8596100004 | 8596100004 | 10 In Stock. Ready to ship. | - |
| White | 256-8579700002 | 8579700002 | 10 In Stock. Ready to ship. | - |
| Red | 256-8579500001 | 8579500001 | 10 In Stock. Ready to ship. | - |
| White | 256-8574900002 | 8574900002 | 10 In Stock. Ready to ship. | - |
| Yellow | 256-8574600002 | 8574600002 | 10 In Stock. Ready to ship. | - |
| Black | 256-8572900001 | 8572900001 | 10 In Stock. Ready to ship. | - |
| White | 256-8567900013 | 8567900013 | 10 In Stock. Ready to ship. | - |
| Red | 256-8565300003 | 8565300003 | 10 In Stock. Ready to ship. | - |
| Red | 256-8560600003 | 8560600003 | 10 In Stock. Ready to ship. | - |
| Blue | 256-8560500003 | 8560500003 | 10 In Stock. Ready to ship. | - |
| Black | 256-8556800007 | 8556800007 | 10 In Stock. Ready to ship. | - |
| Black | 256-8552500002 | 8552500002 | 10 In Stock. Ready to ship. | - |
| Black | 256-8551200001 | 8551200001 | 10 In Stock. Ready to ship. | - |
| Red | 256-8551100003 | 8551100003 | 10 In Stock. Ready to ship. | - |
| White | 256-8579600002 | 8579600002 | 9 In Stock. Ready to ship. | - |
| Blue | 256-8579600001 | 8579600001 | 9 In Stock. Ready to ship. | - |
| Orange | 256-8579400001 | 8579400001 | 9 In Stock. Ready to ship. | - |
| Black | 256-8579300003 | 8579300003 | 9 In Stock. Ready to ship. | - |
| Green | 256-8578800001 | 8578800001 | 9 In Stock. Ready to ship. | - |
| White | 256-8572900002 | 8572900002 | 9 In Stock. Ready to ship. | - |
| Orange | 256-8561800001 | 8561800001 | 9 In Stock. Ready to ship. | - |
| Orange | 256-8561300002 | 8561300002 | 9 In Stock. Ready to ship. | - |
| Black | 256-8561100001 | 8561100001 | 9 In Stock. Ready to ship. | - |
| White | 256-8560500001 | 8560500001 | 9 In Stock. Ready to ship. | - |
| Red | 256-8557200004 | 8557200004 | 9 In Stock. Ready to ship. | - |
| White | 256-8550300001 | 8550300001 | 9 In Stock. Ready to ship. | - |
| Black | 256-8685000003 | 8685000003 | 8 In Stock. Ready to ship. | - |
| Grey | 256-8585300003 | 8585300003 | 8 In Stock. Ready to ship. | - |
| Red | 256-8581400002 | 8581400002 | 8 In Stock. Ready to ship. | - |
| Green | 256-8579700001 | 8579700001 | 8 In Stock. Ready to ship. | - |
| White | 256-8578700002 | 8578700002 | 8 In Stock. Ready to ship. | - |
| Yellow | 256-8565500001 | 8565500001 | 8 In Stock. Ready to ship. | - |
| White | 256-8563700003 | 8563700003 | 8 In Stock. Ready to ship. | - |
| Black | 256-8556000002 | 8556000002 | 8 In Stock. Ready to ship. | - |
| Black | 256-8579500003 | 8579500003 | 7 In Stock. Ready to ship. | - |
| Black | 256-8579100003 | 8579100003 | 7 In Stock. Ready to ship. | - |
| Grey | 256-8574900006 | 8574900006 | 7 In Stock. Ready to ship. | - |
| Black | 256-8574900003 | 8574900003 | 7 In Stock. Ready to ship. | - |
| Orange | 256-8563900001 | 8563900001 | 7 In Stock. Ready to ship. | - |
| Black | 256-8561300001 | 8561300001 | 7 In Stock. Ready to ship. | - |
| Green | 256-8561100007 | 8561100007 | 7 In Stock. Ready to ship. | - |
| Grey | 256-8557200007 | 8557200007 | 7 In Stock. Ready to ship. | - |
| Grey | 256-8554100006 | 8554100006 | 7 In Stock. Ready to ship. | - |
| Red | 256-8550100003 | 8550100003 | 7 In Stock. Ready to ship. | - |
| Black | 256-8595500003 | 8595500003 | 6 In Stock. Ready to ship. | - |
| White | 256-8578900001 | 8578900001 | 6 In Stock. Ready to ship. | - |
| Black | 256-8578700003 | 8578700003 | 6 In Stock. Ready to ship. | - |
| Green | 256-8562900010 | 8562900010 | 6 In Stock. Ready to ship. | - |
| Yellow | 256-8562900001 | 8562900001 | 6 In Stock. Ready to ship. | - |
| Black | 256-8557000007 | 8557000007 | 6 In Stock. Ready to ship. | - |
| Grey | 256-8556800010 | 8556800010 | 6 In Stock. Ready to ship. | - |
| White | 256-8556800006 | 8556800006 | 6 In Stock. Ready to ship. | - |
| Yellow | 256-8552900003 | 8552900003 | 6 In Stock. Ready to ship. | - |
| Black | 256-8550100002 | 8550100002 | 6 In Stock. Ready to ship. | - |
| White | 256-8596100002 | 8596100002 | 5 In Stock. Ready to ship. | - |
| Grey | 256-8595700005 | 8595700005 | 5 In Stock. Ready to ship. | - |
| Black | 256-8579600003 | 8579600003 | 5 In Stock. Ready to ship. | - |
| White | 256-8579100002 | 8579100002 | 5 In Stock. Ready to ship. | - |
| Blue | 256-8569400003 | 8569400003 | 5 In Stock. Ready to ship. | - |
| White | 256-8557000002 | 8557000002 | 5 In Stock. Ready to ship. | - |
| White | 256-8553300001 | 8553300001 | 5 In Stock. Ready to ship. | - |
| Red | 256-8551000003 | 8551000003 | 5 In Stock. Ready to ship. | - |
| Grey | 256-8685000004 | 8685000004 | 4 In Stock. Ready to ship. | - |
| Blue | 256-8595800001 | 8595800001 | 4 In Stock. Ready to ship. | - |
| Red | 256-8585300004 | 8585300004 | 4 In Stock. Ready to ship. | - |
| Black | 256-8585300002 | 8585300002 | 4 In Stock. Ready to ship. | - |
| Red | 256-8554100001 | 8554100001 | 4 In Stock. Ready to ship. | - |
| Black | 256-8551400001 | 8551400001 | 4 In Stock. Ready to ship. | - |
| Green | 256-8596100001 | 8596100001 | 3 In Stock. Ready to ship. | - |
| Green | 256-8595000001 | 8595000001 | 3 In Stock. Ready to ship. | - |
| Black | 256-8557000003 | 8557000003 | 3 In Stock. Ready to ship. | - |
| Black | 256-8557200006 | 8557200006 | 2 In Stock. Ready to ship. | - |
| White | 256-8556800001 | 8556800001 | 2 In Stock. Ready to ship. | - |
| White | 256-8556600002 | 8556600002 | 2 In Stock. Ready to ship. | - |
| Grey | 256-8556000005 | 8556000005 | 2 In Stock. Ready to ship. | - |
| Black | 256-8551100002 | 8551100002 | 2 In Stock. Ready to ship. | - |
| Black | 256-8578800003 | 8578800003 | 1 In Stock. Ready to ship. | - |
| White | 256-8554700002 | 8554700002 | 1 In Stock. Ready to ship. | - |
| White | 256-HU03313-041 | HU03313-041 | Unavailable. | - |
| Black | 256-8579700003 | 8579700003 | Unavailable. | - |
| Black | 256-8579400003 | 8579400003 | Unavailable. | - |
| Red | 256-8579300001 | 8579300001 | Unavailable. | - |
| Black | 256-8578900002 | 8578900002 | Unavailable. | - |
| White | 256-8578800002 | 8578800002 | Unavailable. | - |
| Black | 256-8574600001 | 8574600001 | Unavailable. | - |
| White | 256-8569100002 | 8569100002 | Unavailable. | - |
| Black | 256-8565300002 | 8565300002 | Unavailable. | - |
| White | 256-8562700001 | 8562700001 | Unavailable. | - |
| Orange | 256-8557000001 | 8557000001 | Unavailable. | - |
| Grey | 256-8556800005 | 8556800005 | Unavailable. | - |
| Black | 256-8556800002 | 8556800002 | Unavailable. | - |
| Orange | 256-8554700001 | 8554700001 | Unavailable. | - |
| Blue | 256-8554300003 | 8554300003 | Unavailable. | - |
| Black | 256-8553300002 | 8553300002 | Unavailable. | - |
| Black | 256-8552900002 | 8552900002 | Unavailable. | - |
| White | 256-8550100001 | 8550100001 | Unavailable. | - |