By browsing, you consent to our

use of Cookies

.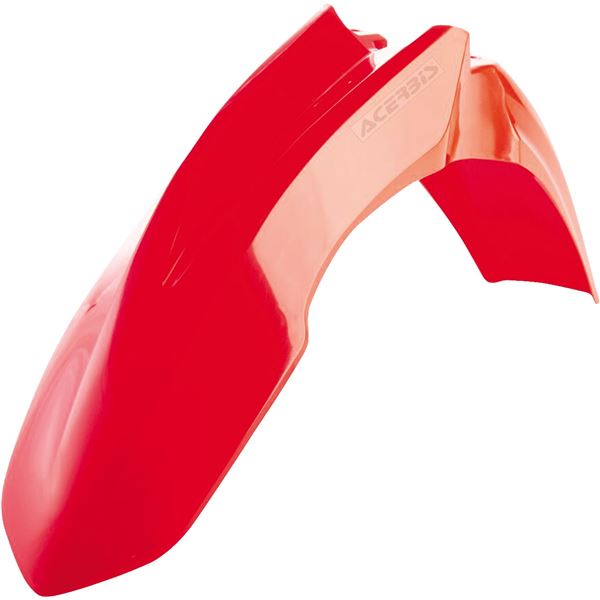 Free Shipping Over $75

Low Price Guarantee

No Hassle Returns

All plastics have the original factory shape of the associated bike model
Note:  Image for reference only. Actual product may vary according to vehicle.
Note: Kawasaki KLX 110 and Suzuki DR-Z 110 front fenders must be trimmed on the back to fit.
This front fender was designed with the original factory shape of the associated bike model to ensure a flawless fit. If you are replacing a damaged fender, these fenders are O.E.M color matched so the shade will match the rest of your bike.
Specifications
SKU
257-285884-0001
Brand
Acerbis
Frequently Bought Together

California Prop 65
WARNING: Cancer and Reproductive Harm - www.P65Warnings.ca.gov
Part Numbers
| | SKU | MPN | Availability | In-Store Pickup |
| --- | --- | --- | --- | --- |
| Black | 257-285884-0001 | 285884-0001 | 10+ In Stock. Ready to ship. | - |
| Black | 257-8362-05 | 2040240001 | 10+ In Stock. Ready to ship. | - |
| Red | 257-287270-0004 | 287270-0004 | 10+ In Stock. Ready to ship. | - |
| Black | 257-287270-0001 | 287270-0001 | 10+ In Stock. Ready to ship. | - |
| Black | 257-263064-0001 | 2630640001 | 10+ In Stock. Ready to ship. | - |
| Black | 1201.0102.1 | 2141810001 | 10+ In Stock. Ready to ship. | - |
| Black | 1210.0100.1 | 2141690001 | 10+ In Stock. Ready to ship. | - |
| Orange (16) | 257-268594-5226 | 2685945226 | 10+ In Stock. Ready to ship. | - |
| White | 1201.0102.5 | 2141810002 | 10+ In Stock. Ready to ship. | - |
| Flo Yellow | 257-217174-4310 | 217174-4310 | 10+ In Stock. Ready to ship. | - |
| White | 257-232083-0002 | 2320830002 | 10 In Stock. Ready to ship. | - |
| White | 257-268580-0002 | 2685800002 | 9 In Stock. Ready to ship. | - |
| White | 257-239339-0002 | 2393390002 | 9 In Stock. Ready to ship. | - |
| Black | 257-239339-0001 | 2393390001 | 9 In Stock. Ready to ship. | - |
| Orange (16) | 257-231421-5226 | 2314215226 | 9 In Stock. Ready to ship. | - |
| Orange | 257-225300-0237 | 2253000237 | 9 In Stock. Ready to ship. | - |
| White | 1210.0100.5 | 2141690002 | 9 In Stock. Ready to ship. | - |
| Red | 257-285884-0227 | 285884-0227 | 8 In Stock. Ready to ship. | - |
| White | 257-268640-0002 | 2686400002 | 8 In Stock. Ready to ship. | - |
| Black | 257-239340-0001 | 2393400001 | 8 In Stock. Ready to ship. | - |
| Flo Orange | 257-238636-4617 | 2386364617 | 8 In Stock. Ready to ship. | - |
| Red | 257-244951-0004 | 244951-0004 | 7 In Stock. Ready to ship. | - |
| Green | 257-244950-0006 | 2449500006 | 7 In Stock. Ready to ship. | 7 In Stock. |
| White | 257-239340-0002 | 2393400002 | 7 In Stock. Ready to ship. | 2 In Stock. |
| Black | 257-231421-0001 | 2314210001 | 7 In Stock. Ready to ship. | - |
| Blue | 257-217174-0003 | 2171740003 | 7 In Stock. Ready to ship. | 7 In Stock. |
| Yellow | 257-268647-0231 | 2686470231 | 6 In Stock. Ready to ship. | 6 In Stock. |
| White | 257-268594-0002 | 2685940002 | 6 In Stock. Ready to ship. | - |
| Black | 257-246259-0001 | 2462590001 | 6 In Stock. Ready to ship. | - |
| Orange | 257-232083-0237 | 2320830237 | 6 In Stock. Ready to ship. | - |
| White | 257-268647-0002 | 268647-0002 | 5 In Stock. Ready to ship. | - |
| White | 257-263064-0002 | 2630640002 | 5 In Stock. Ready to ship. | 5 In Stock. |
| Black | 257-225300-0001 | 2253000001 | 5 In Stock. Ready to ship. | - |
| 02 RM Yellow | 257-8366-37 | 2040380231 | 4 In Stock. Ready to ship. | 4 In Stock. |
| Orange | 257-8054-84 | 2040300237 | 4 In Stock. Ready to ship. | 4 In Stock. |
| Black | 257-8039-05 | 2040250001 | 4 In Stock. Ready to ship. | 4 In Stock. |
| Black | 257-268640-0001 | 2686400001 | 4 In Stock. Ready to ship. | - |
| White | 257-242111-0002 | 2421110002 | 4 In Stock. Ready to ship. | 4 In Stock. |
| Orange | 257-231422-0237 | 2314220237 | 4 In Stock. Ready to ship. | - |
| White | 257-231422-0002 | 2314220002 | 4 In Stock. Ready to ship. | - |
| Green | 257-231414-0403 | 2314140403 | 4 In Stock. Ready to ship. | 4 In Stock. |
| Orange | 257-225307-0237 | 2253070237 | 4 In Stock. Ready to ship. | - |
| White | 257-217174-0002 | 2171740002 | 4 In Stock. Ready to ship. | 4 In Stock. |
| Black | 257-8054-05 | 2040300001 | 3 In Stock. Ready to ship. | 3 In Stock. |
| White | 257-285884-0002 | 285884-0002 | 3 In Stock. Ready to ship. | - |
| White | 257-244950-0002 | 2449500002 | 3 In Stock. Ready to ship. | 3 In Stock. |
| Blue | 257-240302-0211 | 2403020211 | 3 In Stock. Ready to ship. | 3 In Stock. |
| Black | 257-237404-0001 | 2374040001 | 3 In Stock. Ready to ship. | - |
| Red | 257-231435-0227 | 2314350227 | 3 In Stock. Ready to ship. | 3 In Stock. |
| White | 257-231435-0002 | 2314350002 | 3 In Stock. Ready to ship. | 3 In Stock. |
| Black | 257-231414-0001 | 2314140001 | 3 In Stock. Ready to ship. | 3 In Stock. |
| White | 257-225300-0002 | 2253000002 | 3 In Stock. Ready to ship. | - |
| White | 257-208454-0002 | 2084540002 | 3 In Stock. Ready to ship. | 3 In Stock. |
| Orange | 257-208201-0237 | 2082010237 | 3 In Stock. Ready to ship. | 3 In Stock. |
| White | 257-208201-0002 | 2082010002 | 3 In Stock. Ready to ship. | 3 In Stock. |
| Green | 257-8370-03 | 2040320006 | 2 In Stock. Ready to ship. | 2 In Stock. |
| Black | 257-8366-05 | 2040380001 | 2 In Stock. Ready to ship. | 2 In Stock. |
| Red | 257-8362-44 | 2040240227 | 2 In Stock. Ready to ship. | 2 In Stock. |
| Red | 257-8346-46 | 2040480229 | 2 In Stock. Ready to ship. | 2 In Stock. |
| Black | 257-8052-05 | 2040350001 | 2 In Stock. Ready to ship. | 2 In Stock. |
| Green | 257-8045-03 | 2040310006 | 2 In Stock. Ready to ship. | 2 In Stock. |
| Black | 257-8042-05 | 2040330001 | 2 In Stock. Ready to ship. | 2 In Stock. |
| White | 257-287270-0002 | 287270-0002 | 2 In Stock. Ready to ship. | - |
| Blue | 257-268640-0003 | 268640-0003 | 2 In Stock. Ready to ship. | - |
| Grey | 257-246259-0011 | 246259-0011 | 2 In Stock. Ready to ship. | 2 In Stock. |
| Flo Green | 257-244950-0235 | 2449500235 | 2 In Stock. Ready to ship. | 2 In Stock. |
| Black | 257-242111-0001 | 2421110001 | 2 In Stock. Ready to ship. | 2 In Stock. |
| Orange (16) | 257-231422-5226 | 2314225226 | 2 In Stock. Ready to ship. | - |
| Orange | 257-231421-0237 | 2314210237 | 2 In Stock. Ready to ship. | 2 In Stock. |
| White | 257-231414-0002 | 2314140002 | 2 In Stock. Ready to ship. | 2 In Stock. |
| Black | 257-217174-0001 | 2171740001 | 2 In Stock. Ready to ship. | 2 In Stock. |
| Yellow | 257-2113640231 | 2113640231 | 2 In Stock. Ready to ship. | 2 In Stock. |
| Black | 257-2113640001 | 2113640001 | 2 In Stock. Ready to ship. | 2 In Stock. |
| White | 257-211364-0002 | 2113640002 | 2 In Stock. Ready to ship. | 2 In Stock. |
| Red | 257-208454-0227 | 2084540227 | 2 In Stock. Ready to ship. | 2 In Stock. |
| Black | 257-204036-0001 | 2040360001 | 2 In Stock. Ready to ship. | 2 In Stock. |
| Green | 1210.0100.30 | 2141690403 | 2 In Stock. Ready to ship. | 2 In Stock. |
| Blue | 257-8364-82 | 2040520211 | 1 In Stock. Ready to ship. | - |
| White | 257-8361-06 | 2040470002 | 1 In Stock. Ready to ship. | - |
| Black | 257-8361-05 | 2040470001 | 1 In Stock. Ready to ship. | - |
| Green | 257-8340-03 | 2040360006 | 1 In Stock. Ready to ship. | - |
| White | 257-8136-06 | 2040510002 | 1 In Stock. Ready to ship. | - |
| Black | 257-8136-05 | 2040510001 | 1 In Stock. Ready to ship. | - |
| Yellow | 257-8042-07 | 2040330005 | 1 In Stock. Ready to ship. | - |
| Flo Red | 257-8039-12 | 2040250236 | 1 In Stock. Ready to ship. | - |
| Black | 257-7448-05 | 2040230001 | 1 In Stock. Ready to ship. | - |
| White | 257-272667-0002 | 272667-0002 | 1 In Stock. Ready to ship. | - |
| Black | 257-272667-0001 | 272667-0001 | 1 In Stock. Ready to ship. | - |
| Grey | 257-268585-0011 | 268585-0011 | 1 In Stock. Ready to ship. | - |
| White | 257-268585-0002 | 2685850002 | 1 In Stock. Ready to ship. | - |
| Teal | 257-268580-0213 | 2685800213 | 1 In Stock. Ready to ship. | - |
| Light Blue | 257-268580-0085 | 268580-0085 | 1 In Stock. Ready to ship. | - |
| Green | 257-268580-0006 | 2685800006 | 1 In Stock. Ready to ship. | - |
| Black | 257-268580-0001 | 2685800001 | 1 In Stock. Ready to ship. | - |
| Grey | 257-263064-0011 | 263064-0011 | 1 In Stock. Ready to ship. | - |
| White | 257-246259-0002 | 2462590002 | 1 In Stock. Ready to ship. | - |
| Orange (16) | 257-244951-5226 | 2449515226 | 1 In Stock. Ready to ship. | - |
| White | 257-244951-0002 | 2449510002 | 1 In Stock. Ready to ship. | - |
| Black | 257-244950-0001 | 2449500001 | 1 In Stock. Ready to ship. | - |
| Grey | 257-242111-0011 | 242111-0011 | 1 In Stock. Ready to ship. | - |
| Flo Green | 257-238635-0235 | 2386350235 | 1 In Stock. Ready to ship. | - |
| Black | 257-231435-0001 | 2314350001 | 1 In Stock. Ready to ship. | - |
| Yellow | 257-217174-0005 | 217174-0005 | 1 In Stock. Ready to ship. | - |
| Flo Yellow | 257-211364-4310 | 2113644310 | 1 In Stock. Ready to ship. | - |
| Black | 257-208454-0001 | 2084540001 | 1 In Stock. Ready to ship. | - |
| Black | 257-208201-0001 | 2082010001 | 1 In Stock. Ready to ship. | - |
| Orange | 257-204040-0237 | 204040-0237 | 1 In Stock. Ready to ship. | - |
| Blue | 257-8361-82 | 2040470211 | Available. 5-7 Days. | - |
| Red | 257-8347-44 | 2040270227 | Available. 5-7 Days. | - |
| White | 257-8346-06 | 2040480002 | Available. 5-7 Days. | - |
| Blue | 257-8136-82 | 2040510003 | Available. 5-7 Days. | - |
| Green | 257-8052-03 | 2040350403 | Available. 5-7 Days. | - |
| Red | 257-7448-44 | 2040230227 | Available. 5-7 Days. | - |
| White | 257-7448-06 | 2040230002 | Unavailable. | - |
| Blue | 257-297949-0211 | 2979490211 | Unavailable. | - |
| White | 257-297949-0002 | 2979490002 | Unavailable. | - |
| Black | 257-297949-0001 | 2979490001 | Unavailable. | - |
| Orange | 257-287264-5226 | 287264-5226 | Unavailable. | - |
| Red | 257-287264-0227 | 287264-0227 | Unavailable. | - |
| Teal | 257-287264-0213 | 287264-0213 | Unavailable. | - |
| Blue | 257-287264-0211 | 287264-0211 | Unavailable. | - |
| Grey | 257-287264-0011 | 287264-0011 | Unavailable. | - |
| Green | 257-287264-0006 | 287264-0006 | Unavailable. | - |
| White | 257-287264-0002 | 287264-0002 | Unavailable. | - |
| Black | 257-287264-0001 | 287264-0001 | Unavailable. | - |
| Green | 257-278046-0006 | 278046-0006 | Unavailable. | - |
| Black | 257-278046-0001 | 278046-0001 | Unavailable. | - |
| White (20) | 257-273200-6811 | 273200-6811 | Unavailable. | - |
| White | 257-273200-0002 | 273200-0002 | Unavailable. | - |
| Black | 257-273200-0001 | 273200-0001 | Unavailable. | - |
| YZ Blue | 257-272667-0211 | 272667-0211 | Unavailable. | - |
| Flo Yellow | 257-268647-4310 | 268647-4310 | Unavailable. | - |
| Sand | 257-268647-0021 | 268647-0021 | Unavailable. | - |
| White (20) | 257-268640-6811 | 268640-6811 | Unavailable. | - |
| White (20) | 257-268594-6811 | 268594-6811 | Unavailable. | - |
| Flo Orange | 257-268594-4617 | 268594-4617 | Unavailable. | - |
| Red | 257-268594-0004 | 268594-0004 | Unavailable. | - |
| Black | 257-268594-0001 | 2685940001 | Unavailable. | - |
| Light Blue | 257-268585-0085 | 268585-0085 | Unavailable. | - |
| Sand | 257-268585-0021 | 268585-0021 | Unavailable. | - |
| Blue | 257-268585-0003 | 2685850003 | Unavailable. | - |
| Black | 257-268585-0001 | 2685850001 | Unavailable. | - |
| Flo Green | 257-268580-0235 | 2685800235 | Unavailable. | - |
| Sand | 257-268580-0021 | 268580-0021 | Unavailable. | - |
| Grey | 257-268580-0011 | 268580-0011 | Unavailable. | - |
| Flo Yellow | 257-263064-4310 | 263064-4310 | Unavailable. | - |
| Red | 257-263064-0227 | 2630640227 | Available. 5-7 Days. | - |
| Teal | 257-263064-0213 | 263064-0213 | Unavailable. | - |
| Sand | 257-263064-0021 | 263064-0021 | Unavailable. | - |
| White (20) | 257-246259-6811 | 246259-6811 | Unavailable. | - |
| Flo Yellow | 257-246259-4310 | 246259-4310 | Unavailable. | - |
| Teal | 257-246259-0213 | 246259-0213 | Unavailable. | - |
| Light Blue | 257-246259-0085 | 246259-0085 | Unavailable. | - |
| White (20) | 257-244951-6811 | 244951-6811 | Unavailable. | - |
| Flo Orange | 257-244951-4617 | 244951-4617 | Unavailable. | - |
| Black | 257-244951-0001 | 2449510001 | Unavailable. | - |
| Orange (16) | 257-2421115226 | 2421115226 | Available. 5-7 Days. | - |
| White (20) | 257-242111-6811 | 242111-6811 | Unavailable. | - |
| Flo Orange | 257-242111-4617 | 2421114617 | Unavailable. | - |
| Flo Yellow | 257-242111-4310 | 242111-4310 | Unavailable. | - |
| Teal | 257-242111-0213 | 242111-0213 | Unavailable. | - |
| Sand | 257-242111-0021 | 242111-0021 | Unavailable. | - |
| Flo Green | 257-237404-0235 | 2374040235 | Unavailable. | - |
| Green | 257-237404-0006 | 2374040006 | Available. 5-7 Days. | - |
| Black | 257-232083-0001 | 2320830001 | Unavailable. | - |
| Flo Yellow | 257-231435-4310 | 231435-4310 | Unavailable. | - |
| Flo Orange | 257-231422-4617 | 231422-4617 | Unavailable. | - |
| Black | 257-231422-0001 | 2314220001 | Available. 5-7 Days. | - |
| White | 257-231421-0002 | 2314210002 | Available. 5-7 Days. | - |
| White | 257-225307-0002 | 2253070002 | Available. 5-7 Days. | - |
| Black | 257-225307-0001 | 2253070001 | Available. 5-7 Days. | - |
| Sand | 257-217174-0021 | 217174-0021 | Unavailable. | - |
| Grey | 257-217174-0011 | 217174-0011 | Unavailable. | - |
| Yellow | 257-208189-0231 | 2081890231 | 1 In Stock. Ready to ship. | - |
| Blue | 257-204046-0211 | 2040460211 | 1 In Stock. Ready to ship. | - |
| Black | 257-204032-0001 | 2040320001 | Unavailable. | - |
| Red | 1201.0102.34 | 2141810227 | Available. 5-7 Days. | - |