By browsing, you consent to our

use of Cookies

.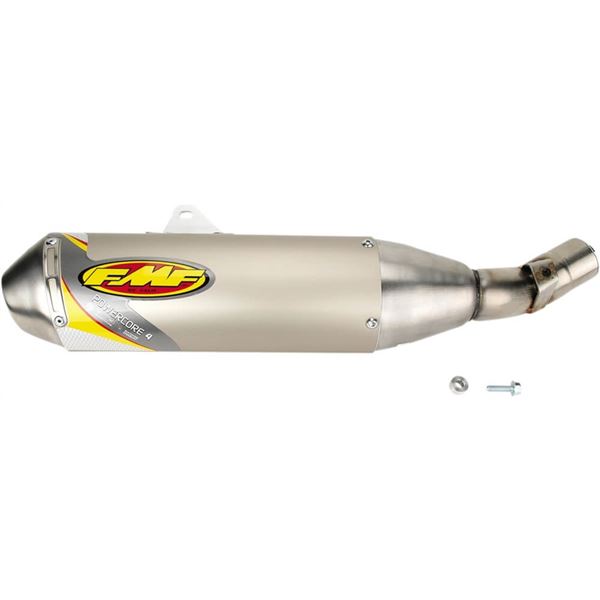 Fast, Free Shipping

Low Price Guarantee

No Hassle Returns

When designing the PowerCore 4, FMF looked at their top of the line products to deliver race inspired performance at an economical price. The end result is a quality muffler with improved torque, increased horsepower and rugged durability.
Durable stainless steel and aluminum construction
Advanced packing material for maximum longevity
Overall increase in power and torque
Champagne color anodized can
Removable spark arrestor included
Optional 96dB quiet insert sold separately
Note: For closed course competition use only. Not intended for street use.
Note: Image for reference only. Actual product may vary according to vehicle.
Note: This product may not be legal for sale or use in California or in other localities due to state and/or federal anti-tampering laws. Refer to chapmoto.com/terms before purchasing.
Specifications
SKU
327-041273
Brand
FMF Racing

California Prop 65
WARNING: Cancer and Reproductive Harm - www.P65Warnings.ca.gov
Part Numbers
| | SKU | MPN | Availability | In-Store Pickup |
| --- | --- | --- | --- | --- |
| Aluminum/Stainless | 327-041273 | 041273 | 10+ In Stock. Ready to ship. | - |
| Aluminum/Stainless | 327-041274 | 041274 | 10+ In Stock. Ready to ship. | - |
| Aluminum/Stainless | 327-041284 | 041284 | 7 In Stock. Ready to ship. | - |
| Aluminum/Stainless | 327-042122 | 042122 | 4 In Stock. Ready to ship. | - |
| Aluminum/Stainless | 327-045135 | 045135 | 1 In Stock. Ready to ship. | - |
| Aluminum/Stainless | 327-045380 | 045380 | Unavailable. | - |
| Aluminum/Stainless | 327-045355 | 045355 | Unavailable. | - |
| Aluminum/Stainless | 327-045266 | 045266 | Unavailable. | - |
| Aluminum/Stainless | 327-045011 | 045011 | Unavailable. | - |
| Aluminum/Stainless | 327-044312 | 044312 | Unavailable. | - |
| Aluminum/Stainless | 327-044228 | 044228 | Unavailable. | - |
| Aluminum/Stainless | 327-044222 | 044222 | Unavailable. | - |
| Aluminum/Stainless | 327-044220 | 044220 | Unavailable. | - |
| Aluminum/Stainless | 327-044141 | 044141 | Unavailable. | - |
| Aluminum/Stainless | 327-044021 | 044021 | Unavailable. | - |
| Aluminum/Stainless | 327-044014 | 044014 | Unavailable. | - |
| Aluminum/Stainless | 327-044013 | 044013 | Unavailable. | - |
| Aluminum/Stainless | 327-043284 | 043284 | Unavailable. | - |
| Aluminum/Stainless | 327-043140 | 043140 | Unavailable. | - |
| Aluminum/Stainless | 327-043136 | 043136 | Unavailable. | - |
| Aluminum/Stainless | 327-043012 | 043012 | Unavailable. | - |
| Aluminum/Stainless | 327-043011 | 043011 | Unavailable. | - |
| Aluminum/Stainless | 327-043010 | 043010 | Unavailable. | - |
| Aluminum/Stainless | 327-043006 | 043006 | Unavailable. | - |
| Aluminum/Stainless | 327-042319 | 042319 | Unavailable. | - |
| Aluminum/Stainless | 327-042246 | 042246 | Unavailable. | - |
| Aluminum/Stainless | 327-042123 | 042123 | Unavailable. | - |
| Aluminum/Stainless | 327-042000 | 042000 | Unavailable. | - |
| Aluminum/Stainless | 327-041584 | 041584 | Unavailable. | - |
| Aluminum/Stainless | 327-041425 | 041425 | Unavailable. | - |
| Aluminum/Stainless | 327-041377 | 041377 | Unavailable. | - |
| Aluminum/Stainless | 327-041364 | 041364 | Unavailable. | - |
| Aluminum/Stainless | 327-041346 | 041346 | Unavailable. | - |
| Aluminum/Stainless | 327-041276 | 041276 | Unavailable. | - |
| Aluminum/Stainless | 327-041275 | 041275 | Unavailable. | - |
| Aluminum/Stainless | 327-041048 | 041048 | Unavailable. | - |
| Aluminum/Stainless | 327-041036 | 041036 | Unavailable. | - |
| Aluminum/Stainless | 327-041023 | 041023 | Unavailable. | - |
| Aluminum/Stainless | 327-041022 | 041022 | Unavailable. | - |
| Aluminum/Stainless | 327-041021 | 041021 | Unavailable. | - |
| Aluminum/Stainless | 327-041020 | 041020 | Unavailable. | - |
| Aluminum/Stainless | 327-041004 | 041004 | Unavailable. | - |
| Aluminum/Stainless | 327-040005 | 040005 | Unavailable. | - |