By browsing, you consent to our

use of Cookies

.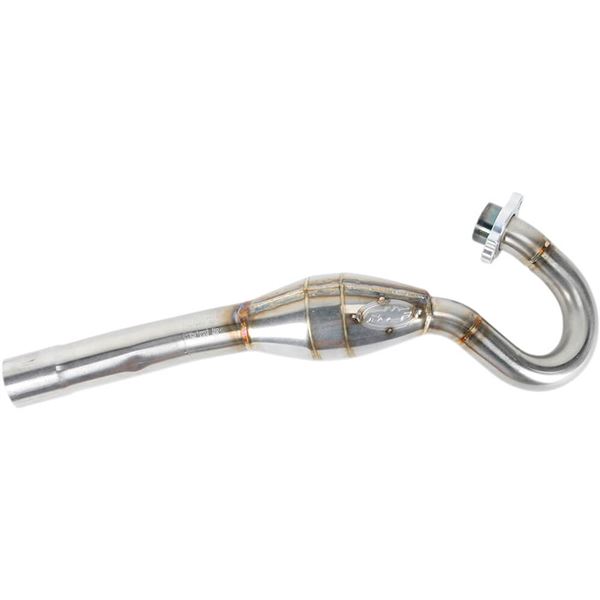 Fast, Free Shipping

Low Price Guarantee

No Hassle Returns

The science behind the FMF MegaBomb header may be FMF Racing's greatest engineering accomplishment to date. You can pay an engine builder thousands or bolt on a MegaBomb for as much as a 3hp boost. Plus, the MegaBomb actually reduces noise levels by as much as 1.5dB. The FMF MegaBomb header will have you pulling holeshots and dusting all the boys on the way up Competition Hill. Used by Factory Teams, the MegaBomb is next level technology you can have today. Simply bolt it on and go faster!
Made from premium American materials
Stainless steel motorcycle/ATV 4-stroke header with FMF's patented MegaBomb module
Used by factory teams and is a great compliment to the FMF Factory 4.1 dirt bike or quad muffler
Increases output from stock motor as much as 15%
Gain up to 3 horsepower with a single bolt-on mod
Produces long header torque and short header over-rev
Reduces sound output by as much as 1.5dB
Less susceptible to damage than a long header
Quality construction for maximum durability
Note: For closed course competition use only. Not intended for street use.
Note: Image for reference only. Actual product may vary according to vehicle.
Specifications
SKU
327-044358
Brand
FMF Racing

California Prop 65
WARNING: Cancer and Reproductive Harm - www.P65Warnings.ca.gov
Part Numbers
| | SKU | MPN | Availability | In-Store Pickup |
| --- | --- | --- | --- | --- |
| Stainless | 327-044358 | 044358 | 10+ In Stock. Ready to ship. | - |
| Stainless | 327-045643 | 045643 | 10+ In Stock. Ready to ship. | - |
| Stainless | 327-045581 | 045581 | 10+ In Stock. Ready to ship. | - |
| Stainless | 327-045644 | 045644 | 8 In Stock. Ready to ship. | - |
| Stainless | 327-045642 | 045642 | 7 In Stock. Ready to ship. | - |
| Stainless | 327-041429 | 041429 | 6 In Stock. Ready to ship. | - |
| Stainless | 327-044356 | 044356 | 2 In Stock. Ready to ship. | - |
| Stainless | 327-044357 | 044357 | 1 In Stock. Ready to ship. | - |
| Stainless | 327-045605 | 045605 | Unavailable. | - |
| Stainless | 327-045466 | 045466 | Unavailable. | - |
| Stainless | 327-045391 | 045391 | Unavailable. | - |
| Stainless | 327-045365 | 045365 | Unavailable. | - |
| Stainless | 327-044458 | 044458 | Unavailable. | - |
| Stainless | 327-044421 | 044421 | Unavailable. | - |
| Stainless | 327-044353 | 044353 | Unavailable. | - |
| Stainless | 327-044352 | 044352 | Unavailable. | - |
| Stainless | 327-044351 | 044351 | Unavailable. | - |
| Stainless | 327-043340 | 043340 | Unavailable. | - |
| Stainless | 327-043309 | 043309 | Unavailable. | - |
| Stainless | 327-043286 | 043286 | Unavailable. | - |
| Stainless | 327-043285 | 043285 | Unavailable. | - |
| Stainless | 327-042276 | 042276 | Unavailable. | - |
| Stainless | 327-042250 | 042250 | Unavailable. | - |
| Stainless | 327-042249 | 042249 | Unavailable. | - |
| Stainless | 327-041566 | 041566 | Unavailable. | - |
| Stainless | 327-041538 | 041538 | Unavailable. | - |
| Stainless | 327-041519 | 041519 | Unavailable. | - |
| Stainless | 327-041491 | 041491 | Unavailable. | - |
| Stainless | 327-041485 | 041485 | Unavailable. | - |
| Stainless | 327-041459 | 041459 | Unavailable. | - |
| Stainless | 327-041433 | 045174 | Unavailable. | - |
| Stainless | 327-041431 | 041431 | Unavailable. | - |
| Stainless | 327-041430 | 041430 | Unavailable. | - |
| Stainless | 327-041428 | 041428 | Unavailable. | - |
| Stainless | 327-041427 | 041427 | Unavailable. | - |
| Stainless | 327-041426 | 041426 | Unavailable. | - |