By browsing, you consent to our

use of Cookies

.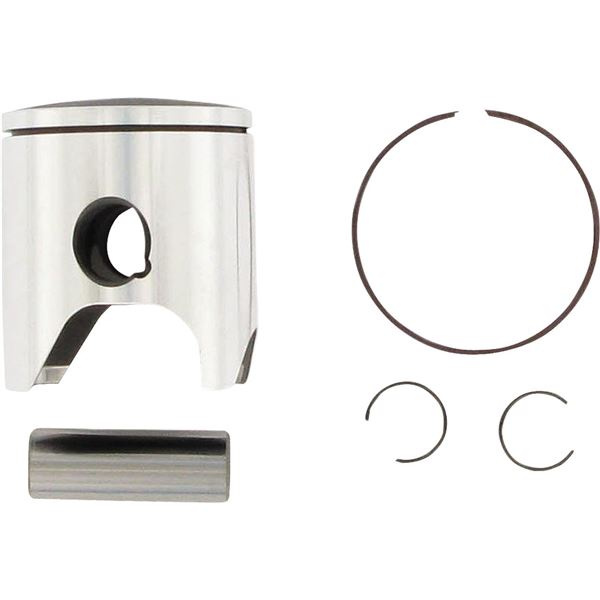 Free Shipping Over $75

Low Price Guarantee

No Hassle Returns

Lightweight forging for instant throttle response and maximum torque
Antidetonation grooves and ring land diameter eliminates ring blow by while maximizing engine performance
Computer engineered piston skirt profiles provide minimal cylinder wall friction
Wiseco forged pistons are superior in strength and design
Reed induction Nikasil Bore Cylinder sleeving or replating required for oversizes
Top-End bearing sold seperately 
Note: All Wiseco piston kits are supplied with Piston, Ring and circlips. Wrist Pins are included unless noted. Top End Bearings purchased separately.
Note: Oversize requires cylinder sleeving.
Note:Image for reference only. Actual product may vary according to vehicle.  Our pistons, rings and kits are sold by application and bore size. Please note that STANDARD and OVERSIZES are not indicated. To get the correct part, you must know the standard bore size to make sure you are ordering either the standard or correct amount of oversize that you need.
Specifications
SKU
316-1729
Brand
Wiseco

California Prop 65
WARNING: Cancer and Reproductive Harm - www.P65Warnings.ca.gov
Part Numbers
| | SKU | MPN | Availability | In-Store Pickup |
| --- | --- | --- | --- | --- |
| | 316-1729 | 573M06800 | 10+ In Stock. Ready to ship. | - |
| | 316-2460M08500 | 2460M08500 | 10+ In Stock. Ready to ship. | - |
| | 316-1738 | 513M06400 | 10+ In Stock. Ready to ship. | 4 In Stock. |
| | 316-1742 | 513M06600 | 10+ In Stock. Ready to ship. | 2 In Stock. |
| | 316-1987 | 804M06640 | 10+ In Stock. Ready to ship. | 2 In Stock. |
| | 316-1740 | 513M06500 | 10+ In Stock. Ready to ship. | 2 In Stock. |
| | 316-1725 | 573M06600 | 10+ In Stock. Ready to ship. | - |
| | 316-1480 | 823M06640 | 10+ In Stock. Ready to ship. | - |
| | 316-0394 | 795M06500 | 10+ In Stock. Ready to ship. | - |
| | 316-1739 | 513M06450 | 10+ In Stock. Ready to ship. | 2 In Stock. |
| | 316-1741 | 513M06550 | 10+ In Stock. Ready to ship. | - |
| | 316-0091 | 676M05400 | 10+ In Stock. Ready to ship. | - |
| | 316-0395 | 795M06550 | 10+ In Stock. Ready to ship. | 2 In Stock. |
| | 316-0193 | 871M09000 | 10+ In Stock. Ready to ship. | - |
| | 316-1744 | 513M06525 | 10+ In Stock. Ready to ship. | - |
| | 316-0038 | 856M06640 | 10+ In Stock. Ready to ship. | - |
| | 316-1743 | 513M06475 | 10+ In Stock. Ready to ship. | 2 In Stock. |
| | 316-1869 | 702M06640 | 10+ In Stock. Ready to ship. | 2 In Stock. |
| | 316-0256 | 782M04850 | 10+ In Stock. Ready to ship. | 2 In Stock. |
| | 316-0393 | 795M06450 | 10+ In Stock. Ready to ship. | - |
| | 316-0696 | 617M06640 | 10+ In Stock. Ready to ship. | - |
| | 316-0392 | 795M06400 | 10+ In Stock. Ready to ship. | - |
| | 316-1943 | 726M05400 | 10+ In Stock. Ready to ship. | - |
| | 316-1442 | 833M04750 | 10+ In Stock. Ready to ship. | - |
| | 316-1726 | 573M06650 | 10+ In Stock. Ready to ship. | - |
| | 316-573M06825 | 573M06825 | 10+ In Stock. Ready to ship. | - |
| | 316-0877 | 879M04850 | 10+ In Stock. Ready to ship. | - |
| | 316-0251 | 752M04450 | 10+ In Stock. Ready to ship. | - |
| | 316-1284 | 845M05400 | 10+ In Stock. Ready to ship. | - |
| | 316-1320 | 641M05400 | 10+ In Stock. Ready to ship. | - |
| | 316-1753 | 513M06650 | 10+ In Stock. Ready to ship. | - |
| | 316-1957 | 801M06640 | 10+ In Stock. Ready to ship. | - |
| | 316-0396 | 795M06600 | 10+ In Stock. Ready to ship. | - |
| | 316-880M05250 | 880M05250 | 10+ In Stock. Ready to ship. | - |
| | 316-1967 | 806M04800 | 10+ In Stock. Ready to ship. | - |
| | 316-0796 | 536M07250 | 10+ In Stock. Ready to ship. | - |
| | 316-1728 | 573M06750 | 10+ In Stock. Ready to ship. | - |
| | 316-0797 | 536M07300 | 10+ In Stock. Ready to ship. | - |
| | 316-1338 | 642M06700 | 10+ In Stock. Ready to ship. | - |
| | 316-0260 | 614M06640 | 10+ In Stock. Ready to ship. | - |
| | 316-850M07200 | 850M07200 | 10+ In Stock. Ready to ship. | - |
| | 316-1870 | 711M06600 | 10+ In Stock. Ready to ship. | 4 In Stock. |
| | 316-06425 | 513M06425 | 10+ In Stock. Ready to ship. | - |
| | 316-0675 | 675M08300 | 10+ In Stock. Ready to ship. | - |
| | 316-0096 | 676M05600 | 10+ In Stock. Ready to ship. | - |
| | 316-0522 | 651M05250 | 10+ In Stock. Ready to ship. | - |
| | 316-0418 | 786M05400 | 10+ In Stock. Ready to ship. | - |
| | 316-0192 | 871M08950 | 10+ In Stock. Ready to ship. | - |
| | 316-0037 | 855M04700 | 10+ In Stock. Ready to ship. | - |
| | 316-1923 | 748M07800 | 10+ In Stock. Ready to ship. | - |
| | 316-0129 | 338M07000 | 10+ In Stock. Ready to ship. | - |
| | 316-1829 | 647M05400 | 10+ In Stock. Ready to ship. | - |
| | 316-1727 | 573M06700 | 10+ In Stock. Ready to ship. | - |
| | 316-1626 | 234M07050 | 10+ In Stock. Ready to ship. | - |
| | 316-0453 | 804M06850 | 10+ In Stock. Ready to ship. | - |
| | 316-0093 | 676M05450 | 10+ In Stock. Ready to ship. | 2 In Stock. |
| | 0918.0106 | 839M05250 | 10+ In Stock. Ready to ship. | - |
| | 316-885M04350 | 885M04350 | 10+ In Stock. Ready to ship. | - |
| | 316-855M05200 | 855M05200 | 10+ In Stock. Ready to ship. | - |
| | 316-840M05400 | 840M05400 | 10+ In Stock. Ready to ship. | - |
| | 316-0195 | 871M09100 | 10+ In Stock. Ready to ship. | - |
| | 316-849M06640 | 849M06640 | 10+ In Stock. Ready to ship. | - |
| | 316-702M06850 | 702M06850 | 10+ In Stock. Ready to ship. | - |
| | 316-1983 | 756M06640 | 10+ In Stock. Ready to ship. | - |
| | 316-0275 | 643M04700 | 10+ In Stock. Ready to ship. | - |
| | 316-1878 | 712M07200 | 10+ In Stock. Ready to ship. | - |
| | 316-0799 | 536M07400 | 10+ In Stock. Ready to ship. | - |
| | 316-1959 | 799M06640 | 10+ In Stock. Ready to ship. | - |
| | 316-1215 | 681M06640 | 10+ In Stock. Ready to ship. | - |
| | 316-0747 | 652M05400 | 10+ In Stock. Ready to ship. | - |
| | 316-0141 | 431M07200 | 10+ In Stock. Ready to ship. | - |
| | 316-0138 | 431M07100 | 10+ In Stock. Ready to ship. | 2 In Stock. |
| | 316-1914 | 698M03900 | 10+ In Stock. Ready to ship. | 2 In Stock. |
| | 316-1456 | 826M04100 | 10+ In Stock. Ready to ship. | - |
| | 316-0151 | 526M06650 | 10+ In Stock. Ready to ship. | - |
| | 316-0134 | 431M07000 | 10+ In Stock. Ready to ship. | - |
| | 316-0015 | 858M07200 | 10+ In Stock. Ready to ship. | - |
| | 316-886M07200 | 886M07200 | 10+ In Stock. Ready to ship. | - |
| | 316-726M05450 | 726M05450 | 10+ In Stock. Ready to ship. | - |
| | 316-573M06625 | 573M06625 | 10+ In Stock. Ready to ship. | - |
| | 316-0194 | 871M09050 | 10+ In Stock. Ready to ship. | - |
| | 316-0098 | 641M05600 | 10+ In Stock. Ready to ship. | 2 In Stock. |
| | 316-760M05400 | 760M05400 | 10+ In Stock. Ready to ship. | - |
| | 316-1637 | 677M06800 | 10+ In Stock. Ready to ship. | - |
| | 316-1255 | 571M06700 | 10+ In Stock. Ready to ship. | - |
| | 316-1002 | 456M04950 | 10+ In Stock. Ready to ship. | - |
| | 316-0359 | 673M05000 | 10+ In Stock. Ready to ship. | - |
| | 316-0149 | 526M06600 | 10+ In Stock. Ready to ship. | - |
| | 316-393M06500 | 393M06500 | 10+ In Stock. Ready to ship. | - |
| | 316-1820 | 644M04800 | 10+ In Stock. Ready to ship. | - |
| | 316-1752 | 513M06625 | 10+ In Stock. Ready to ship. | - |
| | 316-1611 | 471M06650 | 10+ In Stock. Ready to ship. | - |
| | 316-1461 | 750M06900 | 10+ In Stock. Ready to ship. | - |
| | 316-1261 | 571M06850 | 10+ In Stock. Ready to ship. | - |
| | 316-0680 | 607M06740 | 10+ In Stock. Ready to ship. | - |
| | 316-0676 | 675M08350 | 10+ In Stock. Ready to ship. | - |
| | 316-0672 | 874M03950 | 10+ In Stock. Ready to ship. | - |
| | 316-0523 | 651M05300 | 10+ In Stock. Ready to ship. | - |
| | 316-0517 | 369M04950 | 10+ In Stock. Ready to ship. | - |
| | 316-0360 | 673M05050 | 10+ In Stock. Ready to ship. | - |
| | 316-0261 | 614M06700 | 10+ In Stock. Ready to ship. | - |
| | 0918.0105 | 839M05200 | 10+ In Stock. Ready to ship. | - |
| | 316-842M06450 | 842M06450 | 10 In Stock. Ready to ship. | - |
| | 316-804M06750 | 804M06750 | 10 In Stock. Ready to ship. | - |
| | 316-1447 | 824M06640 | 10 In Stock. Ready to ship. | - |
| | 316-1322 | 641M05450 | 10 In Stock. Ready to ship. | - |
| | 316-0677 | 675M08400 | 10 In Stock. Ready to ship. | 2 In Stock. |
| | 316-0628 | 864M04500 | 10 In Stock. Ready to ship. | - |
| | 316-0617 | 617M06850 | 10 In Stock. Ready to ship. | - |
| | 316-0575 | 439M07000 | 10 In Stock. Ready to ship. | - |
| | 316-0424 | 825M06400 | 10 In Stock. Ready to ship. | 2 In Stock. |
| | 316-0220 | 562M06600 | 10 In Stock. Ready to ship. | - |
| | 316-0140 | 431M07150 | 10 In Stock. Ready to ship. | - |
| | 316-0095 | 676M05500 | 10 In Stock. Ready to ship. | - |
| | 316-573M06675 | 573M06675 | 9 In Stock. Ready to ship. | - |
| | 316-339M05700 | 339M05700 | 9 In Stock. Ready to ship. | - |
| | 316-1979 | 797M05400 | 9 In Stock. Ready to ship. | - |
| | 316-1944 | 726M05600 | 9 In Stock. Ready to ship. | - |
| | 316-1929 | 653M04000 | 9 In Stock. Ready to ship. | - |
| | 316-1824 | 649M04700 | 9 In Stock. Ready to ship. | - |
| | 316-1786 | 605M06950 | 9 In Stock. Ready to ship. | 2 In Stock. |
| | 316-0798 | 536M07350 | 9 In Stock. Ready to ship. | - |
| | 316-0795 | 536M07200 | 9 In Stock. Ready to ship. | - |
| | 316-0679 | 675M08500 | 9 In Stock. Ready to ship. | - |
| | 316-0538 | 486M05600 | 9 In Stock. Ready to ship. | - |
| | 316-0156 | 526M06800 | 9 In Stock. Ready to ship. | - |
| | 316-848M06250 | 848M06250 | 8 In Stock. Ready to ship. | - |
| | 316-522M06700 | 522M06700 | 8 In Stock. Ready to ship. | - |
| | 316-511M05450 | 511M05450 | 8 In Stock. Ready to ship. | - |
| | 316-1815 | 646M04700 | 8 In Stock. Ready to ship. | - |
| | 316-1649 | 560M06900 | 8 In Stock. Ready to ship. | - |
| | 316-1555 | 236M05650 | 8 In Stock. Ready to ship. | - |
| | 316-1242 | 534M07000 | 8 In Stock. Ready to ship. | - |
| | 316-1004 | 456M05000 | 8 In Stock. Ready to ship. | - |
| | 316-0690 | 575M08600 | 8 In Stock. Ready to ship. | - |
| | 316-0277 | 643M04750 | 8 In Stock. Ready to ship. | - |
| | 316-0155 | 526M06750 | 8 In Stock. Ready to ship. | - |
| | 0918.0107 | 839M05300 | 8 In Stock. Ready to ship. | - |
| | 316-881M05800 | 881M05800 | 7 In Stock. Ready to ship. | - |
| | 316-878M07200 | 878M07200 | 7 In Stock. Ready to ship. | - |
| | 316-805M04800 | 805M04800 | 7 In Stock. Ready to ship. | - |
| | 316-711M06650 | 711M06650 | 7 In Stock. Ready to ship. | - |
| | 316-519M05400 | 519M05400 | 7 In Stock. Ready to ship. | - |
| | 316-1991 | 805M04750 | 7 In Stock. Ready to ship. | - |
| | 316-1981 | 754M05400 | 7 In Stock. Ready to ship. | - |
| | 316-1932 | 653M04150 | 7 In Stock. Ready to ship. | - |
| | 316-1894 | 721M07450 | 7 In Stock. Ready to ship. | - |
| | 316-1605 | 582M05600 | 7 In Stock. Ready to ship. | - |
| | 316-1470 | 648M04350 | 7 In Stock. Ready to ship. | 5 In Stock. |
| | 316-1340 | 642M06800 | 7 In Stock. Ready to ship. | - |
| | 316-1246 | 534M07200 | 7 In Stock. Ready to ship. | 3 In Stock. |
| | 316-0802 | 639M08100 | 7 In Stock. Ready to ship. | - |
| | 316-0518 | 369M05000 | 7 In Stock. Ready to ship. | - |
| | 316-0413 | 746M04500 | 7 In Stock. Ready to ship. | - |
| | 316-0363 | 673M05200 | 7 In Stock. Ready to ship. | 2 In Stock. |
| | 316-0226 | 562M06750 | 7 In Stock. Ready to ship. | - |
| | 316-0153 | 526M06700 | 7 In Stock. Ready to ship. | - |
| | 316-0004 | 860M06640 | 7 In Stock. Ready to ship. | - |
| | 316-806M04850 | 806M04850 | 6 In Stock. Ready to ship. | - |
| | 316-726M05500 | 726M05500 | 6 In Stock. Ready to ship. | - |
| | 316-702M06750 | 702M06750 | 6 In Stock. Ready to ship. | - |
| | 316-605M07000 | 605M07000 | 6 In Stock. Ready to ship. | - |
| | 316-560M06850 | 560M06850 | 6 In Stock. Ready to ship. | - |
| | 316-522M06600 | 522M06600 | 6 In Stock. Ready to ship. | - |
| | 316-478M08750 | 478M08750 | 6 In Stock. Ready to ship. | - |
| | 316-1963 | 803M03950 | 6 In Stock. Ready to ship. | - |
| | 316-1940 | 723M06640 | 6 In Stock. Ready to ship. | - |
| | 316-1875 | 694M06750 | 6 In Stock. Ready to ship. | 2 In Stock. |
| | 316-176M06500 | 176M06500 | 6 In Stock. Ready to ship. | - |
| | 316-1556 | 236M05700 | 6 In Stock. Ready to ship. | 2 In Stock. |
| | 316-1537 | 569M04800 | 6 In Stock. Ready to ship. | - |
| | 316-1457 | 826M04150 | 6 In Stock. Ready to ship. | - |
| | 316-1287 | 843M06850 | 6 In Stock. Ready to ship. | - |
| | 316-1267 | 561M08800 | 6 In Stock. Ready to ship. | - |
| | 316-1259 | 571M06800 | 6 In Stock. Ready to ship. | - |
| | 316-1244 | 534M07100 | 6 In Stock. Ready to ship. | - |
| | 316-0629 | 864M04700 | 6 In Stock. Ready to ship. | - |
| | 316-0616 | 868M05400 | 6 In Stock. Ready to ship. | - |
| | 316-0500 | 446M04800 | 6 In Stock. Ready to ship. | - |
| | 316-0438 | 754M05450 | 6 In Stock. Ready to ship. | - |
| | 316-0340 | 631M07200 | 6 In Stock. Ready to ship. | - |
| | 316-0224 | 562M06700 | 6 In Stock. Ready to ship. | - |
| | 316-0188 | 741M05400 | 6 In Stock. Ready to ship. | - |
| | 316-0158 | 526M06900 | 6 In Stock. Ready to ship. | - |
| | 316-0136 | 431M07050 | 6 In Stock. Ready to ship. | - |
| | 316-0016 | 862M04850 | 6 In Stock. Ready to ship. | - |
| | 316-833M04800 | 833M04800 | 5 In Stock. Ready to ship. | - |
| | 316-823M06750 | 823M06750 | 5 In Stock. Ready to ship. | - |
| | 316-806M04900 | 806M04900 | 5 In Stock. Ready to ship. | - |
| | 316-804M06700 | 804M06700 | 5 In Stock. Ready to ship. | - |
| | 316-801M06750 | 801M06750 | 5 In Stock. Ready to ship. | - |
| | 316-756M06850 | 756M06850 | 5 In Stock. Ready to ship. | - |
| | 316-755M05600 | 755M05600 | 5 In Stock. Ready to ship. | - |
| | 316-748M07900 | 748M07900 | 5 In Stock. Ready to ship. | - |
| | 316-702M06800 | 702M06800 | 5 In Stock. Ready to ship. | - |
| | 316-478M08700 | 478M08700 | 5 In Stock. Ready to ship. | - |
| | 316-456M04900 | 456M04900 | 5 In Stock. Ready to ship. | - |
| | 316-452M07100 | 452M07100 | 5 In Stock. Ready to ship. | - |
| | 316-232M08550 | 232M08550 | 5 In Stock. Ready to ship. | - |
| | 316-1980 | 755M05400 | 5 In Stock. Ready to ship. | - |
| | 316-1784 | 605M06900 | 5 In Stock. Ready to ship. | - |
| | 316-1610 | 471M06600 | 5 In Stock. Ready to ship. | - |
| | 316-1469 | 648M04300 | 5 In Stock. Ready to ship. | - |
| | 316-1245 | 534M07150 | 5 In Stock. Ready to ship. | - |
| | 316-0748 | 652M05450 | 5 In Stock. Ready to ship. | - |
| | 316-0697 | 617M06700 | 5 In Stock. Ready to ship. | - |
| | 316-0643 | 643M04900 | 5 In Stock. Ready to ship. | - |
| | 316-0615 | 808M06640 | 5 In Stock. Ready to ship. | - |
| | 316-0583 | 556M06740 | 5 In Stock. Ready to ship. | - |
| | 316-0362 | 673M05150 | 5 In Stock. Ready to ship. | - |
| | 316-0358 | 651M05450 | 5 In Stock. Ready to ship. | - |
| | 316-0263 | 614M06800 | 5 In Stock. Ready to ship. | - |
| | 316-0227 | 562M06800 | 5 In Stock. Ready to ship. | - |
| | 316-0200 | 743M06640 | 5 In Stock. Ready to ship. | - |
| | 316-0154 | 526M06725 | 5 In Stock. Ready to ship. | - |
| | 316-0133 | 338M07200 | 5 In Stock. Ready to ship. | - |
| | 316-0099 | 647M05600 | 5 In Stock. Ready to ship. | - |
| | 316-797M05450 | 797M05450 | 4 In Stock. Ready to ship. | - |
| | 316-772M06450 | 772M06450 | 4 In Stock. Ready to ship. | - |
| | 316-754M05500 | 754M05500 | 4 In Stock. Ready to ship. | - |
| | 316-711M06700 | 711M06700 | 4 In Stock. Ready to ship. | - |
| | 316-693M05400 | 693M05400 | 4 In Stock. Ready to ship. | - |
| | 316-653M04200 | 653M04200 | 4 In Stock. Ready to ship. | - |
| | 316-641M05550 | 641M05550 | 4 In Stock. Ready to ship. | - |
| | 316-617M06750 | 617M06750 | 4 In Stock. Ready to ship. | - |
| | 316-552M06900 | 552M06900 | 4 In Stock. Ready to ship. | - |
| | 316-546M08700 | 546M08700 | 4 In Stock. Ready to ship. | - |
| | 316-511M05500 | 511M05500 | 4 In Stock. Ready to ship. | - |
| | 316-485M07000 | 485M07000 | 4 In Stock. Ready to ship. | 2 In Stock. |
| | 316-477M04800 | 477M04800 | 4 In Stock. Ready to ship. | - |
| | 316-466M06700 | 466M06700 | 4 In Stock. Ready to ship. | - |
| | 316-450M0500 | 450M05000 | 4 In Stock. Ready to ship. | - |
| | 316-380M07100 | 380M07100 | 4 In Stock. Ready to ship. | - |
| | 316-374M06650 | 374M06650 | 4 In Stock. Ready to ship. | - |
| | 316-339M05800 | 339M05800 | 4 In Stock. Ready to ship. | - |
| | 316-3167 | 643M04800 | 4 In Stock. Ready to ship. | - |
| | 316-2194 | 859M05400 | 4 In Stock. Ready to ship. | - |
| | 316-1985 | 797M05600 | 4 In Stock. Ready to ship. | - |
| | 316-1931 | 653M04100 | 4 In Stock. Ready to ship. | - |
| | 316-1930 | 653M04050 | 4 In Stock. Ready to ship. | - |
| | 316-1826 | 649M04800 | 4 In Stock. Ready to ship. | 2 In Stock. |
| | 316-1641 | 771M05250 | 4 In Stock. Ready to ship. | - |
| | 316-1638 | 677M06850 | 4 In Stock. Ready to ship. | - |
| | 316-1627 | 234M07100 | 4 In Stock. Ready to ship. | - |
| | 316-1625 | 234M07000 | 4 In Stock. Ready to ship. | - |
| | 316-1616 | 374P2 | 4 In Stock. Ready to ship. | 4 In Stock. |
| | 316-1534 | 520M04900 | 4 In Stock. Ready to ship. | - |
| | 316-1532 | 520M04800 | 4 In Stock. Ready to ship. | - |
| | 316-1337 | 641M05500 | 4 In Stock. Ready to ship. | - |
| | 316-1319 | 645M04850 | 4 In Stock. Ready to ship. | - |
| | 316-1317 | 645M04800 | 4 In Stock. Ready to ship. | - |
| | 316-1263 | 561M08600 | 4 In Stock. Ready to ship. | - |
| | 316-0666 | 616M05400 | 4 In Stock. Ready to ship. | - |
| | 316-0644 | 644M05000 | 4 In Stock. Ready to ship. | - |
| | 316-0640 | 589M05600 | 4 In Stock. Ready to ship. | 2 In Stock. |
| | 316-0506 | 539M04800 | 4 In Stock. Ready to ship. | - |
| | 316-0441 | 835M05400 | 4 In Stock. Ready to ship. | - |
| | 316-0401 | 822M05600 | 4 In Stock. Ready to ship. | - |
| | 316-0398 | 783M05600 | 4 In Stock. Ready to ship. | - |
| | 316-0262 | 614M06750 | 4 In Stock. Ready to ship. | - |
| | 316-0257 | 782M05050 | 4 In Stock. Ready to ship. | - |
| | 316-0222 | 562M06650 | 4 In Stock. Ready to ship. | - |
| | 316-0217 | 577M08100 | 4 In Stock. Ready to ship. | - |
| | 316-0079 | 448M05650 | 4 In Stock. Ready to ship. | - |
| | 316-826M04300 | 826M04300 | 3 In Stock. Ready to ship. | - |
| | 316-801M06850 | 801M06850 | 3 In Stock. Ready to ship. | - |
| | 316-772M06500 | 772M06500 | 3 In Stock. Ready to ship. | - |
| | 316-750M07000 | 750M07000 | 3 In Stock. Ready to ship. | - |
| | 316-652M05500 | 652M05500 | 3 In Stock. Ready to ship. | - |
| | 316-607M06850 | 607M06850 | 3 In Stock. Ready to ship. | - |
| | 316-577M08200 | 577M08200 | 3 In Stock. Ready to ship. | - |
| | 316-573M06725 | 573M06725 | 3 In Stock. Ready to ship. | - |
| | 316-553M05500 | 553M05500 | 3 In Stock. Ready to ship. | - |
| | 316-515M06850 | 515M06850 | 3 In Stock. Ready to ship. | - |
| | 316-485M07200 | 485M07200 | 3 In Stock. Ready to ship. | - |
| | 316-452M07200 | 452M07200 | 3 In Stock. Ready to ship. | - |
| | 316-339M05750 | 339M05750 | 3 In Stock. Ready to ship. | - |
| | 316-1992 | 805M04950 | 3 In Stock. Ready to ship. | - |
| | 316-1831 | 647M05450 | 3 In Stock. Ready to ship. | - |
| | 316-1805 | 629M05600 | 3 In Stock. Ready to ship. | - |
| | 316-1782 | 605M06850 | 3 In Stock. Ready to ship. | - |
| | 316-176M06450 | 176M06450 | 3 In Stock. Ready to ship. | - |
| | 316-1696 | 546M08800 | 3 In Stock. Ready to ship. | - |
| | 316-1617 | 374M06700 | 3 In Stock. Ready to ship. | - |
| | 316-1612 | 471M06700 | 3 In Stock. Ready to ship. | - |
| | 316-1539 | 569M04900 | 3 In Stock. Ready to ship. | - |
| | 316-1535 | 520M04950 | 3 In Stock. Ready to ship. | - |
| | 316-1533 | 520M04850 | 3 In Stock. Ready to ship. | - |
| | 316-149M06150 | 149M06150 | 3 In Stock. Ready to ship. | - |
| | 316-137M07000 | 137M07000 | 3 In Stock. Ready to ship. | - |
| | 316-1339 | 642M06750 | 3 In Stock. Ready to ship. | - |
| | 316-1265 | 561M08700 | 3 In Stock. Ready to ship. | - |
| | 316-1257 | 571M06750 | 3 In Stock. Ready to ship. | - |
| | 316-1251 | 552M06800 | 3 In Stock. Ready to ship. | - |
| | 316-1197 | 558M06700 | 3 In Stock. Ready to ship. | - |
| | 316-1119 | 557PS | 3 In Stock. Ready to ship. | 3 In Stock. |
| | 316-1041 | 579M04800 | 3 In Stock. Ready to ship. | 2 In Stock. |
| | 316-0801 | 639M08050 | 3 In Stock. Ready to ship. | - |
| | 316-0704 | 644M04850 | 3 In Stock. Ready to ship. | - |
| | 316-0554 | 469P2 | 3 In Stock. Ready to ship. | 3 In Stock. |
| | 316-0547 | 566M05600 | 3 In Stock. Ready to ship. | - |
| | 316-0503 | 514M04800 | 3 In Stock. Ready to ship. | - |
| | 316-0440 | 754M05550 | 3 In Stock. Ready to ship. | - |
| | 316-0430 | 834M05400 | 3 In Stock. Ready to ship. | - |
| | 316-0416 | 740M05425 | 3 In Stock. Ready to ship. | - |
| | 316-0211 | 533M08050 | 3 In Stock. Ready to ship. | - |
| | 316-0189 | 741M05600 | 3 In Stock. Ready to ship. | - |
| | 316-0152 | 526M06675 | 3 In Stock. Ready to ship. | - |
| | 316-0132 | 338M07150 | 3 In Stock. Ready to ship. | - |
| | 316-0131 | 338M07100 | 3 In Stock. Ready to ship. | - |
| | 316-0120 | 564M05500 | 3 In Stock. Ready to ship. | - |
| | 316-0116 | 564M05400 | 3 In Stock. Ready to ship. | 2 In Stock. |
| | 316-0089 | 518M05550 | 3 In Stock. Ready to ship. | - |
| | 316-887M07200 | 887M07200 | 2 In Stock. Ready to ship. | - |
| | 316-882M07200 | 882M07200 | 2 In Stock. Ready to ship. | - |
| | 316-880M05300 | 880M05300 | 2 In Stock. Ready to ship. | - |
| | 316-834M05600 | 834M05600 | 2 In Stock. Ready to ship. | - |
| | 316-805M04850 | 805M04850 | 2 In Stock. Ready to ship. | - |
| | 316-782M04950 | 782M04950 | 2 In Stock. Ready to ship. | - |
| | 316-752M04500 | 752M04500 | 2 In Stock. Ready to ship. | - |
| | 316-727M04000 | 727M04000 | 2 In Stock. Ready to ship. | - |
| | 316-702M06700 | 702M06700 | 2 In Stock. Ready to ship. | - |
| | 316-626M05500 | 626M05500 | 2 In Stock. Ready to ship. | - |
| | 316-575M08650 | 575M08650 | 2 In Stock. Ready to ship. | - |
| | 316-573M06775 | 573M06775 | 2 In Stock. Ready to ship. | - |
| | 316-569M04950 | 569M04950 | 2 In Stock. Ready to ship. | - |
| | 316-564M05550 | 564M05550 | 2 In Stock. Ready to ship. | - |
| | 316-560M06950 | 560M06950 | 2 In Stock. Ready to ship. | - |
| | 316-557M05400 | 557M05400 | 2 In Stock. Ready to ship. | - |
| | 316-519M05500 | 519M05500 | 2 In Stock. Ready to ship. | - |
| | 316-518M05450 | 518M05450 | 2 In Stock. Ready to ship. | - |
| | 316-490M06300 | 490M06300 | 2 In Stock. Ready to ship. | - |
| | 316-457M05000 | 457M05000 | 2 In Stock. Ready to ship. | - |
| | 316-450M05100 | 450M05100 | 2 In Stock. Ready to ship. | - |
| | 316-449M05700 | 449M05700 | 2 In Stock. Ready to ship. | - |
| | 316-435M05600 | 435M05600 | 2 In Stock. Ready to ship. | - |
| | 316-432M05500 | 432M05500 | 2 In Stock. Ready to ship. | - |
| | 316-394M08550 | 394M08550 | 2 In Stock. Ready to ship. | - |
| | 316-380M07000 | 380M07000 | 2 In Stock. Ready to ship. | - |
| | 316-235M05300 | 235M05300 | 2 In Stock. Ready to ship. | - |
| | 316-235M05200 | 235M05200 | 2 In Stock. Ready to ship. | - |
| | 316-1968 | 806M05000 | 2 In Stock. Ready to ship. | 2 In Stock. |
| | 316-1896 | 721M07550 | 2 In Stock. Ready to ship. | 2 In Stock. |
| | 316-1827 | 649M04850 | 2 In Stock. Ready to ship. | - |
| | 316-1819 | 646M04900 | 2 In Stock. Ready to ship. | - |
| | 316-1697 | 546M08850 | 2 In Stock. Ready to ship. | - |
| | 316-1695 | 546M08750 | 2 In Stock. Ready to ship. | - |
| | 316-1691 | 478M08800 | 2 In Stock. Ready to ship. | - |
| | 316-1685 | 451M08550 | 2 In Stock. Ready to ship. | - |
| | 316-1599 | 559M05650 | 2 In Stock. Ready to ship. | - |
| | 316-1449 | 747M07800 | 2 In Stock. Ready to ship. | - |
| | 316-137M07100 | 137M07100 | 2 In Stock. Ready to ship. | - |
| | 316-137M07050 | 137M07050 | 2 In Stock. Ready to ship. | - |
| | 316-1266 | 561M08750 | 2 In Stock. Ready to ship. | - |
| | 316-1264 | 561M08650 | 2 In Stock. Ready to ship. | - |
| | 316-1189 | 543M06700 | 2 In Stock. Ready to ship. | 2 In Stock. |
| | 316-1171 | 405M06800 | 2 In Stock. Ready to ship. | - |
| | 316-1126 | 557P8 | 2 In Stock. Ready to ship. | 2 In Stock. |
| | 316-1125 | 557P6 | 2 In Stock. Ready to ship. | 2 In Stock. |
| | 316-1121 | 557M05450 | 2 In Stock. Ready to ship. | 2 In Stock. |
| | 316-1104 | 51191 | 2 In Stock. Ready to ship. | 2 In Stock. |
| | 316-1043 | 579M04850 | 2 In Stock. Ready to ship. | - |
| | 316-0902 | 677M07000 | 2 In Stock. Ready to ship. | - |
| | 316-0901 | 642M06900 | 2 In Stock. Ready to ship. | - |
| | 316-0800 | 639M08000 | 2 In Stock. Ready to ship. | 2 In Stock. |
| | 316-0782 | 648P4 | 2 In Stock. Ready to ship. | 2 In Stock. |
| | 316-0780 | 648PS | 2 In Stock. Ready to ship. | 2 In Stock. |
| | 316-0700 | 626M05400 | 2 In Stock. Ready to ship. | - |
| | 316-0678 | 675M08450 | 2 In Stock. Ready to ship. | - |
| | 316-0653 | 869M05600 | 2 In Stock. Ready to ship. | - |
| | 316-0397 | 783M05400 | 2 In Stock. Ready to ship. | - |
| | 316-0361 | 673M05100 | 2 In Stock. Ready to ship. | - |
| | 316-0334 | 601M06750 | 2 In Stock. Ready to ship. | - |
| | 316-0264 | 614M06850 | 2 In Stock. Ready to ship. | - |
| | 316-0213 | 533M08200 | 2 In Stock. Ready to ship. | - |
| | 316-0212 | 533M08100 | 2 In Stock. Ready to ship. | - |
| | 316-0210 | 533M08000 | 2 In Stock. Ready to ship. | - |
| | 316-0191 | 871M08900 | 2 In Stock. Ready to ship. | - |
| | 316-0123 | 564M05600 | 2 In Stock. Ready to ship. | - |
| | 316-0108 | 553M05400 | 2 In Stock. Ready to ship. | - |
| | 316-0083 | 518PS | 2 In Stock. Ready to ship. | 2 In Stock. |
| | 316-0082 | 448M05750 | 2 In Stock. Ready to ship. | - |
| | 316-0075 | 448M05550 | 2 In Stock. Ready to ship. | 2 In Stock. |
| | 316-PK137 | PK137 | 1 In Stock. Ready to ship. | - |
| | 316-PK136 | PK136 | 1 In Stock. Ready to ship. | - |
| | 316-844M06640 | 844M06640 | 1 In Stock. Ready to ship. | - |
| | 316-833M04850 | 833M04850 | 1 In Stock. Ready to ship. | - |
| | 316-823M06700 | 823M06700 | 1 In Stock. Ready to ship. | - |
| | 316-799M06750 | 799M06750 | 1 In Stock. Ready to ship. | - |
| | 316-797M05500 | 797M05500 | 1 In Stock. Ready to ship. | - |
| | 316-782M04900 | 782M04900 | 1 In Stock. Ready to ship. | - |
| | 316-772M06550 | 772M06550 | 1 In Stock. Ready to ship. | - |
| | 316-762M05600 | 762M05600 | 1 In Stock. Ready to ship. | - |
| | 316-719M05600 | 719M05600 | 1 In Stock. Ready to ship. | - |
| | 316-668M04600 | 668M04600 | 1 In Stock. Ready to ship. | - |
| | 316-652M05600 | 652M05600 | 1 In Stock. Ready to ship. | - |
| | 316-640M05500 | 640M05500 | 1 In Stock. Ready to ship. | - |
| | 316-616M05500 | 616M05500 | 1 In Stock. Ready to ship. | - |
| | 316-607M06800 | 607M06800 | 1 In Stock. Ready to ship. | - |
| | 316-603M05700 | 603M05700 | 1 In Stock. Ready to ship. | - |
| | 316-589M05700 | 589M05700 | 1 In Stock. Ready to ship. | - |
| | 316-577M08000 | 577M08000 | 1 In Stock. Ready to ship. | - |
| | 316-575M08800 | 575M08800 | 1 In Stock. Ready to ship. | - |
| | 316-575M08700 | 575M08700 | 1 In Stock. Ready to ship. | - |
| | 316-568M05500 | 568M05500 | 1 In Stock. Ready to ship. | - |
| | 316-566M05700 | 566M05700 | 1 In Stock. Ready to ship. | - |
| | 316-557M05500 | 557M05500 | 1 In Stock. Ready to ship. | - |
| | 316-553M05600 | 553M05600 | 1 In Stock. Ready to ship. | - |
| | 316-546M08900 | 546M08900 | 1 In Stock. Ready to ship. | - |
| | 316-540M05600 | 540M05600 | 1 In Stock. Ready to ship. | - |
| | 316-539M04900 | 539M04900 | 1 In Stock. Ready to ship. | - |
| | 316-522M06800 | 522M06800 | 1 In Stock. Ready to ship. | - |
| | 316-518M05400 | 518M05400 | 1 In Stock. Ready to ship. | - |
| | 316-515M07000 | 515M07000 | 1 In Stock. Ready to ship. | - |
| | 316-511M05400 | 511M05400 | 1 In Stock. Ready to ship. | - |
| | 316-508M05000 | 508M05000 | 1 In Stock. Ready to ship. | - |
| | 316-497M05000 | 497M05000 | 1 In Stock. Ready to ship. | - |
| | 316-477M04850 | 477M04850 | 1 In Stock. Ready to ship. | - |
| | 316-469M06700 | 469M06700 | 1 In Stock. Ready to ship. | - |
| | 316-469M06600 | 469M06600 | 1 In Stock. Ready to ship. | - |
| | 316-457M05100 | 457M05100 | 1 In Stock. Ready to ship. | - |
| | 316-456M05100 | 456M05100 | 1 In Stock. Ready to ship. | - |
| | 316-432M05550 | 432M05550 | 1 In Stock. Ready to ship. | - |
| | 316-405M06750 | 405M06750 | 1 In Stock. Ready to ship. | - |
| | 316-393M06600 | 393M06600 | 1 In Stock. Ready to ship. | - |
| | 316-393M06450 | 393M06450 | 1 In Stock. Ready to ship. | - |
| | 316-374M06750 | 374M06750 | 1 In Stock. Ready to ship. | - |
| | 316-1982 | 754M05600 | 1 In Stock. Ready to ship. | - |
| | 316-1895 | 721M07500 | 1 In Stock. Ready to ship. | - |
| | 316-1890 | 719M05400 | 1 In Stock. Ready to ship. | - |
| | 316-1833 | 647M05500 | 1 In Stock. Ready to ship. | - |
| | 316-1825 | 649M04750 | 1 In Stock. Ready to ship. | - |
| | 316-1816 | 646M04750 | 1 In Stock. Ready to ship. | - |
| | 316-1780 | 605M06800 | 1 In Stock. Ready to ship. | - |
| | 316-1645 | 560M06800 | 1 In Stock. Ready to ship. | - |
| | 316-1642 | 771M05300 | 1 In Stock. Ready to ship. | - |
| | 316-1639 | 677M06900 | 1 In Stock. Ready to ship. | - |
| | 316-1635 | 452M07150 | 1 In Stock. Ready to ship. | - |
| | 316-1631 | 452P1 | 1 In Stock. Ready to ship. | - |
| | 316-1603 | 559M05750 | 1 In Stock. Ready to ship. | - |
| | 316-1601 | 559M05700 | 1 In Stock. Ready to ship. | - |
| | 316-1554 | 236M05600 | 1 In Stock. Ready to ship. | - |
| | 316-1541 | 569M05000 | 1 In Stock. Ready to ship. | - |
| | 316-1536 | 520M05000 | 1 In Stock. Ready to ship. | - |
| | 316-1523 | 477P3 | 1 In Stock. Ready to ship. | - |
| | 316-1521 | 477P1 | 1 In Stock. Ready to ship. | - |
| | 316-1508 | 457M04950 | 1 In Stock. Ready to ship. | - |
| | 316-149M06100 | 149M06100 | 1 In Stock. Ready to ship. | - |
| | 316-1421 | 645M04900 | 1 In Stock. Ready to ship. | - |
| | 316-1315 | 645M04750 | 1 In Stock. Ready to ship. | - |
| | 316-1286 | 843M06640 | 1 In Stock. Ready to ship. | - |
| | 316-1285 | 845M05600 | 1 In Stock. Ready to ship. | - |
| | 316-1272 | 561M08900 | 1 In Stock. Ready to ship. | - |
| | 316-1247 | 552M06700 | 1 In Stock. Ready to ship. | - |
| | 316-1243 | 534M07050 | 1 In Stock. Ready to ship. | - |
| | 316-1196 | 543P8 | 1 In Stock. Ready to ship. | - |
| | 316-1185 | 485M07100 | 1 In Stock. Ready to ship. | - |
| | 316-1174 | 474PS | 1 In Stock. Ready to ship. | - |
| | 316-1122 | 557P3 | 1 In Stock. Ready to ship. | - |
| | 316-1040 | 579P1 | 1 In Stock. Ready to ship. | - |
| | 316-1030 | 542M04950 | 1 In Stock. Ready to ship. | - |
| | 316-1029 | 542M04900 | 1 In Stock. Ready to ship. | - |
| | 316-0785 | 640M05400 | 1 In Stock. Ready to ship. | - |
| | 316-0705 | 644M04900 | 1 In Stock. Ready to ship. | - |
| | 316-0642 | 589P4 | 1 In Stock. Ready to ship. | - |
| | 316-0589 | 556M06900 | 1 In Stock. Ready to ship. | - |
| | 316-0587 | 556M06850 | 1 In Stock. Ready to ship. | - |
| | 316-0581 | 439M07150 | 1 In Stock. Ready to ship. | - |
| | 316-0579 | 439M07100 | 1 In Stock. Ready to ship. | - |
| | 316-0551 | 578P2 | 1 In Stock. Ready to ship. | - |
| | 316-0550 | 578M05600 | 1 In Stock. Ready to ship. | - |
| | 316-0539 | 486P2 | 1 In Stock. Ready to ship. | - |
| | 316-0442 | 835M05600 | 1 In Stock. Ready to ship. | - |
| | 316-0420 | 770M06400 | 1 In Stock. Ready to ship. | - |
| | 316-0419 | 786M05600 | 1 In Stock. Ready to ship. | - |
| | 316-0414 | 746M04700 | 1 In Stock. Ready to ship. | - |
| | 316-0400 | 822M05400 | 1 In Stock. Ready to ship. | - |
| | 316-0240 | 595M05400 | 1 In Stock. Ready to ship. | - |
| | 316-0221 | 562P1 | 1 In Stock. Ready to ship. | - |
| | 316-0177 | 554M09050 | 1 In Stock. Ready to ship. | - |
| | 316-0176 | 554M09000 | 1 In Stock. Ready to ship. | - |
| | 316-0175 | 554M08950 | 1 In Stock. Ready to ship. | - |
| | 316-0150 | 526M06625 | 1 In Stock. Ready to ship. | - |
| | 316-0148 | 466M06800 | 1 In Stock. Ready to ship. | - |
| | 316-0145 | 466P3 | 1 In Stock. Ready to ship. | - |
| | 316-0144 | 466P2 | 1 In Stock. Ready to ship. | - |
| | 316-0142 | 466M06600 | 1 In Stock. Ready to ship. | - |
| | 316-0130 | 338M07050 | 1 In Stock. Ready to ship. | - |
| | 316-0114 | 553M05550 | 1 In Stock. Ready to ship. | - |
| | 316-0112 | 553P4 | 1 In Stock. Ready to ship. | - |
| | 316-0111 | 553P3 | 1 In Stock. Ready to ship. | - |
| | 316-0110 | 553M05450 | 1 In Stock. Ready to ship. | - |
| | 316-0081 | 448M05700 | 1 In Stock. Ready to ship. | - |
| | 316-0077 | 448M05600 | 1 In Stock. Ready to ship. | - |
| | 316-0076 | 448P1 | 1 In Stock. Ready to ship. | - |
| | 316-0036 | 857M06640 | 1 In Stock. Ready to ship. | - |
| | 316-880M05450 | 880M05450 | Unavailable. | - |
| | 316-879M05050 | 879M05050 | Unavailable. | - |
| | 316-879M04950 | 879M04950 | Unavailable. | - |
| | 316-879M04900 | 879M04900 | Unavailable. | - |
| | 316-877M04150 | 877M04150 | Unavailable. | - |
| | 316-842M06550 | 842M06550 | Unavailable. | - |
| | 316-833M05050 | 833M05050 | Unavailable. | - |
| | 316-826M04200 | 826M04200 | Unavailable. | - |
| | 316-802M06640 | 802M06640 | Unavailable. | - |
| | 316-793M05400 | 793M05400 | Unavailable. | - |
| | 316-761M06640 | 761M06640 | Unavailable. | - |
| | 316-711M06800 | 711M06800 | Unavailable. | - |
| | 316-701M06750 | 701M06750 | Unavailable. | - |
| | 316-669M04700 | 669M04700 | Unavailable. | - |
| | 316-648M04500 | 648M04500 | Unavailable. | - |
| | 316-648M04400 | 648M04400 | Unavailable. | - |
| | 316-646M04800 | 646M04800 | Unavailable. | - |
| | 316-629M05700 | 629M05700 | Unavailable. | - |
| | 316-595M05500 | 595M05500 | Unavailable. | - |
| | 316-595M05450 | 595M05450 | Unavailable. | - |
| | 316-594M05700 | 594M05700 | Unavailable. | - |
| | 316-594M05600 | 594M05600 | Unavailable. | - |
| | 316-582M05700 | 582M05700 | Unavailable. | - |
| | 316-561M08950 | 561M08950 | Unavailable. | - |
| | 316-560M07000 | 560M07000 | Unavailable. | - |
| | 316-559M05600 | 559M05600 | Unavailable. | - |
| | 316-558M06800 | 558M06800 | Unavailable. | - |
| | 316-556M06950 | 556M06950 | Unavailable. | - |
| | 316-542M04750 | 542M04750 | Unavailable. | - |
| | 316-519M05600 | 519M05600 | Unavailable. | - |
| | 316-515M06900 | 515M06900 | Unavailable. | - |
| | 316-511M05600 | 511M05600 | Unavailable. | - |
| | 316-509M05050 | 509M05050 | Unavailable. | - |
| | 316-493M05000 | 493M05000 | Unavailable. | - |
| | 316-490M06200 | 490M06200 | Unavailable. | - |
| | 316-485M07050 | 485M07050 | Unavailable. | - |
| | 316-478M08900 | 478M08900 | Unavailable. | - |
| | 316-451M08650 | 451M08650 | Unavailable. | - |
| | 316-450M05050 | 450M05050 | Unavailable. | - |
| | 316-449M05800 | 449M05800 | Unavailable. | - |
| | 316-435M05800 | 435M05800 | Unavailable. | - |
| | 316-435M05700 | 435M05700 | Unavailable. | - |
| | 316-432M05600 | 432M05600 | Unavailable. | - |
| | 316-405M06700 | 405M06700 | Unavailable. | - |
| | 316-394M08650 | 394M08650 | Unavailable. | - |
| | 316-1970 | 737M06640 | Unavailable. | - |
| | 316-1964 | 803M04150 | Unavailable. | - |
| | 316-1960 | 736M06800 | Unavailable. | - |
| | 316-1881 | 768M06640 | Unavailable. | - |
| | 316-1828 | 649M04900 | Unavailable. | - |
| | 316-1730 | 515M06800 | Unavailable. | - |
| | 316-1640 | 771M05200 | Unavailable. | - |
| | 316-1630 | 452M07000 | Unavailable. | - |
| | 316-1538 | 569M04850 | Unavailable. | - |
| | 316-1526 | 477M04900 | Unavailable. | - |
| | 316-1522 | 477M04750 | Unavailable. | - |
| | 316-1475 | 818M06680 | Unavailable. | - |
| | 316-1446 | 774M06640 | Unavailable. | - |
| | 316-1443 | 833M04950 | Unavailable. | - |
| | 316-1422 | 645M04950 | Unavailable. | - |
| | 316-1271 | 561M08850 | Unavailable. | - |
| | 316-1262 | 571M06900 | Unavailable. | - |
| | 316-1039 | 579M04750 | Unavailable. | - |
| | 316-0650 | 603M05600 | Unavailable. | - |
| | 316-0577 | 439M07050 | Unavailable. | - |
| | 316-0544 | 555M05600 | Unavailable. | - |
| | 316-0505 | 514M04900 | Unavailable. | - |
| | 316-0450 | 671M04600 | Unavailable. | - |
| | 316-0423 | 770M06600 | Unavailable. | - |
| | 316-0369 | 699M06700 | Unavailable. | - |
| | 316-0252 | 752M04650 | Unavailable. | - |
| | 316-0174 | 554PS | Unavailable. | - |
| | 316-0157 | 526M06850 | Unavailable. | - |
| | 316-0118 | 564M05450 | Unavailable. | - |
| | 316-0090 | 518M05600 | Unavailable. | - |
| | 316-0087 | 518M05500 | Unavailable. | - |
| | 316-0042 | 861M04450 | Unavailable. | - |