By browsing, you consent to our

use of Cookies

.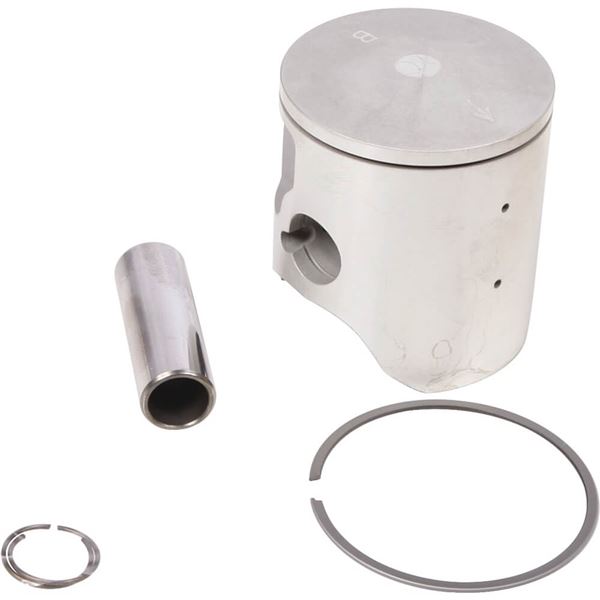 Free Shipping Over $75

Low Price Guarantee

No Hassle Returns

Pro X pistons are precision machined on the latest, state of the art CNC equipment. The same low expansion, low friction piston alloy is used as is used for all major Japanese engine manufacturers. Pro X piston kits are a first class solution to replace your original pistons.
Excellent economic alternative when you are looking for an O.E.M quality replacement piston
Mainly manufactured in Japan by reputable Original Equipment Manufacturers to ProX exact specifications and high quality standards
O.E.M. style tin coated pistons assist the wear in process and reduces friction after the wear in
Black coating is made from a delicate mix of materials and will increase performance
ProX leads the industry in cast and forged pistons made specifically to replace O.E.M parts
Comes complete with pistons, piston rings, wrist pin and circlips
Note: Image for reference only. Actual product may vary according to vehicle.
Specifications
SKU
562-01-2321-A
Brand
Pro X

California Prop 65
WARNING: Cancer and Reproductive Harm - www.P65Warnings.ca.gov
Part Numbers
| | SKU | MPN | Availability | In-Store Pickup |
| --- | --- | --- | --- | --- |
| | 562-01-2321-A | 01.2321.A | 10+ In Stock. Ready to ship. | - |
| | 562-01-2020-000 | 01.2020.000 | 10+ In Stock. Ready to ship. | - |
| | 562-01-2406-C | 01.2406.C | 10+ In Stock. Ready to ship. | - |
| | 562-01-1408-100 | 01.1408.100 | 10+ In Stock. Ready to ship. | - |
| | 562-01-1408-075 | 01.1408.075 | 10+ In Stock. Ready to ship. | - |
| | 562-01-1408-050 | 01.1408.050 | 10+ In Stock. Ready to ship. | - |
| | 562-01-4322-B | 01.4322.B | 10+ In Stock. Ready to ship. | - |
| | 562-01-2314-B | 01.2314.B | 10+ In Stock. Ready to ship. | - |
| | 562-01-1113-B | 01.1113.B | 10+ In Stock. Ready to ship. | - |
| | 562-01-2224-B | 01.2224.B | 10+ In Stock. Ready to ship. | - |
| | 562-01-2217-A | 01.2217.A | 10+ In Stock. Ready to ship. | - |
| | 562-01-2020-075 | 01.2020.075 | 10+ In Stock. Ready to ship. | - |
| | 562-01-2281-100 | 01.2281.100 | 10 In Stock. Ready to ship. | - |
| | 562-01-1414-B | 01.1414.B | 10 In Stock. Ready to ship. | - |
| | 562-01-1414-A | 01.1414.A | 10 In Stock. Ready to ship. | - |
| | 316-8107 | 01.2215.B | 10 In Stock. Ready to ship. | - |
| | 562-01-6105-C | 01.6105.C | 9 In Stock. Ready to ship. | 2 In Stock. |
| | 562-01-4223-A | 01.4223.A | 9 In Stock. Ready to ship. | - |
| | 562-01-2660-000 | 01.2660.000 | 9 In Stock. Ready to ship. | - |
| | 562-01-2435-A | 01.2435.A | 9 In Stock. Ready to ship. | - |
| | 562-01-2406-A | 01.2406.A | 9 In Stock. Ready to ship. | - |
| | 562-01-2225-C | 01.2225.C | 9 In Stock. Ready to ship. | - |
| | 562-01-2225-A | 01.2225.A | 9 In Stock. Ready to ship. | - |
| | 562-01-1495-000 | 01.1495.000 | 9 In Stock. Ready to ship. | - |
| | 562-01-1315-A | 01.1315.A | 9 In Stock. Ready to ship. | - |
| | 562-01-1075-000 | 01.1075.000 | 9 In Stock. Ready to ship. | - |
| | 562-01-3420-A | 01.3420.A | 8 In Stock. Ready to ship. | - |
| | 562-01-2429-B | 01.2429.B | 8 In Stock. Ready to ship. | - |
| | 562-01-2429-A | 01.2429.A | 8 In Stock. Ready to ship. | - |
| | 562-01-2321-D | 01.2321.D | 8 In Stock. Ready to ship. | - |
| | 562-01-2321-C | 01.2321.C | 8 In Stock. Ready to ship. | - |
| | 562-01-2281-050 | 01.2281.050 | 8 In Stock. Ready to ship. | - |
| | 562-01-1363-050 | 01.1363.050 | 8 In Stock. Ready to ship. | - |
| | 562-01-1320-A3 | 01.1320.A3 | 8 In Stock. Ready to ship. | - |
| | 316-8393 | 01.4022.A | 8 In Stock. Ready to ship. | - |
| | 562-01-6105-D | 01.6105.D | 7 In Stock. Ready to ship. | - |
| | 562-01-3310-B | 01.3310.B | 7 In Stock. Ready to ship. | - |
| | 562-01-3220-B | 01.3220.B | 7 In Stock. Ready to ship. | - |
| | 562-01-3180-000 | 01.3180.000 | 7 In Stock. Ready to ship. | - |
| | 562-01-3122-A | 01.3122.A | 7 In Stock. Ready to ship. | - |
| | 562-01-3111-050 | 01.3111.050 | 7 In Stock. Ready to ship. | - |
| | 562-01-2487-000 | 01.2487.000 | 7 In Stock. Ready to ship. | - |
| | 562-01-2281-075 | 01.2281.075 | 7 In Stock. Ready to ship. | - |
| | 562-01-2224-A | 01.2224.A | 7 In Stock. Ready to ship. | - |
| | 562-01-2114-B | 01.2114.B | 7 In Stock. Ready to ship. | - |
| | 562-01-2114-A | 01.2114.A | 7 In Stock. Ready to ship. | - |
| | 562-01-2020-050 | 01.2020.050 | 7 In Stock. Ready to ship. | - |
| | 562-01-1480-000 | 01.1480.000 | 7 In Stock. Ready to ship. | - |
| | 562-01-1111-B | 01.1111.B | 7 In Stock. Ready to ship. | - |
| | 562-01-6394-B | 01.6394.B | 6 In Stock. Ready to ship. | - |
| | 562-01-4406-A | 01.4406.A | 6 In Stock. Ready to ship. | - |
| | 562-01-4337-B | 01.4337.B | 6 In Stock. Ready to ship. | - |
| | 562-01-4306-B | 01.4306.B | 6 In Stock. Ready to ship. | - |
| | 562-01-4221-A | 01.4221.A | 6 In Stock. Ready to ship. | - |
| | 562-01-4218-A | 01.4218.A | 6 In Stock. Ready to ship. | - |
| | 562-01-4124-C | 01.4124.C | 6 In Stock. Ready to ship. | - |
| | 562-01-4121-A | 01.4121.A | 6 In Stock. Ready to ship. | - |
| | 562-01-4022-B | 01.4022.B | 6 In Stock. Ready to ship. | - |
| | 562-01-3310-C | 01.3310.C | 6 In Stock. Ready to ship. | - |
| | 562-01-2487-050 | 01.2487.050 | 6 In Stock. Ready to ship. | - |
| | 562-01-2409-B | 01.2409.B | 6 In Stock. Ready to ship. | - |
| | 562-01-2020-125 | 01.2020.125 | 6 In Stock. Ready to ship. | - |
| | 562-01-2020-025 | 01.2020.025 | 6 In Stock. Ready to ship. | - |
| | 562-01-1323-C | 01.1323.C | 6 In Stock. Ready to ship. | - |
| | 562-01-1323-A | 01.1323.A | 6 In Stock. Ready to ship. | - |
| | 562-01-1320-A2 | 01.1320.A2 | 6 In Stock. Ready to ship. | - |
| | 562-01-1315-A1 | 01.1315.A1 | 6 In Stock. Ready to ship. | - |
| | 562-01-1218-A4 | 01.1218.A4 | 6 In Stock. Ready to ship. | - |
| | 562-01-1113-C | 01.1113.C | 6 In Stock. Ready to ship. | - |
| | 562-01-6226-A | 01.6226.A | 5 In Stock. Ready to ship. | - |
| | 562-01-4342-B | 01.4342.B | 5 In Stock. Ready to ship. | - |
| | 562-01-4216-A | 01.4216.A | 5 In Stock. Ready to ship. | - |
| | 562-01-3410-A | 01.3410.A | 5 In Stock. Ready to ship. | - |
| | 562-01-3220-A | 01.3220.A | 5 In Stock. Ready to ship. | - |
| | 562-01-3214-C | 01.3214.C | 5 In Stock. Ready to ship. | - |
| | 562-01-3122-C | 01.3122.C | 5 In Stock. Ready to ship. | - |
| | 562-01-2487-100 | 01.2487.100 | 5 In Stock. Ready to ship. | - |
| | 562-01-2314-D | 01.2314.D | 5 In Stock. Ready to ship. | - |
| | 562-01-2109-C | 01.2109.C | 5 In Stock. Ready to ship. | - |
| | 562-01-2109-B | 01.2109.B | 5 In Stock. Ready to ship. | - |
| | 562-01-1495-025 | 01.1495.025 | 5 In Stock. Ready to ship. | - |
| | 562-01-1403-B | 01.1403.B | 5 In Stock. Ready to ship. | - |
| | 562-01-1342-C | 01.1342.C | 5 In Stock. Ready to ship. | - |
| | 562-01-1338-C | 01.1338.C | 5 In Stock. Ready to ship. | - |
| | 562-01-1208-A1 | 01.1208.A1 | 5 In Stock. Ready to ship. | - |
| | 562-01-1075-050 | 01.1075.050 | 5 In Stock. Ready to ship. | - |
| | 316-8114 | 01.2224.B | 5 In Stock. Ready to ship. | - |
| | 562-01-6394-C | 01.6394.C | 4 In Stock. Ready to ship. | - |
| | 562-01-6346-A | 01.6346.A | 4 In Stock. Ready to ship. | - |
| | 562-01-6324-A | 01.6324.A | 4 In Stock. Ready to ship. | - |
| | 562-01-6226-B | 01.6226.B | 4 In Stock. Ready to ship. | - |
| | 562-01-6105-B | 01.6105.B | 4 In Stock. Ready to ship. | - |
| | 562-01-6029-B | 01.6029.B | 4 In Stock. Ready to ship. | - |
| | 562-01-6019-C | 01.6019.C | 4 In Stock. Ready to ship. | - |
| | 562-01-4408-A | 01.4408.A | 4 In Stock. Ready to ship. | - |
| | 562-01-4342-C | 01.4342.C | 4 In Stock. Ready to ship. | - |
| | 562-01-4337-C | 01.4337.C | 4 In Stock. Ready to ship. | - |
| | 562-01-4325-D | 01.4325.D | 4 In Stock. Ready to ship. | - |
| | 562-01-4325-B | 01.4325.B | 4 In Stock. Ready to ship. | - |
| | 562-01-4286-100 | 01.4286.100 | 4 In Stock. Ready to ship. | - |
| | 562-01-4214-B | 01.4214.B | 4 In Stock. Ready to ship. | - |
| | 562-01-4108-A | 01.4108.A | 4 In Stock. Ready to ship. | - |
| | 562-01-4100-B | 01.4100.B | 4 In Stock. Ready to ship. | - |
| | 562-01-3420-C | 01.3420.C | 4 In Stock. Ready to ship. | - |
| | 562-01-3320-B | 01.3320.B | 4 In Stock. Ready to ship. | - |
| | 562-01-3224-A | 01.3224.A | 4 In Stock. Ready to ship. | - |
| | 562-01-3220-C | 01.3220.C | 4 In Stock. Ready to ship. | - |
| | 562-01-2660-050 | 01.2660.050 | 4 In Stock. Ready to ship. | - |
| | 562-01-2435-B | 01.2435.B | 4 In Stock. Ready to ship. | - |
| | 562-01-2427-A | 01.2427.A | 4 In Stock. Ready to ship. | - |
| | 562-01-2406-B | 01.2406.B | 4 In Stock. Ready to ship. | - |
| | 562-01-2281-000 | 01.2281.000 | 4 In Stock. Ready to ship. | - |
| | 562-01-2217-C | 01.2217.C | 4 In Stock. Ready to ship. | - |
| | 562-01-1346-C | 01.1346.C | 4 In Stock. Ready to ship. | - |
| | 562-01-1338-B | 01.1338.B | 4 In Stock. Ready to ship. | - |
| | 562-01-1325-A2 | 01.1325.A2 | 4 In Stock. Ready to ship. | - |
| | 562-01-1320-A1 | 01.1320.A1 | 4 In Stock. Ready to ship. | - |
| | 562-01-6394-A | 01.6394.A | 3 In Stock. Ready to ship. | - |
| | 562-01-6338-A | 01.6338.A | 3 In Stock. Ready to ship. | - |
| | 562-01-6324-B | 01.6324.B | 3 In Stock. Ready to ship. | - |
| | 562-01-6228-B | 01.6228.B | 3 In Stock. Ready to ship. | - |
| | 562-01-6226-D | 01.6226.D | 3 In Stock. Ready to ship. | - |
| | 562-01-6226-C | 01.6226.C | 3 In Stock. Ready to ship. | - |
| | 562-01-4413-A | 01.4413.A | 3 In Stock. Ready to ship. | - |
| | 562-01-4345-B | 01.4345.B | 3 In Stock. Ready to ship. | - |
| | 562-01-4335-B | 01.4335.B | 3 In Stock. Ready to ship. | - |
| | 562-01-4285-A | 01.4285.A | 3 In Stock. Ready to ship. | - |
| | 562-01-4216-B | 01.4216.B | 3 In Stock. Ready to ship. | - |
| | 562-01-4121-C | 01.4121.C | 3 In Stock. Ready to ship. | - |
| | 562-01-3310-E | 01.3310.E | 3 In Stock. Ready to ship. | - |
| | 562-01-3224-B | 01.3224.B | 3 In Stock. Ready to ship. | - |
| | 562-01-3214-D | 01.3214.D | 3 In Stock. Ready to ship. | - |
| | 562-01-3180-100 | 01.3180.100 | 3 In Stock. Ready to ship. | - |
| | 562-01-2414-C | 01.2414.C | 3 In Stock. Ready to ship. | - |
| | 562-01-2414-B | 01.2414.B | 3 In Stock. Ready to ship. | - |
| | 562-01-2409-C | 01.2409.C | 3 In Stock. Ready to ship. | - |
| | 562-01-2321-B | 01.2321.B | 3 In Stock. Ready to ship. | - |
| | 562-01-2314-C | 01.2314.C | 3 In Stock. Ready to ship. | - |
| | 562-01-2281-200 | 01.2281.200 | 3 In Stock. Ready to ship. | - |
| | 562-01-2215-C | 01.2215.C | 3 In Stock. Ready to ship. | - |
| | 562-01-2020-100 | 01.2020.100 | 3 In Stock. Ready to ship. | - |
| | 562-01-1403-A | 01.1403.A | 3 In Stock. Ready to ship. | - |
| | 562-01-1363-100 | 01.1363.100 | 3 In Stock. Ready to ship. | - |
| | 562-01-1343-A | 01.1343.A | 3 In Stock. Ready to ship. | - |
| | 562-01-1342-A | 01.1342.A | 3 In Stock. Ready to ship. | - |
| | 562-01-1323-B | 01.1323.B | 3 In Stock. Ready to ship. | - |
| | 562-01-1225-C | 01.1225.C | 3 In Stock. Ready to ship. | - |
| | 562-01-1225-B | 01.1225.B | 3 In Stock. Ready to ship. | - |
| | 562-01-1218-A2 | 01.1218.A2 | 3 In Stock. Ready to ship. | - |
| | 562-01-1218-A1 | 01.1218.A1 | 3 In Stock. Ready to ship. | - |
| | 022-4430A | | 3 In Stock. Ready to ship. | 3 In Stock. |
| | 022-4260A | | 3 In Stock. Ready to ship. | 3 In Stock. |
| | 562-01-6604-A | 01.6604.A | 2 In Stock. Ready to ship. | - |
| | 562-01-6521-C | 01.6521.C | 2 In Stock. Ready to ship. | - |
| | 562-01-6521-A | 01.6521.A | 2 In Stock. Ready to ship. | - |
| | 562-01-6512-C | 01.6512.C | 2 In Stock. Ready to ship. | - |
| | 562-01-6512-B | 01.6512.B | 2 In Stock. Ready to ship. | - |
| | 562-01-6427-A | 01.6427.A | 2 In Stock. Ready to ship. | - |
| | 562-01-6333-B | 01.6333.B | 2 In Stock. Ready to ship. | - |
| | 562-01-6228-A | 01.6228.A | 2 In Stock. Ready to ship. | - |
| | 562-01-6105-A | 01.6105.A | 2 In Stock. Ready to ship. | - |
| | 562-01-6012-B | 01.6012.B | 2 In Stock. Ready to ship. | - |
| | 562-01-5513-100 | 01.5513.100 | 2 In Stock. Ready to ship. | - |
| | 562-01-4409-B | 01.4409.B | 2 In Stock. Ready to ship. | - |
| | 562-01-4409-A | 01.4409.A | 2 In Stock. Ready to ship. | - |
| | 562-01-4342-A | 01.4342.A | 2 In Stock. Ready to ship. | - |
| | 562-01-4337-A | 01.4337.A | 2 In Stock. Ready to ship. | - |
| | 562-01-4325-C | 01.4325.C | 2 In Stock. Ready to ship. | - |
| | 562-01-4223-B | 01.4223.B | 2 In Stock. Ready to ship. | - |
| | 562-01-4216-C | 01.4216.C | 2 In Stock. Ready to ship. | - |
| | 562-01-4108-B | 01.4108.B | 2 In Stock. Ready to ship. | - |
| | 562-01-3410-C | 01.3410.C | 2 In Stock. Ready to ship. | - |
| | 562-01-3408-A | 01.3408.A | 2 In Stock. Ready to ship. | - |
| | 562-01-3341-C | 01.3341.C | 2 In Stock. Ready to ship. | - |
| | 562-01-3338-C | 01.3338.C | 2 In Stock. Ready to ship. | - |
| | 562-01-3338-B | 01.3338.B | 2 In Stock. Ready to ship. | - |
| | 562-01-3001-000 | 01.3001.000 | 2 In Stock. Ready to ship. | - |
| | 562-01-2436-B | 01.2436.B | 2 In Stock. Ready to ship. | - |
| | 562-01-2435-C | 01.2435.C | 2 In Stock. Ready to ship. | - |
| | 562-01-2429-C | 01.2429.C | 2 In Stock. Ready to ship. | - |
| | 562-01-2427-C | 01.2427.C | 2 In Stock. Ready to ship. | - |
| | 562-01-2412-B | 01.2412.B | 2 In Stock. Ready to ship. | - |
| | 562-01-2409-A | 01.2409.A | 2 In Stock. Ready to ship. | - |
| | 562-01-2281-025 | 01.2281.025 | 2 In Stock. Ready to ship. | - |
| | 562-01-2217-D | 01.2217.D | 2 In Stock. Ready to ship. | - |
| | 562-01-2109-D | 01.2109.D | 2 In Stock. Ready to ship. | - |
| | 562-01-1496-C | 01.1496.C | 2 In Stock. Ready to ship. | - |
| | 562-01-1496-A | 01.1496.A | 2 In Stock. Ready to ship. | - |
| | 562-01-1495-100 | 01.1495.100 | 2 In Stock. Ready to ship. | - |
| | 562-01-1480-050 | 01.1480.050 | 2 In Stock. Ready to ship. | - |
| | 562-01-1414-C | 01.1414.C | 2 In Stock. Ready to ship. | - |
| | 562-01-1413-A | 01.1413.A | 2 In Stock. Ready to ship. | - |
| | 562-01-1411-C | 01.1411.C | 2 In Stock. Ready to ship. | - |
| | 562-01-1411-B | 01.1411.B | 2 In Stock. Ready to ship. | - |
| | 562-01-1410-A | 01.1410.A | 2 In Stock. Ready to ship. | - |
| | 562-01-1408-200 | 01.1408.200 | 2 In Stock. Ready to ship. | - |
| | 562-01-1408-025 | 01.1408.025 | 2 In Stock. Ready to ship. | - |
| | 562-01-1363-000 | 01.1363.000 | 2 In Stock. Ready to ship. | - |
| | 562-01-1342-B | 01.1342.B | 2 In Stock. Ready to ship. | - |
| | 562-01-1339-C | 01.1339.C | 2 In Stock. Ready to ship. | - |
| | 562-01-1339-B | 01.1339.B | 2 In Stock. Ready to ship. | - |
| | 562-01-1225-A | 01.1225.A | 2 In Stock. Ready to ship. | - |
| | 562-01-1222-C | 01.1222.C | 2 In Stock. Ready to ship. | - |
| | 562-01-1222-B | 01.1222.B | 2 In Stock. Ready to ship. | - |
| | 562-01-1222-A | 01.1222.A | 2 In Stock. Ready to ship. | - |
| | 562-01-1075-100 | 01.1075.100 | 2 In Stock. Ready to ship. | - |
| | 316-8110 | 01.2217.B | 2 In Stock. Ready to ship. | - |
| | 022-7080D | | 2 In Stock. Ready to ship. | 2 In Stock. |
| | 562-01-6604-C | 01.6604.C | 1 In Stock. Ready to ship. | - |
| | 562-01-6429-A | 01.6429.A | 1 In Stock. Ready to ship. | - |
| | 562-01-6427-C | 01.6427.C | 1 In Stock. Ready to ship. | - |
| | 562-01-6413-B | 01.6413.B | 1 In Stock. Ready to ship. | - |
| | 562-01-6396-A | 01.6396.A | 1 In Stock. Ready to ship. | - |
| | 562-01-6338-B | 01.6338.B | 1 In Stock. Ready to ship. | - |
| | 562-01-6324-D | 01.6324.D | 1 In Stock. Ready to ship. | - |
| | 562-01-6249-C | 01.6249.C | 1 In Stock. Ready to ship. | - |
| | 562-01-6228-D | 01.6228.D | 1 In Stock. Ready to ship. | - |
| | 562-01-6228-C | 01.6228.C | 1 In Stock. Ready to ship. | - |
| | 562-01-6029-C | 01.6029.C | 1 In Stock. Ready to ship. | - |
| | 562-01-6022-B | 01.6022.B | 1 In Stock. Ready to ship. | - |
| | 562-01-6019-B | 01.6019.B | 1 In Stock. Ready to ship. | - |
| | 562-01-5513-050 | 01.5513.050 | 1 In Stock. Ready to ship. | - |
| | 562-01-4705-A | 01.4705.A | 1 In Stock. Ready to ship. | - |
| | 562-01-4415-C | 01.4415.C | 1 In Stock. Ready to ship. | - |
| | 562-01-4413-C | 01.4413.C | 1 In Stock. Ready to ship. | - |
| | 562-01-4413-B | 01.4413.B | 1 In Stock. Ready to ship. | - |
| | 562-01-4409-C | 01.4409.C | 1 In Stock. Ready to ship. | - |
| | 562-01-4408-B | 01.4408.B | 1 In Stock. Ready to ship. | - |
| | 562-01-4345-C | 01.4345.C | 1 In Stock. Ready to ship. | - |
| | 562-01-4345-A | 01.4345.A | 1 In Stock. Ready to ship. | - |
| | 562-01-4335-C | 01.4335.C | 1 In Stock. Ready to ship. | - |
| | 562-01-4306-C | 01.4306.C | 1 In Stock. Ready to ship. | - |
| | 562-01-4286-050 | 01.4286.050 | 1 In Stock. Ready to ship. | - |
| | 562-01-4223-C | 01.4223.C | 1 In Stock. Ready to ship. | - |
| | 562-01-4124-B | 01.4124.B | 1 In Stock. Ready to ship. | - |
| | 562-01-4124-A | 01.4124.A | 1 In Stock. Ready to ship. | - |
| | 562-01-4121-B | 01.4121.B | 1 In Stock. Ready to ship. | - |
| | 562-01-3413-A | 01.3413.A | 1 In Stock. Ready to ship. | - |
| | 562-01-3410-B | 01.3410.B | 1 In Stock. Ready to ship. | - |
| | 562-01-3408-C | 01.3408.C | 1 In Stock. Ready to ship. | - |
| | 562-01-3341-B | 01.3341.B | 1 In Stock. Ready to ship. | - |
| | 562-01-3341-A | 01.3341.A | 1 In Stock. Ready to ship. | - |
| | 562-01-3338-A | 01.3338.A | 1 In Stock. Ready to ship. | - |
| | 562-01-3320-C | 01.3320.C | 1 In Stock. Ready to ship. | - |
| | 562-01-3320-A | 01.3320.A | 1 In Stock. Ready to ship. | - |
| | 562-01-3310-D | 01.3310.D | 1 In Stock. Ready to ship. | - |
| | 562-01-3214-B | 01.3214.B | 1 In Stock. Ready to ship. | - |
| | 562-01-3122-B | 01.3122.B | 1 In Stock. Ready to ship. | - |
| | 562-01-2707-A | 01.2707.A | 1 In Stock. Ready to ship. | - |
| | 562-01-2706-C | 01.2706.C | 1 In Stock. Ready to ship. | - |
| | 562-01-2706-B | 01.2706.B | 1 In Stock. Ready to ship. | - |
| | 562-01-2660-100 | 01.2660.100 | 1 In Stock. Ready to ship. | - |
| | 562-01-2444-B | 01.2444.B | 1 In Stock. Ready to ship. | - |
| | 562-01-2444-A | 01.2444.A | 1 In Stock. Ready to ship. | - |
| | 562-01-2436-A | 01.2436.A | 1 In Stock. Ready to ship. | - |
| | 562-01-2416-B | 01.2416.B | 1 In Stock. Ready to ship. | - |
| | 562-01-2281-175 | 01.2281.175 | 1 In Stock. Ready to ship. | - |
| | 562-01-2281-150 | 01.2281.150 | 1 In Stock. Ready to ship. | - |
| | 562-01-2225-B | 01.2225.B | 1 In Stock. Ready to ship. | - |
| | 562-01-2224-C | 01.2224.C | 1 In Stock. Ready to ship. | - |
| | 562-01-2114-C | 01.2114.C | 1 In Stock. Ready to ship. | - |
| | 562-01-2020-200 | 01.2020.200 | 1 In Stock. Ready to ship. | - |
| | 562-01-2008-000 | 01.2008.000 | 1 In Stock. Ready to ship. | - |
| | 562-01-1497-A | 01.1497.A | 1 In Stock. Ready to ship. | - |
| | 562-01-1496-B | 01.1496.B | 1 In Stock. Ready to ship. | - |
| | 562-01-1487-050 | 01.1487.050 | 1 In Stock. Ready to ship. | - |
| | 562-01-1413-B | 01.1413.B | 1 In Stock. Ready to ship. | - |
| | 562-01-1410-B | 01.1410.B | 1 In Stock. Ready to ship. | - |
| | 562-01-1408-150 | 01.1408.150 | 1 In Stock. Ready to ship. | - |
| | 562-01-1403-C | 01.1403.C | 1 In Stock. Ready to ship. | - |
| | 562-01-1363-200 | 01.1363.200 | 1 In Stock. Ready to ship. | - |
| | 562-01-1346-A | 01.1346.A | 1 In Stock. Ready to ship. | - |
| | 562-01-1343-C | 01.1343.C | 1 In Stock. Ready to ship. | - |
| | 562-01-1343-B | 01.1343.B | 1 In Stock. Ready to ship. | - |
| | 562-01-1341-A | 01.1341.A | 1 In Stock. Ready to ship. | - |
| | 562-01-1339-A | 01.1339.A | 1 In Stock. Ready to ship. | - |
| | 562-01-1338-A | 01.1338.A | 1 In Stock. Ready to ship. | - |
| | 562-01-1325-A3 | 01.1325.A3 | 1 In Stock. Ready to ship. | - |
| | 562-01-1325-A1 | 01.1325.A1 | 1 In Stock. Ready to ship. | - |
| | 562-01-1325-A | 01.1325.A | 1 In Stock. Ready to ship. | - |
| | 562-01-1320-A | 01.1320.A | 1 In Stock. Ready to ship. | - |
| | 562-01-1315-A3 | 01.1315.A3 | 1 In Stock. Ready to ship. | - |
| | 562-01-1309-050 | 01.1309.050 | 1 In Stock. Ready to ship. | - |
| | 562-01-1111-C | 01.1111.C | 1 In Stock. Ready to ship. | - |
| | 562-01-1110-B | 01.1110.B | 1 In Stock. Ready to ship. | - |
| | 562-01-1075-150 | 01.1075.150 | 1 In Stock. Ready to ship. | - |
| | 316-8234 | 01.4121.B | 1 In Stock. Ready to ship. | - |
| | 316-8195 | 01.3220.D | 1 In Stock. Ready to ship. | - |
| | 022-7214B | | 1 In Stock. Ready to ship. | - |
| | 022-7109B | | 1 In Stock. Ready to ship. | - |
| | 022-7080C | | 1 In Stock. Ready to ship. | - |
| | 022-4310A | | 1 In Stock. Ready to ship. | - |
| | 022-4306C | | 1 In Stock. Ready to ship. | - |
| | 022-4298A | | 1 In Stock. Ready to ship. | - |
| | 022-4205A | | 1 In Stock. Ready to ship. | - |
| | 022-4041 | | 1 In Stock. Ready to ship. | - |
| | 022-0286 | | 1 In Stock. Ready to ship. | - |
| | 022-0280 | | 1 In Stock. Ready to ship. | - |
| | 562-01-7300-C | 01.7300.C | Unavailable. | - |
| | 562-01-7300-B | 01.7300.B | Unavailable. | - |
| | 562-01-7300-A | 01.7300.A | Unavailable. | - |
| | 562-01-6604-B | 01.6604.B | Unavailable. | - |
| | 562-01-6528-C | 01.6528.C | Unavailable. | - |
| | 562-01-6528-B | 01.6528.B | Unavailable. | - |
| | 562-01-6528-A | 01.6528.A | Unavailable. | - |
| | 562-01-6521-B | 01.6521.B | Unavailable. | - |
| | 562-01-6520-300 | 01.6520.300 | Unavailable. | - |
| | 562-01-6508-A | 01.6508.A | Unavailable. | - |
| | 562-01-6433-B | 01.6433.B | Unavailable. | - |
| | 562-01-6429-C | 01.6429.C | Unavailable. | - |
| | 562-01-6429-B | 01.6429.B | Unavailable. | - |
| | 562-01-6427-B | 01.6427.B | Unavailable. | - |
| | 562-01-6425-B | 01.6425.B | Unavailable. | - |
| | 562-01-6425-A | 01.6425.A | Unavailable. | - |
| | 562-01-6424-C | 01.6424.C | Unavailable. | - |
| | 562-01-6424-B | 01.6424.B | Unavailable. | - |
| | 562-01-6424-A | 01.6424.A | Unavailable. | - |
| | 562-01-6413-C | 01.6413.C | Unavailable. | - |
| | 562-01-6413-A | 01.6413.A | Unavailable. | - |
| | 562-01-6396-C | 01.6396.C | Unavailable. | - |
| | 562-01-6396-B | 01.6396.B | Unavailable. | - |
| | 562-01-6362-C | 01.6362.C | Unavailable. | - |
| | 562-01-6362-B | 01.6362.B | Unavailable. | - |
| | 562-01-6362-A | 01.6362.A | Unavailable. | - |
| | 562-01-6352-B | 01.6352.B | Unavailable. | - |
| | 562-01-6352-A | 01.6352.A | Unavailable. | - |
| | 562-01-6351-C | 01.6351.C | Unavailable. | - |
| | 562-01-6351-B | 01.6351.B | Unavailable. | - |
| | 562-01-6351-A | 01.6351.A | Unavailable. | - |
| | 562-01-6346-C | 01.6346.C | Unavailable. | - |
| | 562-01-6346-B | 01.6346.B | Unavailable. | - |
| | 562-01-6338-C | 01.6338.C | Unavailable. | - |
| | 562-01-6333-A | 01.6333.A | Unavailable. | - |
| | 562-01-6329-B | 01.6329.B | Unavailable. | - |
| | 562-01-6324-C | 01.6324.C | Unavailable. | - |
| | 562-01-6322-B | 01.6322.B | Unavailable. | - |
| | 562-01-6322-A | 01.6322.A | Unavailable. | - |
| | 562-01-6319-C | 01.6319.C | Unavailable. | - |
| | 562-01-6319-A | 01.6319.A | Unavailable. | - |
| | 562-01-6249-B | 01.6249.B | Unavailable. | - |
| | 562-01-6249-A | 01.6249.A | Unavailable. | - |
| | 562-01-6236-C | 01.6236.C | Unavailable. | - |
| | 562-01-6236-B | 01.6236.B | Unavailable. | - |
| | 562-01-6236-A | 01.6236.A | Unavailable. | - |
| | 562-01-6228-E | 01.6228.E | Unavailable. | - |
| | 562-01-6220-C | 01.6220.C | Unavailable. | - |
| | 562-01-6220-B | 01.6220.B | Unavailable. | - |
| | 562-01-6220-A | 01.6220.A | Unavailable. | - |
| | 562-01-6219-C | 01.6219.C | Unavailable. | - |
| | 562-01-6219-B | 01.6219.B | Unavailable. | - |
| | 562-01-6219-A | 01.6219.A | Unavailable. | - |
| | 562-01-6022-C | 01.6022.C | Unavailable. | - |
| | 562-01-6022-A | 01.6022.A | Unavailable. | - |
| | 562-01-6017-A | 01.6017.A | Unavailable. | - |
| | 562-01-6012-C | 01.6012.C | Unavailable. | - |
| | 562-01-6012-A | 01.6012.A | Unavailable. | - |
| | 562-01-5513-000 | 01.5513.000 | Unavailable. | - |
| | 562-01-4705-C | 01.4705.C | Unavailable. | - |
| | 562-01-4705-B | 01.4705.B | Unavailable. | - |
| | 562-01-4419-B | 01.4419.B | Unavailable. | - |
| | 562-01-4419-A | 01.4419.A | Unavailable. | - |
| | 562-01-4418-C | 01.4418.C | Unavailable. | - |
| | 562-01-4418-B | 01.4418.B | Unavailable. | - |
| | 562-01-4418-A | 01.4418.A | Unavailable. | - |
| | 562-01-4406-C | 01.4406.C | Unavailable. | - |
| | 562-01-4406-B | 01.4406.B | Unavailable. | - |
| | 562-01-4347-C | 01.4347.C | Unavailable. | - |
| | 562-01-4347-B | 01.4347.B | Unavailable. | - |
| | 562-01-4347-A | 01.4347.A | Unavailable. | - |
| | 562-01-4340-C | 01.4340.C | Unavailable. | - |
| | 562-01-4340-B | 01.4340.B | Unavailable. | - |
| | 562-01-4340-A | 01.4340.A | Unavailable. | - |
| | 562-01-4335-A | 01.4335.A | Unavailable. | - |
| | 562-01-4322-D | 01.4322.D | Unavailable. | - |
| | 562-01-4322-C | 01.4322.C | Unavailable. | - |
| | 562-01-4286-200 | 01.4286.200 | Unavailable. | - |
| | 562-01-4286-150 | 01.4286.150 | Unavailable. | - |
| | 562-01-4285-C | 01.4285.C | Unavailable. | - |
| | 562-01-4285-B | 01.4285.B | Unavailable. | - |
| | 562-01-4221-C | 01.4221.C | Unavailable. | - |
| | 562-01-4218-C | 01.4218.C | Unavailable. | - |
| | 562-01-4218-B | 01.4218.B | Unavailable. | - |
| | 562-01-4214-C | 01.4214.C | Unavailable. | - |
| | 562-01-4210-C | 01.4210.C | Unavailable. | - |
| | 562-01-4210-B | 01.4210.B | Unavailable. | - |
| | 562-01-4108-C | 01.4108.C | Unavailable. | - |
| | 562-01-4100-A | 01.4100.A | Unavailable. | - |
| | 562-01-4022-D | 01.4022.D | Unavailable. | - |
| | 562-01-4022-C | 01.4022.C | Unavailable. | - |
| | 562-01-3411-B | 01.3411.B | Unavailable. | - |
| | 562-01-3411-A | 01.3411.A | Unavailable. | - |
| | 562-01-3409-B | 01.3409.B | Unavailable. | - |
| | 562-01-3408-B | 01.3408.B | Unavailable. | - |
| | 562-01-3407-B | 01.3407.B | Unavailable. | - |
| | 562-01-3406-C | 01.3406.C | Unavailable. | - |
| | 562-01-3406-B | 01.3406.B | Unavailable. | - |
| | 562-01-3406-A | 01.3406.A | Unavailable. | - |
| | 562-01-3405-200 | 01.3405.200 | Unavailable. | - |
| | 562-01-3404-B | 01.3404.B | Unavailable. | - |
| | 562-01-3404-A | 01.3404.A | Unavailable. | - |
| | 562-01-3224-C | 01.3224.C | Unavailable. | - |
| | 562-01-3214-A | 01.3214.A | Unavailable. | - |
| | 562-01-3180-150 | 01.3180.150 | Unavailable. | - |
| | 562-01-3180-050 | 01.3180.050 | Unavailable. | - |
| | 562-01-3111-200 | 01.3111.200 | Unavailable. | - |
| | 562-01-3111-150 | 01.3111.150 | Unavailable. | - |
| | 562-01-3111-100 | 01.3111.100 | Unavailable. | - |
| | 562-01-3111-000 | 01.3111.000 | Unavailable. | - |
| | 562-01-3001-100 | 01.3001.100 | Unavailable. | - |
| | 562-01-3001-050 | 01.3001.050 | Unavailable. | - |
| | 562-01-2714-C | 01.2714.C | Unavailable. | - |
| | 562-01-2714-B | 01.2714.B | Unavailable. | - |
| | 562-01-2714-A | 01.2714.A | Unavailable. | - |
| | 562-01-2706-A | 01.2706.A | Unavailable. | - |
| | 562-01-2444-C | 01.2444.C | Unavailable. | - |
| | 562-01-2441-B | 01.2441.B | Unavailable. | - |
| | 562-01-2440-C | 01.2440.C | Unavailable. | - |
| | 562-01-2440-B | 01.2440.B | Unavailable. | - |
| | 562-01-2440-A | 01.2440.A | Unavailable. | - |
| | 562-01-2428-B | 01.2428.B | Unavailable. | - |
| | 562-01-2427-B | 01.2427.B | Unavailable. | - |
| | 562-01-2424-200 | 01.2424.200 | Unavailable. | - |
| | 562-01-2416-C | 01.2416.C | Unavailable. | - |
| | 562-01-2414-A | 01.2414.A | Unavailable. | - |
| | 562-01-2412-C | 01.2412.C | Unavailable. | - |
| | 562-01-2281-125 | 01.2281.125 | Unavailable. | - |
| | 562-01-2225-D | 01.2225.D | Unavailable. | - |
| | 562-01-2020-250 | 01.2020.250 | Unavailable. | - |
| | 562-01-2020-225 | 01.2020.225 | Unavailable. | - |
| | 562-01-2020-175 | 01.2020.175 | Unavailable. | - |
| | 562-01-2020-150 | 01.2020.150 | Unavailable. | - |
| | 562-01-2008-100 | 01.2008.100 | Unavailable. | - |
| | 562-01-2008-050 | 01.2008.050 | Unavailable. | - |
| | 562-01-2005-100 | 01.2005.100 | Unavailable. | - |
| | 562-01-2005-075 | 01.2005.075 | Unavailable. | - |
| | 562-01-2005-050 | 01.2005.050 | Unavailable. | - |
| | 562-01-2005-025 | 01.2005.025 | Unavailable. | - |
| | 562-01-2005-000 | 01.2005.000 | Unavailable. | - |
| | 562-01-1495-150 | 01.1495.150 | Unavailable. | - |
| | 562-01-1495-050 | 01.1495.050 | Unavailable. | - |
| | 562-01-1494-100 | 01.1494.100 | Unavailable. | - |
| | 562-01-1487-025 | 01.1487.025 | Unavailable. | - |
| | 562-01-1487-000 | 01.1487.000 | Unavailable. | - |
| | 562-01-1411-A | 01.1411.A | Unavailable. | - |
| | 562-01-1408-125 | 01.1408.125 | Unavailable. | - |
| | 562-01-1408-000 | 01.1408.000 | Unavailable. | - |
| | 562-01-1363-150 | 01.1363.150 | Unavailable. | - |
| | 562-01-1346-B | 01.1346.B | Unavailable. | - |
| | 562-01-1344-C | 01.1344.C | Unavailable. | - |
| | 562-01-1344-B | 01.1344.B | Unavailable. | - |
| | 562-01-1344-A | 01.1344.A | Unavailable. | - |
| | 562-01-1341-B | 01.1341.B | Unavailable. | - |
| | 562-01-1315-A2 | 01.1315.A2 | Unavailable. | - |
| | 562-01-1309-200 | 01.1309.200 | Unavailable. | - |
| | 562-01-1309-150 | 01.1309.150 | Unavailable. | - |
| | 562-01-1309-100 | 01.1309.100 | Unavailable. | - |
| | 562-01-1232-B | 01.1232.B | Unavailable. | - |
| | 562-01-1228-B | 01.1228.B | Unavailable. | - |
| | 562-01-1228-A | 01.1228.A | Unavailable. | - |
| | 562-01-1227-C | 01.1227.C | Unavailable. | - |
| | 562-01-1227-B | 01.1227.B | Unavailable. | - |
| | 562-01-1227-A | 01.1227.A | Unavailable. | - |
| | 562-01-1110-C | 01.1110.C | Unavailable. | - |
| | 562-01-1075-200 | 01.1075.200 | Unavailable. | - |
| | 562-01-1040-150 | 01.1040.150 | Unavailable. | - |
| | 316-8268 | 01.4322.B | Unavailable. | - |
| | 316-8177 | 01.3111.000 | Unavailable. | - |
| | 316-8130 | 01.2321.B | Unavailable. | - |
| | 316-8106 | 01.2211.B | Unavailable. | - |
| | 316-8016 | 01.1218.A3 | Unavailable. | - |
| | 19-5050B | 01.3214.B | Unavailable. | - |
| | 19-4221B | 01.4221.B | Unavailable. | - |
| | 022-7130B | | Unavailable. | - |
| | 022-4280A | | Unavailable. | - |
| | 022-4080C | | Unavailable. | - |