By browsing, you consent to our

use of Cookies

.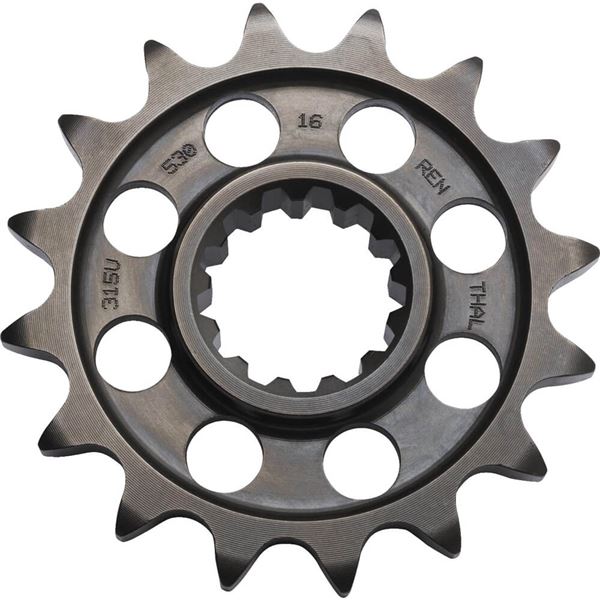 Free Shipping Over $75

Low Price Guarantee

No Hassle Returns

Made from a specially developed nickel chrome molybednum steel
Case hardened and core refined to give the ultimate combination of strength and hardness
Self cleaning mud grooves between each tooth resist dirt build-up
Ultralight front sprockets are 10 percent to 15 percent lighter than standard sprockets
Drilled design looks trick, saves weight and doesn t sacrifice strength
Used by Honda, Suzuki, Kawasaki, Chaparral Yamaha, Pro Circuit/Splitfire/Kawasaki and Yamaha of Troy racing teams
NOTE: At this time we are not able to specify on our website the standard tooth sizes of the sprockets or size and length of chain for your motorcycle. We will display every sprocket that fits.
Anytime you use other than the standard front/rear sprocket sizes, clearance must be checked
Give your chain a strong source of support with this motorcycle sprocket. The sprocket is designed from a durable nickel chromium molybdenum steel and includes self-cleaning grooves to keep mud from building up.
Renthal 520 Ultralight Countershaft Sprocket
Specifications
SKU
10-501U-520-13GP
Brand
Renthal

California Prop 65
WARNING: Cancer and Reproductive Harm - www.P65Warnings.ca.gov
Part Numbers
| | SKU | MPN | Availability | In-Store Pickup |
| --- | --- | --- | --- | --- |
| 13 Tooth | 10-501U-520-13GP | 501U-520-13GP | 10+ In Stock. Ready to ship. | - |
| 14 Tooth | 289U-520-14 | 289U-520-14GP | 10+ In Stock. Ready to ship. | 2 In Stock. |
| 14 Tooth | 253U-520-14 | 253U-520-14GP | 10+ In Stock. Ready to ship. | 2 In Stock. |
| 13 Tooth | 10-292U-520-13GP | 292U-520-13GP | 10+ In Stock. Ready to ship. | 2 In Stock. |
| 13 Tooth | 289U-520-13 | 289U-520-13GP | 10+ In Stock. Ready to ship. | - |
| 13 Tooth | 253U-520-13 | 253U-520-13GP | 10+ In Stock. Ready to ship. | - |
| 15 Tooth | 455U-520-15P | 455U-520-15P | 10+ In Stock. Ready to ship. | - |
| 13 Tooth | 452U-520-13P | 452U-520-13P | 10+ In Stock. Ready to ship. | - |
| 13 Tooth | 439U-520-13 | 439U-520-13GP | 10+ In Stock. Ready to ship. | - |
| 15 Tooth | 385U-520-15P | 385U-520-15P | 10+ In Stock. Ready to ship. | - |
| 16 Tooth | 315U-520-16P | 315U-520-16P | 10+ In Stock. Ready to ship. | - |
| 16 Tooth | 385U-520-16P | 385U-520-16P | 10+ In Stock. Ready to ship. | - |
| 14 Tooth | 10-466U-520-14GP | 466U-520-14GP | 10+ In Stock. Ready to ship. | - |
| 15 Tooth | 315U-520-15P | 315U-520-15P | 10 In Stock. Ready to ship. | - |
| 14 Tooth | 10-292U-520-14GP | 292U52014GP | 10 In Stock. Ready to ship. | 3 In Stock. |
| 16 Tooth | 455U-520-16P | 455U-520-16P | 9 In Stock. Ready to ship. | - |
| 15 Tooth | 323U-520-15P | 323U-520-15P | 7 In Stock. Ready to ship. | - |
| 17 Tooth | 10-475U-520-17P | 475U-520-17P | 7 In Stock. Ready to ship. | - |
| 16 Tooth | 10-475U-520-16P | 475U-520-16P | 6 In Stock. Ready to ship. | - |
| 14 Tooth | 398U-520-14 | 398U-520-14P | 5 In Stock. Ready to ship. | - |
| 13 Tooth | 10-497U-520-13GP | 497U-520-13GP | 4 In Stock. Ready to ship. | - |
| 15 Tooth | 321U-520-15 | 321U-520-15P | 2 In Stock. Ready to ship. | 2 In Stock. |
| 14 Tooth | 321U-520-14 | 321U-520-14 | 1 In Stock. Ready to ship. | - |
| 15 Tooth | 314U-520-15P | 314U-520-15P | 1 In Stock. Ready to ship. | - |
| 16 Tooth | 309U-520-16 | 309U-520-16P | 1 In Stock. Ready to ship. | - |
| 13 Tooth | 270U-520-13 | 270U-520-13 | 1 In Stock. Ready to ship. | - |
| 14 Tooth | 10-496U-520-14GP | 496U-520-14GP | 1 In Stock. Ready to ship. | - |
| 15 Tooth | 398U-520-15P | 398U-520-15P | Unavailable. | - |
| 16 Tooth | 323U-520-16P | 323U-520-16P | Unavailable. | - |
| 15 Tooth | 309U-520-15 | 309U-520-15P | Unavailable. | - |
| 12 Tooth | 254U-520-12 | 254U-520-12 | Unavailable. | - |
| 13 Tooth | 10-496U-520-13GP | 496U-520-13GP | Unavailable. | - |
| 15 Tooth | 10-475U-520-15P | 475U-520-15P | Unavailable. | - |