By browsing, you consent to our

use of Cookies

.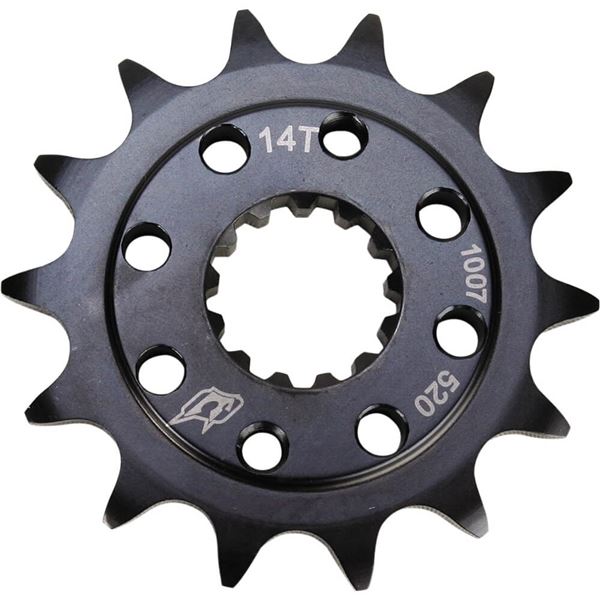 Free Shipping Over $75

Low Price Guarantee

No Hassle Returns

Manufactured using the highest quality 45C steel available. Steel sprockets are heat treated and quenched for maximum strength and durability. Dynamic black finish is achieved by using a proprietary electro-static plating process unique to Driven Racing sprockets. Lowered surface to remove unnecessary weight on rear sprockets.
Constructed from 45C steel 
One of the lightest 520 steel sprockets available today
Designed using proprietary EST Technology
Performance and longevity all in one sprocket
Lowered surfaced to remove unnecessary weight
Note: Image for reference only. Actual product may vary according to vehicle.
Specifications
SKU
357-6882
Brand
Driven Racing

California Prop 65
WARNING: Cancer and Reproductive Harm - www.P65Warnings.ca.gov
Part Numbers
| | SKU | MPN | Availability | In-Store Pickup |
| --- | --- | --- | --- | --- |
| 15 Tooth | 357-6882 | 1013-520-15T | 10+ In Stock. Ready to ship. | - |
| 14 Tooth | 198-2058-520-14T | 2058-520-14T | 10+ In Stock. Ready to ship. | - |
| 16 Tooth | 198-1007-520-16T | 1007-520-16T | 10+ In Stock. Ready to ship. | - |
| 17 Tooth | 198-1225-520-17T | 1225-520-17T | 9 In Stock. Ready to ship. | - |
| 15 Tooth | 198-1098-520-15T | 1098-520-15T | 8 In Stock. Ready to ship. | - |
| 16 Tooth | 198-2058-520-16T | 2058-520-16T | 7 In Stock. Ready to ship. | - |
| 15 Tooth | 198-1190-520-15T | 1190-520-15T | 7 In Stock. Ready to ship. | - |
| 17 Tooth | 198-1013-520-17T | 1013-520-17T | 7 In Stock. Ready to ship. | - |
| 14 Tooth | 198-1036-520-14T | 1036-520-14T | 6 In Stock. Ready to ship. | - |
| 16 Tooth | 197-1037-520-16 | 1037-520-16 | 6 In Stock. Ready to ship. | - |
| 14 Tooth | 198-2290-520-14T | 2290-520-14T | 5 In Stock. Ready to ship. | - |
| 14 Tooth | 198-1046-520-14T | 1046-520-14T | 5 In Stock. Ready to ship. | - |
| 14 Tooth | 198-1041-520-14T | 1041-520-14T | 5 In Stock. Ready to ship. | - |
| 16 Tooth | 1212-0923 | 1067-520-16T | 5 In Stock. Ready to ship. | - |
| 16 Tooth | 198-1225-520-16T | 1225-520-16T | 4 In Stock. Ready to ship. | - |
| 17 Tooth | 198-1068-520-17T | 1068-520-17T | 4 In Stock. Ready to ship. | - |
| 15 Tooth | 198-1037-520-15 | 1037-520-15 | 4 In Stock. Ready to ship. | - |
| 16 Tooth | 198-1098-520-16T | 1098-520-16T | 3 In Stock. Ready to ship. | - |
| 13 Tooth | 198-1098-520-13T | 1098-520-13T | 3 In Stock. Ready to ship. | - |
| 16 Tooth | 198-1046-520-16T | 1046-520-16T | 3 In Stock. Ready to ship. | - |
| 14 Tooth | 198-1044-520-14T | 1044-520-14T | 3 In Stock. Ready to ship. | - |
| 14 Tooth | 198-1013-520-14T | 1013-520-14T | 3 In Stock. Ready to ship. | - |
| 15 Tooth | 198-2058-520-15T | 2058-520-15T | 2 In Stock. Ready to ship. | - |
| 14 Tooth | 198-1098-520-14T | 1098-520-14T | 2 In Stock. Ready to ship. | - |
| 16 Tooth | 198-1066-520-16T | 1066-520-16T | 2 In Stock. Ready to ship. | - |
| 15 Tooth | 198-1044-520-15T | 1044-520-15T | 2 In Stock. Ready to ship. | - |
| 13 Tooth | 198-1044-520-13T | 1044-520-13T | 2 In Stock. Ready to ship. | - |
| 16 Tooth | 198-1036-520-16T | 1036-520-16T | 2 In Stock. Ready to ship. | 2 In Stock. |
| 15 Tooth | 198-1036-520-15T | 1036-520-15T | 2 In Stock. Ready to ship. | - |
| 16 Tooth | 357-6883 | 1013-520-16T | 1 In Stock. Ready to ship. | - |
| 15 Tooth | 198-2290-520-15T | 2290-520-15T | 1 In Stock. Ready to ship. | - |
| 16 Tooth | 198-1190-520-16T | 1190-520-16T | 1 In Stock. Ready to ship. | - |
| 15 Tooth | 198-1066-520-15T | 1066-520-15T | 1 In Stock. Ready to ship. | - |
| 14 Tooth | 198-1066-520-14T | 1066-520-14T | 1 In Stock. Ready to ship. | - |
| 17 Tooth | 198-1037-520-17 | 1037-520-17 | 1 In Stock. Ready to ship. | - |
| 15 Tooth | 198-1007-520-15T | 1007-520-15T | 1 In Stock. Ready to ship. | - |
| 14 Tooth | 198-1007-520-14T | 1007-520-14T | 1 In Stock. Ready to ship. | - |
| 16 Tooth | 357-6891 | 1041-520-16T | Unavailable. | - |
| 16 Tooth | 198-2290-520-16T | 2290-520-16T | Unavailable. | - |
| 13 Tooth | 198-2058-520-13 | 2058-520-13 | Unavailable. | - |
| 15 Tooth | 198-1225-520-15T | 1225-520-15T | Unavailable. | - |
| 14 Tooth | 198-1225-520-14T | 1225-520-14T | Unavailable. | - |
| 17 Tooth | 198-1190-520-17T | 1190-520-17T | Unavailable. | - |
| 16 Tooth | 198-1068-520-16T | 1068-520-16T | Unavailable. | - |
| 15 Tooth | 198-1068-520-15T | 1068-520-15T | Unavailable. | - |
| 17 Tooth | 198-1066-520-17T | 1066-520-17T | Unavailable. | - |
| 15 Tooth | 198-1046-520-15T | 1046-520-15T | Unavailable. | - |
| 15 Tooth | 198-1041-520-15T | 1041-520-15T | Unavailable. | - |
| 17 Tooth | 198-1036-520-17T | 1036-520-17T | Unavailable. | - |
| 17 Tooth | 198-1007-520-17T | 1007-520-17T | Unavailable. | - |