By browsing, you consent to our

use of Cookies

.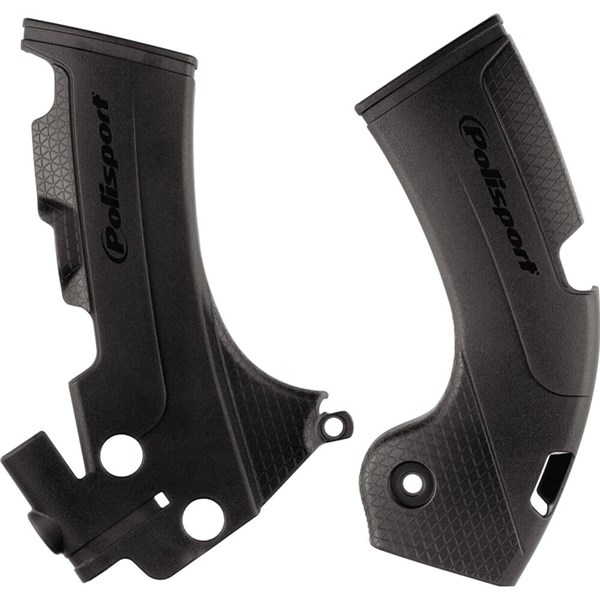 Free Shipping Over $75

Low Price Guarantee

No Hassle Returns

Frame protectors provide the best protection to your frame from roost, impact and riding boots. This performance part has a slim and low profile design to avoid interaction with boots and is constructed from high resistant plastic material to be durable and resistant. The part has also a grippy texture to increase the adhesiveness to the bike and will give a factory look to the bike with customizable color options.
Durable and high resistant plastic material construction
Provides frame protection from the elements and abrasion from rider contact
Improved grip from textured surface
Slim design does not interfere with rider feel
Quick and easy to install all hardware included
Keeps frame looking like new
Note: Image for reference only. Actual product may vary according to vehicle.
Polisport Frame Protectors
Specifications
SKU
256-8471500001
Brand
Polisport
Frequently Bought Together

California Prop 65
WARNING: Cancer and Reproductive Harm - www.P65Warnings.ca.gov
Part Numbers
| | SKU | MPN | Availability | In-Store Pickup |
| --- | --- | --- | --- | --- |
| Black | 256-8471500001 | 8471500001 | 10+ In Stock. Ready to ship. | - |
| Blue | 256-8471500002 | 8471500002 | 10+ In Stock. Ready to ship. | - |
| Green | 256-8471400002 | 8471400002 | 10+ In Stock. Ready to ship. | - |
| Red | 256-8472600002 | 8472600002 | 10+ In Stock. Ready to ship. | - |
| Grey | 256-8466900003 | 8466900003 | 10+ In Stock. Ready to ship. | - |
| Black | 256-8466600001 | 8466600001 | 10+ In Stock. Ready to ship. | - |
| Blue | 256-8466700002 | 8466700002 | 10+ In Stock. Ready to ship. | - |
| White | 256-8466600003 | 8466600003 | 10+ In Stock. Ready to ship. | - |
| Grey | 256-8470700004 | 8470700004 | 10+ In Stock. Ready to ship. | - |
| Red | 256-8466400002 | 8466400002 | 10+ In Stock. Ready to ship. | - |
| Blue | 256-8466200002 | 8466200002 | 10+ In Stock. Ready to ship. | - |
| Green | 256-8466300002 | 8466300002 | 10+ In Stock. Ready to ship. | - |
| Blue | 256-8473000002 | 8473000002 | 10+ In Stock. Ready to ship. | - |
| Grey | 256-8472900004 | 8472900004 | 10 In Stock. Ready to ship. | - |
| Black | 256-8466900001 | 8466900001 | 9 In Stock. Ready to ship. | - |
| Black | 256-8466700001 | 8466700001 | 9 In Stock. Ready to ship. | - |
| Orange | 256-8466600002 | 8466600002 | 9 In Stock. Ready to ship. | - |
| Orange | 256-8466500002 | 8466500002 | 9 In Stock. Ready to ship. | - |
| Black | 256-8466200001 | 8466200001 | 8 In Stock. Ready to ship. | - |
| Grey | 256-8473100003 | 8473100003 | 6 In Stock. Ready to ship. | - |
| Grey | 256-8466600004 | 8466600004 | 6 In Stock. Ready to ship. | - |
| Grey | 256-8466400003 | 8466400003 | 5 In Stock. Ready to ship. | - |
| Black | 256-8473500001 | 8473500001 | 4 In Stock. Ready to ship. | - |
| Red | 256-8472900002 | 8472900002 | 4 In Stock. Ready to ship. | - |
| Black | 256-8472600001 | 8472600001 | 4 In Stock. Ready to ship. | - |
| Black | 256-8473100001 | 8473100001 | 3 In Stock. Ready to ship. | - |
| Grey | 256-8473000003 | 8473000003 | 3 In Stock. Ready to ship. | - |
| White | 256-8470700002 | 8470700002 | 3 In Stock. Ready to ship. | - |
| Red | 256-8473500002 | 8473500002 | 2 In Stock. Ready to ship. | - |
| Red | 256-8473100002 | 8473100002 | Unavailable. | - |
| Black | 256-8473000001 | 8473000001 | Unavailable. | - |
| Black | 256-8472900001 | 8472900001 | Unavailable. | - |
| Black | 256-8471400001 | 8471400001 | Unavailable. | - |
| Blue | 256-8470700003 | 8470700003 | Unavailable. | - |
| Black | 256-8470700001 | 8470700001 | Unavailable. | - |
| Red | 256-8466900002 | 8466900002 | Unavailable. | - |
| Black | 256-8466500001 | 8466500001 | Unavailable. | - |
| Black | 256-8466400001 | 8466400001 | Unavailable. | - |
| Black | 256-8466300001 | 8466300001 | Unavailable. | - |