By browsing, you consent to our

use of Cookies

.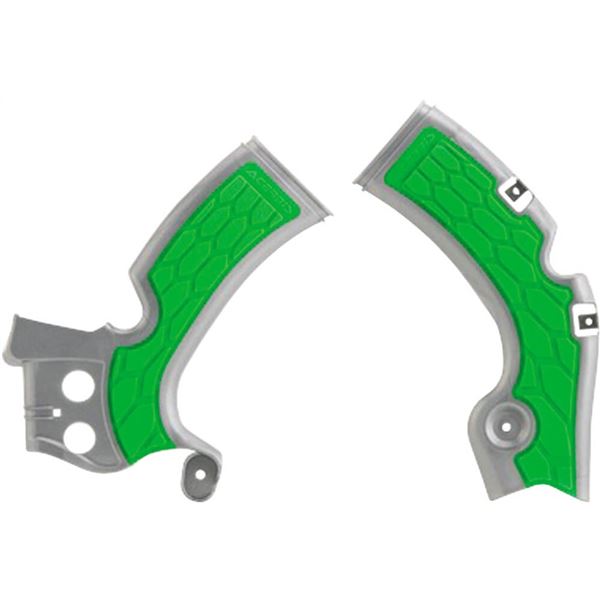 Free Shipping Over $75

Low Price Guarantee

No Hassle Returns

The X-Grip is a frame guard that allows the rider to both protect the frame of the motorcycle from wear as well as adding more grip to the bike to hold onto.
Made from a dual injected mold
Outer plastic is durable polycarbonate
Inner plastic is durable, yet plyable and offers incredible grip
Note: Image for reference only. Actual product may vary according to vehicle.
Try these dual injected mold frame guards and feel what its like to have a solid grip on your bike. A durable polycarbonate outer layer adds protection to your frame. These guards are available in a variety of colors and sizes.
Specifications
SKU
257-297504-5229
Brand
Acerbis
Frequently Bought Together

California Prop 65
WARNING: Cancer and Reproductive Harm - www.P65Warnings.ca.gov
Part Numbers
| | SKU | MPN | Availability | In-Store Pickup |
| --- | --- | --- | --- | --- |
| Black/Orange (16) | 257-297504-5229 | 2975045229 | 10+ In Stock. Ready to ship. | 2 In Stock. |
| Orange (16)/Black | 257-297504-5225 | 2975045225 | 10+ In Stock. Ready to ship. | 2 In Stock. |
| Black/Grey | 257-273344-1001 | 273344-1001 | 10+ In Stock. Ready to ship. | - |
| Orange (16) | 257-297504-5226 | 2975045226 | 10+ In Stock. Ready to ship. | - |
| Green/Black | 257-237427-1089 | 2374271089 | 10+ In Stock. Ready to ship. | 2 In Stock. |
| Red/Black | 257-263071-1018 | 2630711018 | 10 In Stock. Ready to ship. | 10+ In Stock. |
| Black/Grey | 257-280193-1001 | 280193-1001 | 8 In Stock. Ready to ship. | - |
| White/Black | 257-285882-1035 | 285882-1035 | 7 In Stock. Ready to ship. | - |
| Silver/Blue | 257-264027-1404 | 2640271404 | 5 In Stock. Ready to ship. | 5 In Stock. |
| Blue/Black | 257-264027-1034 | 2640271034 | 5 In Stock. Ready to ship. | 5 In Stock. |
| Silver/Black | 257-263071-1015 | 2630711015 | 5 In Stock. Ready to ship. | 5 In Stock. |
| White/Black | 257-244952-1035 | 2449521035 | 5 In Stock. Ready to ship. | 5 In Stock. |
| Black/Red | 257-285882-1042 | 285882-1042 | 4 In Stock. Ready to ship. | - |
| Silver/Blue | 257-268941-1404 | 268941-1404 | 4 In Stock. Ready to ship. | 4 In Stock. |
| Silver/Black | 257-264027-1015 | 2640271015 | 4 In Stock. Ready to ship. | 4 In Stock. |
| White/Black | 257-263071-1035 | 2630711035 | 4 In Stock. Ready to ship. | 4 In Stock. |
| Silver/Blue | 257-246474-1404 | 2464741404 | 4 In Stock. Ready to ship. | 4 In Stock. |
| White/Black | 257-244953-1035 | 2449531035 | 4 In Stock. Ready to ship. | 4 In Stock. |
| Blue/Black | 257-237426-1034 | 2374261034 | 4 In Stock. Ready to ship. | 4 In Stock. |
| Silver/Red | 257-237424-1418 | 2374241418 | 4 In Stock. Ready to ship. | 4 In Stock. |
| Black/Blue | 257-273639-1004 | 273639-1004 | 3 In Stock. Ready to ship. | 3 In Stock. |
| Black/Blue | 257-273638-1004 | 273638-1004 | 3 In Stock. Ready to ship. | 3 In Stock. |
| Blue/Black | 257-268941-1034 | 268941-1034 | 3 In Stock. Ready to ship. | 3 In Stock. |
| Silver/Black | 257-268941-1015 | 268941-1015 | 3 In Stock. Ready to ship. | 3 In Stock. |
| Yellow/Black | 257-268660-1017 | 2686601017 | 3 In Stock. Ready to ship. | 3 In Stock. |
| Silver/Green | 257-265759-1417 | 265759-1417 | 3 In Stock. Ready to ship. | 3 In Stock. |
| Black/Orange (16) | 257-244953-5229 | 2449535229 | 3 In Stock. Ready to ship. | 3 In Stock. |
| Orange (16)/Black | 257-244953-5225 | 2449535225 | 3 In Stock. Ready to ship. | 3 In Stock. |
| White/Blue | 257-244953-1029 | 2449531029 | 3 In Stock. Ready to ship. | 3 In Stock. |
| Orange/Black | 257-244952-5225 | 2449525225 | 3 In Stock. Ready to ship. | 3 In Stock. |
| Orange/Black | 257-237425-1008 | 2374251008 | 3 In Stock. Ready to ship. | 3 In Stock. |
| White/Black | 257-237424-1035 | 2374241035 | 3 In Stock. Ready to ship. | 3 In Stock. |
| White/Black | 257-273345-1035 | 273345-1035 | 2 In Stock. Ready to ship. | 2 In Stock. |
| Orange (16)/Black | 257-273344-5225 | 273344-5225 | 2 In Stock. Ready to ship. | 2 In Stock. |
| Silver/Red | 257-272685-1418 | 272685-1418 | 2 In Stock. Ready to ship. | 2 In Stock. |
| Black/Red | 257-272685-1042 | 272685-1042 | 2 In Stock. Ready to ship. | 2 In Stock. |
| White/Black | 257-268941-1035 | 268941-1035 | 2 In Stock. Ready to ship. | 2 In Stock. |
| Orange (16)/Black | 257-268876-5225 | 2688765225 | 2 In Stock. Ready to ship. | 2 In Stock. |
| Silver/Black | 257-265759-1015 | 2657591015 | 2 In Stock. Ready to ship. | 2 In Stock. |
| White/Black | 257-264027-1035 | 2640271035 | 2 In Stock. Ready to ship. | 2 In Stock. |
| Grey/Yellow | 257-263053-1120 | 2630531120 | 2 In Stock. Ready to ship. | 2 In Stock. |
| Yellow/Black | 257-263053-1017 | 2630531017 | 2 In Stock. Ready to ship. | 2 In Stock. |
| Blue/Black | 257-246474-1034 | 2464741034 | 2 In Stock. Ready to ship. | 2 In Stock. |
| White/Black | 257-297961-1035 | 2979611035 | 1 In Stock. Ready to ship. | - |
| Black/Black | 257-297504-0001 | 2975040001 | 1 In Stock. Ready to ship. | - |
| Green/Black | 257-274260-1089 | 274260-1089 | 1 In Stock. Ready to ship. | - |
| Red/Black | 257-273633-1018 | 273633-1018 | 1 In Stock. Ready to ship. | - |
| Black/Grey | 257-273345-1001 | 2733451001 | 1 In Stock. Ready to ship. | - |
| Yellow/Black | 257-268875-1017 | 2688751017 | 1 In Stock. Ready to ship. | - |
| Green/Black | 257-265759-1089 | 2657591089 | 1 In Stock. Ready to ship. | - |
| Silver/Black | 257-246474-1015 | 2464741015 | 1 In Stock. Ready to ship. | - |
| White/Yellow | 257-244953-1070 | 2449531070 | 1 In Stock. Ready to ship. | - |
| White/Black | 257-237427-1035 | 2374271035 | 1 In Stock. Ready to ship. | - |
| Silver/Black | 257-237427-1015 | 2374271015 | 1 In Stock. Ready to ship. | - |
| Silver/Blue | 257-237426-1404 | 2374261404 | 1 In Stock. Ready to ship. | - |
| White/Black | 257-237426-1035 | 2374261035 | 1 In Stock. Ready to ship. | - |
| Silver/Black | 257-237426-1015 | 2374261015 | 1 In Stock. Ready to ship. | - |
| White/Black | 257-237425-1035 | 2374251035 | 1 In Stock. Ready to ship. | - |
| Red/Black | 257-237424-1018 | 2374241018 | 1 In Stock. Ready to ship. | - |
| Silver/Black | 257-237424-1015 | 2374241015 | 1 In Stock. Ready to ship. | - |
| Black/Red | 257-297962-1042 | 2979621042 | Unavailable. | - |
| Grey/Black | 257-297962-1019 | 2979621019 | Unavailable. | - |
| Black/Orange (16) | 257-297961-5229 | 2979615229 | Unavailable. | - |
| Orange (16)/Black | 257-297961-5225 | 2979615225 | Unavailable. | - |
| Blue/Black | 257-297961-1034 | 2979611034 | Unavailable. | - |
| Red/Black | 257-297961-1018 | 2979611018 | Unavailable. | - |
| Blue/White | 257-297961-1006 | 2979611006 | Unavailable. | - |
| White/Black | 257-297960-1035 | 2979601035 | Unavailable. | - |
| Blue/Black | 257-297960-1034 | 2979601034 | Unavailable. | - |
| Black/White | 257-297960-1007 | 2979601007 | Unavailable. | - |
| Blue/White | 257-297960-1006 | 2979601006 | Unavailable. | - |
| Black/Grey | 257-297960-1001 | 2979601001 | Unavailable. | - |
| Blue | 257-297960-0003 | 2979600003 | Unavailable. | - |
| White/Black | 257-297622-1035 | 2976221035 | Unavailable. | - |
| Black/Blue | 257-297622-1004 | 2976221004 | Unavailable. | - |
| Black/White | 257-285883-1007 | 285883-1007 | Unavailable. | - |
| Black/White | 257-285883-1001 | 285883-1001 | Unavailable. | - |
| Red/Black | 257-280194-1018 | 280194-1018 | Unavailable. | - |
| Grey/Black | 257-280193-1019 | 280193-1019 | Unavailable. | - |
| Black/Orange | 257-278345-5229 | 278345-5229 | Unavailable. | - |
| Orange (16)/Black | 257-278315-5225 | 278315-5225 | Unavailable. | - |
| White/Black | 257-278315-1035 | 278315-1035 | Unavailable. | - |
| Silver/Black | 257-274260-1015 | 274260-1015 | Unavailable. | - |
| Red/Black | 257-274259-1018 | 274259-1018 | Unavailable. | - |
| Black/White | 257-273639-1007 | 273639-1007 | Unavailable. | - |
| Black/White | 257-273638-1007 | 273638-1007 | Unavailable. | - |
| Silver/Black | 257-273633-1015 | 273633-1015 | Unavailable. | - |
| Black/White | 257-273345-1007 | 273345-1007 | Unavailable. | - |
| Blue/White | 257-273345-1006 | 273345-1006 | Unavailable. | - |
| Black/Orange | 257-273344-5229 | 273344-5229 | Unavailable. | - |
| White/Black | 257-273344-1035 | 273344-1035 | Unavailable. | - |
| Red/Black | 257-273344-1018 | 273344-1018 | Unavailable. | - |
| Black/White | 257-268876-0001 | 268876-0001 | Unavailable. | - |
| Yellow/Grey | 257-268875-4331 | 268875-4331 | Unavailable. | - |
| Grey/Yellow | 257-268875-1120 | 268875-1120 | Unavailable. | - |
| Yellow/Grey | 257-268660-4331 | 268660-4331 | Unavailable. | - |
| Grey/Yellow | 257-268660-1120 | 268660-1120 | Unavailable. | - |
| Red/Black | 257-268656-1018 | 268656-1018 | Unavailable. | - |
| Orange (16)/Black | 257-268604-5225 | 2686045225 | Unavailable. | - |
| White/Black | 257-268604-1035 | 2686041035 | Unavailable. | - |
| Black/Red | 257-268604-1018 | 268604-1018 | Unavailable. | - |
| Silver/Green | 257-237427-1417 | 2374271417 | Unavailable. | - |