By browsing, you consent to our

use of Cookies

.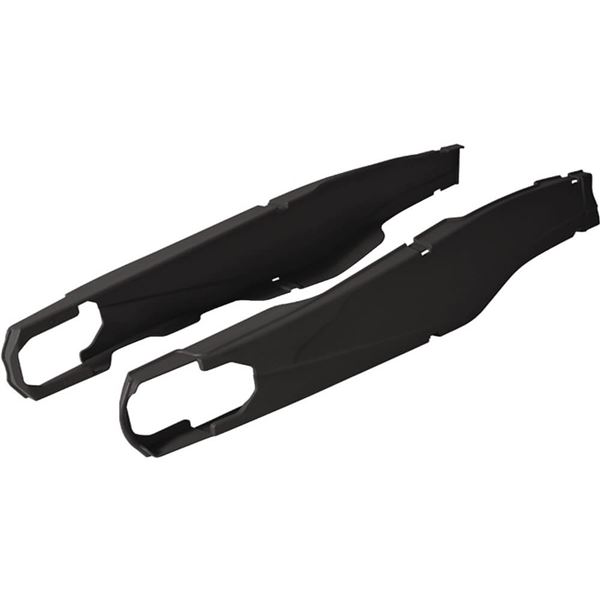 Free Shipping Over $75

Low Price Guarantee

No Hassle Returns

Polisport's swingarm protectors are developed and designed to ensure the protection of the bike's swingarm. They can be easily mounted on your dirtbike and are designed to help keep your swingarm safe from impacts. An untouched and good looking swingarm definitely has a positive effect on the re-sale value of your bike.
Lightweight, hard shell made from resistant PA6 (Polyamide) and ABS (Acrylontrile Butadiene Styrene)
Abrasion resistant
Easy and intuitive installation
Perfect fit
Note: Image for reference only. Actual product may vary according to vehicle.
Specifications
SKU
256-8463400001
Brand
Polisport
Frequently Bought Together

California Prop 65
WARNING: Cancer and Reproductive Harm - www.P65Warnings.ca.gov
Part Numbers
| | SKU | MPN | Availability | In-Store Pickup |
| --- | --- | --- | --- | --- |
| Black | 256-8463400001 | 8463400001 | 10+ In Stock. Ready to ship. | - |
| Black | 256-8456700001 | 8456700001 | 10+ In Stock. Ready to ship. | - |
| Black | 256-8456500001 | 8456500001 | 10+ In Stock. Ready to ship. | - |
| Black | 256-8456600001 | 8456600001 | 10+ In Stock. Ready to ship. | - |
| Black | 256-8456800001 | 8456800001 | 10+ In Stock. Ready to ship. | - |
| Black | 256-8986100001 | 8986100001 | 10+ In Stock. Ready to ship. | - |
| Black | 256-8985700001 | 8985700001 | 10+ In Stock. Ready to ship. | - |
| Blue | 256-8986100002 | 8986100002 | 10+ In Stock. Ready to ship. | - |
| Green | 256-8985000002 | YA04850-046 | 10+ In Stock. Ready to ship. | - |
| Blue | 256-8456500004 | 8456500004 | 10+ In Stock. Ready to ship. | - |
| Grey | 256-8456600003 | 8456600003 | 10+ In Stock. Ready to ship. | - |
| Orange | 256-8456500002 | 8456500002 | 10+ In Stock. Ready to ship. | - |
| Orange | 256-8456600002 | 8456600002 | 10+ In Stock. Ready to ship. | - |
| Grey | 256-8986100003 | 8986100003 | 10+ In Stock. Ready to ship. | - |
| Red | 256-8463400002 | 8463400002 | 10+ In Stock. Ready to ship. | - |
| Black | 256-8457100001 | 8457100001 | 10+ In Stock. Ready to ship. | - |
| Blue | 256-8456800002 | 8456800002 | 10+ In Stock. Ready to ship. | - |
| Red | 256-8985700002 | 8985700002 | 10+ In Stock. Ready to ship. | - |
| Grey | 256-8463400003 | 8463400003 | 10+ In Stock. Ready to ship. | - |
| Red | 256-8471300002 | 8471300002 | 10+ In Stock. Ready to ship. | - |
| Grey | 256-8456500005 | 8456500005 | 10+ In Stock. Ready to ship. | - |
| Black | 256-8986000003 | 8986000003 | 10+ In Stock. Ready to ship. | - |
| Yellow | 256-8457100002 | 8457100002 | 10 In Stock. Ready to ship. | - |
| Black | 256-8457000001 | 8457000001 | 10 In Stock. Ready to ship. | - |
| Blue | 256-8456700002 | 8456700002 | 10 In Stock. Ready to ship. | - |
| Red | 256-8986000004 | 8986000004 | 9 In Stock. Ready to ship. | - |
| Red | 256-8456900002 | 8456900002 | 9 In Stock. Ready to ship. | - |
| Black | 256-8985000001 | 8985000001 | 8 In Stock. Ready to ship. | - |
| Green | 256-8457000002 | 8457000002 | 8 In Stock. Ready to ship. | - |
| Grey | 256-8986000005 | 8986000005 | 7 In Stock. Ready to ship. | - |
| Black | 256-8456900001 | 8456900001 | 6 In Stock. Ready to ship. | - |
| Grey | 256-8985700003 | 8985700003 | 5 In Stock. Ready to ship. | - |
| Black | 256-8471300001 | 8471300001 | 4 In Stock. Ready to ship. | - |
| Black | 256-8984800001 | 8984800001 | 3 In Stock. Ready to ship. | - |
| Grey | 256-8471300003 | 8471300003 | 3 In Stock. Ready to ship. | - |
| Red | 256-8984800002 | 8984800002 | 1 In Stock. Ready to ship. | - |
| Red | 256-8462000002 | 8462000002 | Unavailable. | - |
| Black | 256-8462000001 | 8462000001 | Unavailable. | - |