By browsing, you consent to our

use of Cookies

.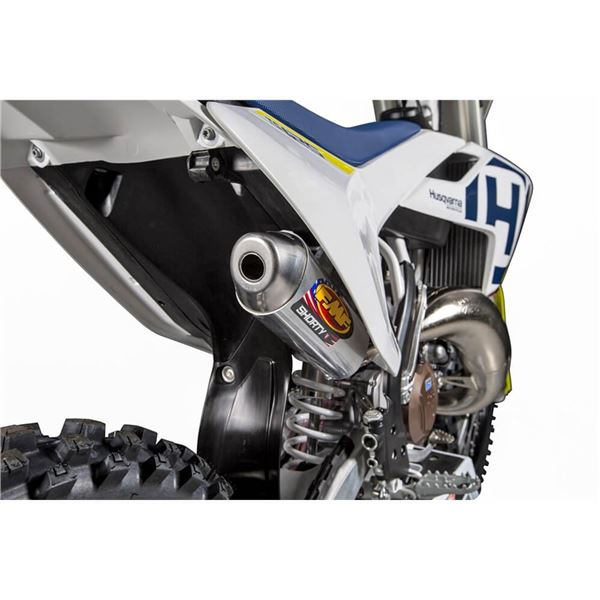 Fast, Free Shipping

Low Price Guarantee

No Hassle Returns

Taking the proven success of the FMF PowerCore 2 2-Stroke silencer, FMF created the PowerCore 2 Shorty with a shorter inner core length and aluminum canister. This design results in a finely tuned bolt on performance silencer that maximizes bottom and mid rpm power. An excellent choice for tight tracks and supercross track applications.
Lightweight aluminum oval canister 2-stroke motorcycle silencer with a perforated core
Stainless steel performance flow end cap and front stinger for unbeatable durability and an unmatched look
Maximizes bottom and mid-range RPM power
Provides a strong performance edge for any 2-stroke dirt bike
Note: For Closed Course Competition Use Only. Not Intended for Street Use.
Note: Image for reference only. Actual product may vary according to vehicle.
Note: This product may not be legal for sale or use in California or in other localities due to state and/or federal anti-tampering laws. Refer to chaparral-racing.com/terms before purchasing.
FMF Racing PowerCore 2 Shorty Slip-On Silencer Exhaust
Specifications
SKU
327-024010
Brand
FMF Racing

California Prop 65
WARNING: Cancer and Reproductive Harm - www.P65Warnings.ca.gov
Part Numbers
| | SKU | MPN | Availability | In-Store Pickup |
| --- | --- | --- | --- | --- |
| Aluminum/Stainless | 327-024010 | 024010 | 10+ In Stock. Ready to ship. | - |
| Aluminum/Stainless | 327-021010 | 021010 | 10+ In Stock. Ready to ship. | - |
| Aluminum/Stainless | 327-025135 | 025135 | 10+ In Stock. Ready to ship. | - |
| Aluminum/Stainless | 327-025065 | 025065 | 10+ In Stock. Ready to ship. | - |
| Aluminum/Stainless | 327-021015 | 021015 | 10+ In Stock. Ready to ship. | - |
| Aluminum/Stainless | 327-025187 | 025187 | 10+ In Stock. Ready to ship. | - |
| Aluminum/Stainless | 327-025048 | 025048 | 10+ In Stock. Ready to ship. | - |
| Aluminum/Stainless | 327-022024 | 022024 | 10+ In Stock. Ready to ship. | - |
| Aluminum/Stainless | 327-025144 | 025144 | 10+ In Stock. Ready to ship. | - |
| Aluminum/Stainless | 327-020268 | 020268 | 10+ In Stock. Ready to ship. | - |
| Aluminum/Stainless | 327-023022 | 023022 | 10+ In Stock. Ready to ship. | - |
| Aluminum/Stainless | 327-020266 | 020266 | 10+ In Stock. Ready to ship. | - |
| Aluminum/Stainless | 327-020215 | 020215 | 10+ In Stock. Ready to ship. | - |
| Aluminum/Stainless | 327-020400 | 020400 | 10+ In Stock. Ready to ship. | - |
| Aluminum/Stainless | 327-020289 | 020289 | 10+ In Stock. Ready to ship. | - |
| Aluminum/Stainless | 327-020270 | 020270 | 10+ In Stock. Ready to ship. | - |
| Aluminum/Stainless | 327-020261 | 020261 | 10+ In Stock. Ready to ship. | - |
| Aluminum/Stainless | 327-023027 | 023027 | 10+ In Stock. Ready to ship. | - |
| Aluminum/Stainless | 327-020237 | 020237 | 10+ In Stock. Ready to ship. | - |
| Aluminum/Stainless | 327-025123 | 025123 | 10+ In Stock. Ready to ship. | - |
| Aluminum/Stainless | 327-025078 | 025078 | 10+ In Stock. Ready to ship. | - |
| Aluminum/Stainless | 327-023011 | 023011 | 10+ In Stock. Ready to ship. | 2 In Stock. |
| Aluminum/Stainless | 327-022009 | 022009 | 10+ In Stock. Ready to ship. | - |
| Aluminum/Stainless | 327-020213 | 020213 | 10 In Stock. Ready to ship. | - |
| Aluminum/Stainless | 327-022019 | 022019 | 8 In Stock. Ready to ship. | - |
| Aluminum/Stainless | 327-024019 | 024019 | 7 In Stock. Ready to ship. | - |
| Aluminum/Stainless | 327-020291 | 020291 | 5 In Stock. Ready to ship. | - |
| Aluminum/Stainless | 327-025046 | 025046 | 4 In Stock. Ready to ship. | - |
| Aluminum/Stainless | 327-024015 | 024015 | 1 In Stock. Ready to ship. | - |
| Aluminum/Stainless | 327-021019 | 021019 | 1 In Stock. Ready to ship. | - |
| Aluminum/Stainless | 327-020404 | 020404 | Unavailable. | - |
| Aluminum/Stainless | 327-020241 | 020241 | Unavailable. | - |
| Aluminum/Stainless | 327-020239 | 020239 | Unavailable. | - |
| Aluminum/Stainless | 327-020234 | 020234 | Unavailable. | - |