By browsing, you consent to our

use of Cookies

.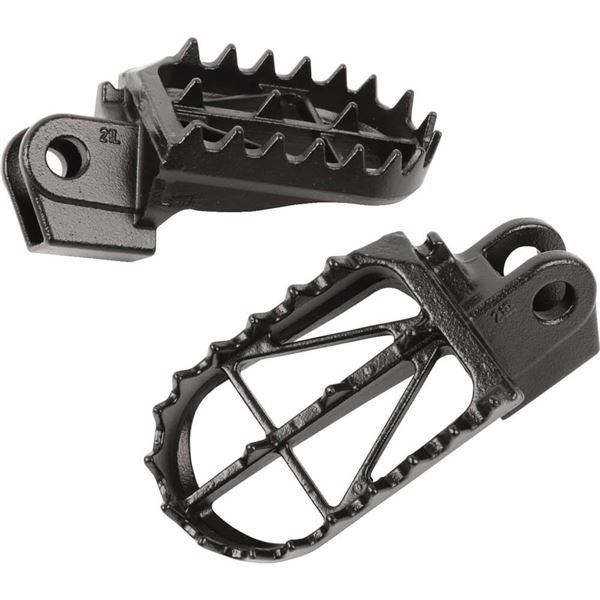 Free Shipping Over $75

Low Price Guarantee

No Hassle Returns

Made from chromium molybdenum steel for extreme durability
Black powder coating finish for less corrosion
50 mm step width provides much better grip and control
High foot pegs are 5 mm higher than medium peg position
High height position offers a high gravity point that allows for easy lean; good for short riders
Low foot pegs are 5 mm lower than medium peg position
Low height position offers a low gravity point, provides better traction during standing ride; good for taller riders
Note: Image for reference only. Actual product may vary according to vehicle.
Note: Foot peg height may differ from stock peg height. High and Low foot pegs are not available for some models.
When it comes to motorcycle foot controls, traction and durability are all-important. These heavy-duty motorcycle footpegs are made from chromium molybdenum steel and plated with a black chrome finish to prevent corrosion, while a 50-millimeter step width delivers great grip and handling.
Specifications
SKU
644-34761-50
Brand
DRC
Frequently Bought Together

California Prop 65
WARNING: Cancer and Reproductive Harm - www.P65Warnings.ca.gov
Part Numbers
| | SKU | MPN | Availability | In-Store Pickup |
| --- | --- | --- | --- | --- |
| Mid | 644-34761-50 | D48-02-506 | 10+ In Stock. Ready to ship. | 10+ In Stock. |
| Mid | 644-34766-50 | D48-02-551 | 10+ In Stock. Ready to ship. | 10+ In Stock. |
| Mid | 644-34764-50 | D48-02-520 | 10+ In Stock. Ready to ship. | 4 In Stock. |
| Mid | 644-34777-50 | D48-02-561 | 10+ In Stock. Ready to ship. | 6 In Stock. |
| Mid | 644-D48-02-533 | D48-02-533 | 10+ In Stock. Ready to ship. | 2 In Stock. |
| Mid | 644-34871-50 | D48-02-532 | 8 In Stock. Ready to ship. | 8 In Stock. |
| Mid | 644-34763-50 | D48-02-510 | 6 In Stock. Ready to ship. | 6 In Stock. |
| High | 644-D48-02-637 | D48-02-637 | 5 In Stock. Ready to ship. | 5 In Stock. |
| High | 644-34763-60 | D48-02-610 | 5 In Stock. Ready to ship. | 5 In Stock. |
| High | 644-34761-60 | D48-02-606 | 5 In Stock. Ready to ship. | 5 In Stock. |
| High | 644-D48-02-682 | D48-02-682 | 4 In Stock. Ready to ship. | 4 In Stock. |
| Mid | 644-D48-02-582 | D48-02-582 | 4 In Stock. Ready to ship. | 4 In Stock. |
| Mid | 644-D48-02-537 | D48-02-537 | 4 In Stock. Ready to ship. | 4 In Stock. |
| High | 644-34765-60 | D48-02-631 | 4 In Stock. Ready to ship. | 4 In Stock. |
| Mid | 644-34765-50 | D48-02-531 | 4 In Stock. Ready to ship. | 4 In Stock. |
| Low | 644-34763-40 | D48-02-410 | 4 In Stock. Ready to ship. | 4 In Stock. |
| Mid | 644-34870-50 | D48-02-524 | 3 In Stock. Ready to ship. | 3 In Stock. |
| Mid | 644-34773-50 | D48-02-523 | 3 In Stock. Ready to ship. | 3 In Stock. |
| Low | 644-34761-40 | D48-02-406 | 3 In Stock. Ready to ship. | 3 In Stock. |
| High | 644-34760-60 | D48-02-605 | 3 In Stock. Ready to ship. | 3 In Stock. |
| Mid | 644-D48-02-534 | D48-02-534 | 2 In Stock. Ready to ship. | 2 In Stock. |
| High | 644-34871-60 | D48-02-632 | 2 In Stock. Ready to ship. | 2 In Stock. |
| Mid | 644-34769-50 | D48-02-504 | 2 In Stock. Ready to ship. | 2 In Stock. |
| High | 644-34767-60 | D48-02-681 | 2 In Stock. Ready to ship. | 2 In Stock. |
| Mid | 644-34767-50 | D48-02-581 | 2 In Stock. Ready to ship. | 2 In Stock. |
| Low | 644-34767-40 | D48-02-481 | 2 In Stock. Ready to ship. | 2 In Stock. |
| High | 644-34764-60 | D48-02-620 | 2 In Stock. Ready to ship. | 2 In Stock. |
| Mid | 644-34768-50 | D48-02-503 | 1 In Stock. Ready to ship. | - |
| | 644-D48-02-545 | | Unavailable. | - |
| Mid | 644-D48-02-544 | | Unavailable. | - |
| Mid | 644-D48-02-536 | D48-02-536 | Unavailable. | - |
| Mid | 644-D48-02-535 | D48-02-535 | Unavailable. | - |
| Low | 644-D48-02-482 | D48-02-482 | Unavailable. | - |
| Mid | 644-34776-50 | D48-02-542 | Unavailable. | - |
| Mid | 644-34775-50 | D48-02-541 | Unavailable. | - |
| Mid | 644-34774-50 | D48-20-526 | Unavailable. | - |
| Mid | 644-34772-50 | D45-02-522 | Unavailable. | - |
| Mid | 644-34771-50 | D48-02-521 | Unavailable. | - |
| Mid | 644-34770-50 | D48-02-507 | Unavailable. | - |
| Low | 644-34762-40 | D48-02-408 | Unavailable. | - |
| Mid | 644-34760-50 | D48-02-505 | Unavailable. | - |
| Low | 644-34760-40 | D48-02-420 | Unavailable. | - |