Push To Start: Chaparral Motorsports Now Carries Stacyc Stability Cycles
Chaparral Motorsports
|
November 21, 2018
Back in the day the transition from pedal bike to dirt bike was a big and intimidating step for a small child. As the technology for electric vehicles continues to propel forward with smaller, lighter, and more affordable options such as motorcycles and bicycles, making the jump from bicycles to dirt bikes is becoming a much easier feat for the little ones.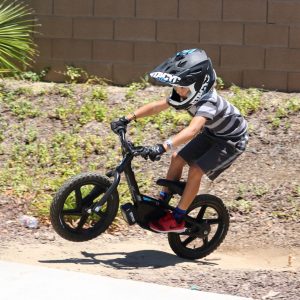 One company that is helping forge a new pathway for young tikes to get into dirt bike riding is Stacyc Stability Cycles. By combining the ease and simplicity of a push bike with a lightweight battery, twist throttle, and hand brake, Stacyc joins two of life's biggest achievements (learning the fundamentals of bicycle riding and how to manage the power of a motorcycle) into one cost-friendly vehicle.



As a family owned and operated company that was born and raised in the powersports world, Chaparral Motorsports knows that getting kids onto two wheels as early as possible helps build independence, confidence, and makes for great family time activities. Therefore when the opportunity came about to become a Stacyc dealer, Chaparral immediately took stock of the 12Edrive (MSRP $649) and 16EDrive (MSRP $699).



Back in "the olden days" the steps for a kid to become proficient on two-wheels involved many different toys and steps. The progression usually consisted of a big wheel or tricycle, a small bicycle with training wheels and then the big step to ditching the training wheels and going strictly duo. Training wheels have always been a challenge for several wheels. First of all, kids quickly become dependent on them and often refuse to give them up. Secondly, while they do help develop spatial awareness and learning some of the motor skills necessary to ride a bike, they didn't really help with the balancing aspect. Lastly, they are a pain to deal with as a parent because they are constantly bending, turning out of alignment, or straight up breaking. As a parent-especially one that heavily into bicycling or motorcycles-it's frustrating to watch a kid putz along teetering between two wobbly training wheels.

By ditching the pedals, crank, and training wheels and then adding a small platforms to place their feet, push bikes enable kids to gradually master the mechanics and skills necessary to maneuver a two wheeler as they push/scoot themselves around. Then as they gain confidence and become more adept at managing their balance while turning and weaving they begin to pick up their feet and coast for longer and longer distances using either their feet or the hand brake for the rear tire to slow down or stop. The transition from relying on their feet/legs for stability to racing around and coasting for as long as possible is smooth and natural.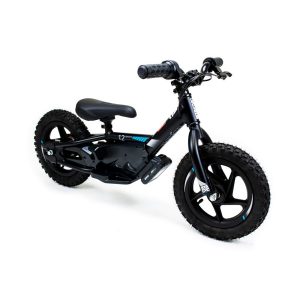 The advantages of starting a kid off on a Stacyc bike is that once your child is proficient with the push bike aspect and are confident in their riding abilities you can insert the included rechargeable lithium-ion battery, flip on the power switch and begin teaching them how to operate a throttle and manage the electrical power output. With three mode settings to choose from: low, medium, high, you can restrict how fast your child can operate the bike and set the power accordingly as they progress.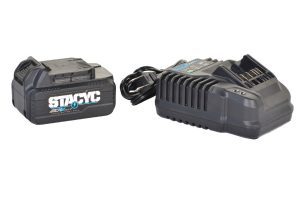 Stacycs share many of the same great benefits as modern day full-size electric dirt bikes, such as nearly silent operation, no need to purchase fuel, and don't require special ratios of fuel and oil. The bikes are available in two models to accommodate smaller and slightly taller riders. There is the 12EDrive which features 12" composite wheels with pneumatic knobby dirt bike style tires and is designed for riders with 14"-20" inseams. Then there is the 16EDrive which has the same wheel and tire combo but in a 16" setup. This bike is intended for riders that have an inseam of ranging between 18"-24".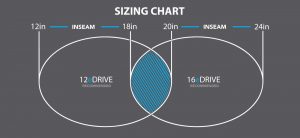 With each bike weighing less than 20 pounds (with a battery installed) they are easily portable and can be loaded into the back of the family car for a trip to the park or carried through the house for a backyard shred session. In fact, it's their compact size and silent operation that makes Stacyc bikes great solutions for parents that live in suburban neighborhoods and want to get their kids into dirt bikes without the disruption of a whining or buzzing exhaust pipe.

So if you've been thinking about getting your child a traditional bicycle with the hopes that eventually they'll follow your footsteps and jump onto the seat of a dirt bike, take a look at the Stacyc bikes. You could save yourself a lot of time, money, and the frustration of messing with training wheels.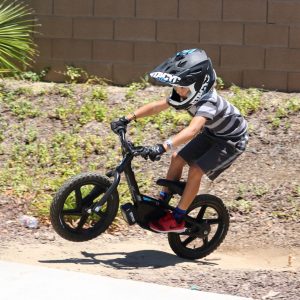 If you'd like to learn more about the 12EDrive click here. For details on the 16EDrive click here.