Electric Dirt Bike Manufacturer Alta Motors Winds Down
Chaparral Motorsports
|
October 18, 2018
|
Last Updated: August 28, 2020

It's been quite the roller coaster of a year for electric motorcycle manufacturer Alta Motors. Back in March we reported extremely positive news for the brand as it had just gotten a huge shock of energy from the grandfather of American V-twin power, Harley-Davidson, in the form of an equity investment to work together on improving EV technology and producing EV motorcycles. What seemed like an extremely sensible symbiotic relationship: Alta's knowledge and experience with EV power and motorcycles meshing with Harley's massive manufacturing capabilities and extensive dealer network.
Unfortunately that relationship short circuited real quick with Asphalt and Rubber reporting that Harley and Alta were breaking up back in August. And now things aren't much brighter for Alta as AandR reported this morning that Alta has ceased operations as it looks for investments or a buyout.
All is not lost for Alta Motors though, the brand has proven that its electric dirt bikes are the real deal and can compete at the highest level. Josh Hill competed at the 2016 Red Bull Straight Rhythm and nearly took a podium spot aboard Alta's Redshift MX in the 250 class. Fourth place wasn't a bad showing for the first ever professional competition for the brand. In 2017 however, Alta made history as Hill rode a Redshift MX and beat out motocross icon Ricky Carmichael to win the Geneva Supercross championship.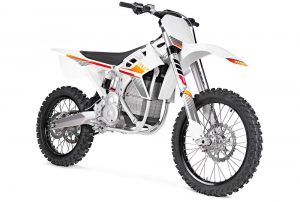 Alta has a great product and their brand recognition has steadily increased in recent years through successful competitions and viral videos like the one below of Hill the ripping the dirt and cement riverbeds in near silence. They're definitely a leader in EV motorcycle technology, otherwise HD would have never gotten together with them in the first place, so it will most likely be a matter of time (probably a short amount of time) before they're juiced up again.
You're probably thinking, if Alta is a leader and that's why Harley invested, then why did they split ways? The fact that Harley recently announced that they were "recruiting top talent in electrical, mechanical and software engineering, with experience in developing and delivering a wide variety of EV systems" for their soon to be opened R&D facility in Silicon Valley probably had a lot to do with it. Without knowing too much about the working relationship between Alta and HD, it's possible the MoCo decided to venture into the electric future alone and handpick their team from the vast pool of diverse prospects in the area.
Alta is a great shot of energy for the offroad and dirt bike scene. They're plug in perfectly to a segment that is constitutionally getting pressured from outside sources to reduce sound and emissions and fill a void for those that are/have been looking for something new and exciting. So it should only be a matter of time before the company sparks to life.