Quick Look: Stacyc 12EDrive Kids Electric Cycle
Chaparral Motorsports
|
November 26, 2018
Got a little one on your hands that's just itching to go mobile on their own set of wheels? The Stacyc 12EDrive Stabilty Cycle bridges the gap between learning to ride and bike and how to safely operate and control the power of a dirt bike.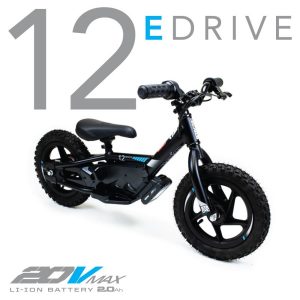 A mix between a push bike and an electric dirt bike, the 12EDrive is the smaller of the two electric offerings from Stacyc. Outfitted with a pair of 12" tires, the 12EDrive has a seat height of 13" (can be adjusted) and is designed for kids between the ages of 4-7 years old. Ideally this bike is setup of for kids that weigh less than 75 pounds and have an inseam between 14"-20".



With its ability to coast and large foot platforms, the 12EDrive can help first time riders get acclimated to the concepts of steering, balancing, and avoiding obstacles all while creating their own momentum and power by simply pushing or scooting with their feet. Then as they become more skilled and can adequately coast long distances while balancing on their own you can slide the included rechargeable lithium-ion battery into the receiver on the frame's downtube and introduce throttle operated power into the mix.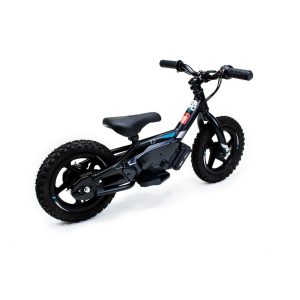 Offering three modes: Low/training mode, medium/transitional, and high/advanced you can set the power accordingly as your child gains more confidence and becomes more proficient at handling the various stages. Speeds for each stage range are set at about 5mph in low, 7pmh in medium, and 9mph in high. The throttle is found on the right side handlebar like a traditional dirt bike and offers very smooth action that is easy to manipulate even for the smallest of riders. There is a hand brake on the left side handlebar that is connected to the brake on the rear wheel. Pneumatic knobby tires provide the aesthetics of a mini dirt bike while offering plenty of on/off road traction.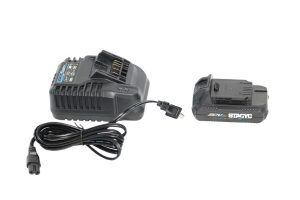 The 12EDrive comes with a lightweight quick disconnect/connect 20watt battery similar to what you'd find on a Dewalt rechargeable drill. The charger is also included and with a full 30-60 minute charge you can expect around 30-60 minutes of ride time depending on power mode, rider weight, terrain, how aggressive the rider is, and several other factors.


With a price point right around $650 the Stacyc 12EDrive is a great entry-level cycle that can teach the basics of balance, steering, maneuvering, power control, and spatial awareness and makes for a great stepping stone to more powerful machine like a 50cc dirt bike.