Gresini Adds Claiming Rule Team
Chaparral Motorsports
|
November 21, 2011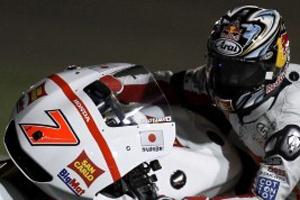 San Carlo Honda Gresini will field a second rider in next year's MotoGP, but he won't be riding on a prototype bike, as the team has announced the formation of a new Claiming Rule Team (CRT).

The CRTs are designed as a cost-effective way for more teams to get into MotoGP, and Gresini will be taking advantage of this by fielding one full and one CRT rider for next year. Last year, the team rode with Hiroshi Aoyama and the late Marco Simoncelli. Aoyama is leaving MotoGP, but the team signed Alvaro Bautista away from Suzuki to fill one spot on a prototype bike.

It was then unknown whether they would stick with one rider or add a second. They opted for the best of both worlds - saving on the cost of a full-time rider but adding someone to race alongside Bautista.

"It is a source of great satisfaction that we have reached an agreement with FTR Moto to take part in the new MotoGP series, CRT," said team owner Fausto Gresini. "Our willingness to take part was always based on the condition that we had the right technical partner and with FTR Moto and a Honda CBR1000R engine we believe we can build a competitive bike for this new category."

The new rider for the team will be revealed at a later date.