By browsing, you consent to our

use of Cookies

.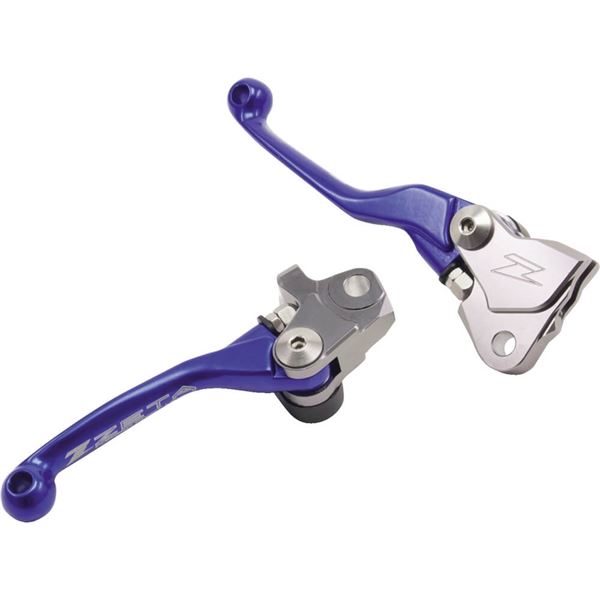 Fast, Free Shipping

Low Price Guarantee

No Hassle Returns

Pivot FP clutch and brake lever set for motocross racing models.
Lever adapter is ultra precise CNC machined out of high grade aluminum for a super lightweight design
Lever folds outward to prevent breakage in the event of a crash
Function is consistent with style
Comes with durable forged color anodized lever arm
Note: Image for reference only. Actual product may vary according to vehicle.
Specifications
SKU
645-ZE44-4169
Brand
Zeta
Frequently Bought Together

California Prop 65
WARNING: Cancer and Reproductive Harm - www.P65Warnings.ca.gov
Part Numbers
| | SKU | MPN | Availability | In-Store Pickup |
| --- | --- | --- | --- | --- |
| Husky Blue | 645-ZE44-4169 | ZE44-4169 | 7 In Stock. Ready to ship. | 7 In Stock. |
| Husky Blue | 645-ZE44-4139 | ZE44-4139 | 7 In Stock. Ready to ship. | 7 In Stock. |
| Orange | 645-ZE44-4107 | ZE44-4107 | 7 In Stock. Ready to ship. | 7 In Stock. |
| Black | 645-ZE44-1111 | ZE44-1111 | 7 In Stock. Ready to ship. | 7 In Stock. |
| Orange | 645-ZE44-4137 | ZE44-4137 | 6 In Stock. Ready to ship. | 6 In Stock. |
| Black | 645-ZE44-4131 | ZE44-4131 | 6 In Stock. Ready to ship. | 6 In Stock. |
| Black | 645-ZE44-4101 | ZE44-4101 | 6 In Stock. Ready to ship. | 6 In Stock. |
| Blue | 645-ZE44-1102 | ZE44-1102 | 6 In Stock. Ready to ship. | 6 In Stock. |
| Black | 645-ZE44-4161 | ZE44-4161 | 5 In Stock. Ready to ship. | 5 In Stock. |
| Husky Blue | 645-ZE44-4129 | ZE44-4129 | 5 In Stock. Ready to ship. | 5 In Stock. |
| Orange | 645-ZE44-4117 | ZE44-4117 | 5 In Stock. Ready to ship. | 5 In Stock. |
| Blue | 645-ZE44-3112 | ZE44-3112 | 5 In Stock. Ready to ship. | 5 In Stock. |
| Blue | 645-ZE44-3102 | ZE44-3102 | 5 In Stock. Ready to ship. | 5 In Stock. |
| Green | 645-ZE44-1114 | ZE44-1114 | 5 In Stock. Ready to ship. | 5 In Stock. |
| Red | 645-ZE44-0103 | ZE44-0103 | 5 In Stock. Ready to ship. | 5 In Stock. |
| Husky Blue | 645-ZE44-4159 | ZE44-4159 | 4 In Stock. Ready to ship. | 4 In Stock. |
| Orange | 645-ZE44-4127 | ZE44-4127 | 4 In Stock. Ready to ship. | 4 In Stock. |
| Black | 645-ZE44-3111 | ZE44-3111 | 4 In Stock. Ready to ship. | 4 In Stock. |
| Red | 645-ZE44-2103 | ZE44-2103 | 4 In Stock. Ready to ship. | 4 In Stock. |
| Blue | 645-ZE44-2102 | ZE44-2102 | 4 In Stock. Ready to ship. | 4 In Stock. |
| Green | 645-ZE44-1124 | ZE44-1124 | 4 In Stock. Ready to ship. | 4 In Stock. |
| Blue | 645-ZE44-1122 | ZE44-1122 | 4 In Stock. Ready to ship. | 4 In Stock. |
| Blue | 645-ZE44-1112 | ZE44-1112 | 4 In Stock. Ready to ship. | 4 In Stock. |
| Black | 645-ZE44-4121 | ZE44-4121 | 3 In Stock. Ready to ship. | 3 In Stock. |
| Blue | 645-ZE44-3122 | ZE44-3122 | 3 In Stock. Ready to ship. | 3 In Stock. |
| Black | 645-ZE44-3121 | ZE44-3121 | 3 In Stock. Ready to ship. | 3 In Stock. |
| Black | 645-ZE44-3101 | ZE44-3101 | 3 In Stock. Ready to ship. | 3 In Stock. |
| Black | 645-ZE44-1101 | ZE44-1101 | 3 In Stock. Ready to ship. | 3 In Stock. |
| Black | 645-ZE44-0101 | ZE44-0101 | 3 In Stock. Ready to ship. | 3 In Stock. |
| Orange | 645-ZE44-4157 | ZE44-4157 | 2 In Stock. Ready to ship. | 2 In Stock. |
| Black | 645-ZE44-2101 | ZE44-2101 | 2 In Stock. Ready to ship. | 2 In Stock. |
| Black | 645-ZE44-1121 | ZE44-1121 | 2 In Stock. Ready to ship. | 2 In Stock. |
| Red | 645-ZE44-4143 | ZE44-4143 | Unavailable. | - |
| Red | 645-ZE44-1113 | ZE44-1113 | Unavailable. | - |
| Red | 645-ZE44-1103 | ZE44-1103 | Unavailable. | - |
| Red | 645-ZE44-0113 | | Unavailable. | - |
| Black | 645-ZE44-0111 | | Unavailable. | - |