By browsing, you consent to our

use of Cookies

.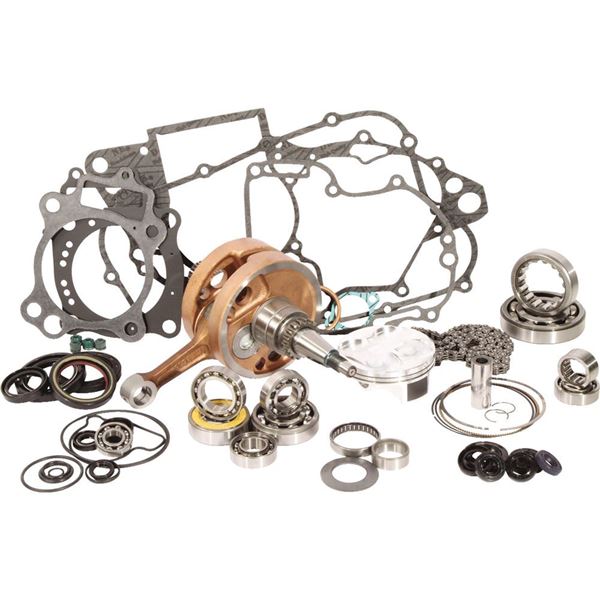 Fast, Free Shipping

Low Price Guarantee

No Hassle Returns

Convienient one stop shop in a box. Nearly all the components required for a complete and professional rebuild. The Wrench Rabbit kit saves money when compared to purchasing the items individually.
Vertex piston kit (standard compression piston, rings, pin and clips)
Hot Rods heavy duty crank (stock stroke, includes wrist pin bearing for two strokes)
Hot Rods main bearing/seal kit
Hot Rods transmission bearing kit includes transmission bearings, output shaft collar
and sprocket lock washer
Hot Rods counter balancer bearing kit
Hot Rods water pump bearing and seal kit
Vertex complete gasket kit, includes seals and O-ring kit (covers top and bottom)
Hot cams cam chain
Note: Image for refernce only. Product may vary according to vehicle.
Specifications
SKU
786-WR101-057
Brand
Wrench Rabbit

California Prop 65
WARNING: Cancer and Reproductive Harm - www.P65Warnings.ca.gov
Part Numbers
| | SKU | MPN | Availability | In-Store Pickup |
| --- | --- | --- | --- | --- |
| | 786-WR101-057 | WR101-057 | 10+ In Stock. Ready to ship. | - |
| | 786-WR101-089 | WR101-089 | 10+ In Stock. Ready to ship. | - |
| | 786-WR101-185 | WR101-185 | 10+ In Stock. Ready to ship. | - |
| | 786-WR101-082 | WR101-082 | 10+ In Stock. Ready to ship. | - |
| | 786-WR101-079 | WR101-079 | 10+ In Stock. Ready to ship. | - |
| | 786-WR101-164 | WR101-164 | 10+ In Stock. Ready to ship. | - |
| | 786-WR101-014 | WR101-014 | 10+ In Stock. Ready to ship. | - |
| | 786-WR101-027 | WR101-027 | 10+ In Stock. Ready to ship. | - |
| | 786-WR101-081 | WR101-081 | 10+ In Stock. Ready to ship. | - |
| | 786-WR101-018 | WR101-018 | 10+ In Stock. Ready to ship. | - |
| | 786-WR101-093 | WR101-093 | 10+ In Stock. Ready to ship. | - |
| | 786-WR101-030 | WR101-030 | 10+ In Stock. Ready to ship. | - |
| | 786-WR101-097 | WR101-097 | 10+ In Stock. Ready to ship. | - |
| | 786-WR101-087 | WR101-087 | 10+ In Stock. Ready to ship. | - |
| | 786-WR101-049 | WR101-049 | 10+ In Stock. Ready to ship. | - |
| | 786-WR101-015 | WR101-015 | 10+ In Stock. Ready to ship. | - |
| | 786-WR101-159 | WR101-159 | 10+ In Stock. Ready to ship. | - |
| | 786-WR101-100 | WR101-100 | 10+ In Stock. Ready to ship. | - |
| | 786-WR101-099 | WR101-099 | 10+ In Stock. Ready to ship. | - |
| | 786-WR101-078 | WR101-078 | 10+ In Stock. Ready to ship. | - |
| | 786-WR101-175 | WR101-175 | 10+ In Stock. Ready to ship. | - |
| | 786-WR101-051 | WR101-051 | 10+ In Stock. Ready to ship. | - |
| | 786-WR101-169 | WR101-169 | 10+ In Stock. Ready to ship. | - |
| | 786-WR101-150 | WR101-150 | 10+ In Stock. Ready to ship. | - |
| | 786-WR101-126 | WR101-126 | 10+ In Stock. Ready to ship. | - |
| | 786-WR101-094 | WR101-094 | 10+ In Stock. Ready to ship. | - |
| | 786-WR101-067 | WR101-067 | 10+ In Stock. Ready to ship. | - |
| | 786-WR101-137 | WR101-137 | 10+ In Stock. Ready to ship. | - |
| | 786-WR101-134 | WR101-134 | 10+ In Stock. Ready to ship. | - |
| | 786-WR101-133 | WR101-133 | 10+ In Stock. Ready to ship. | - |
| | 786-WR101-016 | WR101-016 | 10+ In Stock. Ready to ship. | - |
| | 786-WR101-213 | WR101-213 | 10 In Stock. Ready to ship. | - |
| | 786-WR101-091 | WR101-091 | 10 In Stock. Ready to ship. | - |
| | 786-WR101-088 | WR101-088 | 10 In Stock. Ready to ship. | - |
| | 786-WR101-085 | WR101-085 | 10 In Stock. Ready to ship. | - |
| | 786-WR101-084 | WR101-084 | 10 In Stock. Ready to ship. | - |
| | 786-WR101-074 | WR101-074 | 10 In Stock. Ready to ship. | - |
| | 786-WR101-073 | WR101-073 | 10 In Stock. Ready to ship. | - |
| | 786-WR101-032 | WR101-032 | 10 In Stock. Ready to ship. | - |
| | 786-WR101-022 | WR101-022 | 10 In Stock. Ready to ship. | - |
| | 786-WR101-021 | WR101-021 | 10 In Stock. Ready to ship. | - |
| | 786-WR101-214 | WR101-214 | 9 In Stock. Ready to ship. | - |
| | 786-WR101-203 | WR101-203 | 9 In Stock. Ready to ship. | - |
| | 786-WR101-186 | WR101-186 | 9 In Stock. Ready to ship. | - |
| | 786-WR101-112 | WR101-112 | 9 In Stock. Ready to ship. | - |
| | 786-WR101-101 | WR101-101 | 9 In Stock. Ready to ship. | - |
| | 786-WR101-061 | WR101-061 | 9 In Stock. Ready to ship. | - |
| | 786-WR101-034 | WR101-034 | 9 In Stock. Ready to ship. | - |
| | 786-WR101-019 | WR101-019 | 9 In Stock. Ready to ship. | - |
| | 786-WR101-013 | WR101-013 | 9 In Stock. Ready to ship. | - |
| | 786-WR101-011 | WR101-011 | 9 In Stock. Ready to ship. | - |
| | 786-WR101-211 | WR101-211 | 8 In Stock. Ready to ship. | - |
| | 786-WR101-194 | WR101-194 | 8 In Stock. Ready to ship. | - |
| | 786-WR101-158 | WR101-158 | 8 In Stock. Ready to ship. | - |
| | 786-WR101-135 | WR101-135 | 8 In Stock. Ready to ship. | - |
| | 786-WR101-113 | WR101-113 | 8 In Stock. Ready to ship. | - |
| | 786-WR101-109 | WR101-109 | 8 In Stock. Ready to ship. | - |
| | 786-WR101-083 | WR101-083 | 8 In Stock. Ready to ship. | - |
| | 786-WR101-055 | WR101-055 | 8 In Stock. Ready to ship. | - |
| | 786-WR101-053 | WR101-053 | 8 In Stock. Ready to ship. | - |
| | 786-WR101-031 | WR101-031 | 8 In Stock. Ready to ship. | - |
| | 786-WR101-201 | WR101-201 | 7 In Stock. Ready to ship. | - |
| | 786-WR101-173 | WR101-173 | 7 In Stock. Ready to ship. | - |
| | 786-WR101-148 | WR101-148 | 7 In Stock. Ready to ship. | - |
| | 786-WR101-119 | WR101-119 | 7 In Stock. Ready to ship. | - |
| | 786-WR101-117 | WR101-117 | 7 In Stock. Ready to ship. | - |
| | 786-WR101-114 | WR101-114 | 7 In Stock. Ready to ship. | - |
| | 786-WR101-092 | WR101-092 | 7 In Stock. Ready to ship. | - |
| | 786-WR101-058 | WR101-058 | 7 In Stock. Ready to ship. | - |
| | 786-WR101-050 | WR101-050 | 7 In Stock. Ready to ship. | - |
| | 786-WR101-043 | WR101-043 | 7 In Stock. Ready to ship. | - |
| | 786-WR101-039 | WR101-039 | 7 In Stock. Ready to ship. | - |
| | 786-WR101-020 | WR101-020 | 7 In Stock. Ready to ship. | - |
| | 786-WR101-017 | WR101-017 | 7 In Stock. Ready to ship. | - |
| | 786-WR101-207 | WR101-207 | 6 In Stock. Ready to ship. | - |
| | 786-WR101-200 | WR101-200 | 6 In Stock. Ready to ship. | - |
| | 786-WR101-197 | WR101-197 | 6 In Stock. Ready to ship. | - |
| | 786-WR101-167 | WR101-167 | 6 In Stock. Ready to ship. | - |
| | 786-WR101-154 | WR101-154 | 6 In Stock. Ready to ship. | - |
| | 786-WR101-144 | WR101-144 | 6 In Stock. Ready to ship. | - |
| | 786-WR101-128 | WR101-128 | 6 In Stock. Ready to ship. | - |
| | 786-WR101-124 | WR101-124 | 6 In Stock. Ready to ship. | - |
| | 786-WR101-115 | WR101-115 | 6 In Stock. Ready to ship. | - |
| | 786-WR101-110 | WR101-110 | 6 In Stock. Ready to ship. | - |
| | 786-WR101-076 | WR101-076 | 6 In Stock. Ready to ship. | - |
| | 786-WR101-065 | WR101-065 | 6 In Stock. Ready to ship. | - |
| | 786-WR101-056 | WR101-056 | 6 In Stock. Ready to ship. | - |
| | 786-WR101-054 | WR101-054 | 6 In Stock. Ready to ship. | - |
| | 786-WR101-024 | WR101-024 | 6 In Stock. Ready to ship. | - |
| | 786-WR101-206 | WR101-206 | 5 In Stock. Ready to ship. | - |
| | 786-WR101-199 | WR101-199 | 5 In Stock. Ready to ship. | - |
| | 786-WR101-196 | WR101-196 | 5 In Stock. Ready to ship. | - |
| | 786-WR101-195 | WR101-195 | 5 In Stock. Ready to ship. | - |
| | 786-WR101-184 | WR101-184 | 5 In Stock. Ready to ship. | - |
| | 786-WR101-180 | WR101-180 | 5 In Stock. Ready to ship. | - |
| | 786-WR101-176 | WR101-176 | 5 In Stock. Ready to ship. | - |
| | 786-WR101-068 | WR101-068 | 5 In Stock. Ready to ship. | - |
| | 786-WR101-063 | WR101-063 | 5 In Stock. Ready to ship. | - |
| | 786-WR101-060 | WR101-060 | 5 In Stock. Ready to ship. | - |
| | 786-WR101-036 | WR101-036 | 5 In Stock. Ready to ship. | - |
| | 786-WR101-025 | WR101-025 | 5 In Stock. Ready to ship. | - |
| | 786-WR101-198 | WR101-198 | 4 In Stock. Ready to ship. | - |
| | 786-WR101-187 | WR101-187 | 4 In Stock. Ready to ship. | - |
| | 786-WR101-165 | WR101-165 | 4 In Stock. Ready to ship. | - |
| | 786-WR101-162 | WR101-162 | 4 In Stock. Ready to ship. | - |
| | 786-WR101-123 | WR101-123 | 4 In Stock. Ready to ship. | - |
| | 786-WR101-105 | WR101-105 | 4 In Stock. Ready to ship. | - |
| | 786-WR101-096 | WR101-096 | 4 In Stock. Ready to ship. | - |
| | 786-WR101-086 | WR101-086 | 4 In Stock. Ready to ship. | - |
| | 786-WR101-052 | WR101-052 | 4 In Stock. Ready to ship. | - |
| | 786-WR101-047 | WR101-047 | 4 In Stock. Ready to ship. | - |
| | 786-WR101-044 | WR101-044 | 4 In Stock. Ready to ship. | - |
| | 786-WR101-023 | WR101-023 | 4 In Stock. Ready to ship. | - |
| | 786-WR101-177 | WR101-177 | 3 In Stock. Ready to ship. | - |
| | 786-WR101-166 | WR101-166 | 3 In Stock. Ready to ship. | - |
| | 786-WR101-163 | WR101-163 | 3 In Stock. Ready to ship. | - |
| | 786-WR101-160 | WR101-160 | 3 In Stock. Ready to ship. | - |
| | 786-WR101-149 | WR101-149 | 3 In Stock. Ready to ship. | - |
| | 786-WR101-146 | WR101-146 | 3 In Stock. Ready to ship. | - |
| | 786-WR101-140 | WR101-140 | 3 In Stock. Ready to ship. | - |
| | 786-WR101-136 | WR101-136 | 3 In Stock. Ready to ship. | - |
| | 786-WR101-104 | WR101-104 | 3 In Stock. Ready to ship. | - |
| | 786-WR101-090 | WR101-090 | 3 In Stock. Ready to ship. | - |
| | 786-WR101-064 | WR101-064 | 3 In Stock. Ready to ship. | - |
| | 786-WR101-045 | WR101-045 | 3 In Stock. Ready to ship. | - |
| | 786-WR101-042 | WR101-042 | 3 In Stock. Ready to ship. | - |
| | 786-WR101-040 | WR101-040 | 3 In Stock. Ready to ship. | - |
| | 786-WR101-028 | WR101-028 | 3 In Stock. Ready to ship. | - |
| | 786-WR101-012 | WR101-012 | 3 In Stock. Ready to ship. | - |
| | 786-WR101-209 | WR101-209 | 2 In Stock. Ready to ship. | - |
| | 786-WR101-202 | WR101-202 | 2 In Stock. Ready to ship. | - |
| | 786-WR101-192 | WR101-192 | 2 In Stock. Ready to ship. | - |
| | 786-WR101-179 | WR101-179 | 2 In Stock. Ready to ship. | - |
| | 786-WR101-178 | WR101-178 | 2 In Stock. Ready to ship. | - |
| | 786-WR101-174 | WR101-174 | 2 In Stock. Ready to ship. | - |
| | 786-WR101-172 | WR101-172 | 2 In Stock. Ready to ship. | - |
| | 786-WR101-171 | WR101-171 | 2 In Stock. Ready to ship. | - |
| | 786-WR101-161 | WR101-161 | 2 In Stock. Ready to ship. | - |
| | 786-WR101-153 | WR101-153 | 2 In Stock. Ready to ship. | - |
| | 786-WR101-152 | WR101-152 | 2 In Stock. Ready to ship. | - |
| | 786-WR101-151 | WR101-151 | 2 In Stock. Ready to ship. | - |
| | 786-WR101-143 | WR101-143 | 2 In Stock. Ready to ship. | - |
| | 786-WR101-139 | WR101-139 | 2 In Stock. Ready to ship. | - |
| | 786-WR101-138 | WR101-138 | 2 In Stock. Ready to ship. | - |
| | 786-WR101-131 | WR101-131 | 2 In Stock. Ready to ship. | - |
| | 786-WR101-122 | WR101-122 | 2 In Stock. Ready to ship. | - |
| | 786-WR101-120 | WR101-120 | 2 In Stock. Ready to ship. | - |
| | 786-WR101-111 | WR101-111 | 2 In Stock. Ready to ship. | - |
| | 786-WR101-108 | WR101-108 | 2 In Stock. Ready to ship. | - |
| | 786-WR101-106 | WR101-106 | 2 In Stock. Ready to ship. | - |
| | 786-WR101-098 | WR101-098 | 2 In Stock. Ready to ship. | - |
| | 786-WR101-070 | WR101-070 | 2 In Stock. Ready to ship. | - |
| | 786-WR101-026 | WR101-026 | 2 In Stock. Ready to ship. | - |
| | 786-WR101-205 | WR101-205 | 1 In Stock. Ready to ship. | - |
| | 786-WR101-204 | WR101-204 | 1 In Stock. Ready to ship. | - |
| | 786-WR101-181 | WR101-181 | 1 In Stock. Ready to ship. | - |
| | 786-WR101-170 | WR101-170 | 1 In Stock. Ready to ship. | - |
| | 786-WR101-168 | WR101-168 | 1 In Stock. Ready to ship. | - |
| | 786-WR101-155 | WR101-155 | 1 In Stock. Ready to ship. | - |
| | 786-WR101-142 | WR101-142 | 1 In Stock. Ready to ship. | - |
| | 786-WR101-116 | WR101-116 | 1 In Stock. Ready to ship. | - |
| | 786-WR101-102 | WR101-102 | 1 In Stock. Ready to ship. | - |
| | 786-WR101-095 | WR101-095 | 1 In Stock. Ready to ship. | - |
| | 786-WR101-077 | WR101-077 | 1 In Stock. Ready to ship. | - |
| | 786-WR101-072 | WR101-072 | 1 In Stock. Ready to ship. | - |
| | 786-WR101-069 | WR101-069 | 1 In Stock. Ready to ship. | - |
| | 786-WR101-046 | WR101-046 | 1 In Stock. Ready to ship. | - |
| | 786-WR101-212 | WR101-212 | Unavailable. | - |
| | 786-WR101-210 | WR101-210 | Unavailable. | - |
| | 786-WR101-208 | WR101-208 | Unavailable. | - |
| | 786-WR101-193 | WR101-193 | Unavailable. | - |
| | 786-WR101-182 | WR101-182 | Unavailable. | - |
| | 786-WR101-156 | WR101-156 | Unavailable. | - |
| | 786-WR101-147 | WR101-147 | Unavailable. | - |
| | 786-WR101-145 | WR101-145 | Unavailable. | - |
| | 786-WR101-141 | WR101-141 | Unavailable. | - |
| | 786-WR101-132 | WR101-132 | Unavailable. | - |
| | 786-WR101-130 | WR101-130 | Unavailable. | - |
| | 786-WR101-129 | WR101-129 | Unavailable. | - |
| | 786-WR101-127 | WR101-127 | Unavailable. | - |
| | 786-WR101-125 | WR101-125 | Unavailable. | - |
| | 786-WR101-121 | WR101-121 | Unavailable. | - |
| | 786-WR101-107 | WR101-107 | Unavailable. | - |
| | 786-WR101-103 | WR101-103 | Unavailable. | - |
| | 786-WR101-075 | WR101-075 | Unavailable. | - |
| | 786-WR101-071 | WR101-071 | Unavailable. | - |
| | 786-WR101-066 | WR101-066 | Unavailable. | - |
| | 786-WR101-062 | WR101-062 | Unavailable. | - |
| | 786-WR101-059 | WR101-059 | Unavailable. | - |
| | 786-WR101-048 | WR101-048 | Unavailable. | - |
| | 786-WR101-041 | WR101-041 | Unavailable. | - |
| | 786-WR101-038 | WR101-038 | Unavailable. | - |
| | 786-WR101-037 | WR101-037 | Unavailable. | - |
| | 786-WR101-035 | WR101-035 | Unavailable. | - |
| | 786-WR101-033 | WR101-033 | Unavailable. | - |
| | 786-WR101-010 | WR101-010 | Unavailable. | - |