By browsing, you consent to our

use of Cookies

.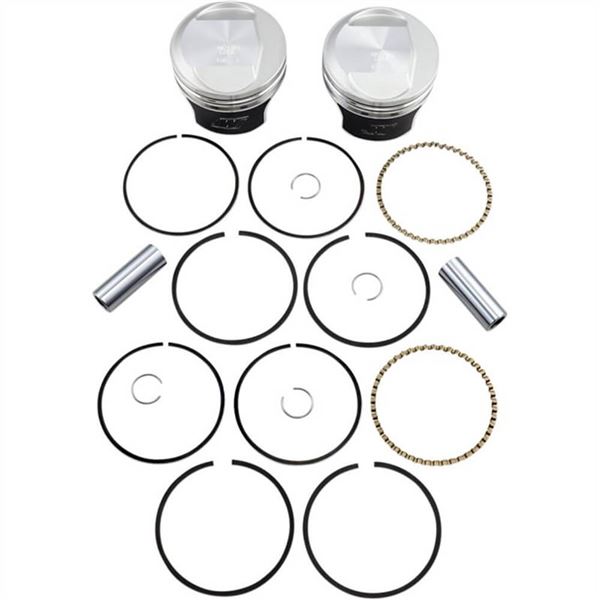 Fast, Free Shipping

Low Price Guarantee

No Hassle Returns

Get the benefit of performance with added value. Development on the newly proclaimed Tracker series pistons began at the end of 2017, and the hurdle was to find a balance between performance and price.
V-twin riders are getting nearly the same level of features at a reduced cost. Premium rings are supplied with each piston. Wiseco uses a new high tension 3mm oil ring set in our twin-cam applications.
You can increase the stock bore without having to bore your crankcases. Simply bore your cylinder, install the piston, get a bump in compression, and you're at 103 cubic inches. Not only that, but Wiseco also offers a 106-cubic inch piston option for the Harley-Davidson Twin Cam engine. That way you can beat your buddies at the stoplight.
If you have an EVO generation engine, then relish not only in the fact that you're wielding a quintessential big twin Harley powerplant. Thanks to the Tracker piston, you have the choice between a flat top or a domed piston. The flat top piston has an 8.5:1 compression ratio, which is for a standard application. The domed piston is the higher performance offering, with a beefy 10:1 ratio. This option is for the rider who really wants to build a hot rod.
Forged piston crown with generous valve pockets for big valves and cams.
Precision-fit rings selected for each application for ultimate sealing.
Force-fed pin oiling provides enhanced lucubration of the piston pin.
Pressure seal groove reduces ring lifting and power loss.
ArmorGlide skirt coating reduces friction, providing quieter operation and improving scuff resistance
Valued-packaged with pistons, rings, piston pins and circlips.
Made in the USA
Specifications
SKU
316-K0208PS
Brand
Wiseco

California Prop 65
WARNING: Cancer and Reproductive Harm - www.P65Warnings.ca.gov
Part Numbers
| | SKU | MPN | Availability | In-Store Pickup |
| --- | --- | --- | --- | --- |
| | 316-K0208PS | K0208PS | 10+ In Stock. Ready to ship. | - |
| | 316-K0207P1 | K0207P1 | 10+ In Stock. Ready to ship. | - |
| | 316-K0210P2 | K0210P2 | 8 In Stock. Ready to ship. | - |
| | 316-K0209PS | K0209PS | 8 In Stock. Ready to ship. | - |
| | 316-K0208P1 | K0208P1 | 8 In Stock. Ready to ship. | - |
| | 316-K0216P3 | K0216P3 | 7 In Stock. Ready to ship. | - |
| | 316-K0216P2 | K0216P2 | 7 In Stock. Ready to ship. | - |
| | 316-K0213PS | K0213PS | 7 In Stock. Ready to ship. | - |
| | 316-K0212P3 | K0212P3 | 7 In Stock. Ready to ship. | - |
| | 316-K0210P1 | K0210P1 | 7 In Stock. Ready to ship. | - |
| | 316-K0208P2 | K0208P2 | 7 In Stock. Ready to ship. | - |
| | 316-K0207PS | K0207PS | 7 In Stock. Ready to ship. | - |
| | 316-K0213P1 | K0213P1 | 6 In Stock. Ready to ship. | - |
| | 316-K0210PS | K0210PS | 6 In Stock. Ready to ship. | - |
| | 316-K0215P2 | K0215P2 | 5 In Stock. Ready to ship. | - |
| | 316-K0207P2 | K0207P2 | 5 In Stock. Ready to ship. | - |
| | 316-K0215P3 | K0215P3 | 4 In Stock. Ready to ship. | - |
| | 316-K0213P3 | K0213P3 | 4 In Stock. Ready to ship. | - |
| | 316-K0212P2 | K0212P2 | 4 In Stock. Ready to ship. | - |
| | 316-K0212PS | K0212PS | 3 In Stock. Ready to ship. | - |
| | 316-K0212P1 | K0212P1 | 3 In Stock. Ready to ship. | - |
| | 316-K0211PS | K0211PS | 3 In Stock. Ready to ship. | - |
| | 316-K0215PS | K0215PS | 2 In Stock. Ready to ship. | - |
| | 316-K0213P2 | K0213P2 | 2 In Stock. Ready to ship. | - |
| | 316-K0215P1 | K0215P1 | 1 In Stock. Ready to ship. | - |
| | 316-K0216PS | K0216PS | Unavailable. | - |
| | 316-K0216P1 | K0216P1 | Unavailable. | - |