By browsing, you consent to our

use of Cookies

.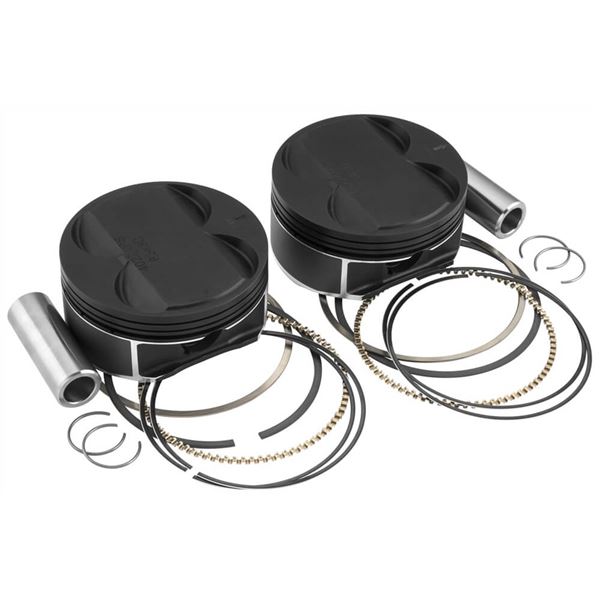 Fast, Free Shipping

Low Price Guarantee

No Hassle Returns

Harley owners have a new choice of high performance pistons for their bikes: Wiseco Black Edition pistons. These pistons feature an industry first ArmorFit coating on the piston skirt, as well as a propietary ArmorX coating on the entire piston. They offer superior protection against wear, higher compression, smooth and quiet operation, and maximized efficiency.
The ArmorFit skirt coating is there to act as the contact surface with the cylinder wall for the life of the piston, not just for break in
Superior protection in extreme conditions, reduced wear
Auto-adjusts to cylinder wall, no need to measure clearence
Smooth, quiet, and trouble free operation
11:1 compression for added power
Steel nitrade top, naapier second, high tension oil ring
Kit includes: forged pistons, rings, circlips, chrome piston pins
Wiseco Black Edition piston kits include the piston, rings, wrist pin, and locks. Milwaukee 8 applications will be available in the standard size, as well additional overbore and sleeve in options:
107 ci (Standard)
114 ci
117 ci
124 ci
For the person who takes preformance seriously, Wiseco Black Edition pistons are you choice!
Specifications
SKU
316-K2785
Brand
Wiseco

California Prop 65
WARNING: Cancer and Reproductive Harm - www.P65Warnings.ca.gov
Part Numbers
| | SKU | MPN | Availability | In-Store Pickup |
| --- | --- | --- | --- | --- |
| | 316-K2785 | K2785 | 10 In Stock. Ready to ship. | - |
| | 316-K2784 | K2784 | 10 In Stock. Ready to ship. | - |
| | 316-K2802 | K2802 | 9 In Stock. Ready to ship. | - |
| | 316-K2799 | K2799 | 4 In Stock. Ready to ship. | - |
| | 316-K2791 | K2791 | 4 In Stock. Ready to ship. | - |
| | 316-K2790 | K2790 | 3 In Stock. Ready to ship. | - |
| | 316-K2788 | K2788 | 3 In Stock. Ready to ship. | - |
| | 316-K2787 | K2787 | 3 In Stock. Ready to ship. | - |
| | 316-K2801 | K2801 | 2 In Stock. Ready to ship. | - |
| | 316-K2800 | K2800 | 2 In Stock. Ready to ship. | - |
| | 316-K2796 | K2796 | 2 In Stock. Ready to ship. | - |
| | 316-K2792 | K2792 | 2 In Stock. Ready to ship. | - |
| | 316-K2789 | K2789 | 2 In Stock. Ready to ship. | - |
| | 316-K2795 | K2795 | 1 In Stock. Ready to ship. | - |
| | 316-K2794 | K2794 | 1 In Stock. Ready to ship. | - |
| | 316-K2793 | K2793 | 1 In Stock. Ready to ship. | - |
| | 316-K2786 | K2786 | Unavailable. | - |