By browsing, you consent to our

use of Cookies

.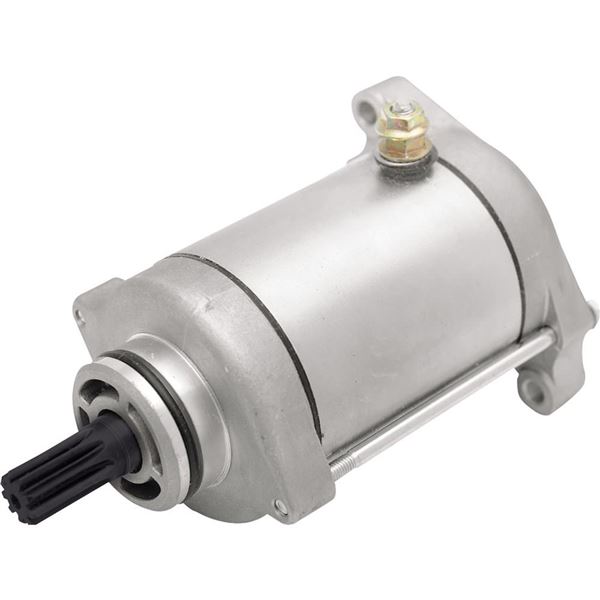 Free Shipping Over $75

Low Price Guarantee

No Hassle Returns

Affordable starters that are constructed with longer life bearings than O.E.M. Many O.E.M starter motors have an unprotected output needle bearing on the outside of the output shaft's seal, allowing moisture to enter the output cap of the electric motor and follow the armature shaft to the unprotected output needle bearing, which corrodes the bearing. Rick's takes the extra step of installing a double sealed ball bearing, with the output shaft seal on the outside of the bearing in this aftermarket unit. This simple application of common sense engineering does two things: first, the outside bearing is now protected from damaging water entry, and second, the sealed ball bearing is replaceable.
Affordable starters constructed with longer life bearings than O.E.M
Double sealed ball bearing with output shaft seal on outside of the bearing
Outside bearing protected from damaging water
Replaceable sealed ball bearing
Note: Image for reference only. Actual product may vary according to vehicle.
Rick's Motorsport Electrics Starter Motor
Specifications
SKU
386-61-505
Brand
Ricks Motorsport

California Prop 65
WARNING: Cancer and Reproductive Harm - www.P65Warnings.ca.gov
Part Numbers
| | SKU | MPN | Availability | In-Store Pickup |
| --- | --- | --- | --- | --- |
| | 386-61-505 | 61-505 | 10+ In Stock. Ready to ship. | - |
| | 386-61-113 | 61-113 | 10+ In Stock. Ready to ship. | - |
| | 386-2702 | 61-501 | 10+ In Stock. Ready to ship. | - |
| | 386-61-414 | 61-414 | 10+ In Stock. Ready to ship. | - |
| | 386-61-194 | 61-194 | 10+ In Stock. Ready to ship. | - |
| | 386-61-131 | 61-131 | 10+ In Stock. Ready to ship. | - |
| | 386-61-901 | 61-901 | 10+ In Stock. Ready to ship. | - |
| | 386-61-121 | 61-121 | 10+ In Stock. Ready to ship. | - |
| | 386-61-512 | 61-512 | 10+ In Stock. Ready to ship. | - |
| | 386-61-008 | 61-008 | 10+ In Stock. Ready to ship. | - |
| | 386-61-523 | 61-523 | 10+ In Stock. Ready to ship. | - |
| | 386-61-310 | 61-310 | 10+ In Stock. Ready to ship. | - |
| | 386-61-304 | 61-304 | 10+ In Stock. Ready to ship. | - |
| | 386-61-427 | 61-427 | 10+ In Stock. Ready to ship. | - |
| | 386-61-328 | 61-328 | 10+ In Stock. Ready to ship. | - |
| | 386-61-199 | 61-199 | 10+ In Stock. Ready to ship. | - |
| | 386-61-522 | 61-522 | 10+ In Stock. Ready to ship. | - |
| | 386-61-303 | 61-303 | 10+ In Stock. Ready to ship. | - |
| | 386-61-118 | 61-118 | 10+ In Stock. Ready to ship. | - |
| | 386-61-606 | 61-606 | 10+ In Stock. Ready to ship. | - |
| | 386-61-511 | 61-511 | 10+ In Stock. Ready to ship. | - |
| | 386-61-506 | 61-506 | 10+ In Stock. Ready to ship. | - |
| | 386-61-417 | 61-417 | 10+ In Stock. Ready to ship. | - |
| | 386-2676 | 61-202 | 10+ In Stock. Ready to ship. | - |
| | 386-61-406 | 61-406 | 10+ In Stock. Ready to ship. | - |
| | 386-61-203 | 61-203 | 10+ In Stock. Ready to ship. | - |
| | 386-61-213 | 61-213 | 10+ In Stock. Ready to ship. | - |
| | 386-61-704 | 61-704 | 10+ In Stock. Ready to ship. | - |
| | 386-61-411 | 61-411 | 10+ In Stock. Ready to ship. | - |
| | 386-61-409 | 61-409 | 10+ In Stock. Ready to ship. | - |
| | 386-61-212 | 61-212 | 10+ In Stock. Ready to ship. | - |
| | 386-61-205 | 61-205 | 10+ In Stock. Ready to ship. | - |
| | 386-61-105 | 61-105 | 10+ In Stock. Ready to ship. | - |
| | 386-61-001 | 61-001 | 10+ In Stock. Ready to ship. | - |
| | 386-61-319 | 61-319 | 10 In Stock. Ready to ship. | - |
| | 386-61-317 | 61-317 | 10 In Stock. Ready to ship. | - |
| | 386-61-301 | 61-301 | 10 In Stock. Ready to ship. | - |
| | 386-61-211 | 61-211 | 10 In Stock. Ready to ship. | - |
| | 386-61-132 | 61-132 | 10 In Stock. Ready to ship. | - |
| | 386-2757 | 61-408 | 10 In Stock. Ready to ship. | - |
| | 386-61-604 | 61-604 | 9 In Stock. Ready to ship. | - |
| | 386-61-415 | 61-415 | 9 In Stock. Ready to ship. | - |
| | 386-61-325 | 61-325 | 9 In Stock. Ready to ship. | - |
| | 386-61-313 | 61-313 | 9 In Stock. Ready to ship. | - |
| | 386-61-306 | 61-306 | 9 In Stock. Ready to ship. | - |
| | 386-61-117 | 61-117 | 9 In Stock. Ready to ship. | - |
| | 386-61-114 | 61-114 | 9 In Stock. Ready to ship. | - |
| | 386-61-111 | 61-111 | 9 In Stock. Ready to ship. | - |
| | 386-61-002 | 61-002 | 9 In Stock. Ready to ship. | - |
| | 386-61-803 | 61-803 | 8 In Stock. Ready to ship. | - |
| | 386-61-706 | 61-706 | 8 In Stock. Ready to ship. | - |
| | 386-61-703 | 61-703 | 8 In Stock. Ready to ship. | - |
| | 386-61-510 | 61-510 | 8 In Stock. Ready to ship. | - |
| | 386-61-425 | 61-425 | 8 In Stock. Ready to ship. | - |
| | 386-61-404 | 61-404 | 8 In Stock. Ready to ship. | - |
| | 386-61-321 | 61-321 | 8 In Stock. Ready to ship. | - |
| | 386-61-320 | 61-320 | 8 In Stock. Ready to ship. | - |
| | 386-61-220 | 61-220 | 8 In Stock. Ready to ship. | - |
| | 386-61-218 | 61-218 | 8 In Stock. Ready to ship. | - |
| | 386-61-197 | 61-197 | 8 In Stock. Ready to ship. | - |
| | 386-64-001 | 64-001 | 7 In Stock. Ready to ship. | - |
| | 386-61-800 | 61-800 | 7 In Stock. Ready to ship. | - |
| | 386-61-701 | 61-701 | 7 In Stock. Ready to ship. | - |
| | 386-61-609 | 61-609 | 7 In Stock. Ready to ship. | - |
| | 386-61-601 | 61-601 | 7 In Stock. Ready to ship. | - |
| | 386-61-515 | 61-515 | 7 In Stock. Ready to ship. | - |
| | 386-61-509 | 61-509 | 7 In Stock. Ready to ship. | - |
| | 386-61-508 | 61-508 | 7 In Stock. Ready to ship. | - |
| | 386-61-196 | 61-196 | 7 In Stock. Ready to ship. | - |
| | 386-61-127 | 61-127 | 7 In Stock. Ready to ship. | - |
| | 386-61-903 | 61-903 | 6 In Stock. Ready to ship. | - |
| | 386-61-608 | 61-608 | 6 In Stock. Ready to ship. | - |
| | 386-61-517 | 61-517 | 6 In Stock. Ready to ship. | - |
| | 386-61-419 | 61-419 | 6 In Stock. Ready to ship. | - |
| | 386-61-405 | 61-405 | 6 In Stock. Ready to ship. | - |
| | 386-61-402 | 61-402 | 6 In Stock. Ready to ship. | - |
| | 386-61-221 | 61-221 | 6 In Stock. Ready to ship. | - |
| | 386-61-204 | 61-204 | 6 In Stock. Ready to ship. | - |
| | 386-61-106 | 61-106 | 6 In Stock. Ready to ship. | - |
| | 386-64-002 | 64-002 | 5 In Stock. Ready to ship. | - |
| | 386-61-708 | 61708 | 5 In Stock. Ready to ship. | - |
| | 386-61-520 | 61-520 | 5 In Stock. Ready to ship. | - |
| | 386-61-516 | 61-516 | 5 In Stock. Ready to ship. | - |
| | 386-61-513 | 61-513 | 5 In Stock. Ready to ship. | - |
| | 386-61-421 | 61-421 | 5 In Stock. Ready to ship. | - |
| | 386-61-412 | 61-412 | 5 In Stock. Ready to ship. | - |
| | 386-61-403 | 61-403 | 5 In Stock. Ready to ship. | - |
| | 386-61-207 | 61-207 | 5 In Stock. Ready to ship. | - |
| | 386-61-195 | 61-195 | 5 In Stock. Ready to ship. | - |
| | 386-61-112 | 61-112 | 5 In Stock. Ready to ship. | - |
| | 386-61-108 | 61-108 | 5 In Stock. Ready to ship. | - |
| | 386-61-102 | 61-102 | 5 In Stock. Ready to ship. | - |
| | 386-2758 | 61-401 | 5 In Stock. Ready to ship. | - |
| | 386-61-702 | 61-702 | 4 In Stock. Ready to ship. | - |
| | 386-61-507 | 61-507 | 4 In Stock. Ready to ship. | - |
| | 386-61-426 | 61-426 | 4 In Stock. Ready to ship. | - |
| | 386-61-318 | 61-318 | 4 In Stock. Ready to ship. | - |
| | 386-61-316 | 61-316 | 4 In Stock. Ready to ship. | - |
| | 386-61-309 | 61-309 | 4 In Stock. Ready to ship. | - |
| | 386-61-308 | 61-308 | 4 In Stock. Ready to ship. | - |
| | 386-61-305 | 61-305 | 4 In Stock. Ready to ship. | - |
| | 386-61-302 | 61-302 | 4 In Stock. Ready to ship. | - |
| | 386-61-219 | 61-219 | 4 In Stock. Ready to ship. | - |
| | 386-61-217 | 61-217 | 4 In Stock. Ready to ship. | - |
| | 386-61-214 | 61-214 | 4 In Stock. Ready to ship. | - |
| | 386-2751 | 61-410 | 4 In Stock. Ready to ship. | - |
| | 386-64-501 | 64-501 | 3 In Stock. Ready to ship. | - |
| | 386-61-900 | 61-900 | 3 In Stock. Ready to ship. | - |
| | 386-61-707 | 61-707 | 3 In Stock. Ready to ship. | - |
| | 386-61-603 | 61-603 | 3 In Stock. Ready to ship. | - |
| | 386-61-420 | 61-420 | 3 In Stock. Ready to ship. | - |
| | 386-61-413 | 61-413 | 3 In Stock. Ready to ship. | - |
| | 386-61-327 | 61-327 | 3 In Stock. Ready to ship. | - |
| | 386-61-206 | 61-206 | 3 In Stock. Ready to ship. | - |
| | 386-61-119 | 61-119 | 3 In Stock. Ready to ship. | - |
| | 386-61-109 | 61-109 | 3 In Stock. Ready to ship. | - |
| | 386-61-009 | 61-009 | 3 In Stock. Ready to ship. | - |
| | 386-64-403 | 64-403 | 2 In Stock. Ready to ship. | - |
| | 386-64-402 | 64-402 | 2 In Stock. Ready to ship. | - |
| | 386-61-719 | 61-719 | 2 In Stock. Ready to ship. | - |
| | 386-61-711 | 61-711 | 2 In Stock. Ready to ship. | - |
| | 386-61-710 | 61-710 | 2 In Stock. Ready to ship. | - |
| | 386-61-602 | 61-602 | 2 In Stock. Ready to ship. | - |
| | 386-61-518 | 61-518 | 2 In Stock. Ready to ship. | - |
| | 386-61-514 | 61-514 | 2 In Stock. Ready to ship. | - |
| | 386-61-322 | 61-322 | 2 In Stock. Ready to ship. | - |
| | 386-61-315 | 61-315 | 2 In Stock. Ready to ship. | - |
| | 386-61-198 | 61-198 | 2 In Stock. Ready to ship. | - |
| | 386-61-107 | 61-107 | 2 In Stock. Ready to ship. | - |
| | 386-61-101 | 61-101 | 2 In Stock. Ready to ship. | - |
| | 386-61-705 | 61-705 | 1 In Stock. Ready to ship. | - |
| | 386-61-423 | 61-423 | 1 In Stock. Ready to ship. | - |
| | 386-61-311 | 61-311 | 1 In Stock. Ready to ship. | - |
| | 386-61-209 | 61-209 | 1 In Stock. Ready to ship. | - |
| | 386-61-208 | 61-208 | 1 In Stock. Ready to ship. | - |
| | 386-61-193 | 61-193 | 1 In Stock. Ready to ship. | - |
| | 386-61-192 | 61-192 | 1 In Stock. Ready to ship. | - |
| | 386-61-116 | 61-116 | 1 In Stock. Ready to ship. | - |
| | 386-61-115 | 61-115 | 1 In Stock. Ready to ship. | - |
| | 386-61-104 | 61-104 | 1 In Stock. Ready to ship. | - |
| | 386-64-601 | 64-601 | Unavailable. | - |
| | 386-64-502 | 64-502 | Unavailable. | - |
| | 386-64-401 | 64-401 | Unavailable. | - |
| | 386-61-802 | 61-802 | Unavailable. | - |
| | 386-61-801 | 61-801 | Unavailable. | - |
| | 386-61-718 | 61-718 | Unavailable. | - |
| | 386-61-713 | 61-713 | Unavailable. | - |
| | 386-61-613 | 61-613 | Unavailable. | - |
| | 386-61-611 | 61-611 | Unavailable. | - |
| | 386-61-610 | 61-610 | Unavailable. | - |
| | 386-61-607 | 61-607 | Unavailable. | - |
| | 386-61-503 | 61-503 | 10+ In Stock. Ready to ship. | - |
| | 386-61-502 | 61-502 | 10+ In Stock. Ready to ship. | - |
| | 386-61-418H | 61-418H | 10+ In Stock. Ready to ship. | - |
| | 386-61-416 | 61-416 | Unavailable. | - |
| | 386-61-314 | 61-314 | Unavailable. | - |
| | 386-61-307 | 61-307 | Unavailable. | - |
| | 386-61-191 | 61-191 | Unavailable. | - |
| | 386-61-126 | 61-126 | Unavailable. | - |
| | 386-61-125H | 61-125H | 6 In Stock. Ready to ship. | - |
| | 386-61-124 | 61-124 | Unavailable. | - |
| | 386-61-007 | 61-007 | 10+ In Stock. Ready to ship. | - |
| | 386-61-004 | 61-004 | 10 In Stock. Ready to ship. | - |
| | 386-61-003 | 61-003 | Unavailable. | - |