By browsing, you consent to our

use of Cookies

.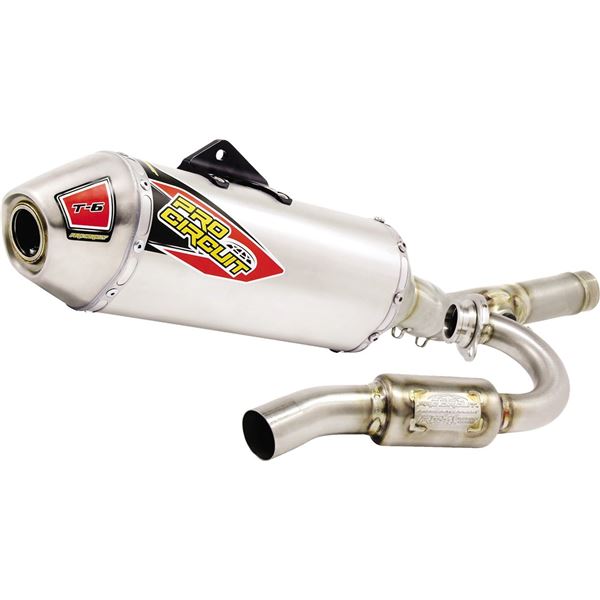 Fast, Free Shipping

Low Price Guarantee

No Hassle Returns

The T-6 Stainless Steel Exhaust System offers the same benefits as the Ti-6 Titanium Exhaust System, but the T-6 is constructed of stainless steel throughout the head pipe, mid pipe and endcap, while the canister is constructed of aluminum for increased durability and a more affordable alternative to titanium. Although the T-6 will not pass FIM sound requirements seen in professional racing here in the states or in Europe, the T-6 is still a great system for any offroad rider or closed course racer in terms of improved performance, durability and its inexpensive price tag. In addition to all of these features, the T-6 will come with a removable USFS approved spark arrestor making it easy for riders to alternate between offroad and closed course racing.
Stainless steel construction throughout head pipe, mid pipe and endcap
Aluminum canister construction
Improves performance
Equipped with RC-4 Resonance Chamber to reduce noise output
Machined aluminum muffler bracket for increased strength and durability
Asymmetrical muffler configuration for increased packing volume
Machined mid pipe to head pipe joint for a better, leak free fit
Removable USFS approved spark arrestor
TIG precision welding
Made in the USA
Note: Image for reference only. Product may vary according to vehicle.
Specifications
SKU
997-0111311G
Brand
Pro Circuit

California Prop 65
WARNING: Cancer and Reproductive Harm - www.P65Warnings.ca.gov
Part Numbers
| | SKU | MPN | Availability | In-Store Pickup |
| --- | --- | --- | --- | --- |
| Aluminum/Stainless | 997-0111311G | 0111311G | 10+ In Stock. Ready to ship. | - |
| Aluminum/Carbon Fiber | 997-0111312F | 0111312F | 10+ In Stock. Ready to ship. | - |
| Aluminum/Stainless | 997-0121945G | 0121945G | 10+ In Stock. Ready to ship. | - |
| | 997-0132012F | 0132012F | 7 In Stock. Ready to ship. | - |
| Aluminum/Stainless | 997-0131845G | 0131845G | 6 In Stock. Ready to ship. | - |
| Aluminum/Stainless | 997-0151625G | 0151625G | 5 In Stock. Ready to ship. | - |
| Titanium/Carbon Fiber | 997-0121712G | 0121712G | 2 In Stock. Ready to ship. | - |
| Aluminum/Stainless | 997-0141625G | 0141625G | 1 In Stock. Ready to ship. | - |
| Aluminum/Stainless | 997-0131725G | 0131725G | 1 In Stock. Ready to ship. | - |
| Aluminum/Stainless | 977-0151845G | 0151845G | 1 In Stock. Ready to ship. | - |
| Titanium/Carbon Fiber | 997-0161545-H | 0161545-H | Unavailable. | - |
| Aluminum/Stainless | 997-0161545-G | 0161545G | Unavailable. | - |
| Aluminum/Stainless | 997-0151935G | 0151935G | Unavailable. | - |
| Aluminum/Stainless | 997-0151925G | 0151925G | Unavailable. | - |
| Aluminum/Stainless | 997-0151545-G | 0151545G | Unavailable. | - |
| Titanium/Carbon Fiber | 997-0151535-H | 0151535-H | Unavailable. | - |
| Aluminum/Stainless | 997-0151535-G | 0151535G | Unavailable. | - |
| Titanium/Carbon Fiber | 997-0151525H | 0151525H | Unavailable. | - |
| Aluminum/Stainless | 997-0151525-G | 0151525G | Unavailable. | - |
| Titanium/Carbon Fiber | 997-0151445-H | 0151445-H | Unavailable. | - |
| Aluminum/Stainless | 997-0151445-G | 0151445G | Unavailable. | - |
| Aluminum/Stainless | 997-0151425G | 0151425G | Unavailable. | - |
| Aluminum/Stainless | 997-0141545G | 0141545G | Unavailable. | - |
| Titanium/Carbon Fiber | 997-0141525H | 0141525H | Unavailable. | - |
| Aluminum/Stainless | 997-0141445G | 0141445G | Unavailable. | - |
| Aluminum/Stainless | 997-0141425G | 0141425G | Unavailable. | - |
| Aluminum/Stainless | 997-0131925G | 0131925G | Unavailable. | - |
| Aluminum/Stainless | 997-0131645G | 0131645G | Unavailable. | - |
| Aluminum/Stainless | 997-0131625-G | 0131625G | Unavailable. | - |
| Titanium/Carbon Fiber | 997-0131445H | 0131445H | Unavailable. | - |
| Aluminum/Stainless | 997-0131445G | 0131445G | Unavailable. | - |
| Titanium/Carbon Fiber | 997-0131425H | 0131425H | Unavailable. | - |
| Aluminum/Stainless | 997-0131425G | 0131625G | Unavailable. | - |
| Aluminum/Stainless | 997-0122025G | 0122025G | Unavailable. | - |
| Aluminum/Carbon Fiber | 997-0122014F | | Unavailable. | - |
| Aluminum/Stainless | 997-0121745G | 0121745G | Unavailable. | - |
| Aluminum/Stainless | 997-0121725G | 0121725G | Unavailable. | - |
| Aluminum/Stainless | 997-0121645G | 0121645G | Unavailable. | - |
| Titanium/Carbon Fiber | 997-0121545H | 0121545H | Unavailable. | - |
| Aluminum/Stainless | 997-0121545G | 0121545G | Unavailable. | - |
| Titanium/Carbon Fiber | 997-0121525H | 0121525H | Unavailable. | - |
| Aluminum/Stainless | 997-0121525G | 0121525G | Unavailable. | - |
| Aluminum/Stainless | 997-0121425G | 0121425G | Unavailable. | - |
| Aluminum/Carbon Fiber | 997-0111925F | 0111925F | Unavailable. | - |
| Aluminum/Stainless | 997-0111545G | 0111545G | Unavailable. | - |
| Aluminum/Stainless | 997-0111525G | 0111525G | Unavailable. | - |
| Aluminum/Stainless | 997-0111415G | 0111415G | Unavailable. | - |
| Titanium/Carbon Fiber | 997-0111412G | 0111412G | Unavailable. | - |
| Titanium/Carbon Fiber | 997-0111350-G | 0111350G | Unavailable. | - |