By browsing, you consent to our

use of Cookies

.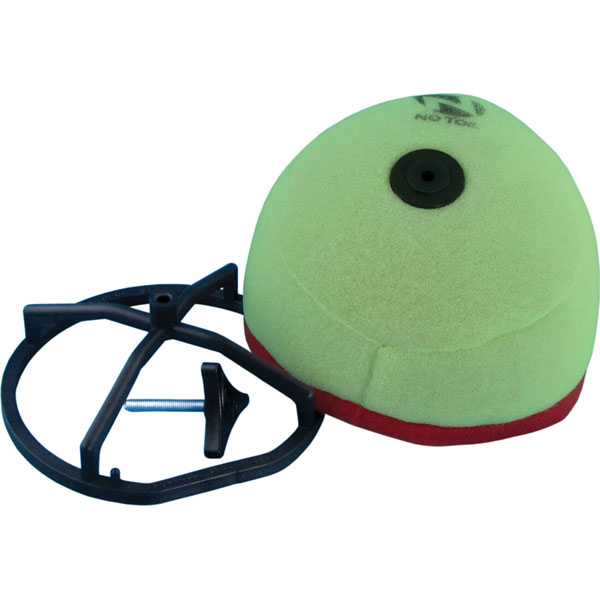 Free Shipping Over $75

Low Price Guarantee

No Hassle Returns

No-Toil Super-FLO Filter Kit is now the weapon of choice when looking to increase throttle response and horsepower by removing the backfire screen, and adding a flame resistant filter. Helping you get the most out of your stock air box, the No-Toil Super-FLO Kit makes eliminating the back fire screen a breeze. This gives the air a more direct line to the throttle body, improving your bikes performance. The Super-FLO Kit comes with a back fire screenless cage, a pre-oiled flame resistant filter, and a sweet new filter screw. Equipped with a one year manufacturer's warranty.
Super-Flo cage is made from a space age polymer
Filter has a flame retardant inner lining
Fits snugly for a tight and strong seal
Replaces stock filter and air restricting cage with a high flow air filter and cage
More air flow for more horsepower
No-Toil speed knob included
Easy to install
Kit includes screenless cage, filter, and filter screw
One year manufacturer's warranty
Note: Image for reference only. Product may vary according to vehicle.
Product may not be legal for sale or use in California or other localities due to state and/or federal anti-tampering laws. Refer to chaparral-racing.com/terms before purchasing.
No Toil Super-Flo Air Filter Kit
Specifications
SKU
399-4829
Brand
No Toil

California Prop 65
WARNING: Cancer and Reproductive Harm - www.P65Warnings.ca.gov
Part Numbers
| | SKU | MPN | Availability | In-Store Pickup |
| --- | --- | --- | --- | --- |
| | 399-4829 | SFK18044 | 10+ In Stock. Ready to ship. | 10+ In Stock. |
| | 399-4833 | SFK18046 | 10+ In Stock. Ready to ship. | 2 In Stock. |
| | 399-4827 | SFK17044 | 10+ In Stock. Ready to ship. | 4 In Stock. |
| | 399-4835 | SFK15043 | 10+ In Stock. Ready to ship. | - |
| | 399-4821 | SFK12046 | 10+ In Stock. Ready to ship. | 2 In Stock. |
| | 040-SFK12046 | SFK12046 | 10+ In Stock. Ready to ship. | - |
| | 040-SFK12052 | SFK12052 | 10+ In Stock. Ready to ship. | - |
| | 399-4823 | SFK14046 | 10+ In Stock. Ready to ship. | - |
| | 399-4843 | SFK12051 | 10+ In Stock. Ready to ship. | - |
| | 040-SFK14048 | SKF14048 | 10+ In Stock. Ready to ship. | - |
| | 399-5025 | SFK12006 | 10+ In Stock. Ready to ship. | - |
| | 399-4839 | SFK15045 | 10+ In Stock. Ready to ship. | - |
| | 040-SFK18051 | SFK18051 | 10+ In Stock. Ready to ship. | - |
| | 399-4831 | SFK18045 | 9 In Stock. Ready to ship. | - |
| | 040-SFK22007 | SFK22007 | 8 In Stock. Ready to ship. | - |
| | 399-4841 | SFK18050 | 7 In Stock. Ready to ship. | - |
| | 040-SFK32020 | SFK32020 | 7 In Stock. Ready to ship. | - |
| | 040-SFK34010 | SFK34010 | 6 In Stock. Ready to ship. | - |
| | 040-SFK32027 | SFK32027 | 6 In Stock. Ready to ship. | - |
| | 040-SFK37014 | SFK37014 | 4 In Stock. Ready to ship. | - |
| | 040-SFK17045 | SFK17045 | 4 In Stock. Ready to ship. | - |
| | 040-SFK32028 | SFK32028 | 3 In Stock. Ready to ship. | - |
| | 040-SFK18053 | SFK18053 | 1 In Stock. Ready to ship. | - |