By browsing, you consent to our

use of Cookies

.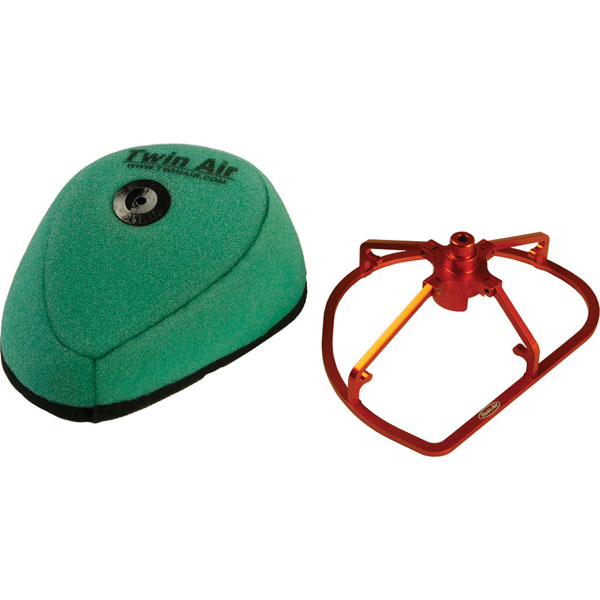 Free Shipping Over $49

Low Price Guarantee

No Hassle Returns

The best air filter in the world can't do it's job if there are leaks in the seal of the airbox. Twin Air's Power Flow Air Filter Kits ensure a leak proof, fool proof fit to your motorcycle, quad or SxS. Many applications come with a rigid, lightweight, billet aluminum cage that replaces your flimsy, plastic stock cage, and a billet aluminum flange with a rubber seal that bolts tight to your airbox. Power Flow Kits for ATVs are custom designed to each unique application for superior airflow, improved sealing surface, removal of the restrictive backfire screen, and ease of service.
Complete power flow air filter kit with a fused, dual layer offroad air filter for motorcycles, ATVs/UTVs, quads and side-by-sides
Increases airflow, power, and dirt protection - contents of kit varies by application
Coarse, open pore outer foam catches airborne dirt, grime and sand before they can damage your engine
Fine pore inner foam acts as a second filter to trap the smallest particles, while ensuring maximum air passage
On four stroke applications, a free flowing, backfire resistant foam is laminated to the inside of the air filter eliminating the restrictive, stock backfire screen
Thick, flat foam greaseless sealing ring ensures maximum contact with your airbox, while acting as a breathable gasket for increased air passage
Fused inner and outer elements prevent dirt and grime from being lodged between layers
Washable/reusable design for enhanced cost effectiveness, reusing a Twin Air foam air filter 40-50 times is common
Exclusively formulated adhesive withstands repeated cleanings, even with harsh solvents or gasoline
Slightly smaller than stock filters to increase air space around the filter and improve circulation
High quality construction, assembled by hand and inspected for a perfect fit
Evenly sized and distributed cell pores for even coating of air filter oil
Air filter pre-oiled with Twin Air BIO Foam Filter Oil using state of the art filter oiling machines, which provide ultimate consistency in pore coverage
Green BIO Liquid Power air filter oil micro-coats the foam cell walls and prevents dirt, dust, mud and even water from entering your carburetor
Boost your vehicle's performance with the first biodegradable air filter oil that works in all riding conditions, with the added convenience of wash down the drain cleaning
Replacement air filters sold separately
Note: Image for reference only. Actual product may vary according to vehicle.
Note: This product may not be legal for sale or use in California or in other localities due to state and/or federal anti-tampering laws. Refer to chaparral-racing.com/terms before purchasing.
Specifications
SKU
W22-156060P
Brand
Twin Air

California Prop 65
WARNING: Cancer and Reproductive Harm - www.P65Warnings.ca.gov
Part Numbers
| | SKU | MPN | Availability | In-Store Pickup |
| --- | --- | --- | --- | --- |
| | W22-156060P | 156060P | 10+ In Stock. Ready to ship. | - |
| | W22-156065P | 156065P | 10+ In Stock. Ready to ship. | - |
| | W22-156061P | 156061P | 10+ In Stock. Ready to ship. | - |
| | W22-151916P | 151916P | 10+ In Stock. Ready to ship. | - |
| | W22-155510P | 155510P | 10+ In Stock. Ready to ship. | - |
| | W22-150231C | 150231C | 10+ In Stock. Ready to ship. | - |
| | W22-515 | 150198CC | 10+ In Stock. Ready to ship. | 8 In Stock. |
| | W22-151122C | 151122C | 10+ In Stock. Ready to ship. | - |
| | W22-150225C | 150225C | 10+ In Stock. Ready to ship. | - |
| | W22-151125C | 151125C | 10+ In Stock. Ready to ship. | - |
| | W22-150210C | 150210C | 10+ In Stock. Ready to ship. | 3 In Stock. |
| | W22-154523P | 154523P | 10+ In Stock. Ready to ship. | - |
| | W22-153915C | 153915C | 9 In Stock. Ready to ship. | - |
| | W22-152219C | 152219C | 9 In Stock. Ready to ship. | 2 In Stock. |
| | W22-156120P | 156120P | 8 In Stock. Ready to ship. | - |
| | W22-156063P | 156063P | 8 In Stock. Ready to ship. | - |
| | W22-152215C | 152215C | 8 In Stock. Ready to ship. | - |
| | W22-154220C | 154220C | 7 In Stock. Ready to ship. | - |
| | W22-152313C | 152313C | 7 In Stock. Ready to ship. | - |
| | W22-154217C | 154217C | 6 In Stock. Ready to ship. | - |
| | W22-150222C | 150222C | 6 In Stock. Ready to ship. | - |
| | W22-156090P | 156090P | 5 In Stock. Ready to ship. | - |
| | W22-154221C | 154221C | 5 In Stock. Ready to ship. | - |
| | W22-154219C | 154219C | 5 In Stock. Ready to ship. | - |
| | W22-154218C | 154218C | 5 In Stock. Ready to ship. | - |
| | W22-154212C | 154212C | 5 In Stock. Ready to ship. | - |
| | W22-153221C | 153221C | 5 In Stock. Ready to ship. | - |
| | W22-153216C | 153216C | 5 In Stock. Ready to ship. | - |
| | W22-153215C | 153215C | 5 In Stock. Ready to ship. | - |
| | W22-151118C | 151118C | 5 In Stock. Ready to ship. | - |
| | W22-150607P | 150607P | 5 In Stock. Ready to ship. | - |
| | W22-150506P | 150506P | 4 In Stock. Ready to ship. | 2 In Stock. |
| | W22-156147P | 156147P | 3 In Stock. Ready to ship. | 3 In Stock. |
| | W22-150229C | 150229C | 3 In Stock. Ready to ship. | - |
| | W22-156149P | 156149P | 2 In Stock. Ready to ship. | 2 In Stock. |
| | W22-152213C | 152213C | 2 In Stock. Ready to ship. | - |
| | W22-150220C | 150220C | 2 In Stock. Ready to ship. | 2 In Stock. |
| | W22-156141P | 156141P | 1 In Stock. Ready to ship. | - |
| | W22-156082P | 156082P | 1 In Stock. Ready to ship. | - |
| | W22-156058P | 156058P | 1 In Stock. Ready to ship. | - |
| | W22-154520C | 154520C | 1 In Stock. Ready to ship. | - |
| | W22-154216C | 154216C | 1 In Stock. Ready to ship. | - |
| | W22-154214C | 154214C | 1 In Stock. Ready to ship. | - |
| | W22-153911C | 153911C | 1 In Stock. Ready to ship. | - |
| | W22-152909C | 152909C | 1 In Stock. Ready to ship. | - |
| | W22-152217C | 152217C | 1 In Stock. Ready to ship. | - |
| | W22-150601P | 150601P | 1 In Stock. Ready to ship. | - |
| | W22-158351C | 158351C | Unavailable. | - |
| | W22-158350C | 158350C | Unavailable. | - |
| | W22-158186C | 158186C | Unavailable. | - |
| | W22-158043C | 158043C | Unavailable. | - |
| | W22-158042C | 158042C | Unavailable. | - |
| | W22-158041C | 158041C | Unavailable. | - |
| | W22-157035C | 157035C | Unavailable. | - |
| | W22-157033C | 157033C | Unavailable. | - |
| | W22-157005C | 157005C | Unavailable. | - |
| | W22-156148P | 156148P | Unavailable. | - |
| | W22-156146P | 156146P | Unavailable. | - |
| | W22-156142C | 156142C | Unavailable. | - |
| | W22-156100P | 156100P | Unavailable. | - |
| | W22-156088P | 156088P | Unavailable. | - |
| | W22-156084P | 156084P | Unavailable. | - |
| | W22-154223C | 154223C | Unavailable. | - |
| | W22-154222C | 154222C | Unavailable. | - |
| | W22-154210C | 154210C | Unavailable. | - |
| | W22-154141C | 154141C | Unavailable. | - |
| | W22-153909C | 153909C | Unavailable. | - |
| | W22-152920C | 152920C | Unavailable. | - |
| | W22-152902CK | 152902CK | Unavailable. | - |
| | W22-152799C | 152799C | Unavailable. | - |
| | W22-152607C | 152607C | Unavailable. | - |
| | W22-151914C | 151914C | Unavailable. | - |
| | W22-151392C | 151392C | Unavailable. | - |
| | W22-151391C | 151391C | Unavailable. | - |
| | W22-150932P | 150932P | Unavailable. | - |
| | W22-150929C | 150929C | Unavailable. | - |
| | W22-150927C | 150927C | Unavailable. | - |
| | W22-150921C | 150921C | Unavailable. | - |
| | W22-150227C | 150227C | Unavailable. | - |
| | 323-0012 | 156150P | 8 In Stock. Ready to ship. | - |