By browsing, you consent to our

use of Cookies

.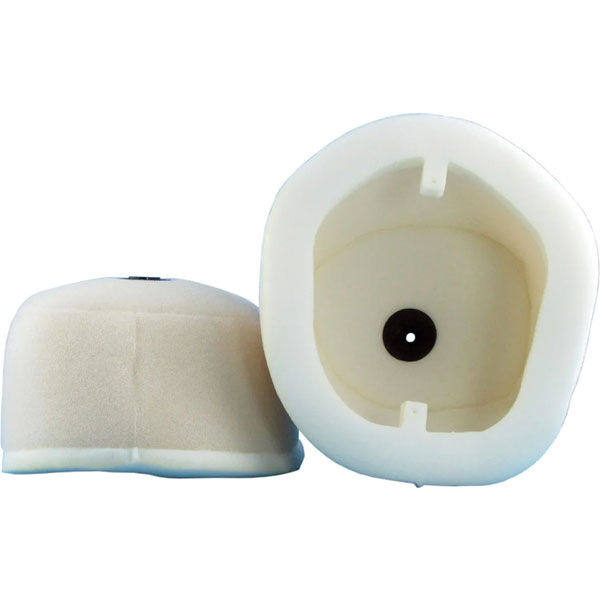 Free Shipping Over $75

Low Price Guarantee

No Hassle Returns

Ride in the desert often? This filter is for you! No-Toil's Extreme Air Filters are built with a dual stage foam with smaller pores, making them the best choice for standing up against the dustiest of conditions. Equipped with manufacturer's one year warranty.
Made from flame laminated dual layer foam bonded with high quality glue
Wide sealing ring and soft seams
For use in extremely dusty or sandy conditions where added protection is needed
Dirt stopping capabilities are highly increased, with only a possible slight reduction in airflow
Made to stand up to the roughest and toughest of riding styles and terrains
One year manufacturer's warranty
Note: Image for reference only. Product may vary according to vehicle.
Product may not be legal for sale or use in California or other localities due to state and/or federal anti-tampering laws. Refer to chaparral-racing.com/terms before purchasing.
No Toil Extreme Filter Air Filter
Specifications
SKU
040-X180-44
Brand
No Toil

California Prop 65
WARNING: Cancer and Reproductive Harm - www.P65Warnings.ca.gov
Part Numbers
| | SKU | MPN | Availability | In-Store Pickup |
| --- | --- | --- | --- | --- |
| | 040-X180-44 | X180-44 | 10+ In Stock. Ready to ship. | - |
| | 040-X120-46 | X120-46 | 10+ In Stock. Ready to ship. | - |
| | 040-X180-51 | X180-51 | 10+ In Stock. Ready to ship. | - |
| | 040-X140-44 | X140-44 | 10+ In Stock. Ready to ship. | - |
| | 040-X150-46 | X150-46 | 10+ In Stock. Ready to ship. | - |
| | 040-X150-45 | X150-45 | 10+ In Stock. Ready to ship. | - |
| | 040-X140-48 | X140-48 | 10+ In Stock. Ready to ship. | - |
| | 040-X140-46 | X140-46 | 10+ In Stock. Ready to ship. | 2 In Stock. |
| | 040-X120-52 | X120-52 | 10+ In Stock. Ready to ship. | - |
| | 040-X220-09 | X220-09 | 10 In Stock. Ready to ship. | - |
| | 040-X120-06 | X120-06 | 10 In Stock. Ready to ship. | - |
| | 040-X220-08 | X220-08 | 9 In Stock. Ready to ship. | - |
| | 040-X170-44 | X170-44 | 9 In Stock. Ready to ship. | - |
| | 040-X180-45 | X180-45 | 5 In Stock. Ready to ship. | - |
| | 040-X150-44 | X150-44 | 5 In Stock. Ready to ship. | - |
| | 040-X240-03 | X240-03 | 4 In Stock. Ready to ship. | - |
| | 040-X220-02 | X220-02 | 4 In Stock. Ready to ship. | - |
| | 040-X150-43 | X150-43 | 4 In Stock. Ready to ship. | - |
| | 040-X120-51 | X120-51 | 3 In Stock. Ready to ship. | - |
| | 040-X180-52 | X180-52 | 2 In Stock. Ready to ship. | - |
| | 040-X300-09 | X300-09 | 1 In Stock. Ready to ship. | - |
| | 040-X130-44 | X130-44 | 1 In Stock. Ready to ship. | - |
| | 040-X370-11 | X370-11 | Unavailable. | - |
| | 040-X300-04 | X300-04 | Unavailable. | - |
| | 040-X300-03 | X300-03 | Unavailable. | - |
| | 040-X300-02 | X300-02 | Unavailable. | - |
| | 040-X300-01 | X300-01 | Unavailable. | - |
| | 040-X270-11 | X270-11 | Unavailable. | - |
| | 040-X270-04 | X270-04 | Unavailable. | - |
| | 040-X170-43 | X170-43 | Unavailable. | - |
| | 040-X150-42 | X150-42 | Unavailable. | - |
| | 040-X140-45 | X140-45 | Unavailable. | - |
| | 040-X120-44 | X120-44 | Unavailable. | - |
| | 040-X120-43 | X120-43 | Unavailable. | - |
| | 040-X120-20 | X120-20 | Unavailable. | - |
| | 040-X110-01 | X110-01 | Unavailable. | - |