By browsing, you consent to our

use of Cookies

.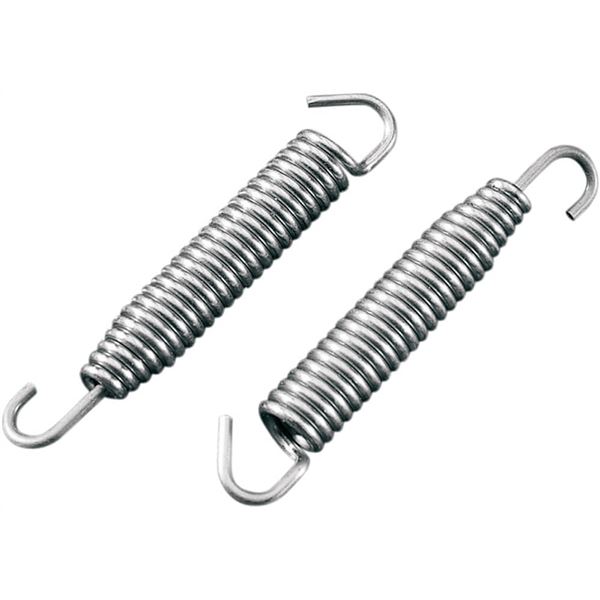 Free Shipping Over $75

Low Price Guarantee

No Hassle Returns
Stainless steel construction gives superior strength and appearance
Swivel hook design eliminates binding, extending spring life
Available for most late model 2 strokes and 4 stroke models
Sold in pairs
Made in the USA

Measuring:
Exhaust springs should be measured when they are off the vehicle.
The length measurement should be taken from the inside hook to the opposite end inside of hook.
For correct fit, exhaust spring should not be extended more than 20% of its free length.
Made of stainless steel, these exhaust springs have a swivel hook design to eliminate binding and extend the life of the spring. They have superior strength and are sold in pairs.
Specifications
SKU
M7714
Brand
Moose

California Prop 65
WARNING: Cancer and Reproductive Harm - www.P65Warnings.ca.gov
Part Numbers
| | SKU | MPN | Availability | In-Store Pickup |
| --- | --- | --- | --- | --- |
| 57mm | M7714 | 495-5700 | 10+ In Stock. Ready to ship. | 3 In Stock. |
| 75MM | M7711 | 495-7500 | 10+ In Stock. Ready to ship. | 3 In Stock. |
| 95MM | M7719 | 495-9500 | 10+ In Stock. Ready to ship. | 2 In Stock. |
| 90mm | M7718 | 495-9000 | 10+ In Stock. Ready to ship. | 2 In Stock. |
| 60 mm | M7715 | 495-6000 | 10+ In Stock. Ready to ship. | 2 In Stock. |
| 38 mm | M7713 | 495-3800 | 10+ In Stock. Ready to ship. | 2 In Stock. |
| 63mm | M7709 | 495-6300 | 10+ In Stock. Ready to ship. | 2 In Stock. |
| 70MM | M7716 | 495-7000 | 10+ In Stock. Ready to ship. | - |
| 80 mm | M7717 | 495-8000 | 10+ In Stock. Ready to ship. | - |
| 83MM | M7712 | 495-8300 | 10+ In Stock. Ready to ship. | 3 In Stock. |
| 100mm | M7720 | 495-9900 | 10+ In Stock. Ready to ship. | - |
| 67MM | M7710 | 495-6700 | Unavailable. | - |