By browsing, you consent to our

use of Cookies

.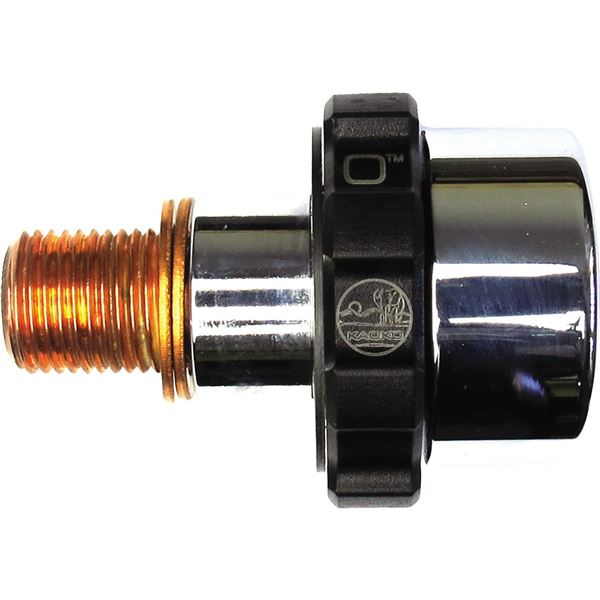 Fast, Free Shipping

Low Price Guarantee

No Hassle Returns

Kaoko Cruise Controls are purpose built for a variety of motorcycles over 600cc. They consist of a friction nut that is integral with a replacement handlebar end weight.
Throttle lock constructed with a high quality, compact and durable design with super smooth action
Greatly reduces rider fatigue and strain on hand and wrist
While riding, rider is able to remove hand from throttle grip, throttle opening will remain as set
Less wear and tear on throttle cables and linkages
Can result in reduced fuel consumption
Very simple to operate, even with heavy winter gloves
To install, simply remove the right hand bar weight, replace it with Kaoko's bar weight, and firmly tighten the central retaining screw
Takes less than 5 minutes to install
Very little maintenance is required
Note: Image for reference only. Actual product may vary according to vehicle.
Note: Honda AERO, Honda VTX750 Shadow, Honda VT1100 Shadow, Honda VT1100 Shadow Sabre, Honda VTX1300, Honda VTX1800, Honda Shadow AERO, Kawasaki ZX6R, Kawasaki ZX636 Ninja, Kawasaki ZX7R, Kawasaki ZX9, Kawasaki ZX10/R/RR, Kawasaki Vulcan, Suzuki Boulevard C109 and Suzuki Boulevard M109 include both right side throttle lock and matching left side handlebar weight.
Specifications
SKU
277-SUZC109
Brand
Kaoko

California Prop 65
WARNING: Cancer and Reproductive Harm - www.P65Warnings.ca.gov
Part Numbers
| | SKU | MPN | Availability | In-Store Pickup |
| --- | --- | --- | --- | --- |
| Chrome | 277-SUZC109 | KAO.SUZC109 | 1 In Stock. Ready to ship. | - |
| Black | 277-SUZ100 | KAO.SUZ100 | 1 In Stock. Ready to ship. | - |
| Black | 277-YAMSTAR | KAO.YAMSTAR | Unavailable. | - |
| Black | 277-YAMLINER | KAO.YAMLINER | Unavailable. | - |
| Black | 277-YAM500 | KAO.YAM500 | Unavailable. | - |
| Black | 277-VS650W | KAO.VS650W | Unavailable. | - |
| Chrome | 277-TCH08 | KAO.T.CH.0.8 | Unavailable. | - |
| Chrome | 277-SUZM109 | KAO.SUZM109 | Unavailable. | - |
| Black | 277-SUZ400 | KAO.SUZ400 | Unavailable. | - |
| Black | 277-KAW400 | KAO.KAW400 | Unavailable. | - |
| Black | 277-KAW200 | KAO.KAW200 | Unavailable. | - |
| Black | 277-KAOYAMTMAX | KAO.YAMTMAX | Unavailable. | - |
| Black | 277-KAOYAM810 | KAO.YAM810 | Unavailable. | - |
| Black | 277-KAOYAM700 | KAO.YAM700 | Unavailable. | - |
| Black | 277-KAOYAM650 | KAOYAM650 | Unavailable. | - |
| Black | 277-KAOYAM610 | KAO.YAM610 | Unavailable. | - |
| Black | 277-KAOYAM600 | KAO.YAM600 | Unavailable. | - |
| Silver | 277-KAOYAM300S | KAO.YAM300S | Unavailable. | - |
| Black | 277-KAOYAM300B | KAO.YAM300B | Unavailable. | - |
| Black | 277-KAOVS650WPT | KAO.VS650WPT | Unavailable. | - |
| Black | 277-KAOVS650W-S | KAO.VS650W-S | Unavailable. | - |
| Black | 277-KAOVS650 | KAO.VS650 | Unavailable. | - |
| Black | 277-KAOVS1000UWPT | KAO.VS1000UWPT | Unavailable. | - |
| Black | 277-KAOVS1000UW-S | KAO.VS1000UW-S | Unavailable. | - |
| Black | 277-KAOVICSNUBGUN | KAO.VICSNUBGUN | Unavailable. | - |
| Black | 277-KAOVICSNUB | KAO.VICSNUB | Unavailable. | - |
| Black | 277-KAOVESP | KAO.VESP | Unavailable. | - |
| Chrome | 277-KAOV7100C | KAO.V7100C | Unavailable. | - |
| Black | 277-KAOV7100 | KAO.V7100 | Unavailable. | - |
| Black | 277-KAOUNIKIT17-4 | KAO.UNIKIT17-4 | Unavailable. | - |
| Black | 277-KAOTST1050 | KAO.TST1050 | Unavailable. | - |
| Black | 277-KAOTROCIII | KAO.TROCIII | Unavailable. | - |
| Black | 277-KAOTIGXC | KAO.TIGXC | Unavailable. | - |
| Black | 277-KAOTIG955 | KAO.TIG955 | Unavailable. | - |
| Black | 277-KAOTIG121 | KAO.TIG121 | Unavailable. | - |
| Black | 277-KAOTIG1200 | KAO.TIG1200 | Unavailable. | - |
| Black | 277-KAOTIG1050 | KAO.TIG1050 | Unavailable. | - |
| Black | 277-KAOTIG100 | KAO.TIG100 | Unavailable. | - |
| Black | 277-KAOTHRUX100 | KAO.TIG100 | Unavailable. | - |
| Black | 277-KAOTHRUX | KAO.THURX | Unavailable. | - |
| Black | 277-KAOTBIRDSSB | KAO.BIRDSSB | Unavailable. | - |
| Stainless Steel | 277-KAOTBIRDSS | KAO.BIRDSS | Unavailable. | - |
| Black | 277-KAOTBIRDB | KAO.BIRDB | Unavailable. | - |
| Black | 277-KAOTBIRD | KAO.TBIRD | Unavailable. | - |
| Stainless Steel | 277-KAOTB900 | KAO.TB900 | Unavailable. | - |
| Chrome | 277-KAOSUZ400C | KAO.SUZ400C | Unavailable. | - |
| Black | 277-KAOSUZ200-08 | KAO.SUZZ00-08 | Unavailable. | - |
| Black | 277-KAOSUZ200 | KAO.SUZ200 | Unavailable. | - |
| Black | 277-KAOSTRTWIN | KAO.STRTWIN | Unavailable. | - |
| Black | 277-KAOSTRIP11CRG | KAO.STRIP11CRG | Unavailable. | - |
| Black | 277-KAOSPTRIP11MIR | KAO.SPTRIP11MIR | Unavailable. | - |
| Black | 277-KAOSPTRIP11 | KAO.SPTRIP11 | Unavailable. | - |
| Black | 277-KAOSPTRIP | KAO.SPTRIP | Unavailable. | - |
| Black | 277-KAOSCRAMCBR | KAO.SCRAMCBR | Unavailable. | - |
| Black | 277-KAOSCRAM | KAO.SCRAM | Unavailable. | - |
| Black | 277-KAOPIA100 | KAO.PIA100 | Unavailable. | - |
| Black | 277-KAOPEGA | KAO.PEGA | Unavailable. | - |
| Black | 277-KAOMV105 | KAO.MV105 | Unavailable. | - |
| Black | 277-KAOMV100 | KAO.MV100 | Unavailable. | - |
| Black | 277-KAOMOTOBRE | KAO.MOTOBRE | Unavailable. | - |
| Black | 277-KAOKYM100 | KAO.KYM100 | Unavailable. | - |
| Black | 277-KAOKTMRC | KAO.KTMRC | Unavailable. | - |
| Black | 277-KAOKTMADHP2S | KAO.KTMADHP2 | Unavailable. | - |
| Black | 277-KAOKTMADHP2 | KAO.KTMAD | Unavailable. | - |
| Black | 277-KAOKTMAD | KAO.KTMAD | Unavailable. | - |
| Black | 277-KAOKTM100 | KAO.KTM100 | Unavailable. | - |
| Black | 277-KAOKBBAD | KAO.BBAD | Unavailable. | - |
| Black | 277-KAOKBB700-S | KAO.KBB700-S | Unavailable. | - |
| Black | 277-KAOKBB600 | KAO.KBB600 | Unavailable. | - |
| Black | 277-KAOKBB500 | KAO.KBB500 | Unavailable. | - |
| Black | 277-KAOKBB400 | KAO.KBB400 | Unavailable. | - |
| Black | 277-KAOKBB310 | KAO.KBB310 | Unavailable. | - |
| Black | 277-KAOKBB300 | KAO.KBB300 | Unavailable. | - |
| Black | 277-KAOKBB220 | KAO.KBB220 | Unavailable. | - |
| Black | 277-KAOKBB210 | KAO.KBB210 | Unavailable. | - |
| Black | 277-KAOKBB200REV1 | KAO.KBB200REV1 | Unavailable. | - |
| Black | 277-KAOKBB200 | KAO.KBB200 | Unavailable. | - |
| Black | 277-KAOKBB110 | KAO.KBB110 | Unavailable. | - |
| Black | 277-KAOKAW220 | KAO.KAW220 | Unavailable. | - |
| Black | 277-KAOKAW210 | KAO.KAW210 | Unavailable. | - |
| Black | 277-KAOKAW170 | KAO.KAW170 | Unavailable. | - |
| Black | 277-KAOKAW160 | KAO.KAW160 | Unavailable. | - |
| Black | 277-KAOKAW100 | KAO.KAW100 | Unavailable. | - |
| Black | 277-KAOHUS100 | KAO.HUS100 | Unavailable. | - |
| Black | 277-KAOHNDVARAOXF | KAO.HNDVARAOXF | Unavailable. | - |
| Black | 277-KAOHNDST | KAO.HNDST | Unavailable. | - |
| Black | 277-KAOHNDNT | KAO.HNDNT | Unavailable. | - |
| Black | 277-KAOHNDFJS | KAO.HNDFJS | Unavailable. | - |
| Black | 277-KAOHND325 | KAO.HND325 | Unavailable. | - |
| Black | 277-KAOHND320 | KAO.HND320 | Unavailable. | - |
| Stainless Steel | 277-KAOHND31SS | KAO.HND31SS | Unavailable. | - |
| Silver | 277-KAOHND31S | KAO.HND31S | Unavailable. | - |
| Black | 277-KAOHND31B | KAO.HND31B | Unavailable. | - |
| Black | 277-KAOHND315 | KAO.HND315 | Unavailable. | - |
| Black | 277-KAOHND310B | KAO.HND310B | Unavailable. | - |
| Black | 277-KAOHND305 | KAO.HND305 | Unavailable. | - |
| Black | 277-KAOHND30-19 | KAO.HND30-19 | Unavailable. | - |
| Black | 277-KAOHND30-17 | KAO.HND30-17 | Unavailable. | - |
| Black | 277-KAOHND200 | KAO.HND200 | Unavailable. | - |
| Chrome | 277-KAOHND100C | KAO.HND100C | Unavailable. | - |
| Black | 277-KAOHND100 | KAO.HND100 | Unavailable. | - |
| Black | 277-KAOGUZ120 | KAO.GUZ120 | Unavailable. | - |
| Black | 277-KAOGUZ115 | KAO.GUZ115 | Unavailable. | - |
| Chrome | 277-KAOENF100C | KAO.END100C | Unavailable. | - |
| Black | 277-KAOENF100B | KAO.ENF100B | Unavailable. | - |
| Black | 277-KAODUCST | KAO.DUCST | Unavailable. | - |
| Black | 277-KAODUC125CRG | KAO.DUC125CRG | Unavailable. | - |
| Black | 277-KAODUC125 | KAO.DUC125 | Unavailable. | - |
| Black | 277-KAODUC110 | KAO.DUC110 | Unavailable. | - |
| Black | 277-KAODUC100 | KAO.DUC100 | Unavailable. | - |
| Black | 277-KAODR650SE | KAO.DR650SE | Unavailable. | - |
| Black | 277-KAOCCF918 | KAO.CFF918 | Unavailable. | - |
| Black | 277-KAOCCF917 | KAO.CFF917 | Unavailable. | - |
| Black | 277-KAOCCF916 | KAO.CFF916 | Unavailable. | - |
| Chrome | 277-KAOCCF915C | KAO.CCF915C | Unavailable. | - |
| Black | 277-KAOCCF915 | KAO.CCF915 | Unavailable. | - |
| Black | 277-KAOCCF910 | KAO.CFF910 | Unavailable. | - |
| Black | 277-KAOCCF900 | KAO.CFF900 | Unavailable. | - |
| Black | 277-KAOCCF800 | KAO.CFF800 | Unavailable. | - |
| Black | 277-KAOCCF700 | KAO.CFF700 | Unavailable. | - |
| Chrome | 277-KAOCCF600C | KAO.CFF600C | Unavailable. | - |
| Black | 277-KAOCCF600 | KAO.CFF600 | Unavailable. | - |
| Black | 277-KAOCCF500 | KAO.CFF500 | Unavailable. | - |
| Black | 277-KAOCCF400-13WC | KAO.CFF400-13WC | Unavailable. | - |
| Black | 277-KAOCCF400-08 | KAO.CFF400-08 | Unavailable. | - |
| Black | 277-KAOCCF400 | KAO.CFF400 | Unavailable. | - |
| Black | 277-KAOCCF300U | KAO.CFF300U | Unavailable. | - |
| Black | 277-KAOCCF300 | KAO.CFF300 | Unavailable. | - |
| Black | 277-KAOCCF200 | KAO.CFF200 | Unavailable. | - |
| Chrome | 277-KAOCCF130C | KAO.CCF130C | Unavailable. | - |
| Black | 277-KAOCCF130 | KAO.CCF130 | Unavailable. | - |
| Black | 277-KAOCCF120 | KAO.CCF120 | Unavailable. | - |
| Black | 277-KAOCCF112 | KAO.CCF112 | Unavailable. | - |
| Black | 277-KAOCCF110 | KAO.CFF110 | Unavailable. | - |
| Black | 277-KAOCCF100 | KAO.CCF100 | Unavailable. | - |
| Black | 277-KAOCAPO | KAO.CAPO | Unavailable. | - |
| Black | 277-KAOCAN200 | KAO.CAN200 | Unavailable. | - |
| Black | 277-KAOCAN100S | KAO.CAN100S | Unavailable. | - |
| Black | 277-KAOCAG100 | KAO.CAG100 | Unavailable. | - |
| Black | 277-KAOBONI | KAO.BONI | Unavailable. | - |
| Black | 277-KAOBON120 | KAP.BON120 | Unavailable. | - |
| Black | 277-KAOAPR500 | KAO.APR500 | Unavailable. | - |
| Black | 277-KAOAPR400 | KAO.APR400 | Unavailable. | - |
| Chrome | 277-KAOAPR300C | KAO.APR300C | Unavailable. | - |
| Black | 277-KAOAPR300 | KAO.APR300 | Unavailable. | - |
| Black | 277-KAOAPR200 | KAO.APR200 | Unavailable. | - |
| Black | 277-KAO-YAM630 | KAO.YAM630 | Unavailable. | - |
| Black | 277-HND31 | HND31 | Unavailable. | - |
| Black | 277-HND28 | HND28 | Unavailable. | - |