By browsing, you consent to our

use of Cookies

.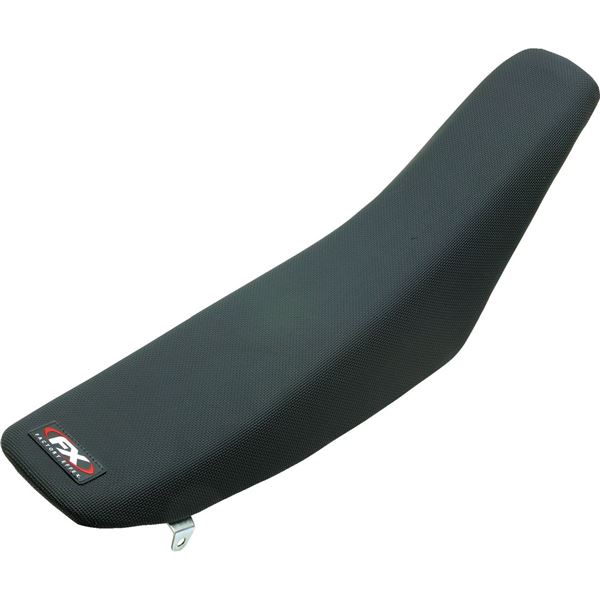 Free Shipping Over $75

Low Price Guarantee

No Hassle Returns

The All Grip seat cover is designed for riders looking for a durable seat cover for their dirt bike with a solid grip. Made from high durability Super Grip material, the All Grip seat cover gives you complete control in a no frills package.
Made from thick Ballistic Nylon Super Grip material
Designed for riders looking for a durable black seat with a solid grip
Durable rubberized maximum traction seat material with reinforced stitching
Locator pockets at nose and rear of cover for easy installation
Note: Image for reference only. Actual product may vary according to vehicle.
This durable and comfortable dirt bike seat cover provides a solid grip, so you can keep your focus on the race. Reinforced stitching ensures that this seat cover will be around for a while.
Specifications
SKU
FX16-24236
Brand
Factory Effex

California Prop 65
WARNING: Cancer and Reproductive Harm - www.P65Warnings.ca.gov
Part Numbers
| | SKU | MPN | Availability | In-Store Pickup |
| --- | --- | --- | --- | --- |
| Black | FX16-24236 | 16-24236 | 10 In Stock. Ready to ship. | - |
| Black | FX09-24410 | 09-24410 | 8 In Stock. Ready to ship. | - |
| Black | FX09-24224 | 09-24224 | 5 In Stock. Ready to ship. | - |
| Black | FX17-24114 | 17-24114 | 4 In Stock. Ready to ship. | - |
| Black | FX09-24204 | 09-24204 | 4 In Stock. Ready to ship. | - |
| Black | FX10-24318 | 10-24318 | 3 In Stock. Ready to ship. | - |
| Black | FX10-24234 | 10-24234 | 3 In Stock. Ready to ship. | - |
| Black | FX09-24122 | 09-24122 | 3 In Stock. Ready to ship. | - |
| Black | FX17-24232 | 17-24232 | 2 In Stock. Ready to ship. | - |
| Black | FX16-24324 | 16-24324 | 1 In Stock. Ready to ship. | - |
| Black | FX15-24130 | 15-24130 | 1 In Stock. Ready to ship. | - |
| Black | FX13-24228 | 13-24228 | 1 In Stock. Ready to ship. | - |
| Black | FX10-24526 | 10-24526 | 1 In Stock. Ready to ship. | - |
| Black | FX07-24336 | 07-24336 | 1 In Stock. Ready to ship. | - |
| Black | FX07-24110 | 07-24110 | 1 In Stock. Ready to ship. | - |
| Black | FX06-24312 | 06-24312 | 1 In Stock. Ready to ship. | - |
| Black | FX06-24212 | 06-24212 | 1 In Stock. Ready to ship. | - |
| Black | FX06-24116 | 06-24116 | 1 In Stock. Ready to ship. | - |
| Black | FX06-24114 | 06-24114 | 1 In Stock. Ready to ship. | - |
| Black | FX24-24328 | 24-24328 | Unavailable. | - |
| Black | FX22-24640 | 22-24640 | Unavailable. | - |
| Black | FX22-24608 | 22-24608 | Unavailable. | - |
| Black | FX22-24606 | 22-24606 | Unavailable. | - |
| Black | FX22-24604 | 22-24604 | Unavailable. | - |
| Black | FX22-24602 | 22-24602 | Unavailable. | - |
| Black | FX22-24532 | 22-24532 | Unavailable. | - |
| Black | FX22-24508 | 22-24508 | Unavailable. | - |
| Black | FX22-24506 | 22-24506 | Unavailable. | - |
| Black | FX22-24504 | 22-24504 | Unavailable. | - |
| Black | FX22-24502 | 22-24502 | Unavailable. | - |
| Black | FX22-24202 | 22-24202 | Unavailable. | - |
| Black | FX22-24138 | 22-24138 | Unavailable. | - |
| Orange | FX22-23532 | 22-23532 | Unavailable. | - |
| Green | FX22-23138 | 22-23138 | Unavailable. | - |
| Black | FX21-24432 | 21-24432 | Unavailable. | - |
| Black | FX21-24234 | 21-24234 | Unavailable. | - |
| Yellow | FX21-23432 | 21-23432 | Unavailable. | - |
| Blue | FX21-23234 | 21-23234 | Unavailable. | - |
| Black | FX20-24326 | 20-24326 | Unavailable. | - |
| Red | FX20-23326 | 20-23326 | Unavailable. | - |
| Black | FX19-24630 | 19-24630 | Unavailable. | - |
| Black | FX19-24620 | 19-24620 | Unavailable. | - |
| Black | FX19-24530 | 19-24530 | Unavailable. | - |
| Orange | FX19-23530 | 19-23530 | Unavailable. | - |
| Orange | FX18-23526 | 18-23526 | Unavailable. | - |
| Yellow | FX18-23430 | 18-23430 | Unavailable. | - |
| Yellow | FX18-23426 | 18-23426 | Unavailable. | - |
| Blue | FX18-23332 | 18-23332 | Unavailable. | - |
| Red | FX18-23326 | 18-23326 | Unavailable. | - |
| Red | FX18-23324 | 18-23324 | Unavailable. | - |
| Blue | FX18-23228 | 18-23228 | Unavailable. | - |
| Blue | FX18-23226 | 18-23226 | Unavailable. | - |
| Green | FX18-23130 | 18-23130 | Unavailable. | - |
| Green | FX18-23126 | 18-23126 | Unavailable. | - |
| Black | FX14-24526 | 14-24526 | Unavailable. | - |
| Black | FX13-24426 | 13-24426 | Unavailable. | - |
| Black | FX13-24226 | 13-24226 | Unavailable. | - |
| Black | FX12-24510 | 12-24510 | Unavailable. | - |
| Black | FX12-24322 | 12-24322 | Unavailable. | - |
| Black | FX12-24126 | 12-24126 | Unavailable. | - |
| Black | FX11-24418 | 11-24418 | Unavailable. | - |
| Black | FX10-24424 | 10-24424 | Unavailable. | - |
| Black | FX09-24310 | 09-24310 | Unavailable. | - |
| Black | FX09-24210 | 09-24210 | Unavailable. | - |
| Black | FX09-24206 | 09-24206 | Unavailable. | - |
| Black | FX09-24202 | 09-24202 | Unavailable. | - |
| Black | FX08-24510 | 08-24510 | Unavailable. | - |
| Black | FX08-24416 | 08-24416 | Unavailable. | - |
| Black | FX08-24320 | 08-24320 | Unavailable. | - |
| Black | FX07-24508 | 07-24508 | Unavailable. | - |
| Black | FX07-24332 | 07-24332 | Unavailable. | - |
| Black | FX07-24318 | 07-24318 | Unavailable. | - |
| Black | FX07-24128 | 07-24128 | Unavailable. | - |
| Black | FX07-24126 | 07-24126 | Unavailable. | - |
| Black | FX07-24118 | 07-24118 | Unavailable. | - |
| Black | FX07-24108 | 07-24108 | Unavailable. | - |
| Black | FX07-24106 | 07-24106 | Unavailable. | - |
| Black | FX06-24518 | 06-24518 | Unavailable. | - |
| Black | FX06-24516 | 06-24516 | Unavailable. | - |
| Black | FX06-24512 | 06-24512 | Unavailable. | - |
| Black | FX06-24414 | 06-24414 | Unavailable. | - |
| Black | FX06-24412 | 06-24412 | Unavailable. | - |
| Black | FX06-24330 | 06-24330 | Unavailable. | - |
| Black | FX06-24320 | 06-24320 | Unavailable. | - |
| Black | FX06-24316 | 06-24316 | Unavailable. | - |
| Black | FX06-24314 | 06-24314 | Unavailable. | - |
| Black | FX06-24232 | 06-24232 | Unavailable. | - |
| Black | FX06-24230 | 06-24230 | Unavailable. | - |
| Black | FX06-24220 | 06-24220 | Unavailable. | - |
| Black | FX06-24218 | 06-24218 | Unavailable. | - |
| Black | FX06-24214 | 06-24214 | Unavailable. | - |
| Black | FX06-24124 | 06-24124 | Unavailable. | - |
| Black | FX06-24118 | 06-24118 | Unavailable. | - |
| Black | FX06-24112 | 06-24112 | Unavailable. | - |
| Black | FX04-3001 | | Unavailable. | - |