By browsing, you consent to our

use of Cookies

.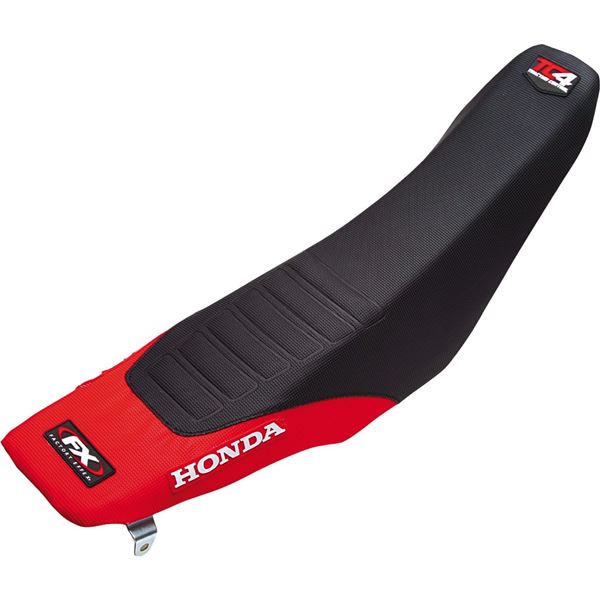 Free Shipping Over $75

Low Price Guarantee

No Hassle Returns

Factory Effex has designed a seat cover kit with never before used seat technology. The TC4 comes with Dura Grip material that has integrated embossed top seat ribs that keep you positioned on the motorcycle where you need to be. The TC4 features original color matched rear panel, raised O.E.M logos and interlock stitching for long lasting wear.
Made with Dura grip material with embossed top seat ribs
Heavy duty DuraTech ballistic nylon reinforcements to prevent knee brace wear
Interlock stitching for long lasting wear
Raised O.E.M logos
Specifically designed for 4 strokes
Note: Image for reference only. Actual product may vary according to vehicle.
Factory Effex TC-4 Seat Cover
Specifications
SKU
FX12-27232
Brand
Factory Effex

California Prop 65
WARNING: Cancer and Reproductive Harm - www.P65Warnings.ca.gov
Part Numbers
| | SKU | MPN | Availability | In-Store Pickup |
| --- | --- | --- | --- | --- |
| Black/Blue | FX12-27232 | 12-27232 | 7 In Stock. Ready to ship. | - |
| Black/Green | FX12-27130 | 12-27130 | 6 In Stock. Ready to ship. | - |
| Black/Orange | FX12-27526 | 12-27526 | 2 In Stock. Ready to ship. | - |
| Black/Red | FX12-27326 | 12-27326 | 2 In Stock. Ready to ship. | - |
| Black/Red | FX12-27324 | 12-27324 | 1 In Stock. Ready to ship. | - |
| Black/Yellow | FX11-27424 | 11-27424 | 1 In Stock. Ready to ship. | - |
| Black/Yellow | FX11-27420 | 11-27420 | 1 In Stock. Ready to ship. | - |
| Black/Black | FX24-27328 | 24-27328 | Unavailable. | - |
| Black/Orange | FX22-27532 | 22-27532 | Unavailable. | - |
| Black/Green | FX22-27138 | 22-27138 | Unavailable. | - |
| Black/Yellow | FX21-27432 | 21-27432 | Unavailable. | - |
| Black/Red | FX21-27326 | 21-27326 | Unavailable. | - |
| Black/Blue | FX21-27234 | 21-27234 | Unavailable. | - |
| Black/Orange | FX19-27530 | 19-27530 | Unavailable. | - |
| Black/Yellow | FX12-27426 | 12-27426 | Unavailable. | - |
| Black/Blue | FX12-27228 | 12-27228 | Unavailable. | - |
| Black/Blue | FX12-27226 | 12-27226 | Unavailable. | - |
| Black/Green | FX12-27126 | 12-27126 | Unavailable. | - |
| Black/Orange | FX11-27522 | 11-27522 | Unavailable. | - |
| Black/Yellow | FX11-27422 | 11-27422 | Unavailable. | - |
| Black/Red | FX11-27322 | 11-27322 | Unavailable. | - |
| Black/Red | FX11-27320 | 11-27320 | Unavailable. | - |
| Black/Blue | FX11-27220 | 11-27220 | Unavailable. | - |
| Black/Green | FX11-27120 | 11-27120 | Unavailable. | - |