By browsing, you consent to our

use of Cookies

.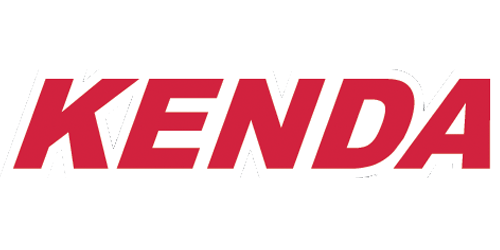 About Kenda
Every motorcycle and off-road vehicle needs quality tires for optimal performance. Kenda tires are known for their durability and performance. With a diverse product line featuring carefully crafted tread patterns, you can find ideal Kenda tires for muddy conditions, rugged terrain and everything in between. These tires are designed to provide superb traction and handling to enhance every riding experience. A 6-ply rated casing makes many models puncture resistant, enhancing their durability and providing peace of mind that your vehicle can successfully cross even the most rugged terrain. Because motorcycles and off-road vehicles come in a variety of shapes and sizes, most models of Kenda tires come in several size options. With a durable and versatile product line, Kenda tires can meet any customer's needs.
Popular Kenda
A great all-weather tire, the new Kenda Kruz tire is designed specifically for large bikes. The tread patterns are specifically geared towards all kinds of riding conditions, and its state-of-the-art new rubber compound technology improves riders' mileage significantly. Not only that, but the bias/belted casing design improves handling when carrying heavy loads. DOT approved and H-rated, this tire comes in 17 popular sizes and is guaranteed to stand up to whatever you throw at it.
The Kenda K657 Challenger Motorcycle Tire is an excellent model for touring. Similar to the Kruz tire with its all-weather tread pattern designs and tubeless construction, this model will stand up to even the thorniest conditions. Unlike the Kruz, however, this tire is meant for lightweight sport touring models and NOT recommended for high loads. It's DOT approved/H-rated and available in 14 popular sizes.
Kenda's new Big Block adventure bike tires are named for their tread pattern, which will handle beautifully at high speeds across all terrains, whether dirt, sand, mud, or pavement. These dual sport tires, which are puncture-resistant and tubeless, are designed with a rubber compound that specifically handles wet-slick and dry-hard packed terrain, so even the most reckless adventurers will have a hard time putting these tires through their paces. Whether you're driving through the city or through the backcountry, these Big Block tires will not disappoint. They are DOT and E-mark approved (50%/50% dirt/road application) and available in 9 popular sizes.
Kenda History
Kenda Rubber was founded in Yuanlin, Taiwan to produce bicycle tires in 1962. In 1970, they introduced motorcycle and scooter tires. In 1978, they introduced lawn and garden tires for mowers, carts, and other yardwork vehicles. In 1983, trailer tires came on the scene. In 1985, Kenda finished building its factory in Yun-Lin, and its stock was traded publicly on the Taiwan stock exchange not long after. In 1990, Kenda built its first factory in Shenzen, China, and a year later, it opened its first U.S.-based factory in Columbus, Ohio. After opening more factories in both China and the U.S., Kenda introduced its first golf-cart tires in 1995 and its first passenger car tires in 2001. That same year, it acquired Dexstar Wheel Company and established a joint venture with Cooper Tire in Kunshan, China. Throughout the early aughts Kenda continued to establish factories in both Shenzen and Tianjin, China. In 2012, the company celebrated its 50th anniversary, which coincided with the establishment of Kenda Europe in Germany. The early teens saw Kenda establish more technical centers in Europe, the United States, and Asia, and in 2017, Kenda acquired STARCO, a Danish company that distributes throughout Europe.