Don't Do The Dunes Without These Items
Chaparral Motorsports
|
September 24, 2019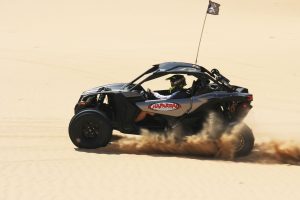 Spending a weekend shredding sand dunes with your side-by-side can be a lot of fun; it can also lead to a lot of trouble if you aren't properly prepared. Below we have compiled a list of items that we feel are essential to have in order to make the most of your sand session.
Recovery Strap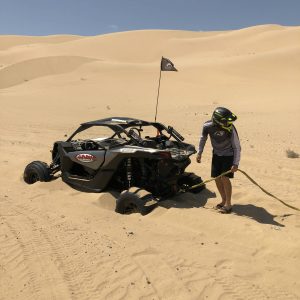 Look, it doesn't matter how good of a driver you are or think you are there's always the possibility that you'll end up getting dug into a spot that you just won't be able to crawl out of. Or you'll come across some poor soul that decided he didn't need a set of paddle tires and now their side-by-side is seat deep in sand. So do yourself and the rest of the sand duners out there a favor and grab a recovery strap.
We like the Speed Strap because it's effective and simple to use. No need for hooks or shackles, this heavy duty strap features loops woven into it that allows you to create loops at each end that you can wrap around sturdy points on each vehicle and then weave the ends back into the strap multiple times to create a secure metal free recovery strap. Speed Straps are available in 1 inch or 2 inch widths and range in length from 15 to 50 feet. The 1 inch is rated at 10,000 pounds and the 2 inch is rated at 20,000 pounds.
Sand Tires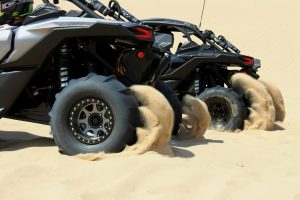 It's a question that people ask all the time, "Do I have to run paddle tires/sand tires in the dunes?" The answer is pretty simple, "No you don't have to, but you'll have a hell of a lot more fun if you do." You'll be able to climb faster and steeper and you'll find yourself looking for someone with a recovery strap less often. Sure you can run your stock tires or offroad tires and air them down but you'll still find your vehicle working harder and probably burning more fuel than those that are running paddle tires.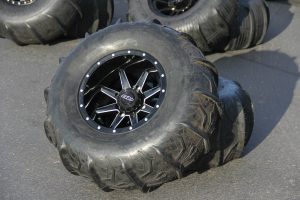 There's quite a few options to choose from when it comes to paddle for your side-by-side. Last year we took a pair of Can-Am Maverick X3s and an assortment of sand tires to test them head to head in hill climbs and flat drags to see which offer the best performance. You can see the results and accompanying videos in the previous links but the gist is, no matter what paddle tires you choose they'll outperform offroad tires in the dunes all day long.
Emergency Supplies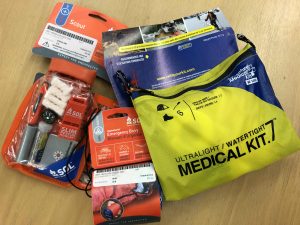 More than likely someone in your party is going to need some kind of medical attention. Whether it be something as simple as a bandage to dress a small finger tip cut, a couple Motrin to stave off the results of too much partying, or some antihistamine to treat allergies or itching from a bug bite the Ultralight Watertight First Aid Kit has a little bit of everything to treat a little bit of everything.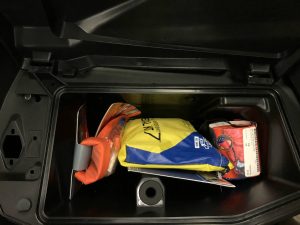 And if your going to be safe and pack a first aid kit, you might as well be well-prepared and pack some emergency survival supplies as well. The S.O.L. Survival Pack has a few basic items to help keep alive and help you get rescued should you find yourself...well S.O.L.. With this kit you get essential items like waterproof/windproof matches, a compass, a fishing/sewing kit, duct tape, mini rescue flash and trade signal mirror, as well a few other items. It might be pretty warm in the sand dunes during the day, but at night that sand can get pretty chilly, so don't forget to grab an Emergency Bivvy as well to help keep you warm when stranded in the middle of nowhere. The best things about all the items mentioned above, besides the fact that they can save your life, is that they are all extremely compact and can fit into the glove box of most side-by-sides.
Yamaha Generator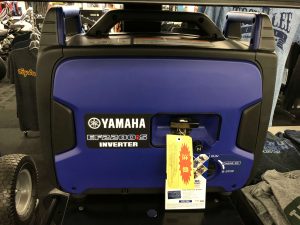 Nothing is better after a long day of shredding sand dunes than a frosty margarita. Unless your camper or toy hauler came with a generator, you're going to be hard pressed to find power in the middle of the desert. So it's best to juice up your camp with some portable power with a generator from Yamaha. The EF2200iS is an inverter generator that makes clean power and was designed with RV camping in mind. The unit only weighs 55 pounds is extremely quiet, has 12 volt outlets for all your devices and power needs, a 30 amp RV outlet and the ability to connect two units together to double your power. Quiet, efficient, and one of those things that can be used in an emergency at home in case of a blackout a generator comes in extremely handy for all sorts of situations-like blending up adult beverages.
AO Coolers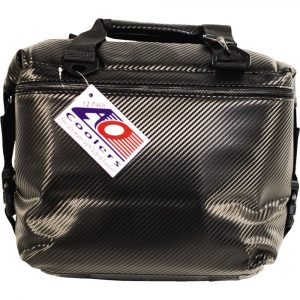 Speaking of beverages, no matter if it's a two seat Honda Talon or four seat RZR XP Turbo pretty much all side-by-sides come with beds to help haul gear so you might as well put that bed to use and carry around a cooler full of water-you know that life sustaining liquid that's just as difficult as power to find in the middle of the desert.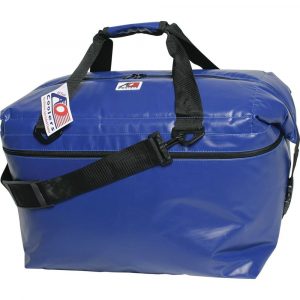 We like AO Coolers for several reasons: first of all it's a soft sided cooler that's extremely light and can be compressed down for more compact storage when not needed. AO Coolers can also keep your items cold and ice frozen for 24 hours in over 100 degree temperatures. The vinyl series is made from heavy duty UV protected 1000 denier vinyl that has a tear resistance of up to 375 pounds. There's an array of colors and sizes to choose from which means you can have a smaller 12 Pack travel cooler for toting around in the UTV and then the big 48 Pack Cooler for the campsite.
Ocelot AF-1 Helmet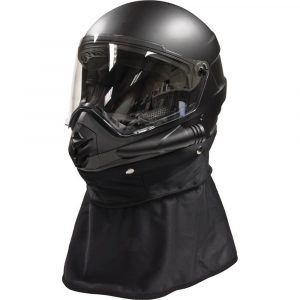 If you're tired of chewing on sand particles for hours on end after every ride then this helmet is for you. Designed to blow air into the helmet to maintain pressure and help keep sand and debris from flying in the new Ocelot AF-1 is an inexpensive solution to a clean ride through the dunes. The helmet has a side port that can be utilized with the Ocelot AF-1 Replacement Pump system or it can be used with a third party air pump system like the ones that PCI Race Radios offer. If you don't want to use a pump system, the combination of the flip down faceshield and the helmet skirt that comes with the helmet to cover the neck does a decent job of keeping sand out.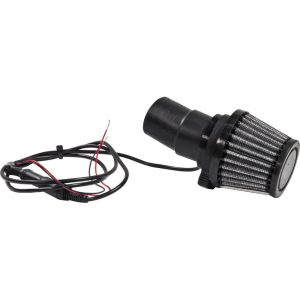 The nice thing about the Ocelot pump is that it's portable, extremely lightweight, and much less money than most other pump systems. The pump also comes with a quick disconnect wiring lead that can be hooked up to a 12-volt power source. Basically you can get the helmet and pump for less than you can get a pump from most others.
Sand Goggles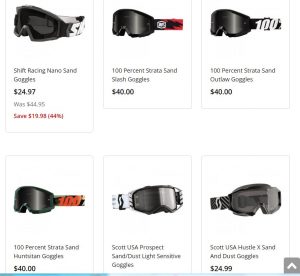 If you don't wear a helmet or you helmet doesn't have a faceshield then you'll definitely want to wear a pair of sand goggles. No matter if you're the driver or a passenger you won't be having any fun or seeing anything if your eyes are filled with sand. You can wear standard moto goggles, however sand goggle usually have special features like double or triple layer foam or specially designed foam to help keep sand from getting into your eyes.
Rotopax Spare Fuel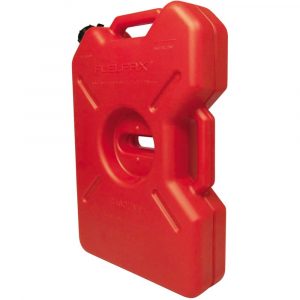 If you've ever run out of fuel on the side of the road then you know how easy it can be to get some roadside assistance from a company like AAA? Well it's not as easy out in the sand dunes. For one depending on your location you might not be able to get cell service to call anyone for help. And if you can't place a call good luck pushing your SXS back to camp or anywhere for that matter.
The best thing you can do to help keep from getting stranded in the middle of a giant sandbox is to haul gas with a Rotopax fuel container. Available in various sizes from one gallon up to four gallons you can load up your machine with these stackable fuel containers and save yourself or someone else from a dry spell. Rotopax offer all sorts of different mounts so you can secure them to your roll bar or whatever way best suits your ride.
Whip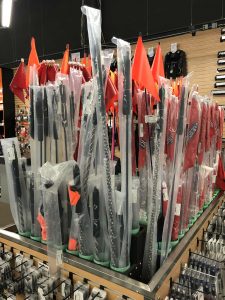 Pretty much all recreation areas that have sand dunes require all vehicles riding on the dunes to have a whip mounted to the rear. It may not have to be one of those fancy LED lighted whips that you see all over the place but it most likely has to be about 8-feet tall from the ground to the tip when mounted. The flag can be a triangle, square, or rectangle, but it has to be at least 6 inches x 12 inches in size, can't be mounted more than 10 inches from the top, and has to be either red or orange in color.
Spare Belt
Hill climbs and roosting your buddies in a sheet of flying sand is fun and all but your vehicle works a lot harder and hotter when driving in sand. Heat can be a belt killer and can wreak havoc on a fresh belt if you are really driving aggressively and not letting things cool down once in a while. Just like running out of fuel, if you bust a belt out in the middle of the dunes it could be a long time or a long walk before you get help. If your vehicle is belt driven there's no reason why you shouldn't always have a spare belt on hand. Belts are pretty compact and can easily be stowed so that they are out of the way until needed. You can even pick up a belt bag like the one offered from PRP Seats or a mount to keep your spare secure.
Battery/Phone Charger
Antigravity Batteries Micro-Start personal power supplies are so convenient and handy after you use one you'll probably pick up a couple more. Seriously these little bricks pack a punch but are so light and small you can fit them in your glovebox, doorbag, or even jacket pocket. The XP-3 Personal Power Supply only weighs about 12 ounces and measures 5 inches x 2-7/8 inches x 1 inch but comes with a ton of features. Amazingly this mighty juice box can jump start your side-by-side, car, or truck (up to 5.7 liter). It can also charge your phone, laptop, GoPro, tablet or other USB device that needs some life injected to it. Need an emergency flashlight, no problem the Micro-Start has one built in. Best of all, the XP-3 comes in a case that includes mini jumper cables and everything you need to charge your devices as well as recharge the unit itself. And if you find that you want even more power (because c'mon who doesn't?) there's the XP-1.
So there's our list of must have items that you should consider grabbing before heading out to the dunes. There's plenty of other items that could be added, so let's see your suggestions below.