Chaparral Motorsports 2018 ATV / UTV Sand Tire Flat Drag Challenge At Glamis Results
Chaparral Motorsports
|
October 23, 2018
|
Last Updated: February 1, 2021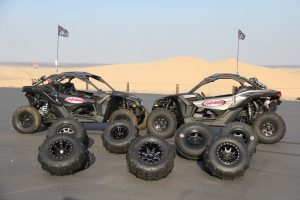 When it comes to running your UTV in the sand there's plenty of fun to be had spinning in and out of bowls, whipping a fat wake of sand off the peak of a dune, climbing the steepest hills you can find, and of course drag racing your buddy back to camp across the flats.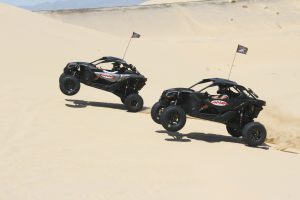 To get the most out of your dune experience you want to make sure you have the best tires for the job, which in this case means a good set of paddle tires or sand tires depending on what camp you come from. With our extensive inventory of UTV paddle tires we wanted to know how some of our more popular sand tires would perform head-to-head in various tasks out in the mecca of all sand pits, Glamis.
So we loaded up two Can-Am Maverick X3 rs' and mounted up six different rear sand tires: AMS Sand King, STI Sand Drifter, System 3 DS340, Quadboss QBT34, EFX Sand Slinger, and the Sand Stripper XLs from GMZ. With temperatures over 100 degrees in the middle of August out at Glamis, we decided to keep the day relatively simple and perform the two test that matter most to sand enthusiasts: hill climbing and drag racing. You can see the full hill climb results here.
For this article we are simply going to focus on going fast and which three sand tires performed that task best.
Our Flat Drag course consisted of a 1/8th-mile stretch of sand across the base of Comp Hill. All the tires were set at 7.5 PSI and all the runs were performed in 2-wheel drive, High. It should also be noted that we used the same front sand tires, GMZ Sand Stripper XL-TT, on both cars for all of the races. We lined up the two cars and fired them off in head-to-head full throttle drag races that reached speeds up to 80mph over the 660 foot strip. We ran three races with the cars switching lanes after each race to try and keep things as even as possible. After the three races were completed we would drive back to camp and swap out the rear tires on each car for a different set.
Top Three Sand Tires in our Flat Drag Challenge
Individual run results:

Time
Feet Traveled Per Second
Tire
1st run
2nd run
3rd run
Averaged Times
(3 Runs)
1st run
2nd run
3rd run
Averaged Feet Per Second
(3 Fixed Start Runs)
X Feet
Behind
the 1st
Place
Winner
Silver
EFX Sand Slinger
10.39
10.58
n/a
10.485
63.523
62.382
n/a
62.947
Winner
Silver
System 3 DS340
10.45
10.54
11.18
10.723
63.158
62.619
59.034
61.548
15.00
Black
Quadboss QBT346
11.07
10.60
10.79
10.820
59.621
62.264
61.168
60.998
21.09

Averaged
Tire Name
Average ET
Feet Per Second
Behind 1st Place Finisher in Feet
1st Place
EFX Sand Slinger
10.5
62.947
660 Feet in 10.485 Seconds
2nd Place
System 3 DS340
10.7
61.548
15.00
Feet
3rd Place
Quadboss QBT346
10.8
60.998
21.09
Feet

Single Run Fastest Tire of the Day
Run Time in Sec
Feet Per Second
Winner by x Feet
1st
EFX Sand Slinger 1st Run
10.39
63.523
660 Feet in 10.39 Seconds
2nd
System 3 DS340 1st Run
10.45
63.158
3.81
3rd
Quadboss QBT346 2nd Run
10.60
62.264
13.34