Chaparral Motorsports 2018 ATV / UTV Sand Tire Hill Climb Challenge At Glamis Results
Chaparral Motorsports
|
September 26, 2018
|
Last Updated: November 9, 2020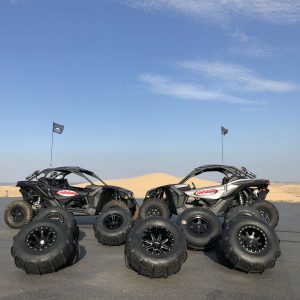 A couple weeks ago we posted an intro article about the Sand Tire Challenge we undertook out at Glamis. If you missed that article you can read it in full here, otherwise here's a quick synopsis:
We wanted to know exactly which UTV sand tires performed the best for the activities sand enthusiasts most commonly use their side-by-sides for, hill climbing and drag racing their buddies across the flats. So we loaded up a pair of Can-Am Maverick X3 xrs, mounted six pairs of our more popular paddle tires on wheels, and headed out to the Glamis Sand Dunes. For good measure and to show how a sand/paddle tire compares to an offroad tire in the dunes we also brought along a four Tensor Regulators and four Maxxis Big Horn 2.0 tires.
Tensor Regulator
Maxxis Big Horn 2.0
AMS Sand King
STI Sand Drifter
System 3 DS340
Quadboss QBT34
EFX SandSlinger
GMZ Sand Stripper XL
For the hill climb we marked off a 300-foot course up Competition Hill. Competition Hill isn't biggest or steepest dune out in Glamis, but it is highly popular and a reference point that most people that have been to Glamis will recognize. To try and keep everything on a fair playing field we set all the tires to the same air pressure of 7.5 PSI and all the runs were done in 2-wheel drive, High. We ran the course three times with the cars switching lanes each time. To start off we had one Maverick with Tensor Regulators at all four corners and the other with the Maxxis Big Horns and then raced the cars against each other. When it came to testing the sand tires we outfitted the front of the cars with GMS Sand Stripper XL-TT tires, and then swapped out the rear tires after each round of testing.
Here are the results for the hill climb test:
Overall Results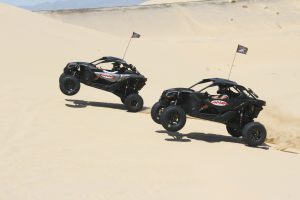 System 3 DS340 vs Quadboss QBT346
1st System 3 DS340
2nd EFX Sand Slinger
3rd STI Sand Drifter
4th AMS Sand King
5th Quadboss QBT346
6th GMZ Sand Stripper XL
7th Maxxis Big Horn 2.0
8th Tensor RegulatorIndividual Run Break Down
Hill Climb ET in Seconds
Feet Traveled Per Second
Tire Description
1st Hill Climb
2nd Hill Climb
3rd Hill Climb
Averaged Times (3 Fixed Start Runs)
1st Hill Climb
2nd Hill Climb
3rd Hill Climb
Averaged Times (3 Fixed Start Runs)
Overall 1st Place to 8th Place.
System 3 Paddle Tire DS340
8.77
8.71
8.58
8.687
34.208
34.443
34.965
34.536
1
EFX Sand Slinger Rear Paddle Tire
8.61
8.74
8.80
8.717
34.843
34.325
34.091
34.417
2
STI Stand Drifter Rear (vs. AMS Sand King)
8.49
9.28
9.16
8.977
35.336
32.328
32.751
33.420
3
AMS Sand King Rear (vs. STI Drifter)
9.16
8.90
8.96
9.007
32.751
33.708
33.482
33.309
4
Quadboss QBT346 Rear Paddle Tire
9.03
9.09
8.99
9.037
33.223
33.003
33.370
33.198
5
GMZ Sand Stripper XL Rear Paddle Tire
9.27
9.21
n/a
9.240
32.362
32.573
N/A
32.468
6
Maxxis Big Horn F / R Tire (vs. Tensor)
9.47
9.88
n/a
9.675
31.679
30.364
N/A
31.008
7
Tensor Regulator F / R Tire (vs. Bighorn)
11.40
11.65
n/a
11.525
26.316
25.751
N/A
26.030
8
Versus Results
Winner in Feet
OEM AT Tire vs. Popluar AT Upgrade Tire
Maxxis Big Horn vs. Tensor Regulator
9.675 vs 11.525
Big Horn was the winner by
57.36
Fastest AT Tire vs. Slowest Sand Tire
Maxxis Big Horn vs. Sandstripper Paddle Tire
9.675 vs 8.687
Sand Stripper was the winner by
14.12
Fastest Sand Tire vs. the Slowest Sand Tire
Sysetm 3 DS340 vs. GMZ Sand Stripper XL
8.687 vs. 9.240
System 3 was the winner by
19.11
1st Place Sand Tire vs. 2nd Place Sand Tire
System 3 DS340 vs. EFX Sand Slinger
8.687 vs. 8.717
System 3 was the winner by
1.04
1st Place Sand Tire vs. 3nd Place Sand Tire
System 3 DS340 vs. STI Sand Drifter
8.687 vs. 8.977
System 3 was the winner by
10.02
| | | | | |
| --- | --- | --- | --- | --- |
| Top 3 | Tire Name | Average ET | Feet Per Second | Behind 1st Place Finisher in Feet |
| 1st Place | System 3 DS340 | 8.687 | 34.536 | Winner : 300 Feet in 8.687 Seconds |
| 2nd Place | EFX Sand Slinger | 8.717 | 34.417 | 1.04 |
| 3rd Place | STI Stand Drifter | 8.977 | 33.420 | 10.02 |
Single Run Fastest Tire of the Day
Run Time in Sec
Feet Per Second
Winner by x Feet
1st
STI Sand Drifter 1st Run
8.49
35.336
Winner : 300 Feet in 8.49 Seconds
2nd
System 3 DS340 3rd Run
8.58
34.965
3.18
3rd
EFX Sand Slinger 1st Run
8.61
34.843
4.24