CHP Announces Arrest In Motorcycle And Car Road Rage Incident
Chaparral Motorsports
|
February 28, 2018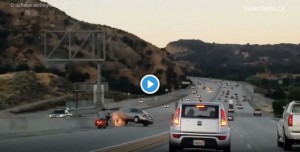 The world works in mysterious ways. Just yesterday were wrote about the motorcycle rider, Hammy Moto, who got into a speed wobble and ended up sliding underneath a tractor trailer at high speed and then popped out the opposite side with only a little bit of road rash. In that article we referenced another wild freeway accident that occurred last summer in which a Harley rider and car got into a road rage scuffle the led to a wild chain of events that left the car and another vehicle crashing into one another as the rider continued on.

After months of searching for the rider the, today during a press conference the CHP announced that they had arrested the 45-year-old rider, Andrew Flanigan on three felony charges of assault with a deadly weapon, reckless driving and hit-and-run.

According to ABC 7, California Highway Patrol Asst. Chief Mark Garrett said Flanigan was identified as the motorcyclist in the video and that CHP investigators and the Los Angeles County District Attorney's Office determined he had been most responsible for the crash. Flanigan was booked on $110,000 bail.

When we first posted this story and video back in June it cause quite a stir with our fans on Facebook with much debate as to who was responsible and who should be charged with what. The CHP and DA have made a determination, it will be interesting to see if that changes any opinions.