By browsing, you consent to our

use of Cookies

.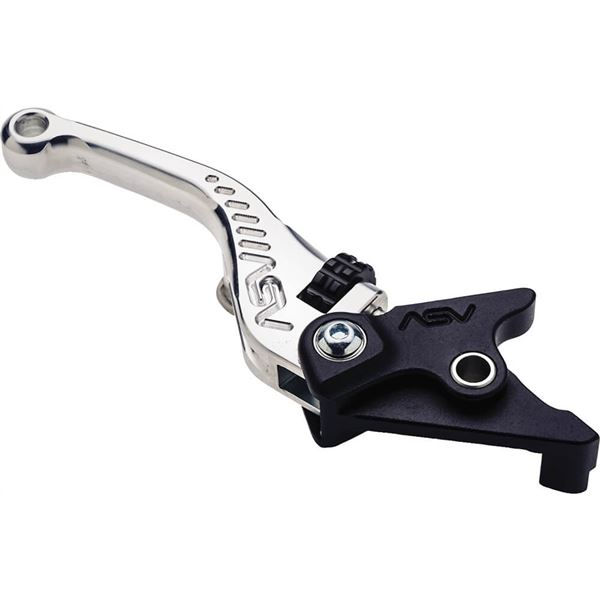 Fast, Free Shipping

Low Price Guarantee

No Hassle Returns

All ASV levers feature a special pivot design that allows the lever to fold out of harms way in the event of a crash or tip over of the bike. Instead of bending or breaking, ASV levers simply pivot outward when impact occurs and spring back instantly. The pivot function uses a pair of high quality chrome steel, ABEC rated precision sealed bearings for years of smooth operation and zero play or slop.
CNC machined from 6061 billet aluminum
Unbreakable lever with pivot design
Adjustable reach with 4 inches of range
Micro indexing dial adjuster with 180 increments
Precision sealed bearings in pivot
Standard lever is same length as stock lever
Shorty lever is 1 1/4" shorter than stock
5 year manufacturer's warranty
Made in the USA
Note: Image for reference only. Actual product may vary according to vehicle.
Specifications
SKU
BRC511-SK
Brand
ASV Inventions

California Prop 65
WARNING: Cancer and Reproductive Harm - www.P65Warnings.ca.gov
Part Numbers
| | SKU | MPN | Availability | In-Store Pickup |
| --- | --- | --- | --- | --- |
| Black Shorty | BRC511-SK | BRC511-SK | 2 In Stock. Ready to ship. | 2 In Stock. |
| Black Shorty | BRC520-SK | BRC520-SK | 1 In Stock. Ready to ship. | - |
| Black Standard | BRC511-K | BRC511-K | 1 In Stock. Ready to ship. | - |
| Silver Shorty | BRC555-SS | BRC555-SS | Unavailable. | - |
| Black Shorty | BRC555-SK | BRC555-SK | Unavailable. | - |
| Gold Shorty | BRC555-SG | BRC555-SG | Unavailable. | - |
| Silver Standard | BRC555-S | BRC555-S | Unavailable. | - |
| Black Standard | BRC555-K | BRC555-K | Unavailable. | - |
| Gold Standard | BRC555-G | BRC555-G | Unavailable. | - |
| Silver Shorty | BRC552-SS | BRC552-SS | Unavailable. | - |
| Black Shorty | BRC552-SK | BRC552-SK | Unavailable. | - |
| Gold Shorty | BRC552-SG | BRC552-SG | Unavailable. | - |
| Silver Standard | BRC552-S | BRC552-S | Unavailable. | - |
| Black Standard | BRC552-K | BRC552-K | Unavailable. | - |
| Gold Standard | BRC552-G | BRC552-G | Unavailable. | - |
| Silver Shorty | BRC550-SS | BRC550-SS | Unavailable. | - |
| Black Shorty | BRC550-SK | BRC550-SK | Unavailable. | - |
| Gold Shorty | BRC550-SG | BRC550-SG | Unavailable. | - |
| Silver Standard | BRC550-S | BRC550-S | Unavailable. | - |
| Black Standard | BRC550-K | BRC550-K | Unavailable. | - |
| Gold Standard | BRC550-G | BRC550-G | Unavailable. | - |
| Silver Shorty | BRC541-SS | BRC541-SS | Unavailable. | - |
| Black Shorty | BRC541-SK | BRC541-SK | Unavailable. | - |
| Gold Shorty | BRC541-SG | BRC541-SG | Unavailable. | - |
| Silver Standard | BRC541-S | BRC541-S | Unavailable. | - |
| Black Standard | BRC541-K | BRC541-K | Unavailable. | - |
| Gold Standard | BRC541-G | BRC541-G | Unavailable. | - |
| Silver Shorty | BRC540-SS | BRC540-SS | Unavailable. | - |
| Black Shorty | BRC540-SK | BRC540-SK | Unavailable. | - |
| Gold Shorty | BRC540-SG | BRC540-SG | Unavailable. | - |
| Black Standard | BRC540-K | BRC540-K | Unavailable. | - |
| Gold Standard | BRC540-G | BRC540-G | Unavailable. | - |
| Silver Shorty | BRC530-SS | BRC530-SS | Unavailable. | - |
| Black Shorty | BRC530-SK | BRC530-SK | Unavailable. | - |
| Gold Shorty | BRC530-SG | BRC530-SG | Unavailable. | - |
| Silver Standard | BRC530-S | BRC530-S | Unavailable. | - |
| Black Standard | BRC530-K | BRC530-K | Unavailable. | - |
| Gold Standard | BRC530-G | BRC530-G | Unavailable. | - |
| Silver Standard | BRC524-S | BRC524-S | Unavailable. | - |
| Black Standard | BRC524-K | BRC524-K | Unavailable. | - |
| Gold Standard | BRC524-G | BRC524-G | Unavailable. | - |
| Silver Shorty | BRC520-SS | BRC520-SS | Unavailable. | - |
| Gold Shorty | BRC520-SG | BRC520-SG | Unavailable. | - |
| Silver Standard | BRC520-S | BRC520-S | Unavailable. | - |
| Black Standard | BRC520-K | BRC520-K | Unavailable. | - |
| Gold Standard | BRC520-G | BRC520-G | Unavailable. | - |
| Black Shorty | BRC514-SK | BRC514-SK | Unavailable. | - |
| Silver Standard | BRC514-S | BRC514-S | Unavailable. | - |
| Black Standard | BRC514-K | BRC514-K | Unavailable. | - |
| Silver Shorty | BRC512-SS | BRC512-SS | Unavailable. | - |
| Black Shorty | BRC512-SK | BRC512-SK | Unavailable. | - |
| Gold Shorty | BRC512-SG | BRC512-SG | Unavailable. | - |
| Silver Standard | BRC512-S | BRC512-S | Unavailable. | - |
| Black Standard | BRC512-K | BRC512-K | Unavailable. | - |
| Gold Standard | BRC512-G | BRC512-G | Unavailable. | - |
| Silver Shorty | BRC511-SS | BRC511-SS | Unavailable. | - |
| Gold Shorty | BRC511-SG | BRC511-SG | Unavailable. | - |
| Silver Standard | BRC511-S | BRC511-S | Unavailable. | - |
| Gold Standard | BRC511-G | BRC511-G | Unavailable. | - |
| Silver Shorty | BRC510-SS | BRC510-SS | Unavailable. | - |
| Black Shorty | BRC510-SK | BRC510-SK | Unavailable. | - |
| Gold Shorty | BRC510-SG | BRC510-SG | Unavailable. | - |
| Silver Standard | BRC510-S | BRC510-S | Unavailable. | - |
| Black Standard | BRC510-K | BRC510-K | Unavailable. | - |
| Gold Standard | BRC510-G | BRC510-G | Unavailable. | - |