By browsing, you consent to our

use of Cookies

.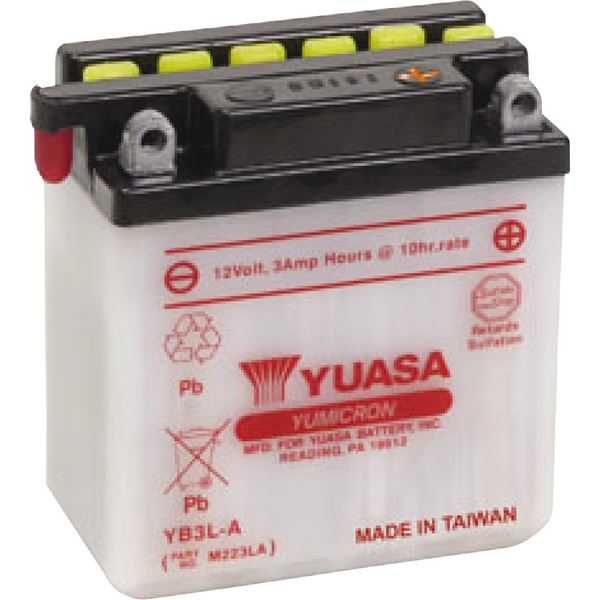 Free Shipping Over $75

Low Price Guarantee

No Hassle Returns

The Yuasa Yumicron Motorcycle Batteries have been designed with two extra plates per cell that helps to provide a longer life for your battery. The Yumicron Motorcycle Battery does not include the acid, however you should be able to find the acid at a local hardware store, car or ATV/motorcycle dealer. We suggest that you research where to find acid in your location before purchasing this battery. The battery will also require a charge prior to installation.
PP (Polypropylene) cover and container thwart damage from gas, oil, and impact
Heat-sealed, bonded unit fabrication protects against seepage and corrosion
Unique sealed posts resist corrosion for longer battery life
Special thin separators allow two extra plates per cell to be installed, for a 30% improvement in cranking performance
Sulfate stop to reduce battery sulfation
Patented separators provide high cranking power
Through-partition construction delivers maximum power
Engineered to protect against corrosion, withstand vibration, and deliver high cranking power
May need periodic refilling
12 Volt
One year manufacturer's warranty
Chaparral carries several Yuasa Yumicron Batteries including:51814, 51913, 53030, HYB16A-AB, SY50-N18L-AT (w/ sensor), SYB14L-A2 (w/ sensor), Y50-N18L-A, Y50-N18L-A3, YB3L-A, YB3L-B, YB4L-A, YB4L-B, YB5L-B, YB7B-B, YB7C-A, YB7L-B, YB9A-A, YB9-B, YB9L-A2, YB9L-B, YB10A-A2, YB10L-A2, YB10L-B, YB10L-B2, YB12A-A, YB12A-A (w/ sensor), YB12A-A (w/ terminal adaptor), YB12A-B, YB12AL-A, YB12AL-A2 (w/ terminal adaptor), YB12B-B2, YB12C-A, YB14-A2, YB14A-A1, YB14A-A2, YB14-B2, YB14L-A1, YB14L-A2, YB14L-A2 (w/ sensor), YB14L-B2, YB16AL-A2, YB16-B, YB16B-A, YB16B-A1 (w/ terminal adaptor), YB16C-B, YB16CL-B, YB16L-B, YB18-A, YB18L-A, YB30CL-B, and YB30L-B.
Specifications
SKU
358-1101
Brand
Yuasa

California Prop 65
WARNING: Cancer and Reproductive Harm - www.P65Warnings.ca.gov
Part Numbers
| | SKU | MPN | Availability | In-Store Pickup |
| --- | --- | --- | --- | --- |
| | 358-1101 | YUAM2S6CL | 10+ In Stock. Ready to ship. | 3 In Stock. |
| | 358-1088 | YUAM2214A | 10+ In Stock. Ready to ship. | - |
| | 358-1111 | YUAM22H30 | 10+ In Stock. Ready to ship. | 2 In Stock. |
| | 358-1100 | YUAM227CY | 10+ In Stock. Ready to ship. | - |
| | 358-1109 | YUAM2230C | 10+ In Stock. Ready to ship. | - |
| | 358-1056 | YUAM2214Y | 10+ In Stock. Ready to ship. | - |
| | 358-1004 | YUAM229BY | 10+ In Stock. Ready to ship. | 2 In Stock. |
| | 358-1086 | YUAM2214H | 10+ In Stock. Ready to ship. | - |
| | 358-1126 | YUAM222CA | 10+ In Stock. Ready to ship. | 3 In Stock. |
| | 358-1072 | YUAM2212Y | 10+ In Stock. Ready to ship. | - |
| | 358-1103 | YUAM224B2 | 10+ In Stock. Ready to ship. | - |
| | 358-1117 | YUAM221AY | 10+ In Stock. Ready to ship. | 2 In Stock. |
| | 358-1114 | YUAM227BB | 10+ In Stock. Ready to ship. | - |
| | 358-1066 | YUAM2210Y | 10+ In Stock. Ready to ship. | - |
| | 358-1078 | YUAM22162 | 10+ In Stock. Ready to ship. | - |
| | 358-1130 | YUAM2219A | 10+ In Stock. Ready to ship. | - |
| | 358-1057 | YUAM2218Y | 10+ In Stock. Ready to ship. | - |
| | 358-1065 | YUAM221L2 | 10+ In Stock. Ready to ship. | 2 In Stock. |
| | 358-1106 | YUAM224A1 | 10+ In Stock. Ready to ship. | - |
| | 358-1136 | YUAM22212 | 10+ In Stock. Ready to ship. | - |
| | 358-1097 | YUAM2221Y | 10+ In Stock. Ready to ship. | - |
| | 358-1115 | YUAM229LY | 10+ In Stock. Ready to ship. | 3 In Stock. |
| | 358-1081 | YUAM224LB | 10+ In Stock. Ready to ship. | - |
| | 358-1132 | YUAM2230B | 10+ In Stock. Ready to ship. | - |
| | 358-1123 | YUAM228A3 | 10+ In Stock. Ready to ship. | - |
| | 358-1102 | YUAM222AB | 10+ In Stock. Ready to ship. | - |
| | 358-1104 | YUAM22161 | 10+ In Stock. Ready to ship. | - |
| | 358-1118 | YUAM2214B | 10+ In Stock. Ready to ship. | - |
| | 358-1076 | YUAM221LB | 10+ In Stock. Ready to ship. | - |
| | 358-1074 | YUAM229AY | 10+ In Stock. Ready to ship. | - |
| | 358-1096 | YUAM2281Y | 10+ In Stock. Ready to ship. | - |
| | 358-1107 | YUAM226CB | 10+ In Stock. Ready to ship. | - |
| | 358-1093 | YUAM22S8T | 10+ In Stock. Ready to ship. | - |
| | 358-1116 | YUAM2292Y | 10+ In Stock. Ready to ship. | - |
| | 358-1070 | YUAM2216Y | 10+ In Stock. Ready to ship. | - |
| | 358-1090 | YUAM221B2 | 10+ In Stock. Ready to ship. | - |
| | 358-1099 | YUAM2216K | 10+ In Stock. Ready to ship. | 2 In Stock. |
| | 358-1085 | YUAM225LB | 7 In Stock. Ready to ship. | - |
| | 358-1112 | YUAM224LA | 4 In Stock. Ready to ship. | 3 In Stock. |
| | 358-1075 | YUAM2218L | 2 In Stock. Ready to ship. | 2 In Stock. |
| | 358-1073 | YUAM2273Y | 2 In Stock. Ready to ship. | 2 In Stock. |
| | 358-1110 | YUAM223LB | 1 In Stock. Ready to ship. | - |
| | 358-1131 | YUAM2219B | Unavailable. | - |
| | 358-1094 | YUAM22H6B | Unavailable. | - |
| | 358-1084 | YUAM223LA | Unavailable. | - |
| | 358-1059 | YUAM22141 | Unavailable. | - |