By browsing, you consent to our

use of Cookies

.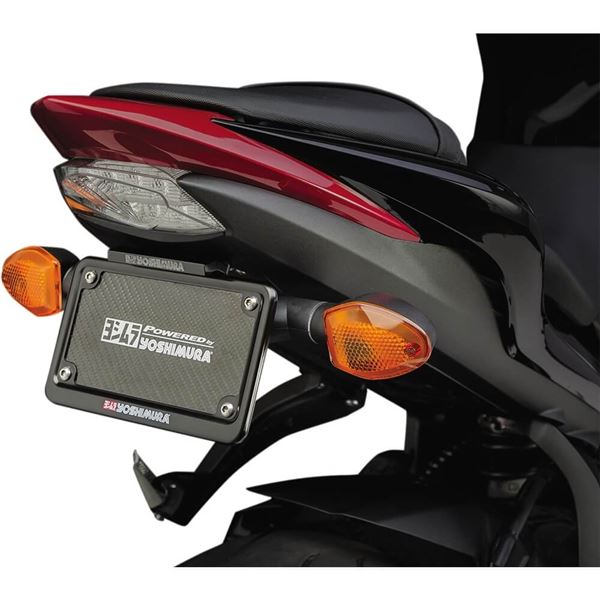 Free Shipping Over $75

Low Price Guarantee

No Hassle Returns

This kit incorporates Yoshimura's shrink solder connectors and their improved weather tight light housing, and brighter DOT compliant L.E.D. light.
Precision laser cut stainless steel bracket tucks discreetly under the tail section of the motorcycle
Easy to use heat shrink solder sleeve butt connectors
Black anodized aluminum license plate frame with silk screened Yoshimura logo included
Stainless steel hardware included
Improved DOT compliant L.E.D. light and housing
Improves overall look and reduces weight
Compatible with aftermarket turn signals when combined with Yoshimura's universal turn signal bracket kit (Sold separately)
Made in the USA
Note: Turn signals not included.
Note: Image for reference only. Actual product may vary according to vehicle.
Specifications
SKU
031-070BG121211
Brand
Yoshimura
Frequently Bought Together

California Prop 65
WARNING: Cancer and Reproductive Harm - www.P65Warnings.ca.gov
Part Numbers
| | SKU | MPN | Availability | In-Store Pickup |
| --- | --- | --- | --- | --- |
| | 031-070BG121211 | 070BG121211 | 10+ In Stock. Ready to ship. | - |
| | 031-070BG121300 | 070BG121300 | 10+ In Stock. Ready to ship. | - |
| | 031-070BG136311 | 070BG136311 | 10+ In Stock. Ready to ship. | - |
| | 031-070BG112102 | 070BG112102 | 10+ In Stock. Ready to ship. | - |
| | 031-070BG123502 | 070BG123502 | 10+ In Stock. Ready to ship. | - |
| | 031-070BG199590 | 070BG199590 | 10+ In Stock. Ready to ship. | - |
| | 031-070BG124500 | 070BG124500 | 10+ In Stock. Ready to ship. | - |
| | 031-070BG141602 | 070BG141602 | 10+ In Stock. Ready to ship. | - |
| | 031-070BG142100 | 070BG142100 | 10+ In Stock. Ready to ship. | - |
| | 031-070BG111001 | 070BG111001 | 10+ In Stock. Ready to ship. | - |
| | 031-070BG133201 | 070BG133201 | 10+ In Stock. Ready to ship. | - |
| | 031-070BG131001 | 070BG131001 | 10+ In Stock. Ready to ship. | - |
| | 031-070BG123001 | 070BG123001 | 10+ In Stock. Ready to ship. | - |
| | 031-070BG152002 | 070BG152002 | 10+ In Stock. Ready to ship. | - |
| | 031-070BG146420 | 070BG146420 | 10+ In Stock. Ready to ship. | - |
| | 031-070BG162901 | 070BG162901 | 10+ In Stock. Ready to ship. | - |
| | 031-070BG141821 | 070BG141821 | 10+ In Stock. Ready to ship. | - |
| | 031-070BG139911 | 070BG139911 | 10+ In Stock. Ready to ship. | - |
| | 031-070BG163901 | 070BG163901 | 10+ In Stock. Ready to ship. | - |
| | 031-070BG141402 | 070BG141402 | 10+ In Stock. Ready to ship. | - |
| | 031-070BG191350 | 070BG191350 | 10+ In Stock. Ready to ship. | - |
| | 031-070BG143601 | 070BG143601 | 10+ In Stock. Ready to ship. | - |
| | 031-070BG112601 | 070BG112601 | 10+ In Stock. Ready to ship. | - |
| | 031-070BG121010 | 070BG121010 | 10 In Stock. Ready to ship. | - |
| | 031-070BG111821 | 070BG111821 | 10 In Stock. Ready to ship. | - |
| | 031-070BG196751 | 070BG196751 | 9 In Stock. Ready to ship. | - |
| | 031-070BG116701 | 070BG116701 | 8 In Stock. Ready to ship. | - |
| | 031-070BG192501 | 070BG192501 | 7 In Stock. Ready to ship. | - |
| | 031-070BG149001 | 070BG149001 | 7 In Stock. Ready to ship. | - |
| | 031-070BG148001 | 070BG148001 | 7 In Stock. Ready to ship. | - |
| | 031-070BG126501 | 070BG126501 | 7 In Stock. Ready to ship. | - |
| | 031-070BG122021 | 070BG122021 | 7 In Stock. Ready to ship. | - |
| | 031-070BG120203 | 070BG120203 | 7 In Stock. Ready to ship. | - |
| | 031-070BG141503 | 070BG141503 | 5 In Stock. Ready to ship. | - |
| | 031-070BG131411 | 070BG131411 | 5 In Stock. Ready to ship. | - |
| | 031-070BG141802 | 070BG141802 | 4 In Stock. Ready to ship. | - |
| | 031-070BG136303 | 070BG136303 | 4 In Stock. Ready to ship. | - |
| | 031-070BG141511 | 070BG141511 | 3 In Stock. Ready to ship. | - |
| | 031-070BG141201 | 070BG141201 | 3 In Stock. Ready to ship. | - |
| | 031-070BG131404 | 070BG131404 | 3 In Stock. Ready to ship. | - |
| | 031-070BG121201 | 070BG121201 | 3 In Stock. Ready to ship. | - |
| | 031-194633 | 070BG140700 | 2 In Stock. Ready to ship. | 2 In Stock. |
| | 031-070BG121002 | 070BG121002 | 2 In Stock. Ready to ship. | - |
| | 031-194733 | 070BG122500 | 1 In Stock. Ready to ship. | - |
| | 031-070BG141703 | 070BG141703 | 1 In Stock. Ready to ship. | - |
| | 031-070BG139900 | 070BG139900 | 1 In Stock. Ready to ship. | - |
| | 031-070BG158002 | 070BG158002 | Unavailable. | - |
| | 031-070BG153500 | 070BG153500 | Unavailable. | - |
| | 031-070BG149500 | 070BG149500 | Unavailable. | - |
| | 031-070BG147100 | 070BG147100 | Unavailable. | - |
| | 031-070BG147001 | 070BG147001 | Unavailable. | - |
| | 031-070BG146511 | 070BG146511 | Unavailable. | - |
| | 031-070BG146502 | 070BG146502 | Unavailable. | - |
| | 031-070BG142001 | 070BG142001 | Unavailable. | - |
| | 031-070BG140702 | 070BG140702 | Unavailable. | - |
| | 031-070BG139901 | 070BG139901 | Unavailable. | - |
| | 031-070BG139600 | 070BG139600 | Unavailable. | - |
| | 031-070BG138002 | 070BG138002 | Unavailable. | - |
| | 031-070BG137500 | 070BG137500 | Unavailable. | - |
| | 031-070BG137001 | 070BG137001 | Unavailable. | - |
| | 031-070BG132102 | 070BG132102 | Unavailable. | - |
| | 031-070BG125511 | 070BG125511 | Unavailable. | - |
| | 031-070BG123501 | 070BG123501 | Unavailable. | - |
| | 031-070BG118011 | 070BG118011 | Unavailable. | - |
| | 031-070BG118001 | 070BG118001 | Unavailable. | - |
| | 031-070BG116002 | 070BG116002 | Unavailable. | - |
| | 031-070BG111802 | 070BG111802 | Unavailable. | - |