By browsing, you consent to our

use of Cookies

.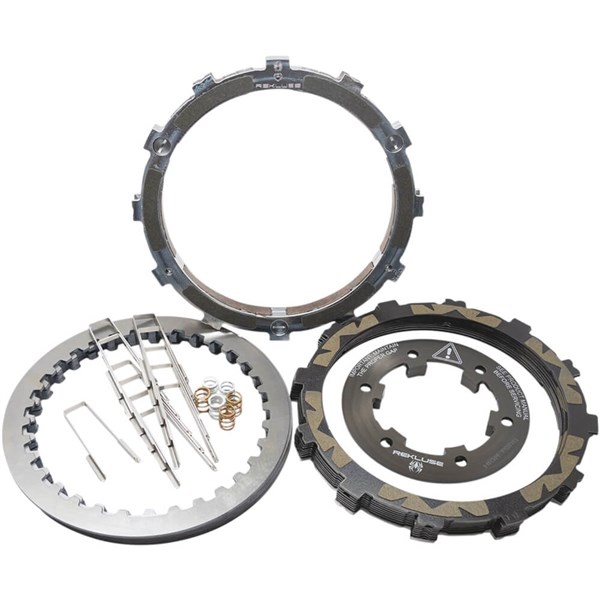 Fast, Free Shipping

Low Price Guarantee

No Hassle Returns

RadiusX is a high performance centrifugal auto clutch combining TorqDrive and EXP technologies. TorqDrive provides more clutch discs in less space, allowing for maximum performance within your bike's existing clutch footprint. You retain full control of shifting and use of your clutch lever with no compromise in power delivery.
EXP (auto clutch)
TorqDrive (clutch pack)
Dead on clutch engagement every time
Take off and stop in gear without using the clutch lever - no more stalls
Experience maximum power delivery
Confidently navigate traffic and slow speed conditions
TorqDrive clutch pack delivers higher torque capacity and increased power transfer
Rekluse sleeves eliminate basket wear and notching
Standard clutch lever function with full override
No modification to stock components
Shifting transmission remains unchanged (clutch lever use is recommended for shifting)
Note: Image for reference only. Actual product may vary according to vehicle.
Specifications
SKU
RMS-6205
Brand
Rekluse

California Prop 65
WARNING: Cancer and Reproductive Harm - www.P65Warnings.ca.gov
Part Numbers
| | SKU | MPN | Availability | In-Store Pickup |
| --- | --- | --- | --- | --- |
| | RMS-6205 | RMS-6205 | 10+ In Stock. Ready to ship. | - |
| | RMS-6208 | RMS-6208 | 10+ In Stock. Ready to ship. | - |
| | RMS-6201 | RMS-6201 | 10+ In Stock. Ready to ship. | - |
| | RMS-6301009 | RMS-6301009 | 10+ In Stock. Ready to ship. | - |
| | RMS-6307070 | RMS-6307070 | 10+ In Stock. Ready to ship. | - |
| | RMS-6302022 | RMS-6302022 | 10+ In Stock. Ready to ship. | - |
| | RMS-6301011 | RMS-6301011 | 10+ In Stock. Ready to ship. | - |
| | RMS-6307079 | RMS-6307079 | 10+ In Stock. Ready to ship. | - |
| | RMS-6202 | RMS-6202 | 10+ In Stock. Ready to ship. | - |
| | RMS-6304040 | RMS-6304040 | 10+ In Stock. Ready to ship. | - |
| | RMS-6301001 | RMS-6301001 | 10+ In Stock. Ready to ship. | - |
| | RMS-6301119 | RMS-6301119 | 10+ In Stock. Ready to ship. | - |
| | RMS-6385 | RMS-6385 | 10 In Stock. Ready to ship. | - |
| | RMS-6381 | RMS-6381 | 10 In Stock. Ready to ship. | - |
| | RMS-6307074 | RMS-6307074 | 10 In Stock. Ready to ship. | - |
| | RMS-6306068 | RMS-6306068 | 10 In Stock. Ready to ship. | - |
| | RMS-6306064 | RMS-6306064 | 10 In Stock. Ready to ship. | - |
| | RMS-6231 | RMS-6231 | 10 In Stock. Ready to ship. | - |
| | RMS-6215007 | RMS-6215007 | 10 In Stock. Ready to ship. | - |
| | RMS-6383 | RMS-6383 | 9 In Stock. Ready to ship. | - |
| | RMS-6313038 | RMS-6313038 | 9 In Stock. Ready to ship. | - |
| | RMS-6307071 | RMS-6307071 | 9 In Stock. Ready to ship. | - |
| | RMS-6307078 | RMS-6307078 | 8 In Stock. Ready to ship. | - |
| | RMS-6306060 | RMS-6306060 | 8 In Stock. Ready to ship. | - |
| | RMS-6305 | RMS-6305 | 8 In Stock. Ready to ship. | - |
| | RMS-6302025 | RMS-6302025 | 8 In Stock. Ready to ship. | - |
| | RMS-6302021 | RMS-6302021 | 8 In Stock. Ready to ship. | - |
| | RMS-6382 | RMS-6382 | 7 In Stock. Ready to ship. | - |
| | RMS-6306067 | RMS-6306067 | 7 In Stock. Ready to ship. | - |
| | RMS-6301013 | RMS-6301013 | 7 In Stock. Ready to ship. | - |
| | RMS-6380 | RMS-6380 | 6 In Stock. Ready to ship. | - |
| | RMS-6313037 | RMS-6313037 | 6 In Stock. Ready to ship. | - |
| | RMS-6313032 | RMS-6313032 | 6 In Stock. Ready to ship. | - |
| | RMS-6313031 | RMS-6313031 | 6 In Stock. Ready to ship. | - |
| | RMS-6307076 | RMS-6307076 | 6 In Stock. Ready to ship. | - |
| | RMS-6304045 | RMS-6304045 | 6 In Stock. Ready to ship. | - |
| | RMS-6301017 | RMS-6301017 | 6 In Stock. Ready to ship. | - |
| | RMS-6301010 | RMS-6301010 | 6 In Stock. Ready to ship. | - |
| | RMS-6357 | RMS-6357 | 5 In Stock. Ready to ship. | - |
| | RMS-6307002 | RMS-6307002 | 5 In Stock. Ready to ship. | - |
| | RMS-6304041 | RMS-6304041 | 5 In Stock. Ready to ship. | - |
| | RMS-6301020 | RMS-6301020 | 5 In Stock. Ready to ship. | - |
| | RMS-6301016 | RMS-6301016 | 5 In Stock. Ready to ship. | - |
| | RMS-6204 | RMS-6204 | 5 In Stock. Ready to ship. | - |
| | RMS-6363 | RMS-6363 | 4 In Stock. Ready to ship. | - |
| | RMS-6317001 | RMS-6317001 | 4 In Stock. Ready to ship. | - |
| | RMS-6307100 | RMS-6307100 | 4 In Stock. Ready to ship. | - |
| | RMS-6307075 | RMS-6307075 | 4 In Stock. Ready to ship. | - |
| | RMS-6307073 | RMS-6307073 | 4 In Stock. Ready to ship. | - |
| | RMS-6307007 | RMS-6307007 | 4 In Stock. Ready to ship. | - |
| | RMS-6306062 | RMS-6306062 | 4 In Stock. Ready to ship. | - |
| | RMS-6304060 | RMS-6304060 | 4 In Stock. Ready to ship. | - |
| | RMS-6304044 | RMS-6304044 | 4 In Stock. Ready to ship. | - |
| | RMS-6301015 | RMS-6301015 | 4 In Stock. Ready to ship. | - |
| | RMS-6301014 | RMS-6301014 | 4 In Stock. Ready to ship. | - |
| | RMS-6313027 | RMS-6313027 | 3 In Stock. Ready to ship. | - |
| | RMS-6309009 | RMS-6309009 | 3 In Stock. Ready to ship. | - |
| | RMS-6307077 | RMS-6307077 | 3 In Stock. Ready to ship. | - |
| | RMS-6306000 | RMS-6306000 | 3 In Stock. Ready to ship. | - |
| | RMS-6304043 | RMS-6304043 | 3 In Stock. Ready to ship. | - |
| | RMS-6301019 | RMS-6301019 | 3 In Stock. Ready to ship. | - |
| | RMS-6317000 | RMS-6317000 | 2 In Stock. Ready to ship. | - |
| | RMS-6307080 | RMS-6307080 | 2 In Stock. Ready to ship. | - |
| | RMS-6306061 | RMS-6306061 | 2 In Stock. Ready to ship. | - |
| | RMS-6303086 | RMS-6303086 | 2 In Stock. Ready to ship. | - |
| | RMS-6302023 | RMS-6302023 | 2 In Stock. Ready to ship. | - |
| | RMS-6301112 | RMS-6301112 | 2 In Stock. Ready to ship. | - |
| | RMS-6347 | RMS-6347 | 1 In Stock. Ready to ship. | - |
| | RMS-6307 | RMS-6307 | 1 In Stock. Ready to ship. | - |
| | RMS-6306070 | RMS-6306070 | 1 In Stock. Ready to ship. | - |
| | RMS-6307072 | RMS-6307072 | Unavailable. | - |
| | RMS-6301012 | RMS-6301012 | Unavailable. | - |
| | RMS-6203 | RMS-6203 | Unavailable. | - |