By browsing, you consent to our

use of Cookies

.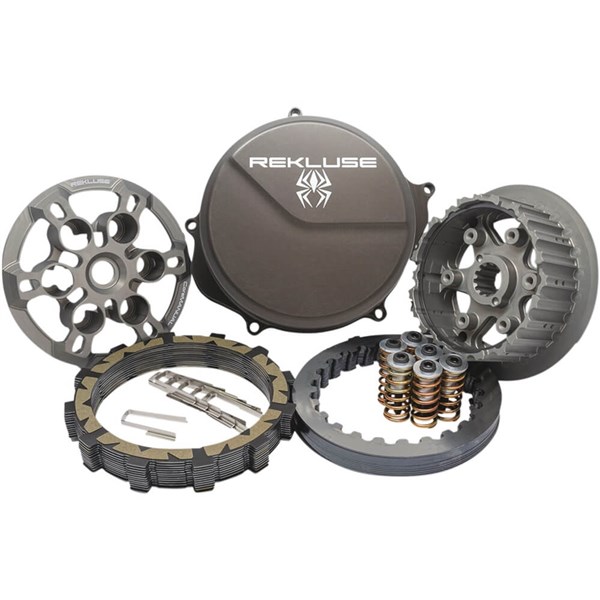 Fast, Free Shipping

Low Price Guarantee

No Hassle Returns

Rekluse Core Manual with TorqDrive puts the power to the ground. It's a full manual clutch unlike anything else on the market. Through use of innovative thin friction technology Rekluse is able to fit more plates into the clutch pack; providing more torque transfer, a precise lever feel and durability beyond simply billet components.
Innovative TorqDrive technology significantly boosts torque capacity, resulting in more powerful bottom-end performance
Virtually eliminates clutch fade
Incredible sense of connectivity between rider and machine allows unprecedented responsiveness and control
Multiple technologies work together simultaneously to dramatically decrease operating temperature
The level of durability is simply stunning, even the most demanding racers in the world are amazed
Maintains a stock, or lighter than stock, lever pull
Reduced weight compared to stock
Custom basket sleeves dramatically reduce clutch wear and basket notching
Exact spring replacement preserves integrity of the pressure plate
State of the art friction pad design

Note: Image for reference only. Actual product may vary according to vehicle.
Specifications
SKU
RMS-7113091
Brand
Rekluse

California Prop 65
WARNING: Cancer and Reproductive Harm - www.P65Warnings.ca.gov
Part Numbers
| | SKU | MPN | Availability | In-Store Pickup |
| --- | --- | --- | --- | --- |
| | RMS-7113091 | RMS-7113091 | 10+ In Stock. Ready to ship. | - |
| | RMS-7113191 | RMS-7113191 | 10+ In Stock. Ready to ship. | - |
| | RMS-7170 | RMS-7170 | 10+ In Stock. Ready to ship. | - |
| | RMS-7113081 | RMS-7113081 | 10+ In Stock. Ready to ship. | - |
| | RMS-7104046 | RMS-7104046 | 10+ In Stock. Ready to ship. | - |
| | RMS-7174 | RMS-7174 | 10+ In Stock. Ready to ship. | - |
| | RMS-7113096 | RMS-7113096 | 10+ In Stock. Ready to ship. | - |
| | RMS-7113088 | RMS-7113088 | 10+ In Stock. Ready to ship. | - |
| | RMS-7113080 | RMS-7113080 | 10+ In Stock. Ready to ship. | - |
| | RMS-7101001 | RMS-7101001 | 10+ In Stock. Ready to ship. | - |
| | RMS-7176 | RMS-7176 | 10+ In Stock. Ready to ship. | - |
| | RMS-7175 | RMS-7175 | 10+ In Stock. Ready to ship. | - |
| | RMS-7115 | RMS-7115 | 10+ In Stock. Ready to ship. | - |
| | RMS-7101002 | RMS-7101002 | 10+ In Stock. Ready to ship. | - |
| | RMS-7120 | RMS-7120 | 10 In Stock. Ready to ship. | - |
| | RMS-7113181 | RMS-7113181 | 9 In Stock. Ready to ship. | - |
| | RMS-7113095 | RMS-7113095 | 9 In Stock. Ready to ship. | - |
| | RMS-7178 | RMS-7178 | 8 In Stock. Ready to ship. | - |
| | RMS-7107002 | RMS-7107002 | 8 In Stock. Ready to ship. | - |
| | RMS-7116 | RMS-7116 | 6 In Stock. Ready to ship. | - |
| | RMS-7114 | RMS-7114 | 5 In Stock. Ready to ship. | - |
| | RMS-7167 | RMS-7167 | 4 In Stock. Ready to ship. | - |
| | RMS-7145 | RMS-7145 | 4 In Stock. Ready to ship. | - |
| | RMS-7144 | RMS-7144 | 4 In Stock. Ready to ship. | - |
| | RMS-7140 | RMS-7140 | 4 In Stock. Ready to ship. | - |
| | RMS-7113086 | RMS-7113086 | 4 In Stock. Ready to ship. | - |
| | RMS-7113051 | RMS-7113051 | 4 In Stock. Ready to ship. | - |
| | RMS-7113 | RMS-7113 | 4 In Stock. Ready to ship. | - |
| | RMS-7102022 | RMS-7102022 | 4 In Stock. Ready to ship. | - |
| | RMS-7171 | RMS-7171 | 3 In Stock. Ready to ship. | - |
| | RMS-7164 | RMS-7164 | 3 In Stock. Ready to ship. | - |
| | RMS-7110 | RMS-7110 | 3 In Stock. Ready to ship. | - |
| | RMS-7113084 | RMS-7113084 | 2 In Stock. Ready to ship. | - |
| | RMS-7111 | RMS-7111 | 2 In Stock. Ready to ship. | - |
| | RMS-7109 | RMS-7109 | 2 In Stock. Ready to ship. | - |
| | RMS-7173 | RMS-7173 | Unavailable. | - |
| | RMS-7113085 | RMS-7113085 | Unavailable. | - |
| | RMS-7113082 | RMS-7113082 | Unavailable. | - |