By browsing, you consent to our

use of Cookies

.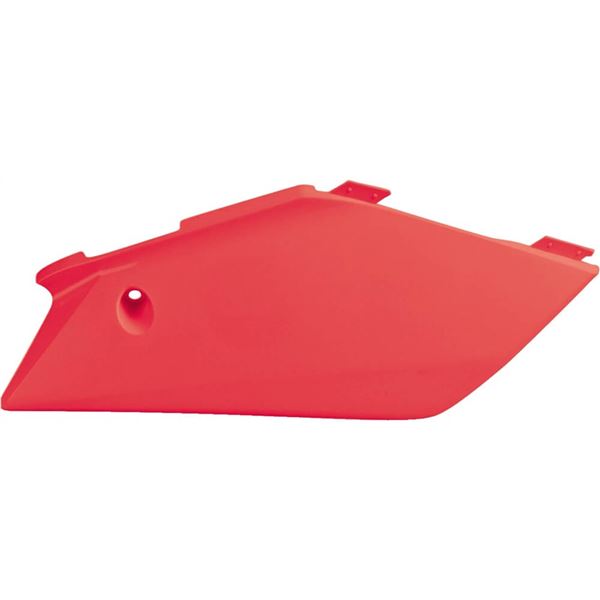 Free Shipping Over $75

Low Price Guarantee

No Hassle Returns

Polisport plastic side panels are produced with exclusive technologies to make the part glossy, durable and with the same level of quality as the original plastics of the dirt bike. The best aftermarket side panels, made to fit perfectly with no further drilling required. Enjoy the quality plastic parts of a brand with more than 40 years of experience in the off-road motorcycle market and that works with the best O.E.M manufacturers.
Injection molded, quality plastic components with a perfect O.E.M fit
Impact and abrasion resistant
Glossy and flexible
Exact replica of stock O.E.M plastic components but stronger
Inexpensive alternatives to O.E.M replacement parts
Less prone to scratching or marking
Stock color match with less fade
Sold as a pair
Note: Image for reference only. Actual product may vary according to vehicle.
Specifications
SKU
256-8473900007
Brand
Polisport

California Prop 65
WARNING: Cancer and Reproductive Harm - www.P65Warnings.ca.gov
Part Numbers
| | SKU | MPN | Availability | In-Store Pickup |
| --- | --- | --- | --- | --- |
| Black | 256-8473900007 | 8473900007 | 10+ In Stock. Ready to ship. | - |
| Grey | 256-8604900007 | 8604900007 | 10+ In Stock. Ready to ship. | - |
| Black | 256-8600400002 | 8600400002 | 10+ In Stock. Ready to ship. | - |
| White | 256-8600000001 | 8600000001 | 10+ In Stock. Ready to ship. | - |
| Green | 256-8423500005 | 8423500005 | 10+ In Stock. Ready to ship. | - |
| White | 256-8604900002 | 8604900002 | 10+ In Stock. Ready to ship. | - |
| Black | 256-8600200003 | 8600200003 | 10+ In Stock. Ready to ship. | - |
| Black | 256-8607500003 | 8607500003 | 10+ In Stock. Ready to ship. | - |
| White | 256-8413000002 | 8413000002 | 10+ In Stock. Ready to ship. | - |
| White | 256-8415000001 | 8415000001 | 10+ In Stock. Ready to ship. | - |
| White/Black | 256-8473900006 | 8473900006 | 10+ In Stock. Ready to ship. | - |
| White | 256-8602900001 | 8602900001 | 10+ In Stock. Ready to ship. | - |
| White | 256-8602600001 | 8602600001 | 10+ In Stock. Ready to ship. | - |
| White | 256-8572300001 | 8572300001 | 10+ In Stock. Ready to ship. | - |
| Red/Black | 256-8475000001 | 8475000001 | 10+ In Stock. Ready to ship. | - |
| White | 256-8608200002 | 8608200002 | 10+ In Stock. Ready to ship. | - |
| White/Black | 256-8607700001 | 8607700001 | 10+ In Stock. Ready to ship. | - |
| White | 256-8603200001 | 8603200001 | 10+ In Stock. Ready to ship. | - |
| Black | 256-8603000002 | 8603000002 | 10+ In Stock. Ready to ship. | - |
| White | 256-8602100001 | 8602100001 | 10+ In Stock. Ready to ship. | - |
| Orange | 256-8600300003 | 8600300003 | 10+ In Stock. Ready to ship. | - |
| Red/Black | 256-8473900005 | 8473900005 | 10+ In Stock. Ready to ship. | - |
| White | 256-8411000001 | 8411000001 | 10+ In Stock. Ready to ship. | - |
| White | 256-8600600001 | 8600600001 | 10+ In Stock. Ready to ship. | - |
| White | 256-8600200001 | 8600200001 | 10+ In Stock. Ready to ship. | - |
| White | 256-8416000001 | 8416000001 | 10+ In Stock. Ready to ship. | - |
| Black | 256-8604900003 | 8604900003 | 10+ In Stock. Ready to ship. | - |
| White | 256-8600900001 | 8600900001 | 10+ In Stock. Ready to ship. | - |
| Black | 256-8422200003 | 8422200003 | 10+ In Stock. Ready to ship. | - |
| Green | 256-8608200001 | 8608200001 | 10+ In Stock. Ready to ship. | - |
| White | 256-8607500002 | 8607500002 | 10+ In Stock. Ready to ship. | - |
| White | 256-8603800003 | 8603800003 | 10+ In Stock. Ready to ship. | - |
| Black | 256-8601500002 | 8601500002 | 10+ In Stock. Ready to ship. | - |
| White | 256-8601300002 | 8601300002 | 10+ In Stock. Ready to ship. | - |
| Black | 256-8600700002 | 8600700002 | 10+ In Stock. Ready to ship. | - |
| White/Black | 256-8475000002 | 8475000002 | 10+ In Stock. Ready to ship. | - |
| Black | 256-8418600003 | 8418600003 | 10+ In Stock. Ready to ship. | - |
| Grey | 256-8418200006 | 8418200006 | 10+ In Stock. Ready to ship. | - |
| White | 256-8609800005 | 8609800005 | 10+ In Stock. Ready to ship. | - |
| Black | 256-8607000003 | 8607000003 | 10+ In Stock. Ready to ship. | - |
| White/Black | 256-8607000002 | 8607000002 | 10+ In Stock. Ready to ship. | - |
| White | 256-8606800002 | 8606800002 | 10+ In Stock. Ready to ship. | - |
| Black | 256-8605200002 | 8605200002 | 10+ In Stock. Ready to ship. | - |
| Orange | 256-8604900001 | 8604900001 | 10+ In Stock. Ready to ship. | - |
| White | 256-8603100001 | 8603100001 | 10+ In Stock. Ready to ship. | - |
| White | 256-8602000001 | 8602000001 | 10+ In Stock. Ready to ship. | - |
| White | 256-8600400001 | 8600400001 | 10+ In Stock. Ready to ship. | - |
| White | 256-8416100001 | 8416100001 | 10+ In Stock. Ready to ship. | - |
| White | 256-8604000001 | 8604000001 | 10 In Stock. Ready to ship. | - |
| Black | 256-8600600002 | 8600600002 | 10 In Stock. Ready to ship. | - |
| White | 256-8419900002 | 8419900002 | 10 In Stock. Ready to ship. | - |
| Blue/White | 256-8419700001 | 8419700001 | 10 In Stock. Ready to ship. | - |
| White | 256-8607100002 | 8607100002 | 9 In Stock. Ready to ship. | - |
| Red | 256-8606800001 | 8606800001 | 9 In Stock. Ready to ship. | - |
| Green/Black | 256-8604800003 | 8604800003 | 9 In Stock. Ready to ship. | - |
| White/Black | 256-8604400001 | 8604400001 | 9 In Stock. Ready to ship. | - |
| White | 256-8601400004 | 8601400004 | 9 In Stock. Ready to ship. | - |
| White | 256-8600700001 | 8600700001 | 9 In Stock. Ready to ship. | - |
| Black | 256-8600300002 | 8600300002 | 9 In Stock. Ready to ship. | - |
| Grey/Black | 256-8475000004 | 8475000004 | 9 In Stock. Ready to ship. | - |
| White | 256-8423500002 | 8423500002 | 9 In Stock. Ready to ship. | - |
| Grey | 256-8419900006 | 8419900006 | 9 In Stock. Ready to ship. | - |
| White | 256-8419600011 | 8419600011 | 9 In Stock. Ready to ship. | - |
| Black | 256-8416100002 | 8416100002 | 9 In Stock. Ready to ship. | - |
| Black | 256-8608200003 | 8608200003 | 8 In Stock. Ready to ship. | - |
| White | 256-8606600002 | 8606600002 | 8 In Stock. Ready to ship. | - |
| Black | 256-8602800002 | 8602800002 | 8 In Stock. Ready to ship. | - |
| White | 256-8602400001 | 8602400001 | 8 In Stock. Ready to ship. | - |
| White | 256-8601500003 | 8601500003 | 8 In Stock. Ready to ship. | - |
| White | 256-8601200002 | 8601200002 | 8 In Stock. Ready to ship. | - |
| Black | 256-8601100001 | 8601100001 | 8 In Stock. Ready to ship. | - |
| White | 256-8418600002 | 8418600002 | 8 In Stock. Ready to ship. | - |
| Blue | 256-8418200001 | 8418200001 | 8 In Stock. Ready to ship. | - |
| White | 256-8605200003 | 8605200003 | 7 In Stock. Ready to ship. | - |
| Black/Yellow | 256-8605200001 | 8605200001 | 7 In Stock. Ready to ship. | - |
| Black | 256-8604800002 | 8604800002 | 7 In Stock. Ready to ship. | - |
| White | 256-8604800001 | 8604800001 | 7 In Stock. Ready to ship. | - |
| White | 256-8604300001 | 8604300001 | 7 In Stock. Ready to ship. | - |
| White/Red | 256-8602800001 | 8602800001 | 7 In Stock. Ready to ship. | - |
| White | 256-8602700003 | 8602700003 | 7 In Stock. Ready to ship. | - |
| White | 256-8425900005 | 8425900005 | 7 In Stock. Ready to ship. | - |
| Black | 256-8423500003 | 8423500003 | 7 In Stock. Ready to ship. | - |
| White | 256-8421400001 | 8421400001 | 7 In Stock. Ready to ship. | - |
| White | 256-8420300001 | 8420300001 | 7 In Stock. Ready to ship. | - |
| Grey | 256-8418600006 | 8418600006 | 7 In Stock. Ready to ship. | - |
| White | 256-8418200002 | 8418200002 | 7 In Stock. Ready to ship. | - |
| Black | 256-8606800003 | 8606800003 | 6 In Stock. Ready to ship. | - |
| Black/White | 256-8605600001 | 8605600001 | 6 In Stock. Ready to ship. | - |
| White | 256-8601100002 | 8601100002 | 6 In Stock. Ready to ship. | - |
| Blue | 256-8600600003 | 8600600003 | 6 In Stock. Ready to ship. | - |
| White | 256-8419000001 | 8419000001 | 6 In Stock. Ready to ship. | - |
| Black | 256-8418200003 | 8418200003 | 6 In Stock. Ready to ship. | - |
| White/Red | 256-8603900001 | 8603900001 | 5 In Stock. Ready to ship. | - |
| White | 256-8601900003 | 8601900003 | 5 In Stock. Ready to ship. | - |
| White | 256-8600500003 | 8600500003 | 5 In Stock. Ready to ship. | - |
| Grey | 256-8473900008 | 8473900008 | 5 In Stock. Ready to ship. | - |
| Blue/White | 256-8424800001 | 8424800001 | 5 In Stock. Ready to ship. | - |
| Grey | 256-8422200007 | 8422200007 | 5 In Stock. Ready to ship. | - |
| Orange | 256-8422200001 | 8422200001 | 5 In Stock. Ready to ship. | - |
| White | 256-8421200002 | 8421200002 | 5 In Stock. Ready to ship. | - |
| Black | 256-8418800001 | 8418800001 | 5 In Stock. Ready to ship. | - |
| Red | 256-8418600001 | 8418600001 | 5 In Stock. Ready to ship. | - |
| White | 256-8603700003 | 8603700003 | 4 In Stock. Ready to ship. | - |
| Black | 256-8602900002 | 8602900002 | 4 In Stock. Ready to ship. | - |
| White/Red | 256-8601800001 | 8601800001 | 4 In Stock. Ready to ship. | - |
| White | 256-8601000001 | 8601000001 | 4 In Stock. Ready to ship. | - |
| Green | 256-8423500001 | 8423500001 | 4 In Stock. Ready to ship. | - |
| White | 256-8418400002 | 8418400002 | 4 In Stock. Ready to ship. | - |
| White | 256-HU03304-041 | HU03304-041 | 3 In Stock. Ready to ship. | - |
| Black | 256-8601200001 | 8601200001 | 3 In Stock. Ready to ship. | - |
| Yellow | 256-8421200001 | 8421200001 | 3 In Stock. Ready to ship. | - |
| Black | 256-8419900003 | 8419900003 | 3 In Stock. Ready to ship. | - |
| Blue | 256-8419900001 | 8419900001 | 3 In Stock. Ready to ship. | - |
| Black | 256-8418800002 | 8418800002 | 2 In Stock. Ready to ship. | - |
| Black | 256-8475000003 | 8475000003 | 1 In Stock. Ready to ship. | - |
| Red | 256-8609800003 | 8609800003 | Unavailable. | - |
| Blue | 256-8607500001 | 8607500001 | Unavailable. | - |
| Black | 256-8607100003 | 8607100003 | Unavailable. | - |
| Black | 256-8606600003 | 8606600003 | Unavailable. | - |
| Red | 256-8606600001 | 8606600001 | Unavailable. | - |
| Black | 256-8606500003 | 8606500003 | Unavailable. | - |
| Red | 256-8606500002 | 8606500002 | Unavailable. | - |
| White | 256-8606500001 | 8606500001 | Unavailable. | - |
| Black | 256-8605600002 | 8605600002 | Unavailable. | - |
| White | 256-8603000001 | 8603000001 | Unavailable. | - |
| White | 256-8602800008 | 8602800008 | Unavailable. | - |
| Black | 256-8600500010 | 8600500010 | Unavailable. | - |
| White | 256-8424800002 | 8424800002 | Unavailable. | - |
| Grey | 256-8423500004 | 8423500004 | Unavailable. | - |
| White | 256-8422200002 | 8422200002 | Unavailable. | - |
| Black | 256-8421200003 | 8421200003 | Unavailable. | - |
| Black | 256-8418400003 | 8418400003 | Unavailable. | - |
| Yellow | 256-8418400001 | 8418400001 | Unavailable. | - |
| Green | 256-8416100005 | 8416100005 | Unavailable. | - |
| Silver | 256-64-6366 | 8602000006 | Unavailable. | - |