By browsing, you consent to our

use of Cookies

.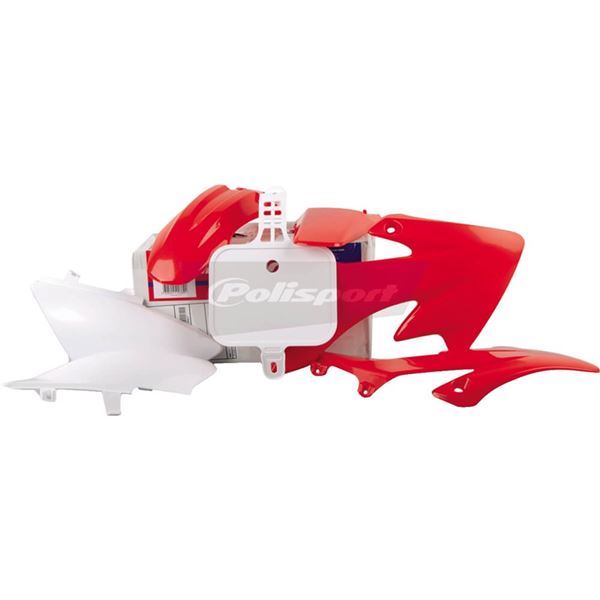 Free Shipping Over $75

Low Price Guarantee

No Hassle Returns

MX Replica Plastic Kit for those who want O.E.M quality. Polisport's replica plastic parts are produced using exclusive technologies that combine the highest levels of resistance and flex while maintaining a superior gloss finish and color brightness. New developed technologies, combined with decades of experience as O.E.M suppliers for many of the largest motorcycle manufacturers, makes Polisport the number one choice for replacement plastics. Your MX Dirt Bike will be given a new life with O.E.M quality plastics.
Made from DGP (Durable Gloss Polypropylene) plastic for maximum gloss and high resistance to breaking
Injection molded quality for a perfect O.E.M type fit
Exact replica of stock O.E.M plastic components but stronger
Inexpensive alternative to O.E.M replacement parts
Pre-drilled for perfect mounting every time
Less prone to scratches and holds color better
Note: Image for reference only. Actual product may vary according to vehicle.
Specifications
SKU
256-91027
Brand
Polisport
Frequently Bought Together

California Prop 65
WARNING: Cancer and Reproductive Harm - www.P65Warnings.ca.gov
Part Numbers
| | SKU | MPN | Availability | In-Store Pickup |
| --- | --- | --- | --- | --- |
| White | 256-91027 | 91027 | 10+ In Stock. Ready to ship. | - |
| Black | 256-90821 | 90821 | 10+ In Stock. Ready to ship. | - |
| Original (02) | 256-90772 | 90772 | 10+ In Stock. Ready to ship. | - |
| Original (02) | 256-90716 | 90716 | 10+ In Stock. Ready to ship. | - |
| Grey | 256-90825 | 90825 | 10+ In Stock. Ready to ship. | - |
| Grey | 256-90844 | 90844 | 10+ In Stock. Ready to ship. | - |
| Original (18) | 256-90760 | 90760 | 10+ In Stock. Ready to ship. | - |
| Original (96) | 256-90110 | 90110 | 10+ In Stock. Ready to ship. | - |
| Original (96) | 256-90093 | 90093 | 10+ In Stock. Ready to ship. | - |
| Original (01) | 256-90101 | 90101 | 10+ In Stock. Ready to ship. | - |
| Original (95) | 256-90079 | 90079 | 10+ In Stock. Ready to ship. | - |
| Original (20) | 256-90906 | 90906 | 10+ In Stock. Ready to ship. | - |
| Original (20) | 256-90921 | 90921 | 10+ In Stock. Ready to ship. | - |
| Grey | 256-90814 | 90814 | 10+ In Stock. Ready to ship. | - |
| White | 256-90820 | 90820 | 10+ In Stock. Ready to ship. | - |
| Original (97) | 256-90080 | 90080 | 10+ In Stock. Ready to ship. | - |
| Flo Yellow | 256-90742 | 90742 | 10+ In Stock. Ready to ship. | - |
| Blue | 256-90671 | 90671 | 10+ In Stock. Ready to ship. | - |
| Original (00) | 256-90108 | 90108 | 10+ In Stock. Ready to ship. | - |
| Original (99) | 256-90089 | 90089 | 10+ In Stock. Ready to ship. | - |
| Black | 256-90718 | 90718 | 10+ In Stock. Ready to ship. | - |
| White | 256-91020 | 91020 | 10+ In Stock. Ready to ship. | - |
| Grey | 256-90931 | 90931 | 10+ In Stock. Ready to ship. | - |
| Original (17) | 256-90723 | 90723 | 10+ In Stock. Ready to ship. | - |
| White | 256-90152 | 90152 | 10+ In Stock. Ready to ship. | - |
| Black | 256-90725 | 90725 | 10+ In Stock. Ready to ship. | - |
| Original (94) | 256-90088 | 90088 | 10+ In Stock. Ready to ship. | - |
| Grey | 256-90842 | 90842 | 10+ In Stock. Ready to ship. | - |
| Original (18) | 256-90766 | 90766 | 10+ In Stock. Ready to ship. | - |
| White | 256-90717 | 90717 | 10+ In Stock. Ready to ship. | - |
| Red/White | 256-91059 | 91059 | 10+ In Stock. Ready to ship. | - |
| Original (21) | 256-91040 | 91040 | 10+ In Stock. Ready to ship. | - |
| Red | 256-91024 | 91024 | 10+ In Stock. Ready to ship. | - |
| Black | 256-90715 | 90715 | 10+ In Stock. Ready to ship. | - |
| Black | 256-90204 | 90204 | 10+ In Stock. Ready to ship. | - |
| Original (02) | 256-90107 | 90107 | 10+ In Stock. Ready to ship. | - |
| Grey | 256-91057 | 91057 | 10+ In Stock. Ready to ship. | - |
| Original (19) | 256-90807 | 90807 | 10+ In Stock. Ready to ship. | - |
| Flo Yellow | 256-90739 | 90739 | 10+ In Stock. Ready to ship. | - |
| White | 256-90159 | 90159 | 10+ In Stock. Ready to ship. | - |
| Green (05) | 256-90114 | 90114 | 10+ In Stock. Ready to ship. | - |
| Original (04) | 256-90025 | 90025 | 10+ In Stock. Ready to ship. | - |
| Flo Yellow | 256-90745 | 90745 | 10+ In Stock. Ready to ship. | - |
| Original (17) | 256-90727 | 90727 | 10+ In Stock. Ready to ship. | - |
| Original (16) | 256-90661 | 90661 | 10+ In Stock. Ready to ship. | - |
| Original (03) | 256-90106 | 90106 | 10+ In Stock. Ready to ship. | - |
| Original (21) | 256-91064 | 91064 | 10+ In Stock. Ready to ship. | - |
| Original (01) | 256-90162 | 90162 | 10+ In Stock. Ready to ship. | - |
| Original (00) | 256-90081 | 90081 | 10+ In Stock. Ready to ship. | - |
| Original (03) | 256-90078 | 90078 | 10+ In Stock. Ready to ship. | - |
| Black | 256-90930 | 90930 | 10+ In Stock. Ready to ship. | - |
| Original (18) | 256-90751 | 90751 | 10+ In Stock. Ready to ship. | - |
| Black | 256-90583 | 90583 | 10+ In Stock. Ready to ship. | - |
| Original (02) | 256-90085 | 90085 | 10+ In Stock. Ready to ship. | - |
| Black/White | 256-91037 | 91037 | 10+ In Stock. Ready to ship. | - |
| Original (17) | 256-90719 | 90719 | 10+ In Stock. Ready to ship. | - |
| Black | 256-90146 | 90146 | 10+ In Stock. Ready to ship. | - |
| Original (06) | 256-90117 | 90117 | 10+ In Stock. Ready to ship. | - |
| Original (02) | 256-90098 | 90098 | 10+ In Stock. Ready to ship. | - |
| Black | 256-91066 | 91066 | 10+ In Stock. Ready to ship. | - |
| Original (16) | 256-90647 | 90647 | 10+ In Stock. Ready to ship. | - |
| Original (16) | 256-90686 | 90686 | 10+ In Stock. Ready to ship. | - |
| Black | 256-90254 | 90254 | 10+ In Stock. Ready to ship. | - |
| White | 256-90139 | 90139 | 10+ In Stock. Ready to ship. | - |
| Original (04) | 256-90109 | 90109 | 10+ In Stock. Ready to ship. | - |
| Original (17) | 256-90726 | 90726 | 10+ In Stock. Ready to ship. | - |
| Black | 256-90721 | 90721 | 10+ In Stock. Ready to ship. | - |
| Original (16) | 256-90695 | 90695 | 10+ In Stock. Ready to ship. | - |
| Original (01) | 256-90100 | 90100 | 10+ In Stock. Ready to ship. | - |
| Orange/Black | 256-90835 | 90835 | 10+ In Stock. Ready to ship. | - |
| Original (15) | 256-90729 | 90729 | 10+ In Stock. Ready to ship. | - |
| Original (16) | 256-90682 | 90682 | 10+ In Stock. Ready to ship. | - |
| Black | 256-90539 | 90539 | 10+ In Stock. Ready to ship. | - |
| Black | 256-90810 | 90810 | 10+ In Stock. Ready to ship. | - |
| Red | 256-90787 | 90787 | 10+ In Stock. Ready to ship. | - |
| Original (18) | 256-90778 | 90778 | 10+ In Stock. Ready to ship. | - |
| Original (18) | 256-90776 | 90776 | 10+ In Stock. Ready to ship. | - |
| White | 256-90761 | 90761 | 10+ In Stock. Ready to ship. | - |
| Original (17) | 256-90710 | 90710 | 10+ In Stock. Ready to ship. | - |
| White | 256-90633 | 90633 | 10+ In Stock. Ready to ship. | - |
| Original (08) | 256-90142 | 90142 | 10+ In Stock. Ready to ship. | - |
| Original (07) | 256-90135 | 90135 | 10+ In Stock. Ready to ship. | - |
| Original (03) | 256-90090 | 90090 | 10+ In Stock. Ready to ship. | - |
| Black | 256-91056 | 91056 | 10+ In Stock. Ready to ship. | - |
| White | 256-90929 | 90929 | 10+ In Stock. Ready to ship. | - |
| Red | 256-90794 | 90794 | 10+ In Stock. Ready to ship. | - |
| Original (06) | 256-90113 | 90113 | 10+ In Stock. Ready to ship. | - |
| Original (02-12) | 256-90105 | 90105 | 10+ In Stock. Ready to ship. | - |
| Original (17) | 256-90713 | 90713 | 10+ In Stock. Ready to ship. | - |
| Original (06) | 256-90115 | 90115 | 10+ In Stock. Ready to ship. | - |
| Original (01) | 256-90095 | 90095 | 10+ In Stock. Ready to ship. | - |
| Original (05) | 256-90084 | 90084 | 10+ In Stock. Ready to ship. | - |
| White | 256-90785 | 90785 | 10+ In Stock. Ready to ship. | - |
| Orange | 256-90734 | 90734 | 10+ In Stock. Ready to ship. | 2 In Stock. |
| Original (16) | 256-90679 | 90679 | 10+ In Stock. Ready to ship. | - |
| Original (05) | 256-90097 | 90097 | 10+ In Stock. Ready to ship. | - |
| Original (96) | 256-90096 | 90096 | 10+ In Stock. Ready to ship. | - |
| White/Black | 256-90829 | 90829 | 10+ In Stock. Ready to ship. | - |
| Black | 256-90818 | 90818 | 10+ In Stock. Ready to ship. | - |
| Flo Yellow | 256-90782 | 90782 | 10+ In Stock. Ready to ship. | - |
| Red | 256-90722 | 90722 | 10+ In Stock. Ready to ship. | - |
| White | 256-91055 | 91055 | 10+ In Stock. Ready to ship. | - |
| Grey | 256-90862 | 90862 | 10+ In Stock. Ready to ship. | - |
| Grey | 256-90827 | 90827 | 10+ In Stock. Ready to ship. | - |
| Grey | 256-90822 | 90822 | 10+ In Stock. Ready to ship. | - |
| Orange | 256-90811 | 90811 | 10+ In Stock. Ready to ship. | - |
| Black | 256-90768 | 90768 | 10+ In Stock. Ready to ship. | - |
| Original (15) | 256-90737 | 90737 | 10+ In Stock. Ready to ship. | - |
| White | 256-90680 | 90680 | 10+ In Stock. Ready to ship. | - |
| Original (13) | 256-90545 | 90545 | 10+ In Stock. Ready to ship. | - |
| Black | 256-90194 | 90194 | 10+ In Stock. Ready to ship. | - |
| White | 256-90128 | 90128 | 10+ In Stock. Ready to ship. | - |
| Original (05) | 256-90103 | 90103 | 10+ In Stock. Ready to ship. | - |
| Black | 256-90798 | 90798 | 10+ In Stock. Ready to ship. | - |
| Flo Yellow | 256-90781 | 90781 | 10+ In Stock. Ready to ship. | - |
| Original (18) | 256-90750 | 90750 | 10+ In Stock. Ready to ship. | - |
| Original (17) | 256-90706 | 90706 | 10+ In Stock. Ready to ship. | - |
| Black | 256-90691 | 90691 | 10+ In Stock. Ready to ship. | - |
| White | 256-90538 | 90538 | 10+ In Stock. Ready to ship. | - |
| Original (13) | 256-90537 | 90537 | 10+ In Stock. Ready to ship. | - |
| Original (10) | 256-90154 | 90154 | 10+ In Stock. Ready to ship. | - |
| Original (04) | 256-90102 | 90102 | 10+ In Stock. Ready to ship. | - |
| Original (04) | 256-90082 | 90082 | 10+ In Stock. Ready to ship. | - |
| Original (02) | 256-90056 | 90056 | 10+ In Stock. Ready to ship. | - |
| Original (19) | 256-90826 | 90826 | 10+ In Stock. Ready to ship. | - |
| White | 256-90704 | 90704 | 10+ In Stock. Ready to ship. | - |
| Original (16) | 256-90689 | 90689 | 10+ In Stock. Ready to ship. | - |
| Original (14-16) | 256-90627 | 90627 | 10+ In Stock. Ready to ship. | - |
| Original (13) | 256-90542 | 90542 | 10+ In Stock. Ready to ship. | - |
| Original (13) | 256-90529 | 90529 | 10+ In Stock. Ready to ship. | - |
| Original (07-12) | 256-90136 | 90136 | 10+ In Stock. Ready to ship. | - |
| Original (07) | 256-90121 | 90121 | 10+ In Stock. Ready to ship. | - |
| Original (21) | 256-91026 | 91026 | 10+ In Stock. Ready to ship. | - |
| Flo Yellow | 256-90748 | 90748 | 10+ In Stock. Ready to ship. | - |
| Flo Yellow | 256-90741 | 90741 | 10+ In Stock. Ready to ship. | - |
| White | 256-90720 | 90720 | 10+ In Stock. Ready to ship. | - |
| White | 256-90714 | 90714 | 10+ In Stock. Ready to ship. | - |
| Original (16) | 256-90692 | 90692 | 10+ In Stock. Ready to ship. | - |
| White | 256-90648 | 90648 | 10+ In Stock. Ready to ship. | - |
| Original (15) | 256-90638 | 90638 | 10+ In Stock. Ready to ship. | - |
| White | 256-90582 | 90582 | 10+ In Stock. Ready to ship. | - |
| Original (11) | 256-90272 | 90272 | 10+ In Stock. Ready to ship. | - |
| Black | 256-90195 | 90195 | 10+ In Stock. Ready to ship. | - |
| Original (07-08) | 256-90123 | 90123 | 10+ In Stock. Ready to ship. | - |
| Original (99) | 256-90094 | 90094 | 10+ In Stock. Ready to ship. | - |
| Original (19) | 256-90816 | 90816 | 10 In Stock. Ready to ship. | - |
| Clear | 256-90770 | 90770 | 10 In Stock. Ready to ship. | - |
| Black | 256-90765 | 90765 | 10 In Stock. Ready to ship. | - |
| Black | 256-90749 | 90749 | 10 In Stock. Ready to ship. | - |
| Black | 256-90688 | 90688 | 10 In Stock. Ready to ship. | - |
| Black | 256-90649 | 90649 | 10 In Stock. Ready to ship. | - |
| Black | 256-90547 | 90546 | 10 In Stock. Ready to ship. | - |
| Original (11) | 256-90423 | 90423 | 10 In Stock. Ready to ship. | - |
| Black | 256-90212 | 90212 | 10 In Stock. Ready to ship. | - |
| Black | 256-90144 | 90144 | 10 In Stock. Ready to ship. | - |
| White | 256-90143 | 90143 | 10 In Stock. Ready to ship. | - |
| Original (21) | 256-91054 | 91054 | 9 In Stock. Ready to ship. | - |
| Original (21) | 256-91038 | 91038 | 9 In Stock. Ready to ship. | - |
| Grey | 256-91029 | 91029 | 9 In Stock. Ready to ship. | - |
| White | 256-90690 | 90690 | 9 In Stock. Ready to ship. | - |
| White | 256-90687 | 90687 | 9 In Stock. Ready to ship. | - |
| Original (13) | 256-90563 | 90563 | 9 In Stock. Ready to ship. | - |
| Original (11-12) | 256-90408 | 90408 | 9 In Stock. Ready to ship. | - |
| Original (09) | 256-90213 | 90213 | 9 In Stock. Ready to ship. | - |
| Original (09) | 256-90206 | 90206 | 9 In Stock. Ready to ship. | - |
| Black | 256-90192 | 90192 | 9 In Stock. Ready to ship. | - |
| White | 256-90151 | 90151 | 9 In Stock. Ready to ship. | - |
| Original (21) | 256-91071 | 91071 | 8 In Stock. Ready to ship. | - |
| Grey | 256-91067 | 91067 | 8 In Stock. Ready to ship. | - |
| Orange | 256-91041 | 91041 | 8 In Stock. Ready to ship. | - |
| White | 256-91035 | 91035 | 8 In Stock. Ready to ship. | - |
| Red/White | 256-91030 | 91030 | 8 In Stock. Ready to ship. | - |
| Green | 256-91025 | 91025 | 8 In Stock. Ready to ship. | - |
| Original (20) | 256-90912 | 90912 | 8 In Stock. Ready to ship. | - |
| Flo Orange | 256-90815 | 90815 | 8 In Stock. Ready to ship. | - |
| Flo Yellow | 256-90812 | 90812 | 8 In Stock. Ready to ship. | - |
| White | 256-90767 | 90767 | 8 In Stock. Ready to ship. | - |
| White | 256-90724 | 90724 | 8 In Stock. Ready to ship. | - |
| Original (17) | 256-90707 | 90707 | 8 In Stock. Ready to ship. | - |
| Original (13-14) | 256-90555 | 90555 | 8 In Stock. Ready to ship. | - |
| Original (07) | 256-90125 | 90125 | 8 In Stock. Ready to ship. | - |
| Original (12) | 256-90116 | 90116 | 8 In Stock. Ready to ship. | - |
| Original (04) | 256-90091 | 90091 | 8 In Stock. Ready to ship. | - |
| Original (04) | 256-90083 | 90083 | 8 In Stock. Ready to ship. | - |
| Grey | 256-90823 | 90823 | 7 In Stock. Ready to ship. | - |
| Original (19) | 256-90805 | 90805 | 7 In Stock. Ready to ship. | - |
| Original (19) | 256-90797 | 90797 | 7 In Stock. Ready to ship. | - |
| Clear | 256-90793 | 90793 | 7 In Stock. Ready to ship. | - |
| Black | 256-90777 | 90777 | 7 In Stock. Ready to ship. | - |
| Original (16) | 256-90696 | 90696 | 7 In Stock. Ready to ship. | - |
| Original (13-14) | 256-90558 | 90558 | 7 In Stock. Ready to ship. | - |
| White | 256-90556 | 90556 | 7 In Stock. Ready to ship. | - |
| Original (10-11) | 256-90249 | 90249 | 7 In Stock. Ready to ship. | - |
| Grey | 256-90843 | 90843 | 6 In Stock. Ready to ship. | - |
| Yellow | 256-90840 | 90840 | 6 In Stock. Ready to ship. | - |
| White | 256-90817 | 90817 | 6 In Stock. Ready to ship. | - |
| Clear | 256-90771 | 90771 | 6 In Stock. Ready to ship. | - |
| Original (15) | 256-90644 | 90644 | 6 In Stock. Ready to ship. | - |
| White | 256-90406 | 90406 | 6 In Stock. Ready to ship. | - |
| Original (11) | 256-90274 | 90274 | 6 In Stock. Ready to ship. | - |
| Original (10-11) | 256-90250 | 90250 | 6 In Stock. Ready to ship. | - |
| Original (09) | 256-90175 | 90175 | 6 In Stock. Ready to ship. | - |
| White | 256-91031 | 91031 | 5 In Stock. Ready to ship. | - |
| White | 256-90913 | 90913 | 5 In Stock. Ready to ship. | - |
| Clear | 256-90813 | 90813 | 5 In Stock. Ready to ship. | - |
| Flo Yellow | 256-90789 | 90789 | 5 In Stock. Ready to ship. | - |
| Original (13) | 256-90526 | 90526 | 5 In Stock. Ready to ship. | - |
| Original (09-12) | 256-90209 | 90209 | 5 In Stock. Ready to ship. | - |
| White | 256-91065 | 91065 | 4 In Stock. Ready to ship. | - |
| Original (20) | 256-91039 | 91039 | 4 In Stock. Ready to ship. | - |
| White | 256-90764 | 90764 | 4 In Stock. Ready to ship. | - |
| White | 256-90708 | 90708 | 4 In Stock. Ready to ship. | - |
| Green/Black | 256-90466 | 90466 | 4 In Stock. Ready to ship. | - |
| Original (10-12) | 256-90252 | 90250 | 4 In Stock. Ready to ship. | - |
| Original (03) | 256-90092 | 90092 | 4 In Stock. Ready to ship. | - |
| Black | 256-91028 | 91028 | 3 In Stock. Ready to ship. | - |
| Original (20) | 256-90922 | 90922 | 3 In Stock. Ready to ship. | - |
| Clear | 256-90800 | 90800 | 3 In Stock. Ready to ship. | - |
| Black | 256-90681 | 90681 | 3 In Stock. Ready to ship. | - |
| Original (13) | 256-90530 | 90530 | 3 In Stock. Ready to ship. | - |
| Original (12) | 256-90450 | 90450 | 3 In Stock. Ready to ship. | - |
| White | 256-90211 | 90211 | 3 In Stock. Ready to ship. | - |
| Original (21) | 256-90867 | 90867 | 2 In Stock. Ready to ship. | - |
| Original (18) | 256-90763 | 90763 | 2 In Stock. Ready to ship. | - |
| Original (14) | 256-90632 | 90632 | 2 In Stock. Ready to ship. | - |
| Black | 256-90544 | 90544 | 2 In Stock. Ready to ship. | - |
| Original (11) | 256-90201 | 90201 | 2 In Stock. Ready to ship. | - |
| White | 256-90809 | 90809 | 1 In Stock. Ready to ship. | - |
| Original (09) | 256-90208 | 90208 | 1 In Stock. Ready to ship. | - |
| Original (06) | 256-90131 | 90131 | 1 In Stock. Ready to ship. | - |
| Original (07) | 256-90124 | 90124 | 1 In Stock. Ready to ship. | - |
| Original (21) | 256-91069 | 91069 | Unavailable. | - |
| Original (21) | 256-91068 | 91068 | Unavailable. | - |
| White | 256-91061 | 91061 | Unavailable. | - |
| Black | 256-91060 | 91060 | Unavailable. | - |
| Black | 256-90858 | 90858 | Unavailable. | - |
| Flo Yellow | 256-90819 | 90819 | Unavailable. | - |
| Original (19) | 256-90808 | 90808 | Unavailable. | - |
| Flo Yellow | 256-90799 | 90799 | Unavailable. | - |
| Clear | 256-90790 | 90790 | Unavailable. | - |
| Flo Yellow | 256-90788 | 90788 | Unavailable. | - |
| Clear | 256-90773 | 90773 | Unavailable. | - |
| Orange/White/Blue | 256-90752 | 90752 | Unavailable. | - |
| Flo Yellow | 256-90744 | 90744 | Unavailable. | - |
| Flo Yellow | 256-90743 | 90743 | Unavailable. | - |
| Flo Yellow | 256-90740-DUP | 90740-DUP | Unavailable. | - |
| Flo Yellow | 256-90740 | 90740 | Unavailable. | - |
| Black | 256-90709 | 90709 | Unavailable. | - |
| Red | 256-90703 | 90703 | Unavailable. | - |
| Original (16) | 256-90697 | 90697 | Unavailable. | - |
| White | 256-90684 | 90684 | Unavailable. | - |
| Original (15) | 256-90650 | 90650 | Unavailable. | - |
| Original (14-16) | 256-90626 | 90626 | Unavailable. | - |
| Black | 256-90622 | 90622 | Unavailable. | - |
| White | 256-90621 | 90621 | Unavailable. | - |
| Original (14-15) | 256-90620 | 90620 | Unavailable. | - |
| Black | 256-90560 | 90560 | Unavailable. | - |
| White | 256-90559 | 90559 | Unavailable. | - |
| White | 256-90546 | 90546 | Unavailable. | - |
| White | 256-90543 | 90543 | Unavailable. | - |
| Original (12) | 256-90517 | 90517 | Unavailable. | - |
| Black | 256-90509 | 90509 | Unavailable. | - |
| White | 256-90508 | 90508 | Unavailable. | - |
| Orange | 256-90507 | 90507 | Unavailable. | - |
| Black | 256-90506 | 90506 | Unavailable. | - |
| Original (12) | 256-90485 | 90485 | Unavailable. | - |
| Green | 256-90467 | 90467 | Unavailable. | - |
| Black | 256-90465 | 90465 | Unavailable. | - |
| White | 256-90464 | 90464 | Unavailable. | - |
| White | 256-90259 | 90259 | Unavailable. | - |
| White | 256-90214 | 90214 | Unavailable. | - |
| Original (04) | 256-90183 | 90183 | Unavailable. | - |
| Original (08) | 256-90182 | 90182 | Unavailable. | - |
| Black | 256-90181 | 90181 | Unavailable. | - |