By browsing, you consent to our

use of Cookies

.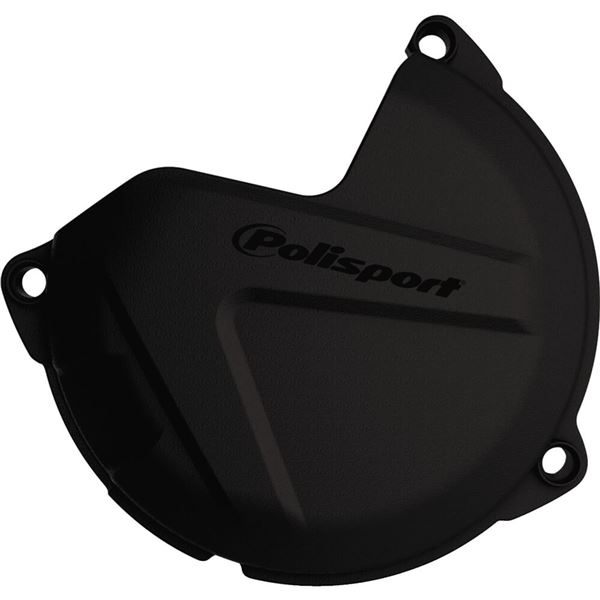 Free Shipping Over $75

Low Price Guarantee

No Hassle Returns

Developed with an exclusive Polisport design. Polisport's clutch cover protector will excel in rocky terrains and protect your clutch from impacts and scratches.
Hard shell made from resistant PA6 (Polyamide)
Built in rubber O-ring
Resistant to high continuous temperatures
Compatible only with stock clutch covers
Perfect fit to the clutch cover
Optimum protection against rock impacts
Easy and intuitive installation
Slim design to minimize interference with the rider's boots
All mounting hardware included
Note: Image for reference only. Actual product may vary according to vehicle.
Specifications
SKU
256-8461700001
Brand
Polisport

California Prop 65
WARNING: Cancer and Reproductive Harm - www.P65Warnings.ca.gov
Part Numbers
| | SKU | MPN | Availability | In-Store Pickup |
| --- | --- | --- | --- | --- |
| Black | 256-8461700001 | 8461700001 | 10+ In Stock. Ready to ship. | - |
| Red | 256-8467300002 | 8467300002 | 10+ In Stock. Ready to ship. | - |
| Blue | 256-8460200003 | 8460200003 | 10+ In Stock. Ready to ship. | - |
| Black | 256-8454900001 | 8454900001 | 10+ In Stock. Ready to ship. | - |
| Yellow | 256-8460300004 | 8460300004 | 10+ In Stock. Ready to ship. | - |
| Black | 256-8460200001 | 8460200001 | 10+ In Stock. Ready to ship. | - |
| Black | 256-8463200001 | 1CYC-1742-42 | 10+ In Stock. Ready to ship. | - |
| Orange | 256-8447700002 | 8447700002 | 10+ In Stock. Ready to ship. | - |
| Yellow | 256-8447700004 | 8447700004 | 10+ In Stock. Ready to ship. | - |
| Black | 256-8465400001 | 8465400001 | 10+ In Stock. Ready to ship. | - |
| Yellow | 256-8447900004 | 8447900004 | 10+ In Stock. Ready to ship. | - |
| Blue | 256-8460400003 | 8460400003 | 10+ In Stock. Ready to ship. | - |
| Blue | 256-8447900003 | 8447900003 | 10+ In Stock. Ready to ship. | - |
| Black | 256-8471200001 | 8471200001 | 10+ In Stock. Ready to ship. | - |
| Yellow | 256-8460500004 | 8460500004 | 10+ In Stock. Ready to ship. | - |
| Blue | 256-8447800003 | YA03876-001 | 10+ In Stock. Ready to ship. | - |
| Yellow | 256-8460400004 | 8460400004 | 10+ In Stock. Ready to ship. | - |
| Black | 256-8458400001 | 8458400001 | 10+ In Stock. Ready to ship. | - |
| Blue | 256-8467200002 | 8467200002 | 10+ In Stock. Ready to ship. | - |
| Black | 256-8467200001 | 8467200001 | 10+ In Stock. Ready to ship. | - |
| Blue | 256-8465400002 | 8465400002 | 10+ In Stock. Ready to ship. | - |
| Orange | 256-8461700002 | 8461700002 | 10+ In Stock. Ready to ship. | - |
| Black | 256-8465700001 | 8465700001 | 10+ In Stock. Ready to ship. | - |
| Blue | 256-8447700003 | 8447700003 | 10+ In Stock. Ready to ship. | - |
| Red | 256-8462800002 | 8462800002 | 10+ In Stock. Ready to ship. | - |
| Black | 256-8462800001 | 8462800001 | 10+ In Stock. Ready to ship. | - |
| Yellow | 256-8461700004 | 8461700004 | 10+ In Stock. Ready to ship. | - |
| Red | 256-8446900002 | 8446900002 | 10+ In Stock. Ready to ship. | - |
| Grey | 256-8465700003 | 8465700003 | 10+ In Stock. Ready to ship. | - |
| Blue | 256-8462500003 | 8462500003 | 10+ In Stock. Ready to ship. | - |
| Blue | 256-8460300003 | 8460300003 | 10+ In Stock. Ready to ship. | - |
| Orange | 256-8447800002 | 8447800002 | 10+ In Stock. Ready to ship. | - |
| Black | 256-8467300001 | 8467300001 | 10+ In Stock. Ready to ship. | - |
| Black | 256-8440700001 | 8440700001 | 10+ In Stock. Ready to ship. | - |
| Yellow | 256-8460200004 | 8460200004 | 10+ In Stock. Ready to ship. | - |
| Green | 256-8454500002 | 8454500002 | 10+ In Stock. Ready to ship. | - |
| Red | 256-8463200002 | 8463200002 | 10+ In Stock. Ready to ship. | - |
| Blue | 256-8454900002 | 8454900002 | 10+ In Stock. Ready to ship. | - |
| Grey | 256-8467200003 | 8467200003 | 10+ In Stock. Ready to ship. | - |
| Black | 256-8463700001 | 8463700001 | 10+ In Stock. Ready to ship. | - |
| Black | 256-8463600001 | 8463600001 | 10+ In Stock. Ready to ship. | - |
| Orange | 256-8460300002 | 8460300002 | 10+ In Stock. Ready to ship. | - |
| Yellow | 256-8447600002 | 8447600002 | 10+ In Stock. Ready to ship. | - |
| Green | 256-8435800002 | 8435800002 | 10+ In Stock. Ready to ship. | - |
| Black | 256-8465800001 | 8465800001 | 10+ In Stock. Ready to ship. | - |
| Grey | 256-8463200003 | 8463200003 | 10+ In Stock. Ready to ship. | - |
| Orange | 256-8462500002 | 8462500002 | 10+ In Stock. Ready to ship. | - |
| Black | 256-8462500001 | 8462500001 | 10+ In Stock. Ready to ship. | - |
| Black | 256-8455000001 | 8455000001 | 10+ In Stock. Ready to ship. | - |
| Yellow | 256-8447500002 | 8447500002 | 10+ In Stock. Ready to ship. | - |
| Blue | 256-8461700003 | 8461700003 | 10+ In Stock. Ready to ship. | - |
| Orange | 256-8460200002 | 8460200002 | 10+ In Stock. Ready to ship. | - |
| Black | 256-8447500001 | 8447500001 | 10+ In Stock. Ready to ship. | - |
| Black | 256-8446900001 | 8446900001 | 10+ In Stock. Ready to ship. | - |
| Black | 256-8460300001 | 8460300001 | 10 In Stock. Ready to ship. | - |
| Green | 256-8440700002 | 8440700002 | 10 In Stock. Ready to ship. | - |
| Red | 256-8465700002 | 8465700002 | 9 In Stock. Ready to ship. | - |
| Grey | 256-8460400005 | 8460400005 | 9 In Stock. Ready to ship. | - |
| Black | 256-8447900001 | 8447900001 | 9 In Stock. Ready to ship. | - |
| Black | 256-8447800001 | 8447800001 | 9 In Stock. Ready to ship. | - |
| Grey | 256-8460500005 | 8460500005 | 8 In Stock. Ready to ship. | - |
| Blue | 256-8455000002 | 8455000002 | 8 In Stock. Ready to ship. | - |
| Black | 256-8454500001 | 8454500001 | 8 In Stock. Ready to ship. | - |
| Orange | 256-8447900002 | 8447900002 | 8 In Stock. Ready to ship. | - |
| Red | 256-8465800002 | 8465800002 | 7 In Stock. Ready to ship. | - |
| Black | 256-8460400001 | 8460400001 | 7 In Stock. Ready to ship. | - |
| Grey | 256-8447800005 | 8447800005 | 7 In Stock. Ready to ship. | - |
| Blue | 256-8463600002 | 8463600002 | 6 In Stock. Ready to ship. | - |
| Grey | 256-8462800003 | 8462800003 | 6 In Stock. Ready to ship. | - |
| Black | 256-8441100001 | 8441100001 | 6 In Stock. Ready to ship. | - |
| Grey | 256-8461700005 | 8461700005 | 5 In Stock. Ready to ship. | - |
| Blue | 256-8460500003 | 8460500003 | 5 In Stock. Ready to ship. | - |
| Black | 256-8460500001 | 8460500001 | 5 In Stock. Ready to ship. | - |
| Yellow | 256-8447800004 | 8447800004 | 5 In Stock. Ready to ship. | - |
| Grey | 256-8465400003 | 8465400003 | 4 In Stock. Ready to ship. | - |
| Black | 256-8447700001 | 8447700001 | 4 In Stock. Ready to ship. | - |
| Black | 256-8447600001 | 8447600001 | 4 In Stock. Ready to ship. | - |
| Red | 256-8441100002 | 8441100002 | 4 In Stock. Ready to ship. | - |
| Black | 256-8435800001 | 8435800001 | 4 In Stock. Ready to ship. | - |
| Grey | 256-8467300003 | 8467300003 | 3 In Stock. Ready to ship. | - |
| Orange | 256-8460500002 | 8460500002 | 1 In Stock. Ready to ship. | - |
| Blue | 256-8471200002 | 8471200002 | Unavailable. | - |
| Grey | 256-8465800003 | 8465800003 | Unavailable. | - |
| Blue | 256-8463700002 | 8463700002 | Unavailable. | - |
| Blue | 256-8458400002 | 8458400002 | Unavailable. | - |