By browsing, you consent to our

use of Cookies

.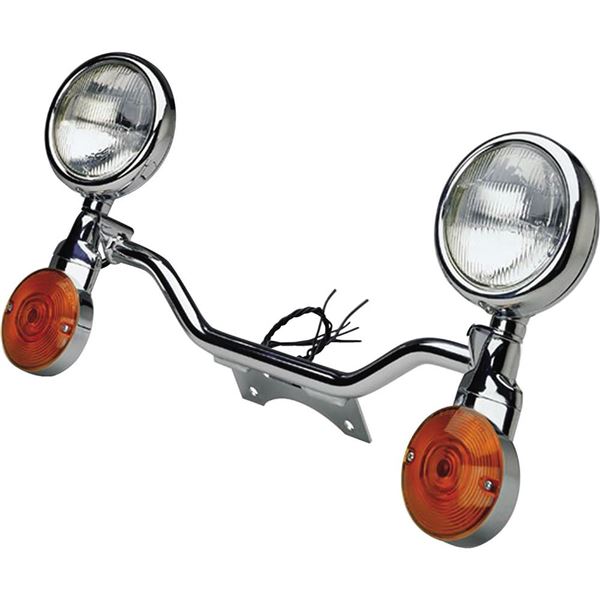 Fast, Free Shipping

Low Price Guarantee

No Hassle Returns

National Cycle Spot Light Bars not only look great on your cruiser, but they are also a considerable motorcycle safety feature. Their 35-watt halogen bulbs light up the night on those long, dark roads, and they make you more visible to oncoming traffic. National Cycle manufactures a complete line of motorcycle light bars and guarantees a perfect and complementary fit with their SwitchBlade, Spartan, Heavy Duty, and Dakota 4.5 windshields, as well as National Cycle's Chrome Lower Deflectors.
High strength, chrome plated steel construction will not fatigue with weight bearing and high-stress loads
Two 35-watt halogen bulbs provide bright light without overtaxing the electrical system
Looks great on your cruiser, and are also a considerable safety feature
Two spot lights light up the night and make you more visible to oncoming traffic
Wired for activation with your headlight high-beam switch
Can be wired into your motorcycle's running lights for an always-on condition
Optional accessory switch (part # 355-2947) allow lights to be turned off when supplemental lighting is not needed
Guaranteed to fit with any National Cycle Heavy Duty, SwitchBlade, Spartan, or Dakota 4.5 windshield specified for your bike
Engineered with complementary clearances to ensure it will fit with National Cycle Chrome Lowers
Includes turn signals when necessary for the application
Fully assembled and pre-wired for easy installation
Features swivel adjustments in the spot lights
All parts are replaceable and available from National Cycle
Finished in National Cycle quality bright chrome
All mounting hardware included
Made in USA
DOT approved
European "E" Mark approved
Approved for use in the Commonwealth of Virginia
Note: Image for reference only. Actual product may vary according to vehicle.
Specifications
SKU
355-2938
Brand
National Cycle

California Prop 65
WARNING: Cancer and Reproductive Harm - www.P65Warnings.ca.gov
Part Numbers
| | SKU | MPN | Availability | In-Store Pickup |
| --- | --- | --- | --- | --- |
| | 355-2938 | N944 | 8 In Stock. Ready to ship. | - |
| | 355-2933 | N933 | 8 In Stock. Ready to ship. | - |
| | 355-7731 | N938 | 6 In Stock. Ready to ship. | - |
| | 355-2932 | N932 | 6 In Stock. Ready to ship. | - |
| | 355-2927 | N927 | 6 In Stock. Ready to ship. | - |
| | 355-2946 | N948 | 5 In Stock. Ready to ship. | - |
| | 355-2935 | N935 | 5 In Stock. Ready to ship. | - |
| | 355-2922 | N922 | 5 In Stock. Ready to ship. | - |
| | 355-2939 | N945 | 4 In Stock. Ready to ship. | - |
| | 355-2920 | N920 | 4 In Stock. Ready to ship. | - |
| | 355-2937 | N942A | 3 In Stock. Ready to ship. | - |
| | 355-2925 | N925 | 3 In Stock. Ready to ship. | - |
| | 355-2941 | N941 | 2 In Stock. Ready to ship. | 2 In Stock. |
| | 355-2930 | N930 | 2 In Stock. Ready to ship. | - |
| | 355-2929 | N929 | 1 In Stock. Ready to ship. | - |
| | 355-2921 | N921 | 1 In Stock. Ready to ship. | - |
| | 355-7730 | N936 | Unavailable. | - |
| | 355-2942 | N946 | Unavailable. | - |
| | 355-2940 | N940 | Unavailable. | - |
| | 355-2928 | N928 | Unavailable. | - |
| | 355-2923 | N923 | Unavailable. | - |