By browsing, you consent to our

use of Cookies

.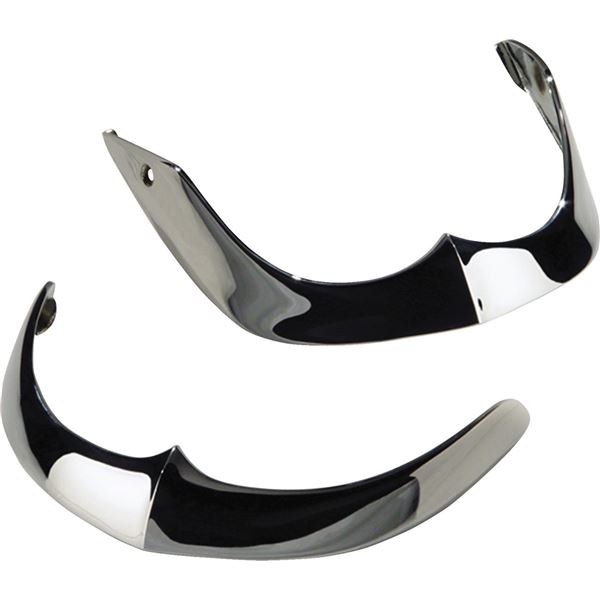 Free Shipping Over $75

Low Price Guarantee

No Hassle Returns

National Cycle's Motorcycle Fender Tips create the perfect fender treatment for your cruiser and are an economical way to add that finishing touch to your customized bike. These are not ordinary fender tips. By casting the product, the shape and high crown details that distinguish these tips really stand out. These solid cast tips have a jewel quality chrome finish with a show bike polish. It will be hard to find an accessory that will add so much to your bike at such a reasonable cost.
Chrome motorcycle front fender tips with cast metal construction
Carefully hand cast from zinc alloy, meticulously hand polished, and then chrome plated
Time honored method of pouring hot metal into a mold enables National Cycle to create complex and dimensional designs
Show bike polish with a jewel quality chrome finish so the shape and high crown details really stand out
Classic "airstreamer" style fender tip, that practically defined the American cruiser look, painstakingly refined and updated for today's motorcycles
Custom fit to each fender - size will vary depending on fender
Depending on the application, the fender tip will fit either the front of the front fender, rear of the front fender, or come in a two-piece set for both the front and rear of the front fender
Countersunk outside screws or concealed screw mounts (mounting will vary depending on application)
Hardware is determined by best styling and fit
All fasteners and templates provided
Some applications may require that the fender be drilled
Made in the USA
Note: Image for reference only. Actual product may vary according to vehicle.
Specifications
SKU
355-2727
Brand
National Cycle

California Prop 65
WARNING: Cancer and Reproductive Harm - www.P65Warnings.ca.gov
Part Numbers
| | SKU | MPN | Availability | In-Store Pickup |
| --- | --- | --- | --- | --- |
| Front | 355-2727 | N727 | 7 In Stock. Ready to ship. | - |
| Front | 355-7729 | N739FF | 6 In Stock. Ready to ship. | - |
| 2 Piece Set | 355-2752 | N7015 | 6 In Stock. Ready to ship. | - |
| 2 Piece Set | 355-2740 | N7005 | 6 In Stock. Ready to ship. | - |
| Front | 355-2717 | N717 | 5 In Stock. Ready to ship. | - |
| Front | 355-2704 | N724 | 5 In Stock. Ready to ship. | - |
| 2 Piece Set | 355-2750 | N7013 | 4 In Stock. Ready to ship. | - |
| 2 Piece Set | 355-2748 | N7011 | 4 In Stock. Ready to ship. | - |
| 2 Piece Set | 355-2738 | N7007 | 4 In Stock. Ready to ship. | - |
| 2 Piece Set | 355-2779 | N7023 | 3 In Stock. Ready to ship. | - |
| 2 Piece Set | 355-2754 | N7070 | 3 In Stock. Ready to ship. | - |
| 2 Piece Set | 355-2746 | N7017 | 3 In Stock. Ready to ship. | - |
| Front | 355-2719 | N719 | 3 In Stock. Ready to ship. | - |
| Front | 355-2715 | N715 | 3 In Stock. Ready to ship. | - |
| 2 Piece Set | 506-N7048 | N7048 | 2 In Stock. Ready to ship. | - |
| 2 Piece Set | 355-3737 | N737 | 2 In Stock. Ready to ship. | - |
| 2 Piece Set | 355-3735 | N735 | 2 In Stock. Ready to ship. | - |
| 2 Piece Set | 355-2772 | N7040 | 2 In Stock. Ready to ship. | - |
| 2 Piece Set | 355-2768 | N7021 | 2 In Stock. Ready to ship. | - |
| 2 Piece Set | 355-7747 | N7044 | 1 In Stock. Ready to ship. | - |
| Rear | 355-7736 | N739RF | 1 In Stock. Ready to ship. | - |
| 2 Piece Set | 355-2781 | N7046 | 1 In Stock. Ready to ship. | - |
| 2 Piece Set | 355-2770 | N7030 | 1 In Stock. Ready to ship. | - |
| 2 Piece Set | 355-2756 | N7052 | 1 In Stock. Ready to ship. | - |
| 2 Piece Set | 355-2733 | N733 | 1 In Stock. Ready to ship. | - |
| 2 Piece Set | 355-8220 | N7032 | Unavailable. | - |
| 2 Piece Set | 355-2777 | N7206 | Unavailable. | - |
| 2 Piece Set | 355-2766 | N7019 | Unavailable. | - |
| 2 Piece Set | 355-2744 | N7009 | Unavailable. | - |
| 2 Piece Set | 355-2742 | N7003 | Unavailable. | - |
| Front | 355-2731 | N731 | Unavailable. | - |
| Front | 355-2725 | N725 | Unavailable. | - |