By browsing, you consent to our

use of Cookies

.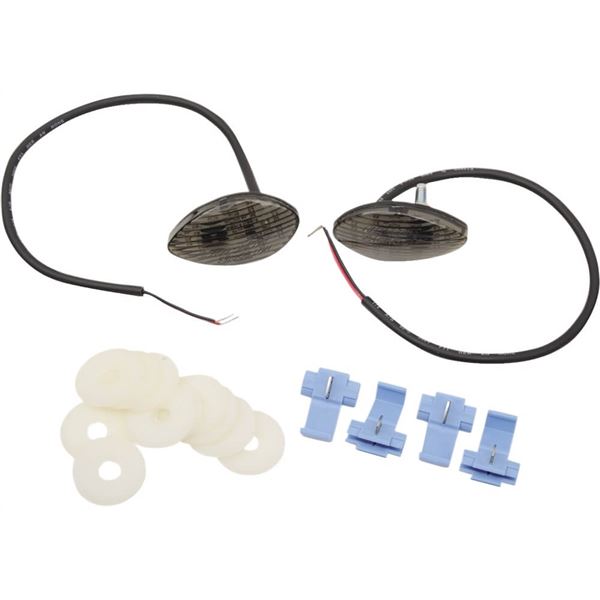 Free Shipping Over $75

Low Price Guarantee

No Hassle Returns

These Flush Mount L.E.D. Turn Signals by Hotbodies Racing are designed for an aerodynamic edge and fit neatly into the fairing pockets of the factory turn signal stalks, giving your bike a clean, sleek look.
Features high intensity L.E.D. amber lights
Customized to individual models for a perfect fit
Fits flush, but refracts light forward for visibility
Load equalizer may be necessary for O.E.M blinking speed
Sold as a pair

Note: Image for reference only. Actual product may vary according to vehicle.
Hotbodies Racing Flushmount L.E.D. Turn Signals
Specifications
SKU
320-9080
Brand
Hotbodies Racing

California Prop 65
WARNING: Cancer and Reproductive Harm - www.P65Warnings.ca.gov
Part Numbers
| | SKU | MPN | Availability | In-Store Pickup |
| --- | --- | --- | --- | --- |
| Clear | 320-9080 | H04RR-SIG-CLR | 10+ In Stock. Ready to ship. | - |
| Clear | 320-9085 | Y04R1-SIG-CLR | 10+ In Stock. Ready to ship. | - |
| Smoke | 320-9086 | Y04R1-SIG-SMK | 10+ In Stock. Ready to ship. | 4 In Stock. |
| Smoke | 320-9081 | H04RR-SIG-SMK | 10+ In Stock. Ready to ship. | - |
| Smoke | 420-61701-0101 | 61701-0101 | 10+ In Stock. Ready to ship. | - |
| Clear | 420-61701-0100 | 61701-0100 | 10+ In Stock. Ready to ship. | - |
| Smoke | 420-41401-0101 | 41401-0101 | 10+ In Stock. Ready to ship. | - |
| Smoke | 320-9091 | S04GS-SIG-SMK | 10+ In Stock. Ready to ship. | 2 In Stock. |
| Clear | 420-41401-0100 | 41401-0100 | 10+ In Stock. Ready to ship. | - |
| Clear | 420-41302-0100 | 41302-0100 | 10 In Stock. Ready to ship. | - |
| Smoke | 320-9182 | S02GS-SIG-SMK | 8 In Stock. Ready to ship. | - |
| Smoke | 420-41302-0101 | 41302-0101 | 5 In Stock. Ready to ship. | - |
| Blue | 420-61701-0102 | 61701-0102 | 4 In Stock. Ready to ship. | - |
| Red | 320-9088 | H04RR-SIG-RED | 4 In Stock. Ready to ship. | - |
| Blue | 320-9087 | Y04R1-SIG-BLU | 4 In Stock. Ready to ship. | - |
| Clear | 420-41102-0100 | 41102-0100 | 3 In Stock. Ready to ship. | - |
| Red | 420-41302-0102 | 41302-0102 | 2 In Stock. Ready to ship. | - |
| Clear | 320-9084 | S04GS-SIG-CLR | 2 In Stock. Ready to ship. | - |
| Clear | 320-9083 | S02GS-SIG-CLR | 2 In Stock. Ready to ship. | - |
| Smoke | 320-9089 | 41102-0101 | Unavailable. | - |